Animated explainer videos can attract and convert viewers while communicating your message in a fun and simple way. So, it's not strange if you have been considering investing in one for your marketing strategy. It's also understandable if the first thoughts that popped into your head when you started playing with this idea were, "How much does animation cost? Is it really worth it?".
These are relevant questions when looking to make a company or corporate video, as you need to take care of your business's finances and find the best bang for your buck! The thing is that if you are new to the video marketing game, you may not know what factors play a part when pricing animation work or what price range to expect from different vendors.
By the time you finished reading, you'll have learned about different types of vendors depending on your budget and what results to expect from them. Let's get down to business!
But before we start, let's see an example of what you can expect from a professional video production company:
Pricing Animation Work: Key Factors
There's not a one-size-fits-all answer to the question "How much does animation cost?" The truth is various factors come into play when pricing animation work, such as:
The Video's Length. For obvious reasons, a 30-second video requires less investment (and effort) than a 3-minute piece.
The Animation Style. 2D, motion graphics, explainer videos, and whiteboard videos are more streamlined than other styles and, therefore, less expensive to produce than others like 3D or stop-motion animation.
Customization (or lack of). A generic piece built from premade templates won't cost nearly as much as a video designed according to your needs (nor will it bring about the same results).
The Production Timeline. Most video production houses tend to adjust their production pricing for works that need to be done within a shorter timeframe than usual.
The Team's Expertise. An experienced and talented team of professionals will logically charge more for their work than an amateur freelancer, but you'll learn more about it shortly!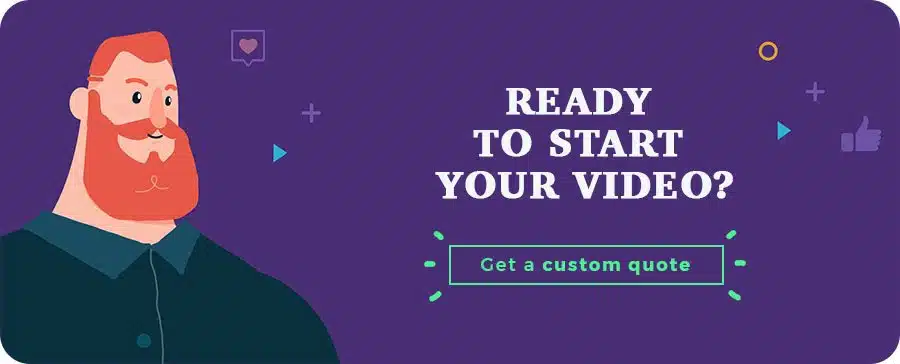 How Much Does Animation Cost Per Tier?
Considering the factors we've just mentioned, it's no surprise that there are as many different prices as animated videos out there! Even less surprisingly, the quality and originality of those videos tend to change according to the cost and team behind them.
Let's look at this in closer detail and find out which price ranges you can expect from different types of agencies.
Amateur/Free Tools – $0 – $100 Per Minute
Yes, it's possible to spend zero dollars on an animation. Many online tools allow you to create animated videos yourself and have little or no subscription cost.
That said, it's vital to understand that what you'll save on money, you'll spend on time and effort. Moreover, the result probably won't be that good.
No offense to your video production skills, but cheap video maker tools are fairly limited and tend to work out of templates with precarious and generic illustrations and poor animation effects. As they say, you get what you pay for.
Freelance Level – $50 – $3000 Per Minute
Have you noticed that the price range at this tier is quite ample? That's because you'll find very different professionals on both ends of the spectrum.
Looking at the starting point, you'll encounter freelancers with little experience and basic animation skills. At the highest peak of the price range, you'll find experts capable of delivering a custom, quality video.
Whatever the pricing of the animation work, it's worth noting freelancers tend to handle all the production phases by themselves or offer a limited set of services. So, it won't be strange if some aspects of the video are more neglected than others or if you have to search for other professionals (like scriptwriters or voiceover talents) to complete the piece. After all, you can only expect so much from a small outfit working on a big project such as an animated video.
Mid-Tier Animation Studio – $3000 – $7000 Per Minute
These are the sorts of studios that you can find browsing online marketplaces a step up in scope from freelance services. They are often small-size video companies composed of two or three professionals.
The staff is usually experienced and capable of delivering a solid custom video, but their small size can prevent them from working on various projects at the same time. So, don't be surprised if you are asked to endure a waiting time before they can work on your video.
Moreover, some of these companies outsource the services they can't provide, but others might ask you to take care of that on your own. If that's the case, remember to consider that extra investment besides the initial animation cost.
Professional-Level Animation Company – $8000 – $25000 Per Minute
Here, you'll find an animated production company with a skilled crew of experts in scriptwriting, illustrations, animation, sound design, and probably an account manager that keeps you and your team involved in the project. These are usually teams that keep the workflow organized, on schedule, and customize every little aspect of your video to your needs and wants.
You'll be asked to make major decisions at this tier – like approving the script or choosing the voiceover talent and giving feedback on anything you'd like to change – which ensures you get the exactly awesome video you were expecting.
The result will be a fully customized video of the highest quality (and, most likely, a pleasant creative experience!).
Broadcast-Level Animation Company – $25000 – $100000+ Per Minute
Here we are talking about top-tier animation studios dedicated to premium 2D, 3D, and motion graphics production, among other things. Their work's quality is similar to the one seen in animated movie productions.
Although their work is undoubtedly admirable, the high quotes they send when pricing animation work make these studios an unsuitable choice for most businesses apart from big multinational companies looking to produce long-form animations, like series or movies.
A Note on Animation Costs & Quality When it Comes to Marketing
As you can see, animation pricing is often directly proportional to the final quality of the piece. Videos that are cheap also tend to look cheap. They lack attention to detail and, in the worst cases, customization.
Most likely, having a run-of-the-mill video won't generate nearly as much revenue as a customized piece built according to your target audience and goals. I dare say you may even end up losing money! After all, most times, it isn't about what you sell, but about how you sell it. And let's face it: a low-quality and generic piece probably won't leave a good impression about your product or service.
A lot of the time it's wiser to pay some extra bucks for a top-notch video from a marketing video agency that can actually convert your audience instead of spending little money but having no revenue whatsoever.
If you are looking to put to rest the question of "How much does animation cost" when it comes to a fully customized, effective marketing piece, check out our online portfolio and reach out for a quote about the video you envision.
Answering Your Doubts About Animation Production
There's probably way more you'll like to know about what goes into pricing animation work or creating one yourself, so we've put together this brief FAQ section to clear out some of your doubts. Take a look!
Why Is Animation Expensive?
Animation is costly because of the complex production process it entails. Many trained professionals are involved in an animated video production – scriptwriters, a director, illustrators, animators, voiceover artists, and more – not to mention they need to use professional-level software to obtain high-quality results – all of which affects the pricing of the animation work.
Having said that, an animation production team is not nearly as big as a live-action one. Plus, they don't need lightning and camera equipment, a set, and the like. At the end of the day, animation – especially 2D animation – is still one of the most cost-effective alternatives in the video marketing game.
How Much Does Animation Cost Per Minute?
Summing up our first section, an average custom 2D animated video costs $7000 to $20000 per minute.
As seen before, there are also cheaper and more expensive options, but this is the price range that you should expect when looking for a quality video.
How Long Does It Take to Animate 1 Minute?
The sole process of animating one minute of illustrations can take up from one to two weeks, depending on the experience and skills of the animation artist and the complexity of the piece.
However, you also have to consider the amount of time that will take to write the script, create the storyboard, style frames, and illustrations, record the voiceover, and work on the sound design. In total, the whole animated video production process can take a professional studio between seven and nine weeks of hard work.
How Difficult Is Animation?
When making a rudimentary animated video, the difficulty level is medium since the basics of animation aren't particularly hard. That said, creating an advanced-level animation is indeed very difficult, as it requires keen attention to detail, a deep understanding of the way people and objects move, and training in sophisticated animation software, among other things.
What Types of Animation Styles Are There?
There are many, many different types of animation out there. It's important to be familiar with the options you have because the style that you choose will be determined by your budget and the goal you want your video to accomplish. Here are five of the most popular styles:
Which Are the Stages of Video Production?
Video production can be broken down into three stages: pre-production, production, and post-production.
Pre-production is where you determine the goals your video will help you achieve and plan out what your video will look like. For that, you need to create a script and a storyboard to serve as the base for the other two stages.
Production is where you actually get to create your video. Here, you'll create the illustrations and bring them to life with animation and other effects.
Post-production is where everything is carefully put together, and the final details are fine-tuned. You'll add any music and sound effects and do any necessary editing to create the final piece.
The Takeaway
As you have learned today, the cheapest price doesn't usually translate into the best deal. In fact, the lower prices tend to match the poorest results. However, the most expensive production companies don't necessarily ensure the perfect video for your brand either. So, the question of how much is animation production going to set you back hinges on a lot of factors you should consider before embarking on a project.
Undoubtedly, the best way to go about it is to find a video company that offers the best price-quality guarantee and a quote that's suitable for your budget.
Luckily, informing yourself about animation costs like you've just done is a great starting point to get the best bang for your buck. Congratulations!