Over the last couple of years, the importance of having a good video marketing strategy has grown by leaps and bounds. So much so, that the format has absolutely dominated the digital landscape and become the most important asset in any business's marketing portfolio.  
So, if you're not creating video and using it on every platform or communication channel, you're likely falling behind. Still, planning a solid video strategy can get quite overwhelming, especially if you're doing it for the first time. But worry not, that's precisely why we are here today! 
.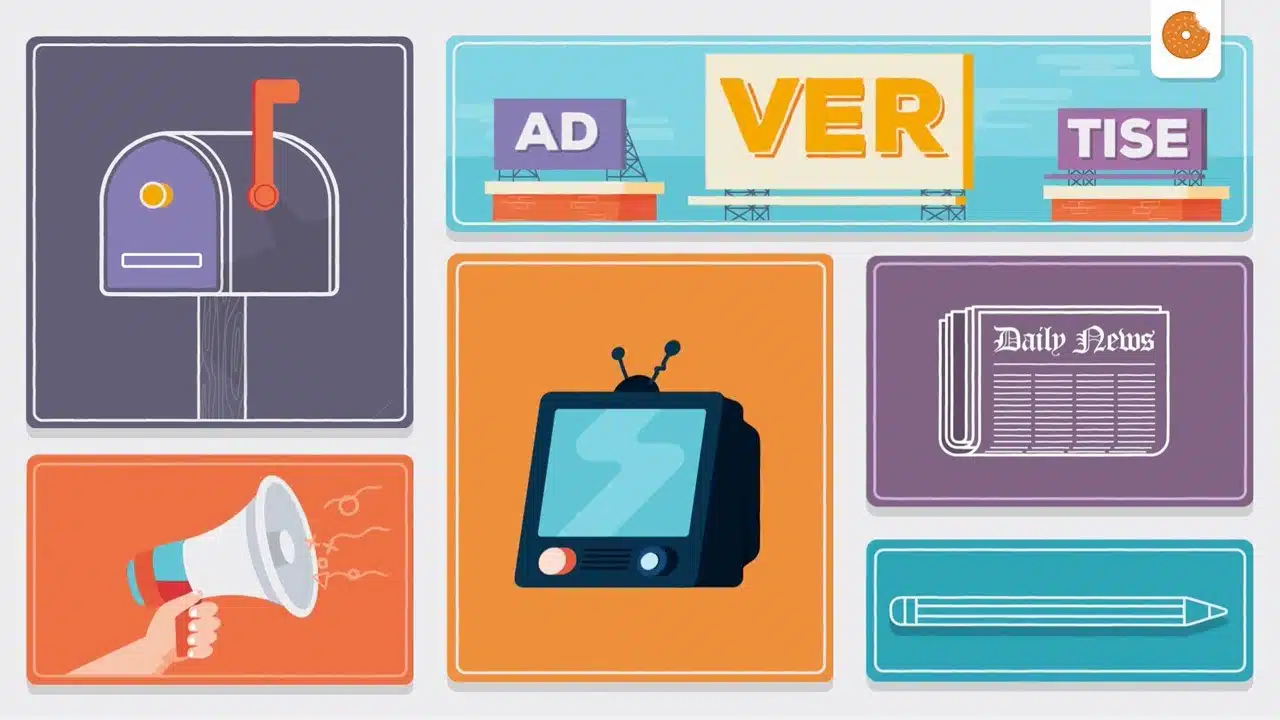 In this video marketing guide, you'll find all you need to know to become a pro. From defining what is digital video marketing, building a strategy, figuring out which types of pieces would work best to learning all about SEO video marketing, and everything else in between! Just take a look at what you'll learn today:
1. What Is Video Marketing?
In a nutshell, video marketing for business is all about using video to promote and market your product or service effectively. Reaching out to your audience, improving engagement, educating customers, and ultimately boosting conversions.
For that to happen, though, it's very important to use video strategically and creatively, rather than going at it to simply "check it off of a to-do list". You need to focus on using the medium to enhance your efforts, deliver your message, and help you accomplish your marketing goals.
Thing is, there are many different types of videos – all serving specific purposes – and an entire world of ways of implementing them to meet your objectives. And we'll go over all of that in a bit. But for now, do also keep in mind that, even though video content plays a central role, it should be integrated into, and work in tandem with, the rest of your overall marketing plan. That's the secret recipe for a successful video marketing strategy.
2. Why Is Video So Important in Marketing?
Because it's the preferred, most effective form of media we use nowadays. Over the past decade-and-a-half, our technology in terms of devices and connectivity, as well as the communication platforms (like social media) and services (like YouTube and Netflix) we use daily, have evolved to be able to deliver video content seamlessly, just like it used to be with text and images.
The thing is, audiences have proven to be much more receptive to video than other forms of media out there. And naturally have come to rely on, and even expect, that type of content from the companies they engage with. Even the most detailed, in-depth written description about a product will fail to reach the level of engagement and ease of consumption that a video covering the same content would. So, why use video marketing? Because video content has become the norm!
3. A Video Marketing Strategy: How Can It Help Your Business?
Besides the fact that audiences love video content, there are plenty of other reasons why a solid video content strategy needs to be a top priority.
Here's a list of the most important ways in which video can help your business:
Boost engagement

: In this fast-paced world we live in, it keeps getting harder and harder to get people's attention. However, video can bring a captivating and original spin to your strategy. Whether it's to share your brand's mission, explain how your product works, or educate your audience, you can tell a compelling and memorable story with video content. One that instantly grabs viewers' attention and keeps them interested until it ends! Look at this example of how this brand gives a hipster and modern look to its new app with this animated explainer video:
.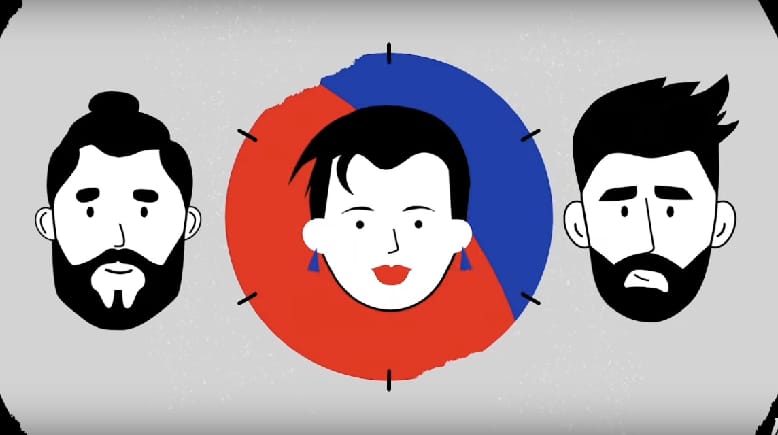 Build credibility and trust

: Video content can help you take the "

business

" out of your brand. Using a narrative to appeal to emotions that resonate with your intended audience, you can connect in a more intimate and personal way with them. Something that, ultimately, is going to help you humanize your brand, build credibility, and foster consumer trust. Testimonial videos are often the first choice when it comes to building trust:
.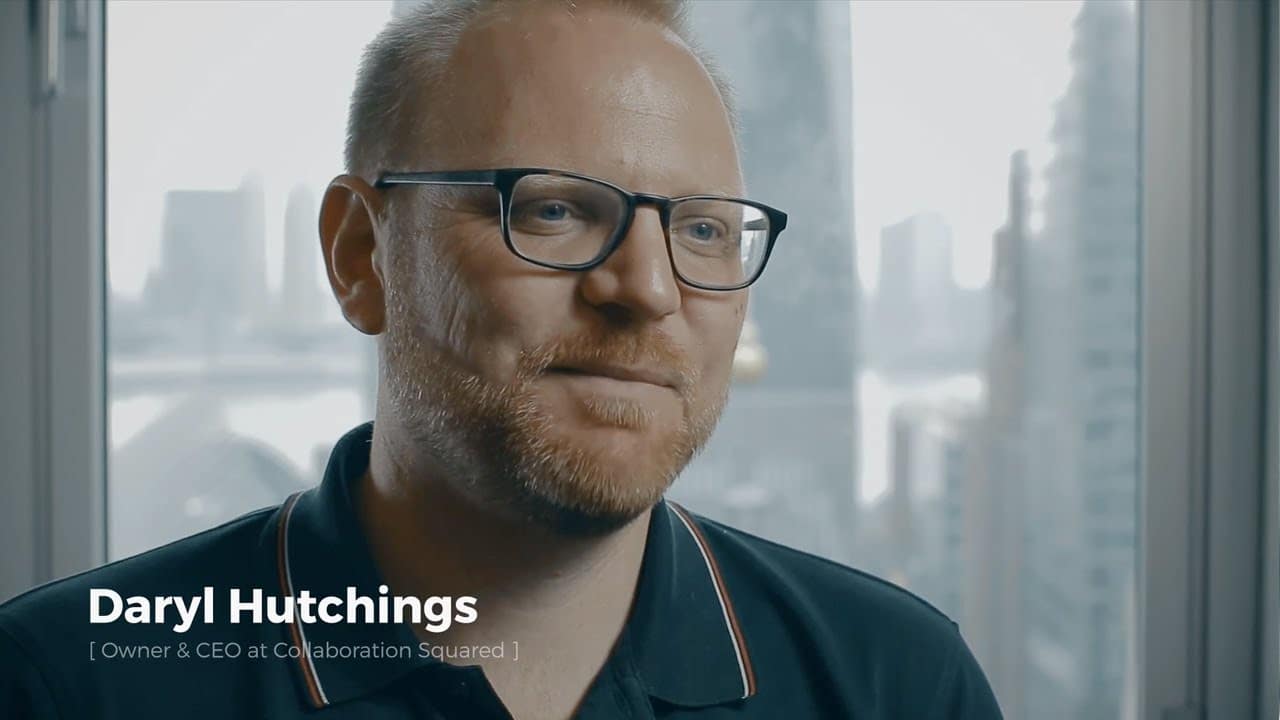 Improve conversions & drives sales

: This is related to the previous point – developing engaging and informative content that fosters consumer trust helps you boost conversions and increase your video strategy  ROI. In fact,

according to HubSpot

, just including video on a landing page can increase conversion rates by 80%. On top of that, it's proven that people are more likely to buy a product (or service) after watching a video about it! This is great news for any video marketing strategy.  

Help you rank higher on SERPs

: One of the factors that Google uses to analyze and rank websites is on-site time – that is, the seconds/minutes that people spend browsing on a page. Well, visitors tend to stay longer on a website if there's a video in it. Not to mention that, with YouTube being the second largest online search engine, simply having a video increases your chances of featuring high on SERPs. Something that, as we'll see later on this video content marketing guide, is very important!
.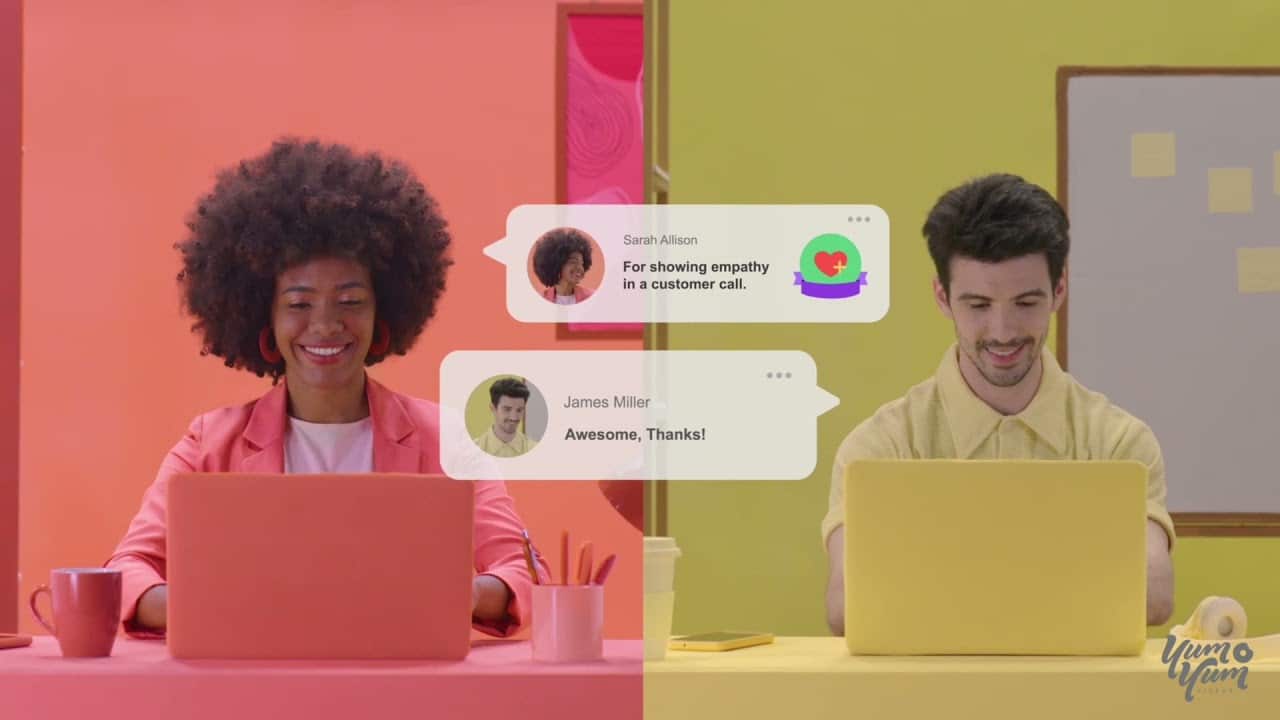 4. How to Create a Video Marketing Strategy?
Now that we are on the same page about the importance of video marketing for business, let's see what goes into developing a video content strategy.    
4.1. Analyze the competition 
Ok, you surely have already identified your competitors – who they are, what types of products they offer, how they differ from yours, and so on. 
However, to develop a solid B2B video marketing strategy – one that helps your brand stand out – you need first to analyze how they are marketing their products and, most importantly, how they are implementing video to do so. 
Scan their websites, social media, and every channel they have available to understand how they harness the power of video to convey their different messages. Pay attention also to photos, emails, blog posts, and other types of content to see how they make everything work together, or not! This is going to help you uncover market trends and identify strengths or weaknesses in your competitors' video strategies. 
You should also ask yourself the following questions:
What types of videos are they creating? 
What are they using them for – to improve conversions, educate prospects, explain what they do, or boost brand awareness? 
On which communication channels are they promoting them? 
Are they focusing on a social video content marketing strategy or are they using traditional media as well?
What topics are they covering?
How in-depth does the content go?
What tone are they using in their digital video marketing content?
Are audiences engaging with their videos?
How many pieces are they developing per week, month, or year? 
Take the time to find the right answers to these questions. Then analyze what insights they reveal, and how you can use them to improve or change your own strategy. 
4.2. Set the Goals of your Video Marketing Strategy
The very first step to create a video content strategy is defining your goals – in this case, what you want to achieve with your videos.  
Do you want to attract new prospects? Are you trying to build authority and foster consumer trust? Do you need to persuade potential buyers to close the sale? 
In a perfect marketing world, you'll want to create as many videos as you need to achieve all those goals, but we know that's not always possible. So, you'll have to decide which is the most important to help your business grow and prioritize that. To do that, think about the buyer's journey: 
If you want to introduce your brand to a new audience, you'll want videos that are designed to use in the awareness stage. In case you want to engage and explain to prospects why your solution is the best one out there, you'll want consideration stage pieces. But, if you are trying to prompt prospects into closing the sale, you'll want to develop decision stage videos.
Which videos in specific are those? You may ask… Well, there are several options that you can use for different goals. We'll learn all about them later in this guide. Now it's time to learn the different types of B2B video marketing strategies that you have at your disposal! 
4.3. Types of Video Marketing Strategies
There are many different types of strategies you can implement, but depending on your goals, some are going to fit better than others. 
Now, regardless of the video strategy you choose, take into account that all the pieces you develop should have things in common. As much as possible, they should be purposely designed to work with one another as a whole. For example, they should have the same aesthetics for characters, sound design, etc. This is going to reinforce brand recognition and help you get your message across much more effectively.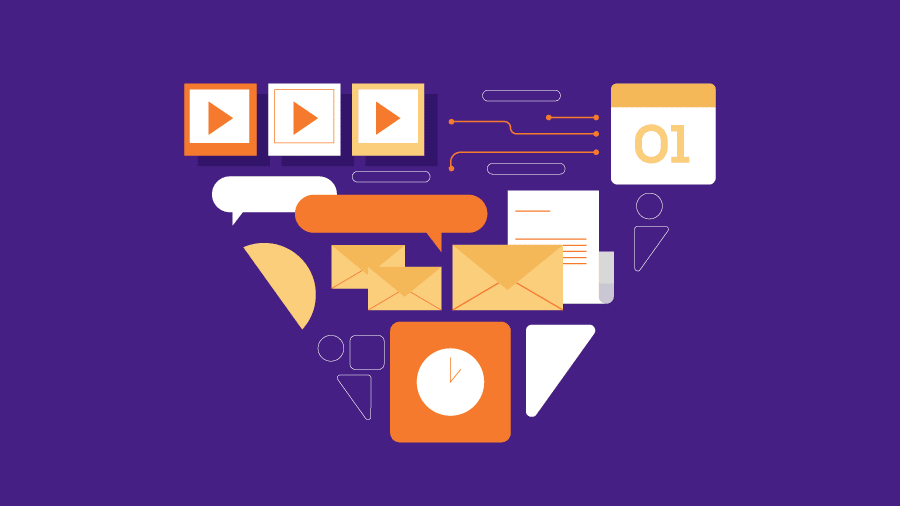 Having said all that, let's go over some of the most popular – and useful – video promotion strategies at your disposal, alongside important information to understand how to make video marketing work for your business!
Funnel Focused 
As you may already know, before making a purchase, people go through a three-stage process that many called the "Buyer's Journey."
Awareness Stage

: Starts when potential buyers realize they are dealing with a specific problem. They begin doing educational research to frame the problem. 

Consideration Stage

: Starts as buyers define the problem and start looking for solutions. At this point, they do more in-depth research to understand what approach or method is better or more convenient to address their needs.

Decision Stage

: Starts once they have narrowed down the options to a shortlist, and have to choose a solution or commit to a purchase decision.
As a marketer, your job is to send to potential customers different messages about your product or company depending on the stage of the funnel they happen to be in.
With that in mind, you can use a funnel-focused digital video marketing strategy to move potential customers further in their journey. Basically, you are going to develop certain pieces for each stage to nurture prospects and encourage them to take action – that is, to buy your product! 
For example, you can start by developing 3 videos. First, an Educational video for the Awareness Stage, follow it up with an Explainer that describes your product or service for the Consideration Stage and cap it with a Customer Testimonial for the Decision Stage.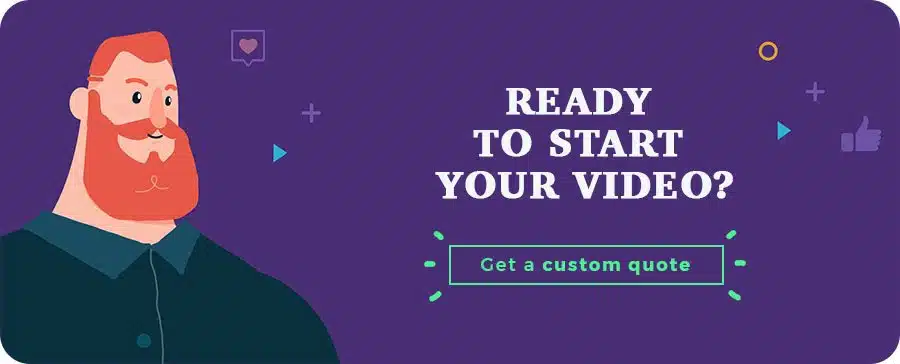 Customer Delight Focused 
One may think that a buyer's journey ends when a customer decides to buy your product. Don't get me wrong – that's huge! But a customer's first purchase is – or should be – just the beginning of your relationship. 
As a business owner, you should strive to continue building those interactions and keep people coming back for more. That's what customer delight is for: enhancing your existing customers' experience and providing value after they've bought your product or service once. 
There are plenty of things you can do to create customer satisfaction, especially when using a video promotion strategy. You can send a thoughtful birthday message through email, or share a short how-to video with tips and tricks your users might find valuable. 
The possibilities are many and you should choose the one that suits better with your brand. All in all, keep in mind that delighting is about nurturing the connection with your customers. Establishing a level of trust that goes further than a one-time purchase. 
Social Media Focused
Social video marketing – or social video – helps businesses reach out, connect, and interact with their target audiences in the most immediate and effective ways. Especially if it's through stories that evoke powerful emotions or generate a reaction. 
People go to these platforms primarily to find entertainment, and you should take that into account when developing social videos. However, they also use social media to search for new products or brands, educate themselves, and even make a purchase. 
So, when you start to create a video marketing strategy, you most definitely need to consider producing pieces for social media that promote your product and engage with audiences in terms of the platforms they use.  
Let's say you sell hairdryers and your prospects' favorite platforms are YouTube, Instagram, and Facebook. Your social video content strategy can be focused on creating a short tutorial for Instagram to teach people how to hairstyle themselves with the product; a testimonial with a happy customer singing praises about it on YouTube and scheduling a Facebook Live video with a professional stylist to share best practices. 
Such a strategy is not only going to improve your online presence, increase brand awareness, and boost engagement. They also help you drive traffic to your site, generate new leads, and drive conversions! 
Customer Trust Focused
At some point, prospects are all but ready to close the sale. They've gathered all the information they needed and are trying to decide between you and other few options. 
It is a crucial stage in any sales funnel, as you need to deliver the right information to encourage them to choose you over your competitors. 
So, the best types of videos at this stage tend to be the ones that help establish deeper connections with your prospects. Videos designed to reinforce consumer trust and convince potential buyers that your solution is what they've been looking for. 
A digital video marketing strategy like that could make great use of Culture Videos and Testimonials. The latter is perfect to make your brand more human, approachable, and empathetic. The former can help you persuade prospects into making the purchase – there's nothing more convincing than hearing the experience of a satisfied past customer!
.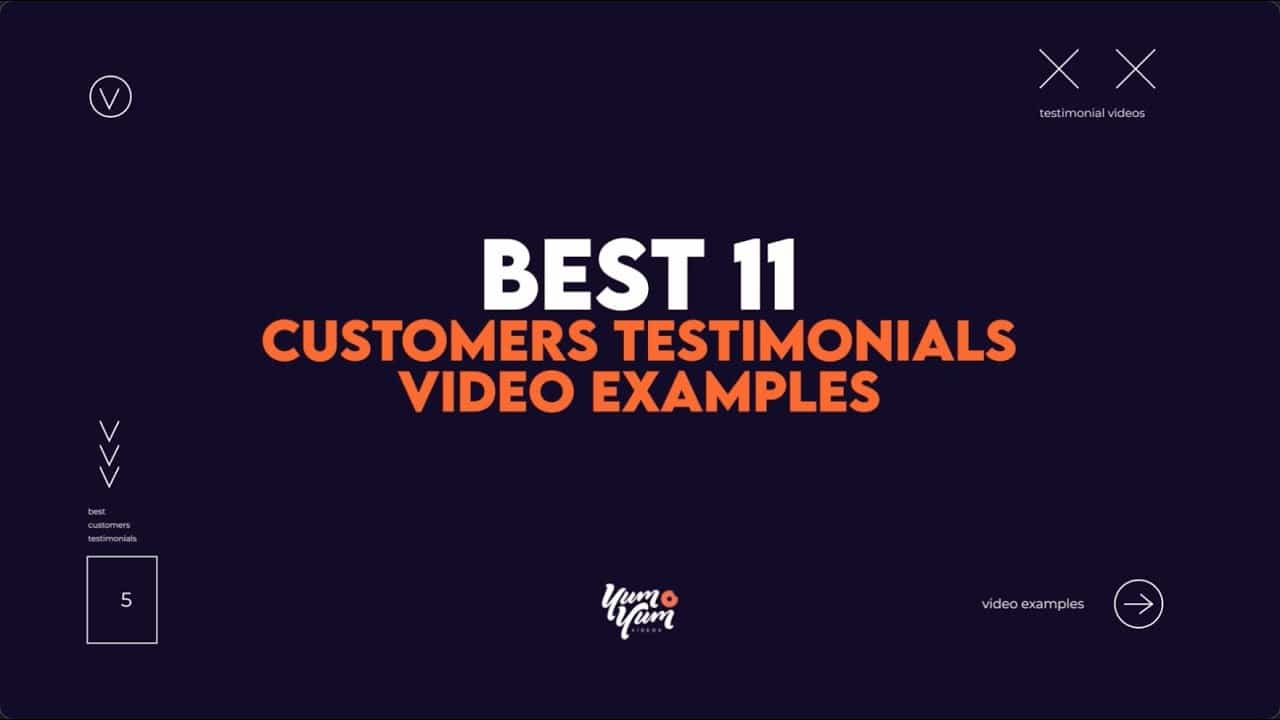 Tutorial Focused 
Simply put, tutorial videos are designed to demonstrate a process, share knowledge, explain a concept, or teach how to perform a specific task. You've probably seen hundreds of them on social media or Youtube already!
Marketing-wise, developing tutorials surrounding your product or service is always a good strategy. Why? Because they quickly answer your intended audience specific questions, delivering instant value to the viewer. 
That said, it might happen that your product or service is too complex or technical, and prospects have many doubts about it. So, developing a series of tutorials that tackle each process, method, feature, or issue in a more specific, comprehensive manner is the most effective approach.  
People appreciate (a lot!) a brand that takes the time to address their most relevant needs or concerns. Explaining why a tutorial video promotion strategy is great for fostering consumer trust and driving sales.
Educational Focused 
Whether it's to learn how to bake a cake or the ins and out of complex software, more and more people rely on different types of educational videos to learn new things online. 
You can take advantage of that growing demand and focus on developing Educational Videos  –  that is, video content that educates your audience about specific issues or addresses topics they would be interested in. 
Now, for these videos to be successful, they need to deliver useful information that provides value to the viewers. Equally important is to choose evergreen topics to ensure your video remains relevant and never goes out of date.  
If your business revolved around a cryptocurrency platform, for example, a great educational video promotion strategy could be to create a series of short videos sharing your knowledge on different topics relevant to a no-so-understandable industry. Such as, what are bitcoins, what's blockchain, and so on. 
As for its benefits, if you create a digital video marketing strategy that includes educational content, you can become reliable source of information, build consumer trust, and keep receiving traffic over time.
Explanatory Focused
There are certain businesses  – such as those in the financial or technology industries – that involve complex topics, tricky processes, or ever-changing concepts. For them, explaining what they do, how they do it, or why the service they provide is valuable is a constant challenge they struggle with. 
Explainer videos happen to be a great resource to address that challenge, transforming would-be complex ideas into simple-to-understand and easy-to-digest content. They combine storytelling with meaningful animations to describe a company's message in a way that resonates with its intended audience's pain points. 
However, sometimes you might find that you need to deliver extra information to get your message across. So, developing several pieces to address each topic or concept can also help you fill in the missing gaps for prospects. 
Let's say your company is in the healthcare industry and provides different types of treatments. Instead of creating a single piece to describe what you do, you can develop an Explanatory Focused Strategy – that is, produce several short animated videos to clearly illustrate each one of the treatments you provide. 
If you create a video marketing strategy like that, you'll help your company generate new leads, reduce bound rates, foster brand awareness, and increase conversions.
.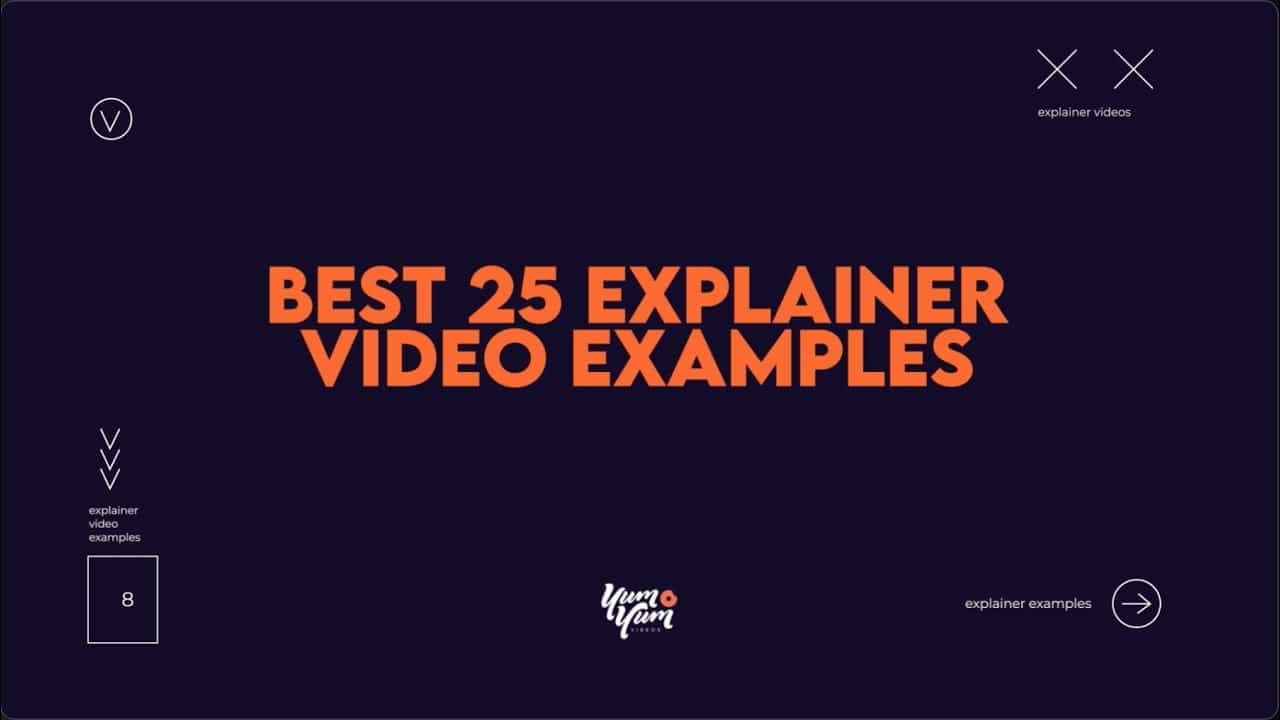 4.4. Define your Video Strategy Concept 
Once you've outlined your goals and chosen a video promotion strategy, you'll have to start shaping your plan of action. 
Let's say you want to generate new leads. So, you decide you're going to use an Explanatory focused strategy to showcase your product's main features through different videos. 
For your digital content marketing strategy to work, you'll have to define a general concept or approach that synergizes all your content. You want your videos not only to coexist and work in tandem, but to build on one another. So, you'll need to find creative ways to show that they are part of the same shared "universe" or campaign.  
The good news is that you have a number of avenues available to manage it. For example, you can develop all your videos with a specific visual design – aesthetic, color palette, typography -, establish the same tone, and even create a recurring animated character to use in all your pieces. 
Depending on your industry or niche, you can even show a character's development across a number of videos and stories. Letting audiences grow fond of and empathize with them. 
Let's suppose you're a healthcare provider and you're planning a B2B video marketing strategy. You can use this approach to tell a compelling story about a 30-years-old-working-man in a first piece, use a second video to show him with his partner, and develop a third to introduce the couple with their child. This creates a narrative that transcends each individual video and gives the whole strategy a thematic coherence. 
All in all, remember that defining your concept idea should be tied to your overall content approach and your brand identity. Take the time to analyze your alternatives and go with the best option for your business!
4.5. How many videos do I need for a Video Marketing Strategy? 
By this point, you've defined your goals and you set up your action plan. The million-dollar question now is: How many pieces should you create?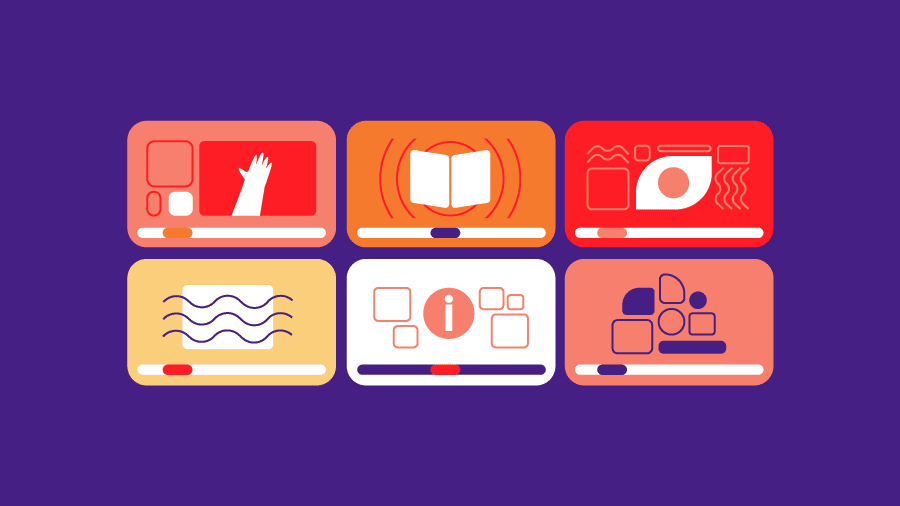 Well, to begin with, one video's not enough, and that's for sure! 
However, there's no right or wrong answer here. The number of pieces you should develop is going to vary depending on three major aspects: your strategy's goals, how much ROI – Return On Investment – you expect to get, and your budget. 
And here we need to stop for a moment: When it comes to using video for marketing, it's very important to know how much money you're prepared to spend on your strategy. Mainly because it's going to help you measure what can be realistically accomplished without compromising your ultimate goal. 
If you're implementing a social video marketing strategy, for example, you'll need to develop pieces for each platform your brand is using, prioritizing those that your audience engages with the most. To that end, you can create a content marketing strategy consisting of 5 videos for YouTube and then adjust their length for Facebook and Instagram. 
If you sell an IT solution, you'll probably need several pieces of video content to explain the ins and outs of your product or service – a Tutorial Focused Strategy. 
Now, take into account that a Tutorial video strategy is usually implemented for convincing prospects in the Decision Stage. So, the more information you share, and the clearer your value proposition is, the more effective the strategy will be.  
For example, Monday is a platform for team collaboration and work management. For their video content strategy, they've developed basic tutorials, such as How to Get Started with Monday, more advanced pieces to "become a pro", and videos explaining specific features, like How to build Automations on Monday.com. 
All in all, try to keep your digital video marketing strategy as versatile and updated as you can. Start covering the basics and then keep adding more and more video content to your portfolio! 
4.6. Take into account your audience
To develop a solid video promotion strategy, you will need to understand who your intended audience is. Notice that this is a key part of any marketing strategy – For your content to be successful, you have to create it with a specific audience in mind, video or not.
At this point, you will have to do heavy research and learn everything about your prospects. From demographics, like gender, age, and where they live, to more specific data, such as likes, dislikes, habits, and, above all, their pain points or needs. 
Understanding your audience's problems (or needs) will help you figure out what kind of story you can develop to position your product or service as a solution to their problems. How you can present yourself as a trustworthy and reliable company that's interested in helping them. 
So, when you start producing your pieces – especially your videos' scripts -, think about your intended audience's needs and common experiences. Analyze which topics they are most related to, and build your story or concept from that. 
"Video Marketing Tip: You can map out your prospects' most important pain points and use video content to address them. For example, if they are having trouble finding a provider they trust, you can develop customer testimonials and company culture videos that revolve around that topic". 
4.7. Set deadlines
Even though scheduling is a very important aspect to keep in mind when you want to create a video marketing strategy, it's often neglected. 
Most people don't realize that putting together a video is time-consuming – From start to final product delivery, video productions take between 8 to 10 weeks. At least for high-quality, fully customized, and compelling pieces! 
So, to get to the actual production with enough time, it's paramount that every prior task has a clear deadline. Whether it's evaluating possible concepts for your strategy, outlining your goals, thinking what types of videos you should develop, or defining your budget, set a delivery time for each assignment and stick to it as much as you can!  
4.8. Use organization & communication tools 
It's pretty clear by now that planning a B2B video marketing strategy can get quite overwhelming. There are countless to-do lists, different schedules, too many teams, things to approve, feedback to give, unforeseen changes, and unexpected delays. Even before starting the actual video production! 
Part of your job will be finding ways to simplify the process and reduce the stress levels to the minimum. The key is being organized and keeping fluid communication with all your teams from the very beginning. 
To achieve that successfully, we highly recommend using digital tools such as Monday, Slack, Zoom, or any other management platform that can help you stay connected each step of the way. 
Doing so will help you be more organized and keep your different team members up to date or informed about changes, expectations, or delays throughout the entire process.
4.9. Find the right partner 
In terms of production, there are many different ways to develop a video. You can use your own resources and put together an in-house production, hire freelancers, or even go for a DIY production. 
BUT, when you want to step up the game and take your digital video marketing strategy to the next level, most of the time you'll have to work with a professional video marketing agency. These are masters of their craft and have the knowledge, talent, and expertise to transform a simple concept into an engaging and beautiful piece. 
Truth is there are too many options out there, and choosing one can be quite daunting. However, we have some video marketing tips on which elements you should pay attention to when searching for a partner:
First, you should go over their online portfolios to understand if they are capable of meeting your needs and delivering on your expectations. You can also consider what other clients have said about working with them. So, take some time to check online reviews and customer testimonials. 
Analyze how they handle the production process too. It's important to find a vendor that keeps you updated every step of the way. But also, one that provides enough rounds of changes so you can provide feedback or comments throughout the entire process. 
Another key thing to remember is that your brand is unique, and your video strategy should reflect precisely that. So, partner with a production agency with the skills to craft custom-made pieces. The last thing you want is to end up with generic videos with a repetitive take!
Finally, when you work on a budget, it's critical to choose a vendor that's able to give top services at a reasonable price. Partner up with a video company that can offer great quality and works within your price range!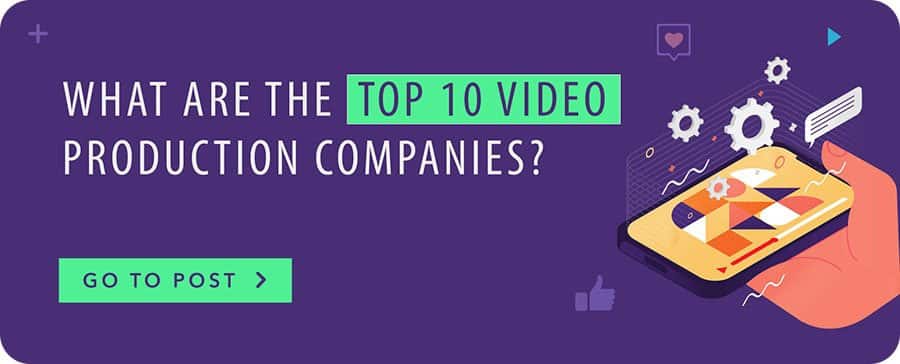 5. Types of marketing videos (with examples!)
Once you've defined your B2B video marketing strategy, it's time to move on to the fun part: thinking about what pieces you're going to produce! 
Let's take a look at the most popular and effective types of videos!
5.1. Explainer Videos
.
Explainer Videos are short animated pieces that in less than 2 minutes illustrate complex ideas or topics in simple, clear, and engaging ways. 
What makes them so effective for businesses is that they combine powerful storytelling with high-quality design to help the viewer understand why a product or service exists. All while addressing an audience's specific pain point and introducing an ideal solution – that is, yours!
Explainer Videos' main goal is to get the "conversation" around your product or service started. Helping you generate leads as you convey clear, targeted, and effective messages that prompt them down the sales funnel. 
They can also help your business attract potential customers, drive conversions, generate brand awareness, and increase the average on-site time on your website, among many other great benefits for your video marketing strategy!
There are many, many different types of explainers out there. So, if you want a quick rundown of the most popular ones to discover which style is the best for your business, you can watch this cool video we made:
.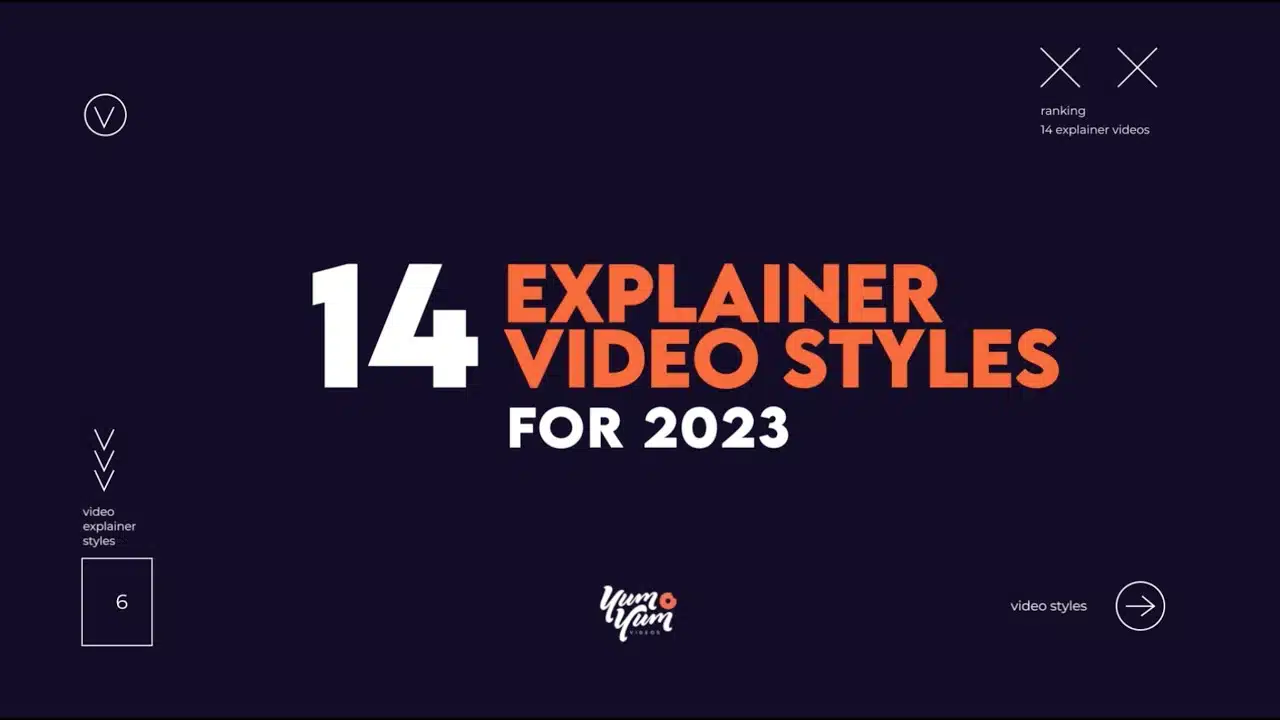 5.2. Educational Videos
.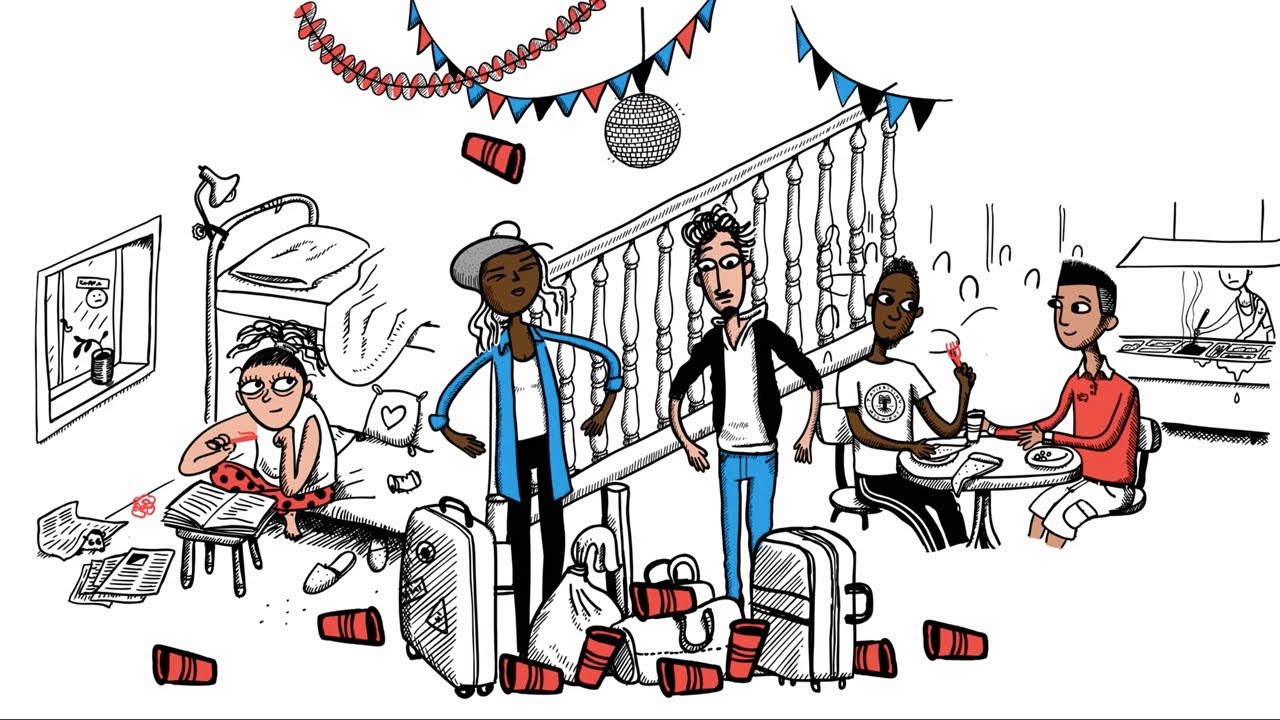 Like we said before, Educational Videos are aimed at educating an audience about specific problems they are dealing with, or topics they are interested in. All while presenting your brand as one that cares about their needs and concerns. 
What's great about these videos is they can cover any subject matter and turn what's complicated or plain, into something fun and understandable. However, keep in mind that you should always choose topics or tackle problems that your audience will find worthwhile, regardless of the current news cycle or season. 
If your business uses Educational Videos the right way, your prospects will start seeing you as a reliable source of information. A reference in your industry that's capable of selflessly sharing knowledge and expertise. Thus, incorporating some of these pieces into your video marketing strategy will help you build authority, foster consumer trust, improve organic ranking on search engines, and boost overall brand exposure. 
5.3. How-to Videos
.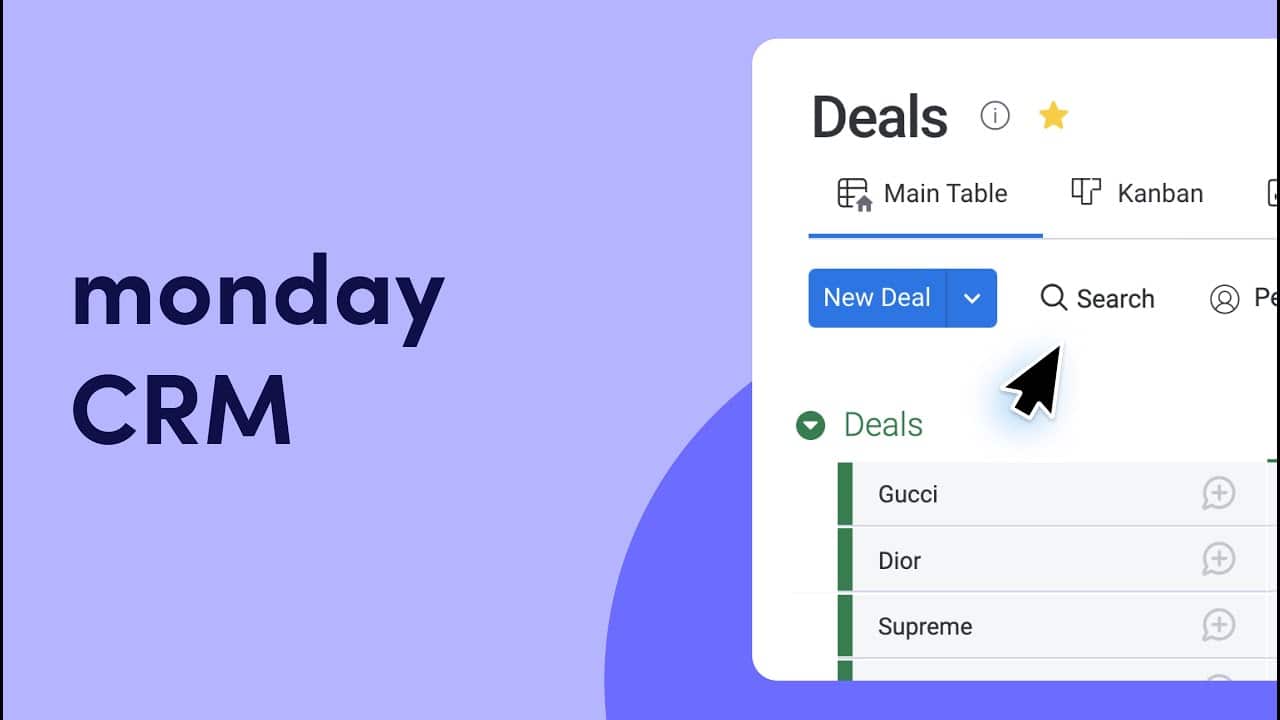 How-To Videos are also educational, but they have a completely different structure and language.
In its more basic form, these are instructional pieces designed to walk the viewer through all the steps needed to complete a task or process, from start to finish. 
Their main goal is to help answer questions that are relevant to an audience or teach them how to do something they didn't know before. 
Because they are very straightforward, clear, and dynamic, businesses can use these videos to illustrate all types of actions, from everyday activities to more complex processes. Such as how to cook a recipe, make an origami butterfly, or use a piece of software. 
Using How-To Videos in your video strategy is perfect to increase online presence, foster trust, and generate visits to the brand's website. 
.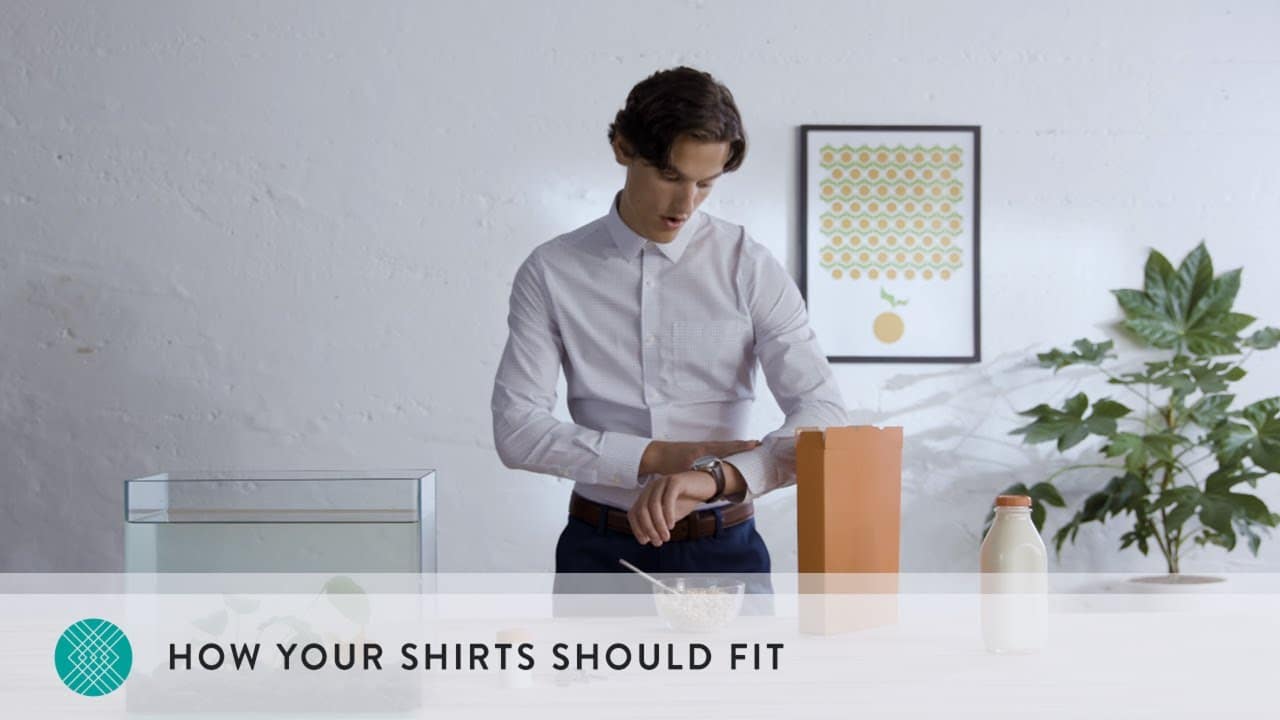 They are also great for helping with more complex marketing goals, such as cross-selling and up-selling. For example, with this how-to video developed by Monday, you can learn how to use the platform – that was primarily created as a team management tool – as a CRM manager. Something that most people probably ignore!
5.4. Commercials
.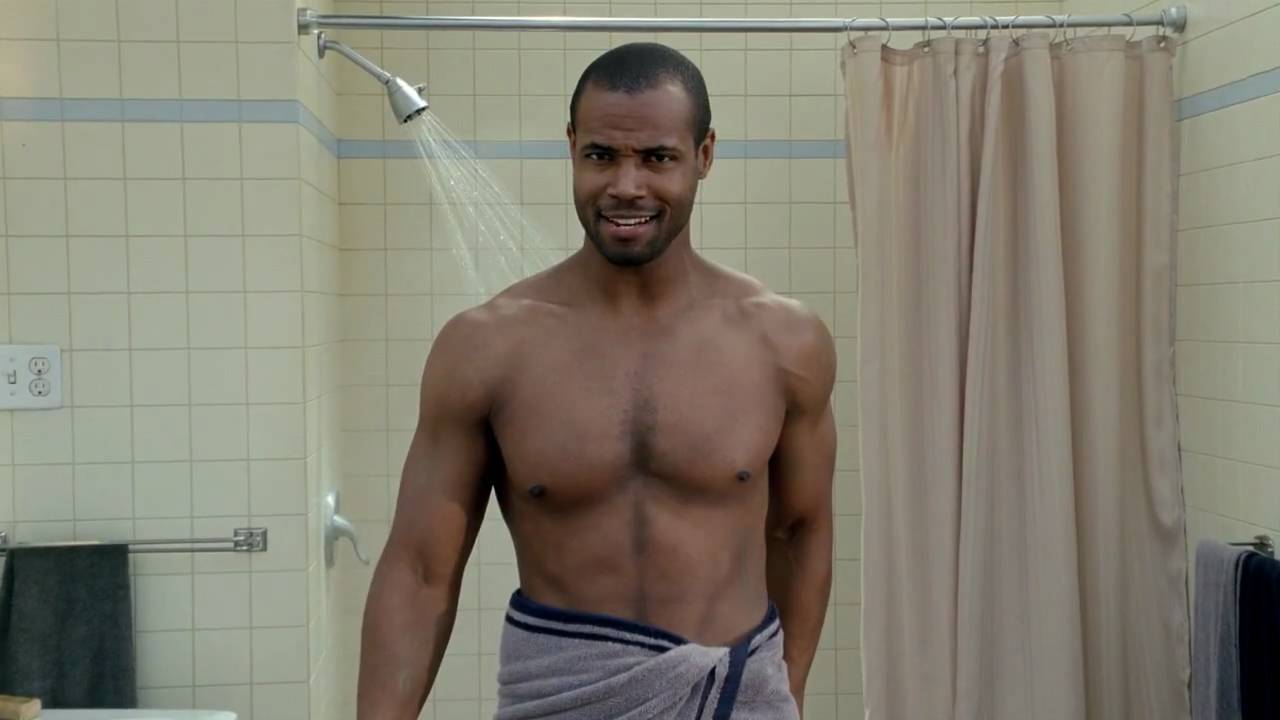 Commercials are probably the most well-known videos by general audiences. Also called video ads, they are attention-grabbing pieces focused on selling or promoting a brand and its product or service. 
Unlike other types of videos, Commercials don't hide the fact that they are trying to promote something or persuade viewers. In fact, they are designed to show off your brand in memorable and meaningful ways to impact potential customers and boost brand recognition. 
To do so, they usually highlight a product's best features, a key concept, or unique value. All paired up with appealing imagery and a clear call to action at the end. 
Commercials tend to be short, rarely going over the 30-second mark. Incidentally, this makes them ideal for social video marketing and online ads. However, take into account that it's harder for commercials to rank organically in SERPs! 
All in all, if well-executed, video ads are a great tool to implement in your video marketing strategy to raise brand awareness, attract new customers, and increase traffic to your website. 
5.5. Customer Testimonial Videos
.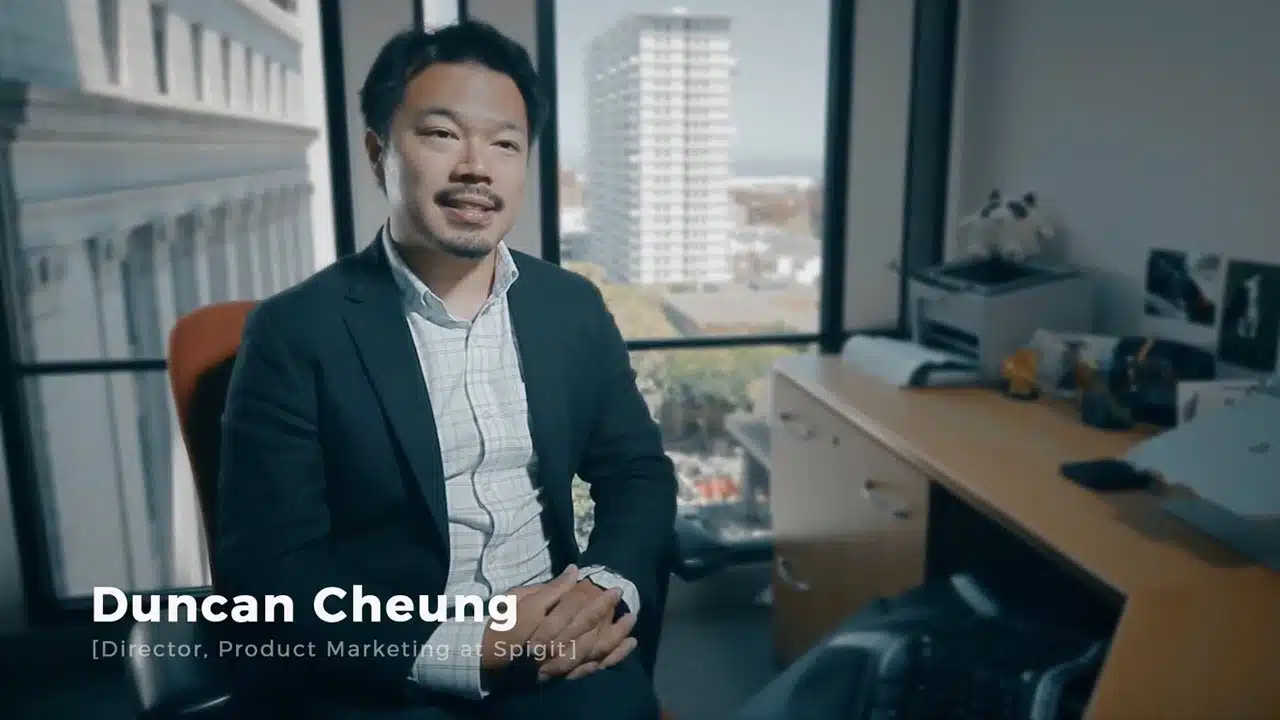 Customer Testimonials feature past or current customers sharing their positive experiences with your brand, product, or service. 
As you can imagine, Testimonial Videos are one of the most powerful resources that businesses have at their disposal, especially when it comes to persuading prospects about the value of your brand.
However, as effective as Customer Testimonials are, to deliver results, they need to feel authentic and real – People can tell when an opinion or comment is fake! 
It's very important to let your customers talk about their experiences without forcing their answers. That way, it will be easier for viewers – AKA, your target audience – to identify with your past customers' stories. Adding Testimonials to your video marketing strategy can help you increase trust in your brand, humanize your business, and prompt your prospects into buying your product.
5.6. Product Videos
.
Product videos are designed to explain how a product or service works in the most realistic and authentic ways. Showcasing its key features and benefits through relevant, high-quality, and enticing content.
These videos are usually developed for eCommerce businesses, for both physical products as well as digital ones. Helping online shoppers feel like they are checking the product (or service) with their own hands. Businesses usually place them on their websites to help visitors understand more quickly and effectively how valuable their offering is. On the same note, they are great for a video strategy aiming at  increasing trust in your product, nurture leads, and get them closer to a buying decision.
5.7. Company Story Videos
.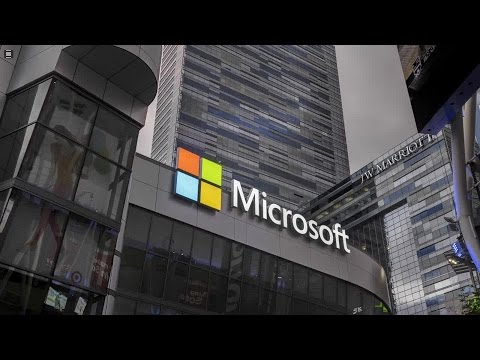 Rather than putting your product or service in the spotlight, Company Story Videos – or Company Culture Videos – showcase your brand's culture and identity.
Using the power of solid storytelling, they let an audience see the human element behind a company. Helping businesses of all sizes and industries to connect on a deeper and more intimate level with prospects. 
To be effective, though, audiences need to feel the video fits who you are. So, Company Culture Videos should always represent your company. Matching your brand's tone, core values, and personality. Using Company Story pieces in your digital video marketing strategy is great for humanizing your brand, increasing trust toward your brand, and building more loyal relationships with customers.
5.8. FAQ Videos
.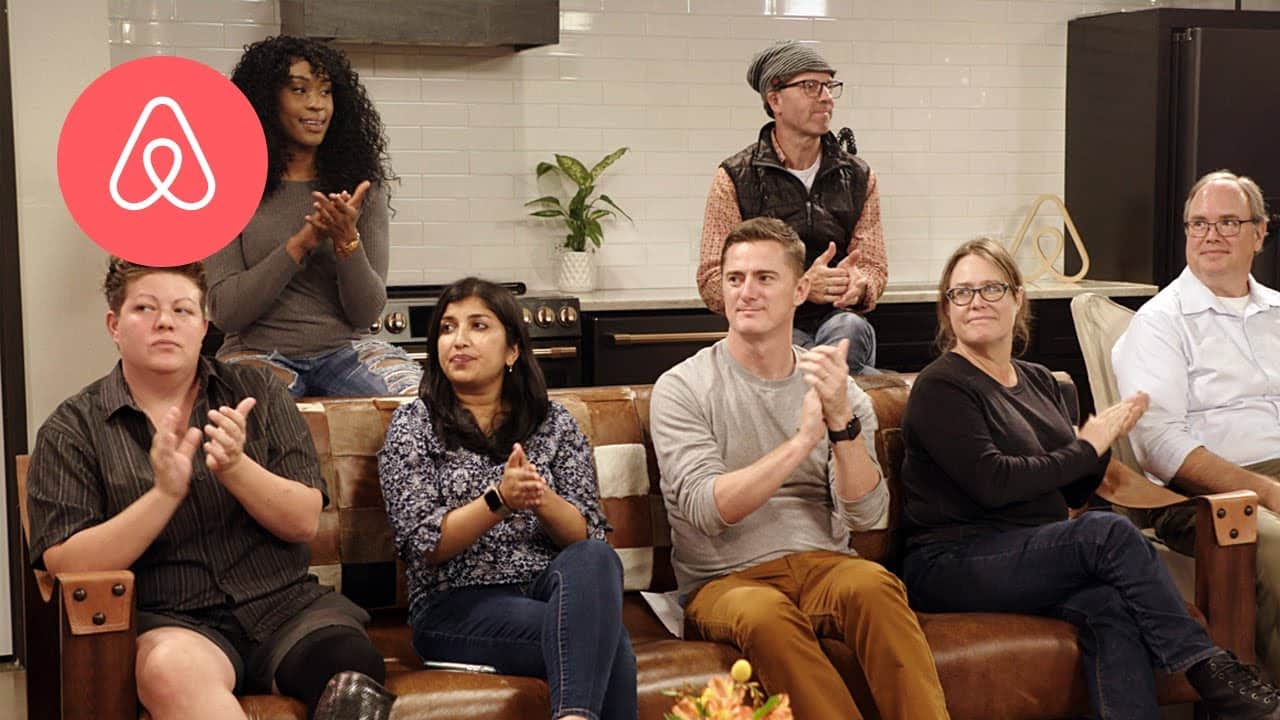 FAQ videos provide relevant and precise information about your product, service, or company. 
Given they are designed to anticipate your prospects' most common doubts, they can help you nurture leads, get them closer to buying decisions, and increase conversions. All while making the experience of answering questions meaningful, dynamic, and fun! 
Now, to achieve those results, FAQ videos should deliver useful information in simple, concise, and straightforward ways. The last thing you don't want is to bore or confuse people!
5.9. Social Media Videos
.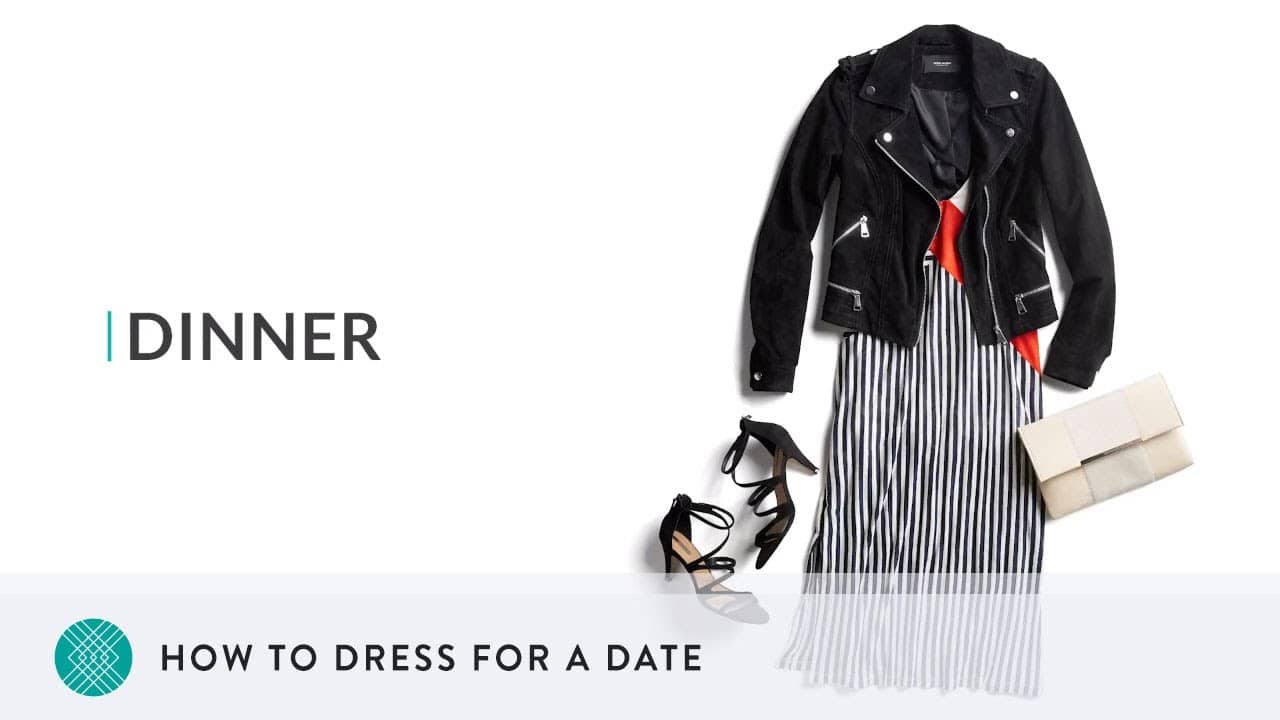 Designed to be shared on social media, these videos can be a little bit of everything, from explainer videos and tutorials to commercials or product videos. 
The first thing that's important to highlight here is that you don't need to develop videos for every social media network. Analyze your target audience's preferences, find where they like to go, and aim your social video marketing efforts there. 
Another thing to keep in mind is that Social Media Videos should always be extremely appealing. Your piece is going to be just one element of a never-ending flow of content. So, make sure that your video marketing strategy covers relevant topics in original and creative ways.
Plus, people expect immediate gratification on social media. Whether you create them to inform, educate, or entertain, your videos should be short, dynamic, and deliver value quickly. 
Using these videos in your strategy can help you increase engagement with the audience through views, shares, and comments, boost brand awareness, and redirect traffic to your website. 
5.10. Behind the Scenes
.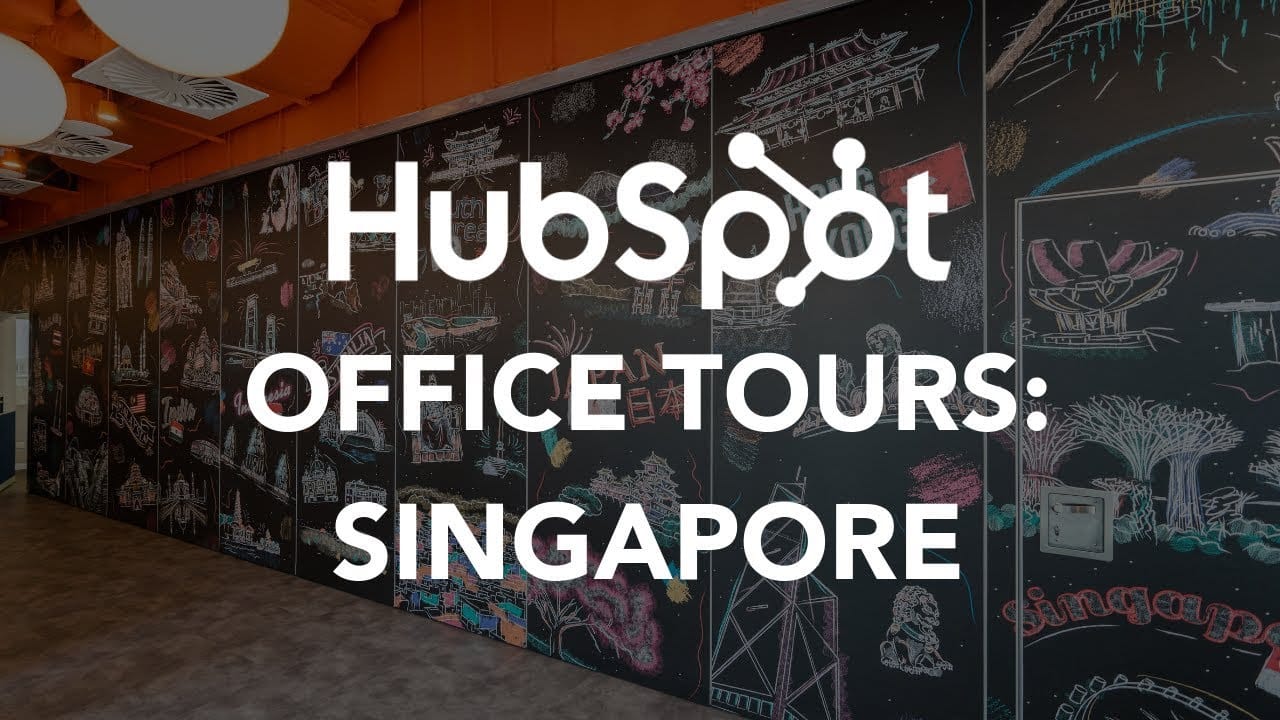 Even though these videos can fall into the "Social Video Marketing" category, they are so powerful that we thought to talk about them individually. 
Nowadays, people expect more transparency and humanity from businesses, especially in the digital landscape where things can get a little bit impersonal. They love real and honest communication from brands they like, and that's something you can perfectly achieve with Behind the Scenes videos! 
When you share insider details about your brand, teams, or offices, people feel like they are getting something exclusive. In a way, you're inviting them to get invested in things related to your company beyond your product or service. This allows you to connect in a deeper and more authentic way with your audience. 
Altogether, including Behind the Scenes content in your video marketing strategy is great for fostering brand trust, boosting online presence, and increasing engagement. 

6. Video Marketing tips
Before we dive into the actual production, here you have some digital video marketing tips to enhance the experience and make your strategy as effective as possible:
Lay down the same concept for all your videos

: Just like you've defined your video strategy's main concept to make your videos work in tandem, use a similar approach and run the same concept through all your pieces. Doing so will help you define each one of your videos' specific stories while ensuring consistency. We also recommend you writing all the scripts at once. It will help to make sure that your message gets across effectively without leaving out important information. 
Use the same color palette

:

By the same token, define a specific color scheme and use it for all your videos. If people see consistency in colors, fonts, and overall art design, they will subconsciously establish a connection between all your pieces. Helping you with brand recognition. 

Use the same characters

: Developing an animated character  –

or several characters for that matter

– can help you create a narrative that goes beyond each piece, and give your digital video marketing strategy thematic unity.
7. The Animated Video Production Process
Ok, we made it – We're finally in the video production process stage! 
There are several ways to approach video production. But, for the sake of this digital video marketing guide, we'll explain all the steps needed to develop an animated video from start to finish. Let's go! 
7.1. Idea
Whether you hire a production agency or you create your video yourself, the first thing you need to do is decide on a concept for your piece. 
So, you should gather your creative team and start brainstorming possible topics. Write down everything you can and analyze which concepts might and might not work for your video promotion strategy. 
The great thing about animated videos is that, if you're creative enough, no idea is too crazy or impossible to achieve. You want to tell a story about a dog that loves eating pasta and every day takes the train to go to work? Fine, by all means, do so! 
Still, when it comes to deciding which idea you're going to use, remember that it should be aligned with your strategy's general concept. 
Don't forget about your audience either. After all, you're creating these videos so they watch them, right? Evaluate what topics resonate best with them and what kind of story can help you connect more deeply with them.
.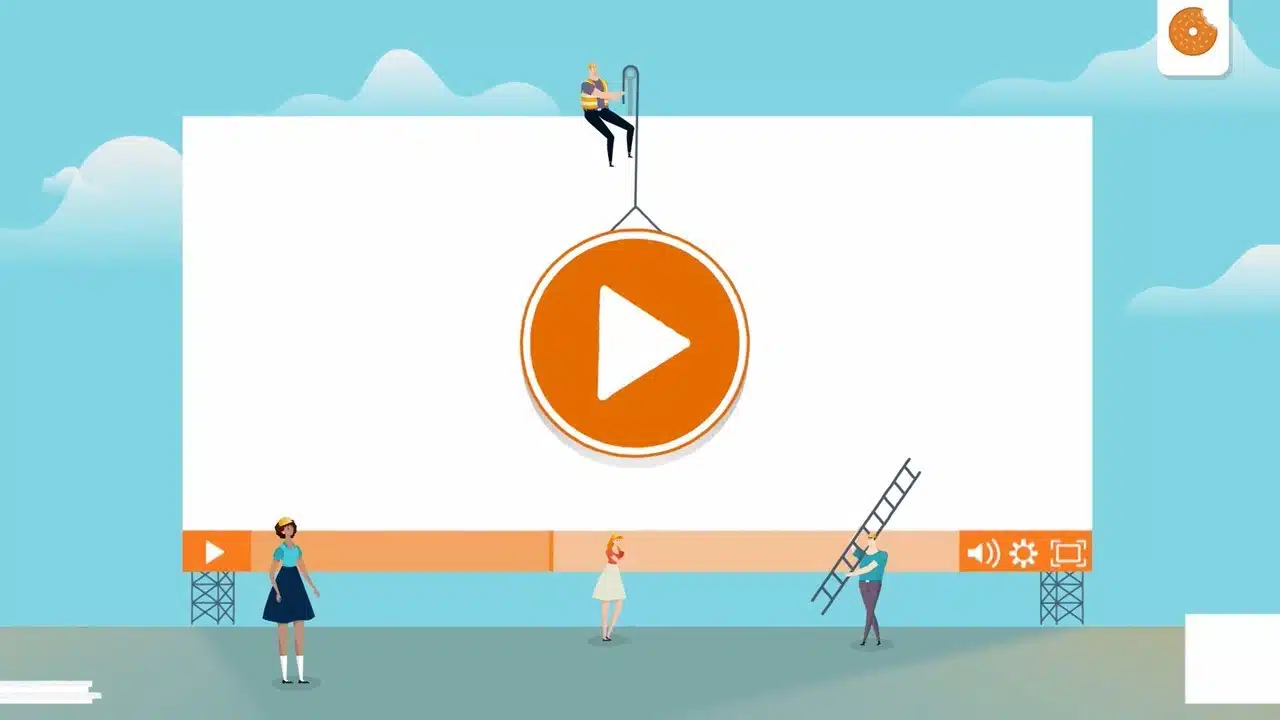 7.2. Creative brief
Once you define your video's concept, it's time to start thinking creatively. 
If you choose to work with a production company, they are going to send you a creative brief so you can answer some basic questions about your video; e.g. Who is your target audience? What's the video for? Which are your audience's pain points? etc. 
Since there are many different ways of using video for marketing, and approaching video production, these briefs help agencies to organize the most relevant information about your project – core values, brand message, goals – and use it to start shaping the video.  
At this point, production companies can also provide new concepts and any direction that brands might need. The idea is they can use their expertise and knowledge to enrich the project as much as they can. 
However, for that to happen, you need to share all the necessary information to help the company fully understand your project and overall digital video marketing strategy. Remember that a video production is a collaborative conversation between two parts, where each one nurtures the other. So, being open and trusting your creative partner is paramount. 
7.3. Art Direction
In order to stand out, every piece included in your B2B video marketing strategy should make a distinctive visual statement. And this is what the art direction is for: following an art guideline to achieve a well-balanced color scheme and a unique design that reflects your brand's voice. 
In this part of the process, video production agencies start developing the visual style, color palette, and general visual tone. Combining your video's idea or concept with all the information they've gathered about your brand, product, and identity. 
7.4. Script
This step is all about the message you want to deliver to your audience. Turning that initial concept into an engaging and memorable script.
Whether you need to write the whole piece or you want an agency to take care of that, keep in mind that any successful marketing video strategy always includes pieces built around a clear and easy-to-digest script. So, make sure it's written in a conversational tone, with simple and understandable vocabulary. 
Also, when it comes to marketing videos' scripts, less is more. A one-minute video usually has 120 words, a two-minute 240 words, etc. Include only what's really important and necessary to get your message across. Keep it short and sweet! 
"Video Marketing Tip: Sometimes, an image, motion, or even silence can tell your story better than a narrator or a dialogue. Take advantage of all the creative resources you have and think about what's best to make your story come alive".

7.5. Storytelling
Ok, it's time to put the words into action!
Storytelling – or storyboarding – is the visual representation of your video's main actions, from start to finish.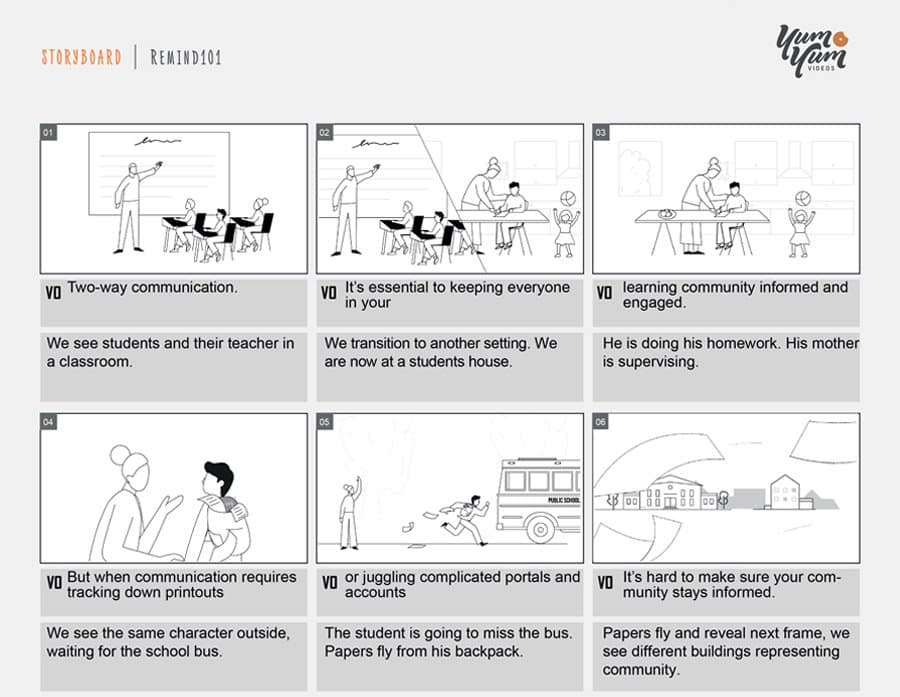 It looks like a comic strip and is used to provide a better idea of how the final piece is going to unfold. Through sketches and basic drawings, each frame includes its corresponding part of the script and a brief description that explains what's happening in that scene. 
A well-crafted storyboard helps you to identify mistakes in advance, before starting the actual production. Giving you time to adjust or correct what's needed to make sure the project and the video marketing strategy are going in the right direction. 
7.6. Animatic
Animatic uses the same images in sequence as storyboards do, but rendered as a video. Basically, it's a slightly animated version of the storyboard and includes the voice-over. Giving you a real sense of how the finished piece is going to look like for the first time, frame by frame.
The animatic's main goal is to define the timing of each moving image, adjust the video's pace, and check its rhythm or progression. So, in this part of the process, scenes are usually trimmed or extended, depending on what's best for the piece and overall video strategy. 
The idea is to verify if the message is conveyed as effectively as possible, and move to the next phase with a solid idea of your video's length and general rhythm.  
7.7. Design
In this part of the production process, designers take the sketches made for the storyboard and start to develop a visual style for the video based on the brand's guidelines. Creating tailored, full-color images that show how the story will play out visually.
However, defining your video's design is more than just adding color. It includes everything related to your video's artwork and graphic assets – character design, textures, illustrations, text, background color, icons, and so on. 
7.8. Voice-Over
Your video's narrator is what's going to help the audience connect on a deeper, more intimate level with your story. 
With the appropriate tone, cadence, and pace, the narrator is going to add empathy to your piece and a "human touch" that will reinforce the message you're trying to convey, making it more credible and trustworthy, and bring you one step step closer to achieving your video marketing strategy's goals.
So, whether your piece has a cheerful, kind of youthful approach or deals with a serious subject, it's very important to find the perfect voice artist. One that's aligned with your brand's personality and reflects the target audience. 
7.9. Animation
.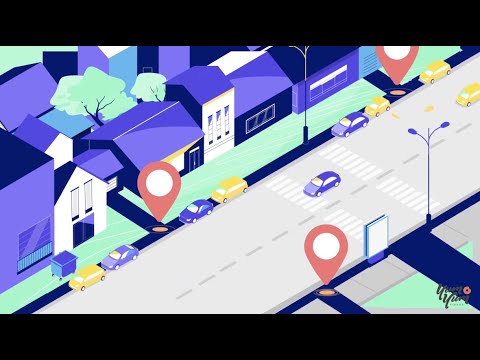 Once the graphics – also known as artwork – are approved and you have your voice-over recorded, it's time to breathe life into your video!
Using the animatic as a guide that marks the time, animators start the magic process of giving movement and dynamism to the illustrations and every graphic element included in the video. Providing the illusion of life to the created visual style! 
Now, whether you're developing an explainer video, whiteboard, 3D, or motion graphics, take notice that animation is time-consuming. Especially when your digital video strategy includes several animated pieces. So, patience is key! 
7.10. Sound Design
This is the final part of the production process, where animation and sound are layered together in the editing room to have your video ready for delivery and ready to become part of your video marketing strategy! 
The sound designers take the voice-over recording to adjust the sound levels and clean it up from any noise it might have. They also add proper effects, music, and any other sound that's going to take the animated piece to the next level! 
"Video Marketing Tip: Keep in mind that music sets the mood for the entire video and helps you enhance the message you're trying to convey. You have to make sure it suits perfectly with your piece!" 
8. How much does a Marketing Video cost?
Many factors play a part in a marketing video's pricing. To begin with, it's going to change drastically if you do it in-house, hire freelancers, or outsource it and team up with a video production company. 
Also, you should take into account that, when working with an agency, there are some elements that influence a video's price: scope (or complexity of the project), video style, run-time/length, and deadlines (or how quickly you need it done). 
That said, an animated video usually averages anywhere between $5,000 and $25,000. If you hire a team of freelancers or a small agency, it'll probably be a price closer to the lower range. If you partner with a professional video production company, it's going to be closer to the other range. 
As for live-action pieces, the price range is pretty wide – You can expect to pay from $5,000 up to $200,000. Once again, it's all going to depend on your video marketing strategy, the type of video you want to develop, its length, how soon you need it finished, and if you want a video marketing agency to handle the whole process for you, or not. 
9. SEO Video Marketing
The benefits of video marketing services are many, but there's one, in particular, we want to highlight: boosting SEO.
As you may already know, people turn to search engines when they want to learn new things, be entertained, answer their questions, or shop. Therefore, it's very important that your content ranks high on the result pages so audiences can find you! 
Luckily, websites with video perform better than sites that don't. Mainly because this type of content drives organic traffic and improves on-site time. As a result, search engines reward pages with video with a higher rank. 
Now, the truth is that just embedding a video on your website won't do the trick. You need to implement specific SEO video marketing strategies to optimize your videos – and website – performance. 
Let's take a look at the most important ones!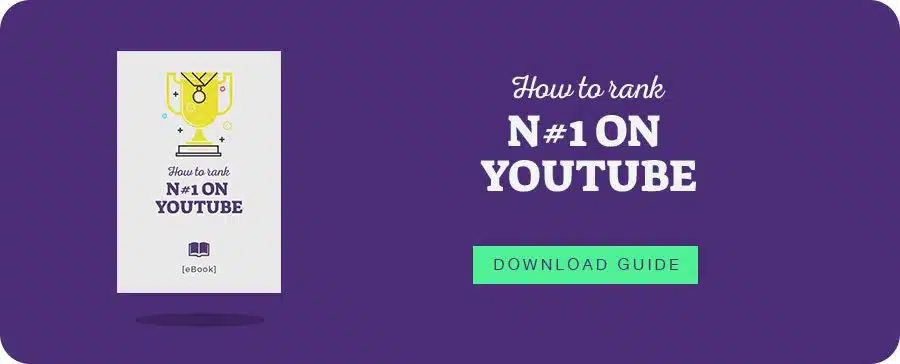 9.1. Analyze your keywords
The cornerstone of any SEO video marketing strategy is understanding what queries is your target audience conducting into search engines. That's what keyword analysis is for – customizing your website and overall content with relevant words to drive more traffic and increase conversion rates. 
So, to begin with, you'll need to figure out what words your potential customers are using when they search for things related to your product or service. Doing so is going to help your brand be found by search engines and, most importantly, by customers looking for products or services like yours. 
How do you go about that – discovering search engine words that are relevant to your target audience? Well, you can start by analyzing the competition. Check what keywords they are using on their websites and especially in the titles of their most important videos. 
There are also several tools that can help you figure out which keywords you should use. For example, Google has Keyword Planner and provides data straight from Google, of course!  Ahrefs is popular for backlink analysis, but it also gives in-depth data on each keyword, like search volume and how many people click on each result. 
Take notice that these are just two of many other options! Whichever tool you use, take the time to make a proper analysis, choose your keywords, and use them in every spot you can to enhance your SEO video marketing strategy!
9.2. Long-tail keywords
Sometimes, rather than just typing one or two words, prospects write very specific questions or phrases into search engines. Especially when they are on the Decision Stage of the Buyer's Journey. 
"And that's what long-tail keywords are – longer sentences that include your keyword at the same time."
Long-tail keywords help you drive conversions. Why? You see, when prospects search highly specific phrases, they know what they are looking for. So, if they find a result that caters exactly what they need, they are more likely to visit your website and ultimately convert. 
On top of that, long-tail keywords tend to be much easier to organically rank in Google's top 10. This is mainly because for single or double keywords the competition is fiercer. When you use long-tail keywords instead, your video has a better chance of ranking in the top listings for that phrase, and others related to it. 
For example, let's say you've created a video promotion strategy with several tutorials on how to prepare a simple dessert. To optimize their performance, instead of targeting a popular keyword (e.g., easy desserts), it's better to use a phrase with low volumes across the results of search engines (e.g., easy desserts with few ingredients.)
All in all, keep in mind using these key phrases can help you establish a direct line of communication between your business and prospects that are actively looking for what you offer. So, we recommend you to analyze long-tail keywords and implement them in your digital video marketing strategy to attract purchase-ready buyers! 
9.3. Video title
Remember what we said about using keywords in every piece of content included in your content marketing strategy for ranking improvement? Well, titles are the perfect spot for using them, especially long-tail keywords. 
A solid headline should be purposely designed for both the search engine and the viewer. First off, you will need to place your primary keyword at the beginning of your video's title. This is going to help your content feature higher on search results. 
That said, when audiences are searching on YouTube or Google, titles are one of the first things they check. They help viewers understand if your content addresses their needs or not. So, to encourage them to click on your video, your title should be straightforward and clear.
However, bear in mind that writing a headline is more than just typing a few keywords. It's very important to be creative and write an interesting title so it sparks your audience's curiosity. Also, make it simple and avoid being too wordy – keep it within 70 characters!  
"Video Marketing Tip: Don't write titles that trick viewers into watching the video. This will cause a huge drop-off that will negatively impact your video's watch-time performance, along with its SERP."
9.4. Video thumbnail
Thumbnails – or still images that act as a preview for your video – are very powerful SEO video marketing elements. 
They play a key factor in whether people click on the video or not because it's the first visual contact that prospects have with your content. So, the image you choose needs to be inviting, appealing, and representative of what your video is about. 
It should also be a high-resolution image  – 1280×720 – because if the resolution is low, your video will probably be perceived as being low quality. On the same note, check your thumbnail on different devices – mobile, TV, iPad, desktop PC – to make sure it looks great on both small and large sizes. 
"Video Marketing Tip: If you developed live-action pieces for your digital video strategy, use close-up faces as thumbnails – we human beings connect more easily with other people's faces!"
9.5. How to include your keywords into your video
Ok, we've just learned how to use long-tail keywords in your video's title. However, there are three other spots where you can include your keywords and enhance your SEO video marketing endeavors: 
Descriptions

explain to your audience what your video is about. They should be concise, straightforward, accurate, and provide relevant information. To that end, include keywords to increase your video's discoverability. Make sure to also add important links, such as to your website and social media accounts. 

Transcripts

–

that is, the text version of every single word said or spoken in your piece

– are another great tool for optimizing your SEO video marketing strategy. You can insert a full transcript of your scripts under each video description. Giving you another opportunity to place many relevant keywords, make your videos more searchable, and ultimately help with their ranking! 

Tags

are words or phrases used to give Google and YouTube (or any other search engine) information about your video, such as, topic, category, etc. Like any other piece of metadata, using the right tags is an opportunity to improve your video's ranking and discoverability. To achieve that successfully, make sure that your first tag is the target keyword. Then, focus on using variations of your keyword in other tags. 
10. Promoting your Video Strategy
You've built your strategy and created awesome, high-quality pieces. Now, it's time to put them in front of your audience – that is, distributing them! 
There are three main communication channels where you can promote your content – Owned media, paid media, and earned media. If you use them right, your videos will help you boost brand awareness and convert prospects at each stage of the sales funnel. 
10.1. Owned media
Basically, "Owned Media" means publishing your content in every communication channel your brand has complete control over. For example, your website and social media accounts.  
Let's take a quick look at the most important types of owned media: 
Website

: This is one of the first places prospects check when they are trying to gather information about your brand, product, or service. Depending on your digital video marketing services needs, and the pieces you've developed, you can place them in many different spots. For example, if you created a series of product videos to increase sales, you can embed them on your products' pages to provide more information about them, especially if your website has a checkout process. 

Email marketing

: Email marketing is one of the most effective ways to promote your videos. Doubly if you send it to subscribers who gave you their information, and are already engaging with your content. So, you can add your pieces to a newsletter, automated email, etc, and make the interaction more fun! 

Social media

: Even though this doesn't include paid ads, social media marketing still is a great way to connect with prospects and reach a larger audience. Analyze which platforms your audience likes using the most, and post your content there! 

Blog

: Adding video content to your blog posts can help you enhance the information you are trying to convey, and make the articles more interesting. Plus, it can enrich your ideas and provide extra-context. Helping visitors to understand better what you do and how you can help them. 
10.2. Paid media 
As the word indicates, "Paid Media" is paying for distributing your video content – that is, advertising them! 
If you advertise your pieces in the right places, you can reach a wider audience, increase your online presence, and boost conversions. 
Here's a list of the most important paid distribution channels that you should consider using:
Search Ads

: Search ads help your brand stand out by ranking your video content above non-paid (organic) results. A good strategy with this form of paid media is to target long-tail keywords related to your product or service and redirect your prospects to a purposely designed landing page.

Social Media Ads

: Social media ads are probably one of the most powerful ways to promote your content. Even though each platform is a unique environment and has its own features, paid ads are great for targeting specific audiences. So, whether it's creating

Instagram Carousel Ads

, developing a video campaign for Facebook, or advertising your pieces on YouTube, make sure to include paid social video marketing strategies because they provide high returns thanks to its effectiveness! 

Advertising

: Native advertising consists of featuring your content on third-party websites without being invasive or disturbing the user. For example, let's say you sell travel backpacks and you developed a series of videos to promote them. If you include native advertising in your strategy, your pieces might be naturally embedded in travel blogs or articles about backpacking. 

Sponsored Content

: Sponsored content looks like traditional blog posts or articles but they were actually paid by a company to promote something. For your digital video marketing strategy, you can write an article that includes your pieces and pay to have it sponsored on a website with a lot of relevant traffic, for example. 

Influencer Outreach

: Basically, this is partnering with a social media "influencer" –

or an account with followers that you're interested in reaching out

– to promote your product, service, or brand. Some influencers might do it for free (or in exchange for your product), but most of the time they require to be paid for their services. So, make sure to plan a solid influencer outreach strategy that will help you get in contact with relevant influencers.
10.3. Earned media 
Earned distribution is when other people share your content for you. Take into account that you're not paying them to do so – they do it because they want or you came to an agreement of sorts. 
As you can imagine, this is the trickiest type of distribution because its reach is quite unpredictable and hard to control. Still, if you play your cards well, it can help you enhance your digital video marketing efforts big time. 
Social media shares

: Simply put, this is when people share your content in their social media accounts. Even though this often happens in an organic way, you can strategize beyond that and enhance your social media marketing efforts. For example, you can contact influencers or industry-related brands and ask them to share your content. In return, you can mention them or link their content on your page.  

Product reviews

: A review features a person describing a product, alongside its pros and cons – Which is why they are great for increasing online presence and fostering trust. For your strategy, you can send your product to YouTube influencers, Instagrammers, or even customers, and ask them to record a video and share their impressions. 

Traditional PR

: This involves all types of traditional public relations promotion. Let's suppose you're launching a new product and you developed a digital video marketing strategy to promote it. You can do a press release and send it to any relevant publications or niche sites related to your field. They might publish your video, write a review, or share it on social media. Introducing your brand or product to a new audience.
11. How to measure your Video Strategy performance?
The moment of truth has finally arrived: It's time to check if your video promotion strategy delivered results! 
Broadly speaking, there are two different things you can measure: videos embedded on your website and videos uploaded on YouTube. 
11.1. Analyze videos on your website with data integration 
Data integration is when you combine different platforms and digital tools to gather valuable information about the performance of videos uploaded on your website.  
You can integrate your website with a data collection tool like HubSpot, a measuring website platform such as Google Analytics, and a private video hosting, like Wistia, to determine how your audience consumes and interacts with your content. For example,  which videos they are watching entirely, if they are skipping parts, etc. 
Even more so, you can collect valuable information about your leads. If they are previously integrated, Wistia allows you to include a HubSpot form: When a lead fills it out, HubSpot takes that information and sends it to your database. Helping you understand your visitors' behavior and what you should do next to move them further in the funnel. 
Take a look at the following image from our digital video marketing services platform dashboard. It provides data about a lead, "Chris".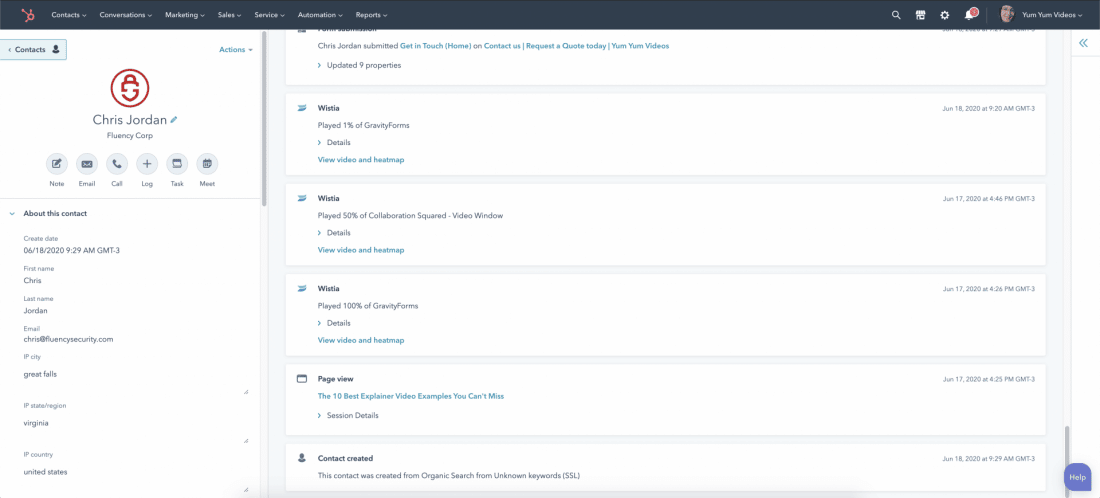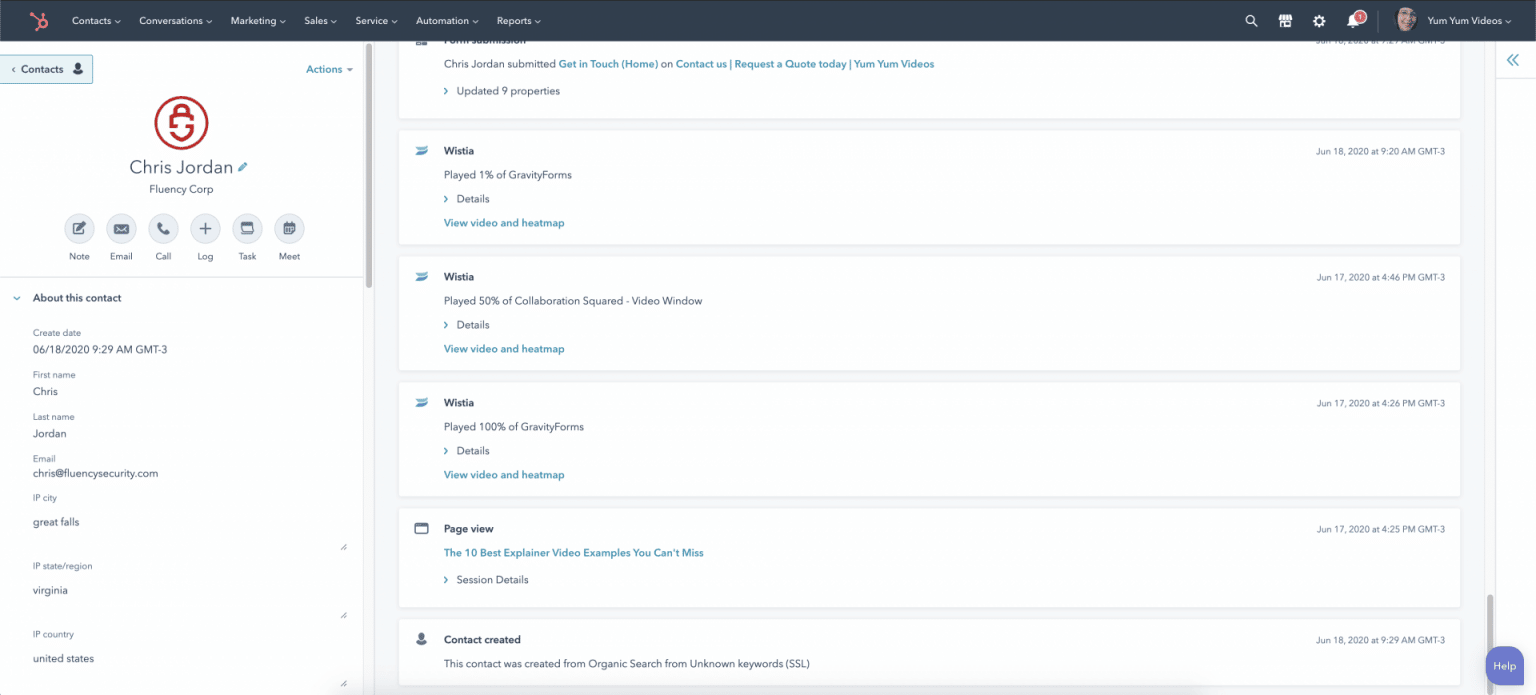 As you can see, he checked one of our blog posts ("The 10 Best Explainer Video Examples You Can't Miss"), then watched an entire video ("Gravity Forms"), played 50% of another one ("Collaboration Squared Video Window"), and finally asked for a quote. 
Having this kind of information helps us measure the B2B video marketing strategies we're using – if they are effective or not, what we should adjust or correct, what type of videos work best, how engaging our content is, etc. 
11.2. Key performance indicators (KPIs)
So, once you start distributing your videos, you have access to many different metrics. Each number reveals very specific information about your video's performance. 
Truth is that, with so many indicators, panels, and charts, figuring out which ones are relevant to your video promotion strategy goals can be really challenging or confusing. 
But don't worry, we've got you covered! Here's a shortlist with some of the most important metrics and what they say about your video! 
View Count

: This metric shows how many times your video has been watched, helping you understand your content's

reach

. Having an organic high number of views is great when your goal is to boost brand awareness and improve your online presence. However, it sheds no light on whether your content is actually resonating with your intended audience or not. So, we advise not to rely just on view count because it's really just the tip of the iceberg! 

Play Rate

: If you want to know what percentage of website visitors clicked play and started watching your video, you need to check this metric. Basically, play rate tells you if your video's

embedded in the right place

and how enticing or

relevant

it's for your prospects. That said, if your play rates are low, maybe you'll need to move your video to a different page or change its thumbnail to make it more appealing!

Engagement

: This is probably one of the most powerful metrics because it reveals

how effective

and engaging your digital video marketing strategy is. In essence, it shows what percentage of each piece your audience has watched. For example, let's suppose you find out that people are consistently dropping off within the first 30 seconds. Maybe your video needs a stronger hook, or perhaps it's too long, so you'll need to edit it accordingly. Whatever the case might be, keep an eye on your engagement metrics because they can help you enhance your videos' performance big time! 

Click-Through Rate

: CTR metric determines what percentage of viewers has clicked on your video's CTA. Revealing how effective your piece is at encouraging leads to

take action

. Now, CTAs are usually placed towards the end of a video. So, this metric goes hand in hand with your engagement numbers. If your CTR is low, you can try placing your call to action at a different place or making it more persuasive, for example. 

Comments & Interactions

: Analyzing how people react to and comment on your content can help you understand

how strongly it resonated

with them, especially when it comes to social media marketing. Plus, it's also a great tool to help create more targeted videos for each platform. Let's say you posted a bloopers video on Instagram and your audience loved it. It probably means that people on that platform prefer watching funny content from your brand! 

Conversion Rate

: One of the most important things you should track is your conversion rate – that is, what percentage of leads or customers you've made thanks to a video. Depending on your content marketing strategy goals, that might be clicking on your CTA, filling out a form, signing up for your email list, or making a purchase,  you name it. All in all, completing a specific action means your

marketing efforts are paying off

! 
11.3. YouTube Analytics
Being the second largest search engine and the most famous video hosting platform, there's no doubt that YouTube needs to be included in your B2B video marketing strategy.
The platform has a robust analytics panel with a lot of metrics, indicators, and reports. These numbers reveal actionable information that can help you adjust or change your strategy and get better results on that platform.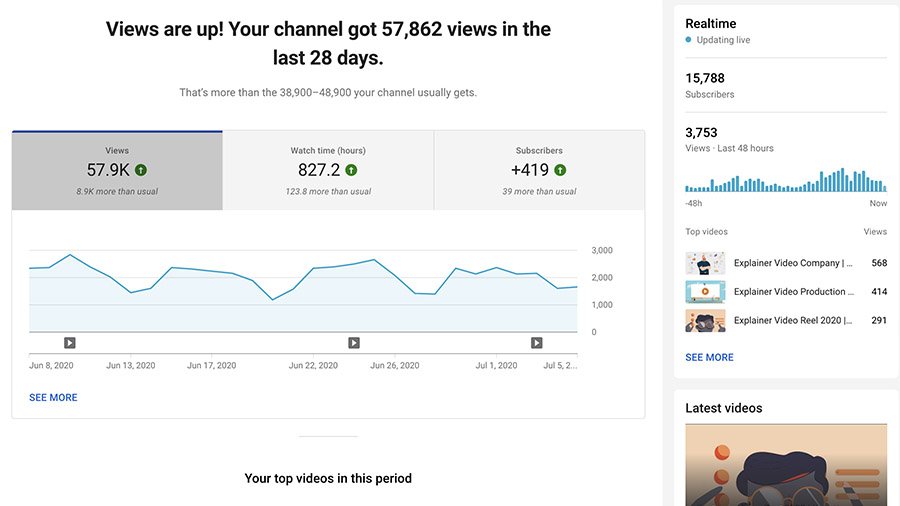 For example, you can get information about your audience, like gender, age, device type, etc. Check your content's reach with reports that help you understand your videos' traffic, such as impressions, click-through rates, and more. The panel also includes many different insights on engagement, like watch time or average view duration, and even a section that shows your earnings. 
All in all, make sure to take full advantage of the information the platform provides. Use it to develop better content and make more profitable decisions in your next digital content marketing strategy! 
"Video Marketing Tip: If you need a hand to understand your panel, you can learn all about YouTube's metrics in this extensive guide we've developed!" 🙂
12. Your Video Marketing Strategy's ROI
Depending on your goals, there are many different ways to calculate a digital marketing strategy's ROI. For now, we'll focus on revenue. 
Once your campaign is finished, you'll have to translate certain KPIs into measurable and reliable figures to understand how much money your videos have brought in. 
Essentially, you'll determine how video views have influenced purchases, and, above all, what videos were watched most often by leads that actually convert. In other words, which content was effective enough go help you make a difference in revenue. 
For example, for your video promotion strategy, you can implement cookies to identify users and collect information for every person that watches your content. Then, you can analyze what percentage of those viewers end up buying something from you. 
Now, to measure your video content marketing strategy's actual ROI, you'll have to divide your net profit by your marketing investment. Here's a simple example to illustrate the math: 
Let's say you've invested $40,000 in developing a video strategy to promote a new product. By the end of the year, you've earned a total revenue of $250,000, with variable costs that accounted for 20% of that amount – that is, $50,000. So, after subtracting the marketing investment and variable costs from the total revenue, you've got $160,000 of net profit.
To calculate your digital marketing strategy ROI:  
Net Profit (Total Revenue – Marketing Investment – Variable Costs)
————————————————————————— x 100 = ROI
Marketing Investment 
That is:
$160,000  ($250,000 – $40,000 – $50,000)
———————————————— x 100  = 400  
$40,000
In this example, the B2B video marketing strategy implemented got 400% of ROI – which means it was an excellent investment and the marketing efforts really pay off!
13. Time to Get Started! 
Today, the importance of a robust video content marketing strategy is undeniable – It helps brands of every size and in every industry to connect with potential buyers and existing customers in the most amazing and innovative ways. 
So much so that almost every platform is now prioritizing this type of content. Ramping up on new tools, features, and formats to be more video-ready than ever before. 
For businesses, this increasing trend represents a unique opportunity to create deeper relationships with prospects, foster trust, boost online presence, and increase conversions, to say the least! 
However, as we've just learned, developing a solid video marketing strategy takes a lot of time – there are many things to analyze, discuss, assess, and decide on. At least, if you want to get profitable results and make your business grow! 
Luckily, you can use this complete video strategy guide, start outlining your next strategy, and take full advantage of this wonderful type of content!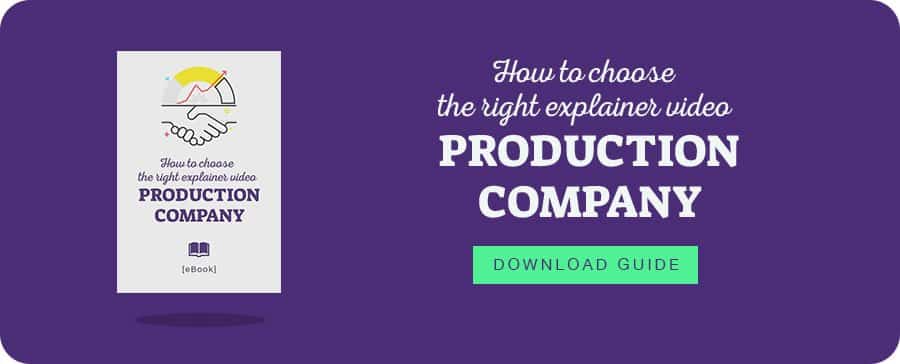 14. About Yum Yum Videos  
At Yum Yum Videos, we specialize in creating fully customized video content for companies of all sizes. 
We've worked with hundreds of brands from all over the globe to provide "out-of-the-box", fully customized video content. From small startups to Fortune 500 companies, we understand how to make video marketing work for your business.
.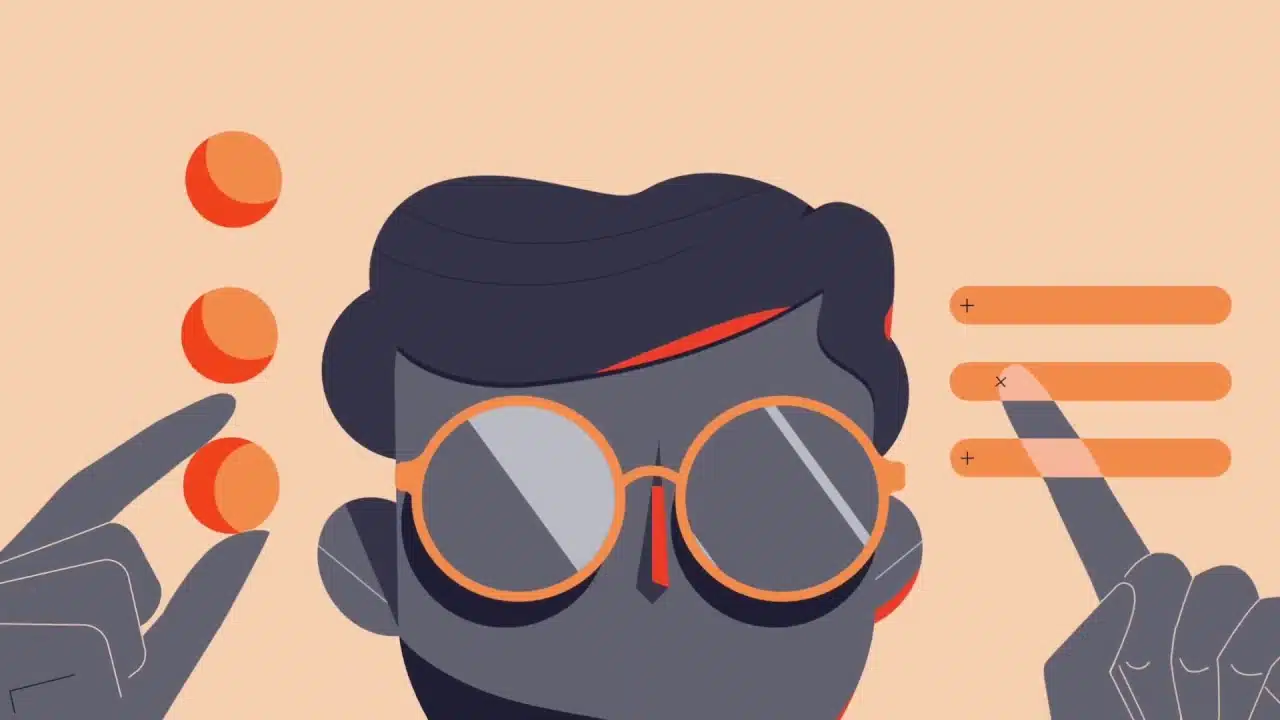 To achieve such results, we focus on crafting top-notch video content that actually resonates with your target audience. Creating beautiful, high-quality designs that are also aligned with your brand's identity.
Our video marketing services include everything – Starting off with scriptwriting and storytelling, we develop the general look & feel of the video, the character and illustrations designs, the animation, and sound design as well.
We basically take care of the whole video production process from start to finish to make sure that our videos are pixel-perfect until our client is satisfied. We look for Originality, Quality, Transparency, and Customer-centricity to help our clients meet their business goals. So, if you're looking for a skilled video marketing agency, let's partner up! We'll create out-of-the-box video content that conveys an idea, educates, and promotes your unique brand and values to help you nail your video marketing strategy's goals.