Given video content's rising popularity and effectiveness, any quick Google search will turn up many motion graphics companies to choose from. Yet finding the skilled and experienced among them – the ones that your company deserves – is another thing entirely. But fret not, Yum Yum Videos is here to help😊
In this piece, we go over some of the best motion graphics studios you can find on the market in 2022, tell you a bit about each, and show some samples of their work to make your search easier!
Top 20 Skilled Motion Graphics Companies & Studios You Can't Miss
Now, without further ado, let's go on a ride and meet some of the most talented motion graphic agencies you can find online.
1. Yum Yum Videos
2. Giant Ant

3. Demo Duck
4. Clim Studio

5. Le Cube

6. Thinkmojo

7. Oddfellows

8. Epipheo

9. Illo Studio

10. Dinos & Teacups

11. Nice Shit Studio

12. Black Madre

13. Antimatter

14. Estudio Pum

15. Sandwich Video
16. VeracityColab
17. Kasra Design
18. Breadnbeyond
19. Faze
20. Very True Story
1. Yum Yum Videos – Motion Graphics Company
Blatant self-promotion aside, rest assured we wouldn't even be here if we didn't genuinely belong on the list 😉 That said, we do work hard to make sure to earn the right!
We produce 100% custom-made videos for every company we partner with.
We consistently deliver top-of-the-industry levels of quality in our work.
We offer you a price-quality guarantee that few others can even match.
We employ an outstanding video production process designed and optimized to deliver results.
It's thanks to those attributes that we've been able to work alongside world-renowned brands like McKesson, Walmart, American Express, Red Bull, and Vodafone (to name a few), and produce cool marketing videos like this:
But far from just taking our word for it, you can just see how some of our clients felt about working with Yum Yum Videos!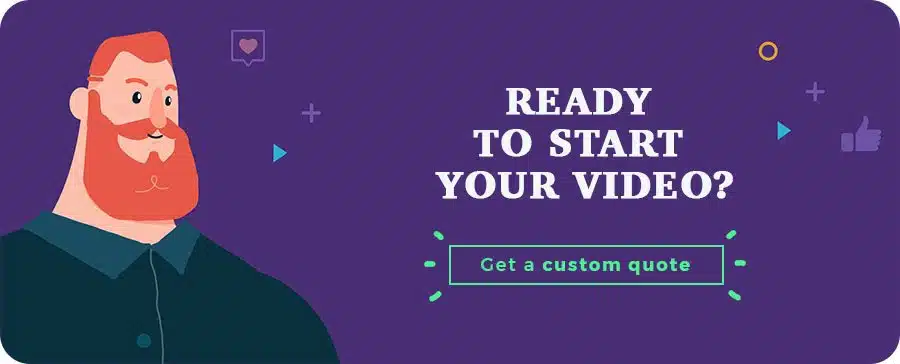 2. Giant Ant – Motion Graphic Agency
For over a decade, Giant Ant has consistently produced meaningful and creative pieces that are just a delight to watch. Even though their work marks them as more than an exclusively motion graphic company, their work with that animation style is superb and showcases the effort that goes into all their work.
3. Demo Duck – Motion Design Studio
A self-proclaimed small team of curious people, the skilled folk at Demo Duck have been consistently putting out amazing video marketing content for a while now, among which you'll find remarkable motion graphic pieces. A lean, mean video production machine whose content you definitively want to check out!
4. Clim Studio – Motion Graphics House
Best known for their amazingly creative work in 3D animation, you should nonetheless consider in
cluding Clim in your shortlist of motion graphics companies to check out. Presenting themselves as a "worldwide freelance network collaborating together," you need only to look at their previous works to realize that not only do they know what they are doing, but they are also great at it!
5. Le Cube – Motion Graphic Agency
Like us, the folk at Le Cube are sticklers for perfection. Apart from being recognized as a skilled motion graphics company, they produce works on other forms of animation and even live-action content. With extensive experience on the medium – and recent forays into VR and 360 videos – they are definitively worth a look.
6. Thinkmojo – Motion Graphics Studio
A full-cycle video provider, Thinkmojo more than earns a spot on any list of motion graphic companies due to its remarkable work on the style. Their catalog and client list are impressive, and their work is top-notch.
7. Oddfellows – Motion Graphics House
Instead of a motion graphics company, Oddfellows introduces itself as a content agency whose works revolve around feeling – and a brief look at their videos will quickly tell you why! With unabashed creativity and always an interesting vision behind it, this company has proven time and again it can deliver unforgettable pieces.
8. Epipheo – Motion Design Studio
With a tagline like "epiphanies through video," you can already tell the people at Epipheo are really passionate about what the medium has to offer. While not exclusively a motion graphics company, their work with the style speaks for itself, and their track record and experience more than earns them a spot here.
9. Illo Studio – Motion Graphic Agency
A motion graphics company that favors colorful aesthetics and              clear storytelling, Illo Studio has been around long enough to understand that uniqueness and creativity are key. Based in Turin, Italy, the studio has an impressive catalog of work, filled with pieces that without a doubt capture viewers' attention and imagination.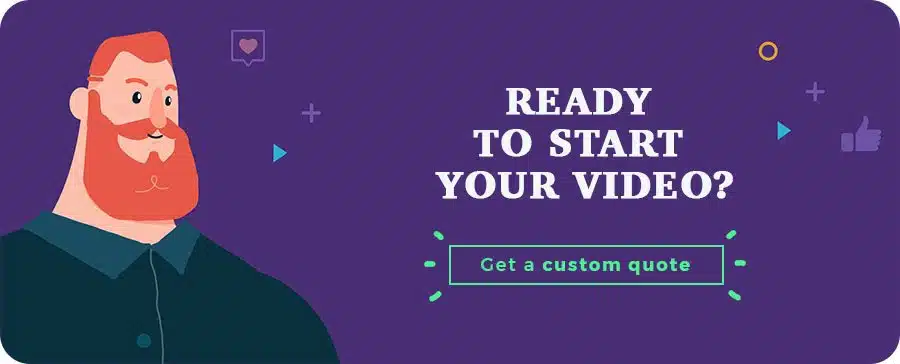 10. Dinos & Teacups – Motion Graphics Studio
The fact that this "motion graphic company" is entirely comprised of a single person is nothing but impressive in our book! You need only to take a quick look at their work to notice the high-quality finish of their pieces and the sense of aesthetics that characterizes their videos, and thus it earns a rightful spot on the list.
11. Nice Shit Studio – Motion Graphics House
An independent studio based in Barcelona, the amazing people at NSS share our obsession with details and great storytelling. With a lot of fantastic work under their belt as a motion graphics company and plenty of work showcasing their talent with other types of animation, they are more than worth checking out.
12. Black Madre – Motion Graphic Agency
Boasting probably the most elegant and striking website of all the entries on the list, Black Madre is a visual art studio based in Sao Paulo, Brazil. Their work as a motion graphic company is superb, and their talent in design and execution is evident in every piece they get their hands on.
13. Antimatter – Motion Design Studio
A charming and creative motion graphic company based in Italy, Antimatter has accrued a lot of experience working with many recognized brands. They primarily work with short animations – under the 90-second mark – expertly designed to get an audience's attention. Just take a look at their work, and you'll see why we included them here.
14. Estudio Pum  – Motion Graphics Company
With offices in both Barcelona and Sao Paulo, Estudio Pum isn't exclusively a motion graphic company; their work extends to other forms of animation and even to printed illustration. With a lot of talent and a level of creativity that's only possible thanks to a talented cross-cultural crew, this is a company worthy of keeping on your radar.
15. Sandwich – Motion Graphics Studio
What started as an app-development enterprise evolved almost by accident into an incredibly popular, thoroughly talented commercial-making team that now boasts an impressive catalog! While not exactly a motion graphics company, the folk at Sandwich still earn a place on the list, given that their work with the medium is excellent.
16. VeracityColab –  Motion Graphics House
A motion graphics company that, like us, always strives to deliver nothing short of flawless storytelling! For more than a decade, this company has established itself as a solid choice for mid-sized companies and enterprises alike. If you are looking for high-quality video content, you should definitely check out their work!
17. Kasra Design – Motion Graphic Agency
You need only to take a quick look at Kasra's portfolio to understand why they belong on this motion graphics companies list. Headquartered in Kuala Lumpur and California, they have been producing fantastic videos using many styles of animations for industries of all kinds. Each of which speaks to their passion and dedication to the medium.
18. Breadnbeyond –  Motion Design Studio
An incredibly flexible, wide-ranging motion graphics company, Breadnbeyond boasts an impressive body of work, array of services, and payment structures that make it a viable provider to keep in mind. With well over a decade of experience and the portfolio to prove it, BnB belongs on this list.
19. Faze – Motion Graphics Studio
A multi-award-winning motion graphic company, Faze was an easy inclusion on our list! Their work is as terrific as it is inspiring – covering both animated and live-action compositions – and a quick look at their portfolio will you all you need to know about the company's original outlook on video content.
20. Very True Story – Motion Graphics Company
A design studio with strong aesthetic sensibilities and an emphasis on animation and graphic illustration, Very True rounds out and puts the cap on our motion graphics company list. Based in Oakland, their minimalist style tells you everything you need about them: they are all about video content.
And there it is; a list with some of the motion graphics studios on the market right now! Each of them has a proven track record of creating amazing videos with this distinctive animation style.
As for us here at Yum Yum, we can tell you that such videos come from our passion for the medium and our focus on our client's needs.
Every video we work on is wholly tailored from the ground up to fit its company's unique style and brand image. All of it is designed to make them engaging, memorable, and effective at the role they were crafted to play in your strategy — something we achieve by keeping an eye on the details at every step of the way.
Last but certainly not least, we love to make every company we work with our partners and make sure their feedback guides the project into a fantastic video that lives up to and surpasses your expectations.
But why read about our process when you can watch this neat explainer we made about it? 😊
So, if you are looking for a motion graphics company with the skill and passion for bringing your ideas to life in unique and effective ways, get in touch!
Wrapping Up
As we said at the beginning, finding the right motion graphics company for your piece is not as easy as it might seem at the outset. However, we hope that by sharing with you this list of talented motion design studios experienced in the medium, you'll have more than enough to begin your search on the right foot.
Now, it's time to start watching some videos, knocking on some doors, and begin working on your next amazing video marketing piece 😄
We wish you all the success in the world!