There are plenty of things you should consider before jumping into one style or another – target audience, marketing goals, the message itself… It's not a decision to be made lightly! So, today we are going to take a comprehensive look at both and explore the strengths and challenges of each one.
Hopefully, by the time you are done reading, you'll have a much better sense of which type might be best for your project.
Before we get into the nitty-gritty of both styles, it's good to have a solid understanding of what each one is all about!
A live-action video, are simply pieces that involve real-life footage of people, animal, and settings. It is contrasted with animation in that it primarily uses photography. If you have ever seen a movie or commercial with real actors, you've seen a live-action piece.
What is Animation?
Animation refers to using and manipulating drawn figures to appear as if moving. Nowadays, most animations are made by giving motion to computer-generated imagery. If you have ever seen a cartoon for kids, you've seen an animated production.
So, with the basics clear, let's get into the live action vs animation conversation, and see what's what.
The Three Big Questions 
Once you start developing your video marketing strategy, there will be plenty of questions that'll jump into your head. Each seemingly more pressing than the last! However, even before you decide between live-action and animation, there are three that we feel you should start with.
Getting them out of the way first should get you closer to honing down which alternative suits your company (and your message) best.
What are you trying to promote?:

A question that might seem misleading at first, since both animation and live-action

can

work in most settings, it can nevertheless be useful. Animation tends to perform better for certain industries like tech, healthcare, or whenever complex products or services are involved. Live-action, on the other hand, comes in handy when real-world locations are involved, for example, in the hospitality business. 

What's the size of your budget?:

A lot of things will impact a video's cost. For example, live-action videos usually require hiring actors, makeup artists, equipment, and so on. For an animated piece, if you want it to be developed by

a professional video production company

, even though it's usually not as expensive as a live-action production, you get what you pay for. It's important to find the right balance between good quality and affordable pricing. 

What does your timeline look like?:

Understanding how much time you have to develop your video is critical, especially if you are short on time. While animation can take a bit longer, getting everything together to make the live-action video you need can also prove difficult and time-consuming.
As mentioned before, these three are but the tip of the live-action vs animation iceberg. That said, answer them early on and they'll make your choice much easier.
Now, let's talk a bit more in-depth about each style, and arm you with more information that can further help you choose the style you need.
Animated Marketing Videos – Pros, Cons, and Examples!
Animated videos are an awesome alternative when it comes to marketing, giving you a format with incredibly broad versatility and appeal.
Let's take a look at some of its pros and cons! 
Pros – Effectiveness, More Creative Control & Budget-Friendly
Animation allows your imagination to run free and lets you convey your message in the most innovative way – there's literally no creative limit with this format! 
Since you are not bound by the laws of pesky reality, you can make your characters do whatever you need them to do. Want them to fly around in space? Easy. Run around the inner workings of a machine? Sure! Whatever your message needs to get across to your audience!
Moreover, when it comes to live-action vs animation, animated marketing videos tend to be more budget-friendly than equivalent live-action productions in this regard.
Animation also lets you take complicated ideas and make them engaging and easy to digest; something particularly valuable for IT solutions or getting abstract concepts across. 
Take this video we made for GreenGeeks, for example. They are an eco-friendly, non-polluting web hosting service, whose value might not be intuitively understood by all. Animation proved to be the perfect canvas to paint their solution.
Another huge boon that comes along with animation is customization. Regardless of the stage of the production process you are in, you can always go back and tweak, switch, improve, and iterate elements to make them even better. 
Lastly, we'd be remiss if we didn't mention the style's popularity among marketers and business owners. By combining gorgeous visuals, meaningful color palettes, and powerful, targeted storytelling, animated videos are quick to resonate with their intended audiences.
Cons – Potentially Longer Production Times 
With animated videos, you have to build them from scratch. From start to finish, and everything in between. You need to plan, design, and create every detail to bring your brand's voice to life with animation, and that takes time. 
A high-quality animated explainer video can take between four to nine weeks to complete, and you should factor those times into your decision-making process.
Another thing to note is that creating an outstanding animated piece requires a lot of disciplines to get involved – writers, directors, artists, animators – so you'll need a capable team to bring your vision to life.
Live-Action Videos – Pros, Cons, and Examples!
Live-action videos are a great choice when you want to promote objects or devices and humanize your brand. Check out their advantages and disadvantages.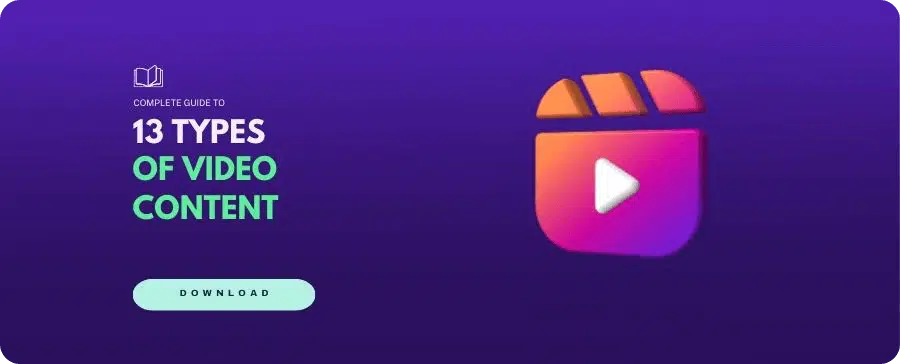 Pros – The Human Element 
As obvious as it may sound, the biggest asset this style brings is that it helps you add a human touch to your video. People are wired to read body language and are instinctively drawn to expressive faces because they show emotions that are familiar and relatable to us. That alone can provide familiarity with your piece.
Moreover, using real people and settings can give certain pieces an air of trustworthiness, making it easier for the audience to engage with a specific situation or message.
These videos are also a great choice when you want to show how your physical product actually works or looks like in a real-life setting. Take this Ring Door View Cam as an example. It shows exactly how it works in very real and common scenarios that make it easier to understand the product's value.
Cons – Bigger Budgets & Lack of Flexibility
Online, people are more demanding than ever and expect nothing but brilliant content. Whatever media you put out to promote your brand or products should be done by professionals, and live-action videos can cost significantly more than an animated video of similar quality and scope. 
Cameras, props, actors, locations, and equipment make the whole production and recording endeavor more expensive and calls for bigger budgets. And even though you could technically develop a piece on shoestring price-points, if you really want to impact an audience (and you should!), you shouldn't cut corners in the quality department.
Another big drawback with this style can be creative limitations – the realities of, well, reality and budget calls for you to compress your ideas a bit more, and keep your content more grounded.
Lastly, unlike animation that can be edited or fixed at any stage, when it comes to making last-minute changes once the filming is done, live-action is way less flexible, regardless of how small those changes may be. Reshoots are always time-consuming and could lead to you spending even more money.
Reading to Make That Video a Reality?
By now, you have more than enough info to understand the difference between live-action vs animation and are probably thinking about the production of the video you need, and we'd love to help you with that as well!
Here at Yum Yum Videos, our main goal is to help the companies we partner with meet their business goal, and we achieve that by paying close attention to their project's needs right from the start.
Every piece we work on is entirely original and unique, shaped with our client's unique identity and personality in mind – something we manage by focusing on the details of the piece as much as the overarching finish. We use those details to weave entirely customized pieces that make your brand's unique voice shine.
Most importantly, we understand that no one knows your business as you do, so we try to keep you as involved in the process as possible. Making use of your expertise by continuously listening to our client's feedback and incorporating it into the final product.
And in case you want a bit of a peek behind the curtains, here's a cool video we made explaining how our process comes together!
There's No Wrong Answer!
Once it's all said and done in the live-action vs animation arena, know that there are no wrong answers. Truth is, you can make fantastic pieces with both approaches, and what's "best" for a particular project depends entirely on your specific needs and situation. Check out these video marketing examples to get inspired for your own piece!
Now that you know some of the most important differences between live-action and animated marketing videos – unique strengths, how they can enrich your brand's message, and their challenges – you are equipped to make better choices.
Keep in mind what you are trying to promote or communicate, and to whom, what your marketing goals are, and your budget. 
And if you need a bit of help figuring out what would be best, don't hesitate to contact us about your project! We'll be glad to talk it out with you.