Everybody is using video. And for good reasons! Video content is the most engaging and effective kind of marketing content out there. But when you're using video in your marketing strategy, you must use it in a smart way.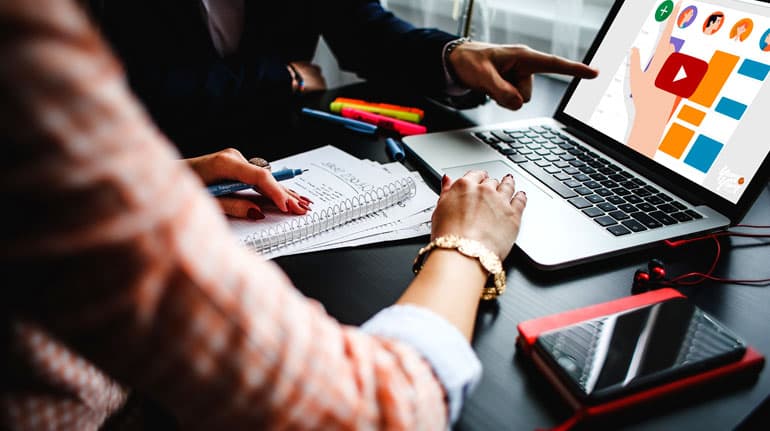 Basically, in order to succeed, your video content must be interesting and have the highest quality. But also it has to be delivered in the right moment.
This means to know exactly which types of videos will work for your brand and when to use them, so you can offer valuable content to your customers when they need it the most.
Not every video is the same. Different types of videos will fulfill different needs of your audience, but they can't be used randomly – your marketing strategy needs different types of videos, which need to be used at the correct stage of the buyer's journey.
Let's not get ahead of ourselves, though! We should revisit some basic concepts first. Let's start!
Inbound Marketing Basics: Your Buyer's Journey
What's the buyer's journey?
It basically refers to every step your potential customer makes before they make a purchase. Your audience becomes aware of their problems, they research for a way to solve them, and they decide to make a decision – these key moments make the three stages of the journey:
Awareness, consideration and decision. Hold onto that thought, because we'll be discussing these stages in a minute, but first you need to know this: Every stage needs its own video content, to shine.
Your job is to create video content that's focused on solving your audience's needs!
The importance of video in your Buyer's Journey
Video content is the golden tool of video marketing. It helps influence the decision process, as it increases conversion by 80% and purchases by 1.8x.
And this is because video is one of the most engaging types of content. The best part is that video is not only the greatest type of content right now, no. The best part is that it's planning to keep that crown – video is the present and the future of online marketing.
Video is here to stay.
So the sooner you start implementing video content in your buyer's journey, the better. But just having a video is not enough – it's important to create different types of videos, always keeping the highest quality, and using them wisely.
This means you need to know which types of videos work better for each one of the stages of the Buyer's Journey. Some are great to create awareness, some are better to educate about the features of a specific product, and some excel at closing the deal.
But which one is which? Let's take a look.

Awareness, Consideration and Decision: Choosing the best videos for each one
Usually, every customer goes through the same stages before making a purchase. They become aware of their problems, they look around for possible solutions and they decide on one of these solutions. Awareness, consideration, and decision.
Our job as marketers is to help them go through these three stages in the easiest way. We do this by "fueling" their journey with the right kind of content…
And you know that "the right kind of content" means video. Smart video.
1.   Awareness Stage
The awareness stage is the beginning of the journey. Your audience is probably unaware that they have a problem, or they're just starting to realize it!
Right now, they're not looking for any solutions yet. They still don't know that they can solve their problem by using your products – the only thing they need is information.
And your job is to provide it.
Use educational videos to provide the information they need. By creating video content that is informative and engaging, you can educate your audience so they fully understand their problem.
Also, people love educational videos – they like to learn new things, they love to share useful content with their peers, and they're also very eager to understand and learn when they're entertained (and educational videos are really entertaining… Especially animated ones!)
Like this one:
The goal of commercial ads is to share your brand's goals and spirit with your audience. Let them fully know you, and use these videos as a way to make a great first impression.
Commercial Ads use brilliant storytelling techniques and high-quality visuals to engage your future customers. Look at this example:
2.   Consideration Stage
In the consideration stage, your audience is now aware of their problems and they're actively looking for ways to solve them.
They're considering different options and looking for the best one. Your job is to show them the different options and position your brand as a referent in the market: show them the best option to solve their problem (your product/service).
And teach by example – show how your product works and why it is the best.
Explainer videos are every marketer's best friends: it's a kind of video that introduces your prospects to your brand, displays your product and lets your audience know why they need you, in just a few seconds. Basically, explainer videos are the ultimate sales pitch!
They explain complex concepts in a simple and engaging way – they explain ideas and make them interesting and easy to understand.
Also, there are many different styles of explainer videos, and you get to choose the one that fits your brand the best. You could use whiteboard animation if you need a very educational approach, cartoon marketing videos for a very friendly tone, or motion graphics for an elegant style.
Use How-To Videos to educate your audience and offer answers to your prospects' questions in a fun way.
Look at this example:
People like to try-before-they-buy, and product videos are a great way of giving them just that – with product videos you can show how great your products are, and how they work.
You can show your products in action with a live action video, or give it a twist by using animation. Any style you choose will be okay, because product videos are very influential in the buying process.
3.   Decision Stage
We've reached the decision stage! This stage is fundamental – it's the moment in which your prospects will be making the actual purchase decision. Your prospects are ready to buy, and they've already established the kind of solution they want.
But there's a question in the air: will they buy it from your brand, or from the competition?
Your job here is not only to give them a final push in the right direction, but also to convince them that your product is better than anyone else's.
And you'll do this by delivering the right kind of video content.
People trust their peers' opinion a lot more than they'll trust your word alone. You can repeat a million times how incredible your product is, but just one review from a real customer will outweigh their opinion.
So, take control of the situation and offer customer testimonials. Ask your former clients to share their story with your brand – real, authentic, valuable stories that actually increase your prospects' confidence in your product or service.
(Pro Tip: We want to share with you this guide on making customer testimonial videos that close sales – take a look at it!)
With company story videos, just like with customer testimonials, you'll be establishing trust (which is very important during this stage!). But company stories actually go one step further by being completely transparent and showing the real people behind your brand.
People like to know who they're buying from, and with company story videos you can show them who you are, and what your brand stands for.
And what happens after the purchase? The Delight Stage
What happens after you land a sale is often overlooked, but it shouldn't be! Upselling is important, and even if your customers had a very positive experience with their purchase you need to provide enough value so they want to buy from you again.
You could create video updates for new features, products or services and announce it to your customers.
Summary
Video must be made especially to fit your customer's needs, and these needs are constantly changing! This is the reason why your marketing strategy needs to include different types of video.
Learn to use them correctly, as there's no 'one-size-fits-all' kind of video. Videos need to be used in the correct stage of the buyer's journey… and you can still use them after the purchase to ensure customer retention.
Make sure that your video production company can help you create high-quality video content that'll fit perfectly in its stage. At Yum Yum Videos, we value the power of smart video, and we can help you!
Just let us know if you're ready to create the best videos for your buyer's journey – our team of experts will be happy to hear from you!