The great thing about Twitter is that offers a very casual and "in the moment" approach to social media content, unlike that of its main competitors. An approach that 145 million people use daily to check the latest news, voice their opinions on specific issues, watch viral videos and memes, or exchange messages with brands they like.
For businesses and content creators, then, Twitter stands as a powerful communication channel that can help them create meaningful interactions with their audiences, effectively promote their products, engage prospects, and grow their online presence.
However, tweeting and using the platform as a brand builder tool are two entirely different things. So, if you want to succeed and make the most out of the site, you need to keep up with its latest trends and statistics to make informed decisions and choose the right strategies.
To help you with that, we'll go over some of the most relevant Twitter video marketing statistics for 2021, and provide important insights into what they mean and how you can use them to plan a solid strategy!
People like to express how they feel about brands on Twitter
If anything, people on Twitter are very vocal about the things they like and dislike, especially brands. According to the app creators, Twitter users are 38% more likely to post opinions about brands and products than other social media users (source).
Certainly, this Twitter video trend for 2021 reveals that brands are an integral part of regular conversations on the platform. Something that businesses can use in their favor to increase brand exposure and attract bigger audiences.
Even more so, if used right, the micro-blogging app can give you actual access to people's unbiased conversations around your brand. For example, you can use social media listening tools – like Mention or Awario – to monitor specific keywords on Twitter, such as your brand name or products.
Doing so can help you gauge your company's overall popularity, analyze your target audience's opinions regarding your brand, products, and content, and ultimately adjust what might be needed in your strategy.
Twitter users prefer inclusive and genuine brands
More than ever before, people – especially younger audiences – expect brands to be more human and get involved in social issues.
So much so that a recent study revealed that Twitter users are more likely to engage with brands that are inclusive, relevant, and transparent (source). On top of that, 25% of people say they'll purchase more from a culturally conscious company.
This twitter video marketing statistic for 2021 points that taking a stand is becoming a differentiating reason why consumers might choose a brand over another one. So, companies can't afford to be tone-deaf on issues that are relevant to their target audiences!
Mind you, voicing social debates doesn't come without risk. It's important to address topics that are closely aligned with your brand's identity and core values. Or else, your campaign might come across as insincere (with good reason), and end up hurting you.
So, if you play your cards well and uphold values mindfully, being outspoken about social messages on Twitter can help you create deeper, more loyal relationships with your followers and boost your overall credibility.
Twitter has become an effective channel for customer service
Given it was designed to share and exchange information very quickly, Twitter has become the go-to social media site for customers that need some kind of assistance from a company.
In fact, it has been demonstrated that brands using Twitter for customer service see a 19% lift in customer satisfaction (source).
However, any support that you provide via Twitter will be in the public domain, organically impacting your brand's reputation. So, you really need to understand how to handle your customers' demands, concerns, and doubts.
For example, when users need customer service, they usually expect an immediate answer. Meaning that you should solve their problems in the quickest way possible. Manners matter as well, especially when it comes to customer service. Hence, using a friendly tone and showing customers that you appreciate their time and patience can make all the difference.
All in all, it's all about creating a positive and personalized experience to delight your customers and keep them coming back for more. So, if you're using Twitter to support your customers, make sure you have a special team that's always available to answer (properly and efficiently) Tweets or queries.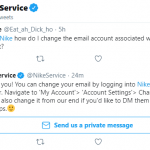 Video has found its place on Twitter
Even though Twitter is a text-based platform, video is becoming a central piece of what's happening on the site. As such, people watch 2 billion videos on Twitterevery day, which is a 67% year over year growth (source).
So, considering this impressive twitter video marketing statistic for 2021, the social media app is turning into one of the most fertile grounds to implement effective video marketing campaigns. Especially to drive user engagement and enhance your branding efforts. (More on this in a minute).
So, how can your company leverage video content on Twitter?
Well, it's all going to depend on your business' needs but there are many different options, really. You can share original marketing pieces to improve brand awareness, like how-to tutorials and product videos, livestream from your offices to give your audience a special peek "behind the curtains" and humanize your brand, or even use funny GIFs in your Tweets to spice up your interactions.
Whatever your ultimate goal might be, keep in mind that incorporating different types of videos in your content mix can help you get your audience more invested in your brand, attract new followers, and build a solid presence on Twitter.
Tweets using video get a lot more interactions
Video is the best performing type of content on every popular social platform, and Twitter is no exception – New research shows that Tweets with video get 10X more engagement than those without (source).
To help brands capitalize on this twitter video marketing statistic for 2021, Twitter outlined how businesses can use video on the site and gave useful tips on what's actually working for users in terms of interactions – that is, favorites, retweets, responses, and more.
For example, according to the company, when videos feature people interacting or using a product, there's a 40% increase in overall response. Also, having a prominent call-to-action on videos attract 2X higher click-through rates.
All things considered, people are already responding to videos on the platform. But if you want to take one step further and skyrocket your engagement metrics, understand the type of pieces that encourage your followers to take part in your brand's conversations.
So, make sure to monitor your Twitter Analytics panel to assess your content's relevance on the platform, check what types of videos are resonating best with your audience, and develop strategies with those insights in mind.
Twitter users prefer to watch videos via mobile
We live in a digital, smartphone-dominated kind of world, so it makes sense that 93% of video views on Twitter happen on mobile (source).
It goes without saying, then, that you need to keep your video content mobile-friendly. Meaning that there are certain aspects – both technical and in terms of video structure – that you'll have to account for.
For instance, Twitter has a very dynamic, fast-flowing mobile feed – People scroll quickly and only stop when something catches their attention. So, you should use strong visuals with striking branding techniques and captions. Also, you can't forget to combine a responsive format with a mobile-friendly video player and adjust the aspect ratio.
The bottom line here is you should approach your video campaigns with mobile design top-of-mind. That way, you'll offer a better user experience and, most importantly, ensure they perform well on the platform.
Video ad watch time on Twitter is higher than on other platforms
According to the site creators, time spent on viewing ads is 26% higher on Twitter than on other leading platforms (source) – Definitely, we're looking at one of the most relevant Twitter video marketing statistics to plan your 2021.
Now, there are two key takeaways that emerge from this: First off, high video ad exposure time is correlated with a campaign's overall success, as there are more chances of conveying your message effectively if people watch your content. As simple as that.
Secondly, ad watch time also helps influence how people remember and feel about your brand, mainly because it impacts important brand metrics — for example, brand advocacy, familiarity, and purchase intent.
All in all, whether you promote existing Tweets, set up an App Cards campaign, or use pre-roll videos, ads on Twitter have a very good performance, mostly in terms of branding. So, spending part of your advertising budget on Twitter might be an excellent call.
Short-form videos are highly impactful
In today's competitive and content-saturated digital landscape, it's decisive to stand out, grab attention quickly, and clearly convey your message. If not, your content will be easily overlooked and forgotten.
That said, to maximize branding impact, the ideal video ad length on Twitter is between 6 to 15 seconds (source). Even more so, to increase overall breakthrough metrics, you should convey your core message in the first 3 seconds and keep your Tweet copy under 100 characters.
As you can see with this Twitter video trend for 2021, brevity is imperative forboth written and video content. So, every marketer and content creator should take that into account when developing their strategies for the platform.
In short, considering this user behavior on Twitter and how our attention spans keep shrinking, make sure to create engaging, original, and hard-hitting videos that quickly get to the point. That way, your message – therefore, your brand – will be easier to remember, and you'll enhance your overall branding efforts.
Front-loaded product videos drive more interest & action
In terms of your pieces' actual content and structure, when videos start on a product, there's a 24% increase in positive interest and 34% in click intent (source).
Naturally, this is strictly related to the fact that short-form videos rule Twitter's dynamic world. So, the sooner you impact the viewers and provide some kind of value, the quicker they'll feel connected to the piece.
With that in mind, this twitter video marketing statistic for 2021 proves something very important: Twitter is an ideal environment to share product videos. For example, a demo video that exhibits your product's unique features, a how-to to showcase how to use it, or even a short unboxing video featuring a customer unpacking the product.
The bottom line here is that people are open to watching these videos on the platform. Hence, developing this type of content can help you put your product on the map, pique your audience's interest, and ultimately prompt them to take action. Just remember to start strong and front-load your videos with enticing product visuals!
Silent viewing is a must on Twitter
To sum things up, here's a final twitter video marketing statistic for 2021 – According to the company, sound-off videos can drive 28% longer view time with mobile viewers (source).
Evidently, mobile Twitter users prefer watching videos without sound. This goes hand-in-hand with how users usually browse with their phones – while being with other people or doing other things, and sometimes even both!
So, what does this mean for marketers and content creators?
Basically, you'll have to optimize your video content for silent viewing. Paying special attention to certain creative elements, such as adding closed captioning or subtitles and primarily designing under the "show, don't tell" rule – that is, rather than with a narrator or music, you should clearly convey your message through eye-catching and relevant images.
All in all, it's always best to let the viewers decide if they want to watch your videos with sound on or sound off. So, make sure to create pieces that are compelling enough to engage your audience without sound!
In Conclusion
Given its signature character limit, fast-paced environment, content's short life span, and unique type of users, implementing a successful video campaign on Twitter can be particularly challenging.
However, based on these b2b Twitter video marketing statistics, including Twitter in your social media strategy is paramount, as it can really help your business boost brand awareness, tap into highly engaged users, build loyal relationships with customers, and make your company's content more "edgy" and fun.
So, we recommend keeping an eye on these Twitter video stats to understand what's actually working on the platform, especially regarding video content. Using them as a guide will help you make more informed decisions and ultimately take advantage of Twitter's full potential!
Sources
"Twitter by the Numbers" – Omnicore: https://www.omnicoreagency.com/twitter-statistics/
"40 Twitter Statistics Marketers…" – WordStream: https://www.wordstream.com/blog/ws/2020/04/14/twitter-statistics
"Twitter Stats for 2020" – SocialPilot: https://www.socialpilot.co/blog/twitter-stats-infographic
"25 Twitter Statistics All…" – Hootsuite: https://blog.hootsuite.com/twitter-statistics/
"Twitter Provides New Stats…" – Social Media Today: https://www.socialmediatoday.com/news/twitter-provides-new-stats-and-advice-on-video-marketing/550225/
"How video is reshaping…" – Twitter for Business: https://business.twitter.com/en/blog/how-video-is-reshaping-digital-advertising.html
"Twitter tips, tools, and best practices" – Twitter for Business: https://business.twitter.com/en/e.html
"Data-driven best practices for Twitter Video Ads" – Twitter for Business: https://business.twitter.com/en/blog/video-advertising-best-practices.html
"Twitter Shares Key Video…" – Social Media Today: https://www.socialmediatoday.com/news/twitter-shares-key-video-best-practices-to-maximize-engagement/576220/
"Data-driven best practices…" – Twitter for Business: https://business.twitter.com/en/blog/video-advertising-best-practices.html