When planning video content for your marketing strategy, you must do it in a smart way.
This means knowing exactly which types of video content will work for your brand and your customers, and when you should use them to get the best results.
There are lots of different types of video content, and it may be tricky to understand which ones are effective for your brand, and which ones aren't The trick here is to identify your audience and understand them, and what they really need.
You can do this by tracing a clear path of your buyer's journey, and identifying exactly which types of video content work the best for each stage of it.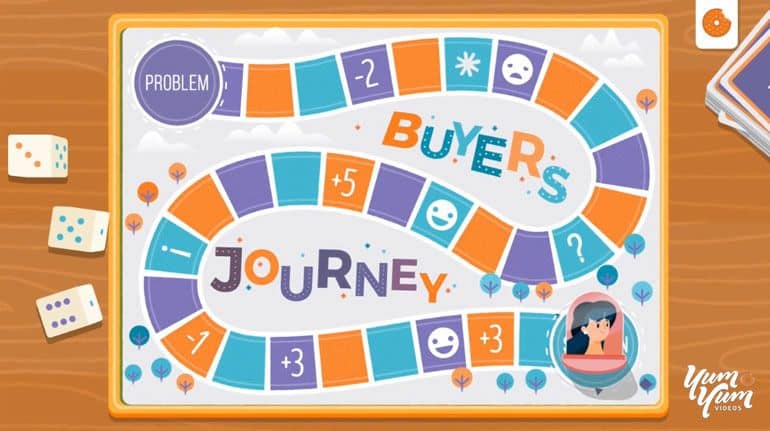 Keep in mind that, to succeed, your video content must be interesting, engaging and of great quality. But also it has to be delivered at the right moment.
Let me show you how! First, let's talk about the buyer's journey.
What's the Buyer's Journey?
The Buyer's Journey is the active process your customers go through in order to buy a product or service: from the moment they realize they have a problem, to the final purchase.
It starts when your prospects realize that they are in need, somehow (they have a problem, or a question), and they start researching for answers.
As marketers, our job is to approach the buyer's journey by focusing on solving our buyer's problems. By creating great quality video content focused on that…
You'll help viewers recognize their problems
Educate them with different solutions and provide expertise
And nurture them down the path of buying your product or service

But… why Video?
Because video content is the future (and the present!) of online marketing.
Recent statistics show that 90% of viewers say that videos are helpful in the decision process, and also one minute of video is the equivalent of 1.8 million words!
Yes, you read that right. Video is the golden tool of digital marketing right now, as is one of the most engaging and powerful types of content out there.
So, it's time to join the club. Having good video content is important, because video is here to stay. But what's also important is to know which types of video to use and when to use them, and here is when the three stages of the buyer's journey come into play.
Three Stages of the Journey
Even though possible buyers may follow a slightly different route, they all encounter the same three stages of the buyer's journey – awareness, consideration and decision. Your job, as a marketer, is to give your prospects the "fuel" they need to move through these three stages successfully, moving them towards the purchase.
The way to do this is through great quality video content.
Awareness
The first stage of the buyer's journey is the awareness stage. During this stage, your prospects are starting to understand that they have a problem that needs to be solved.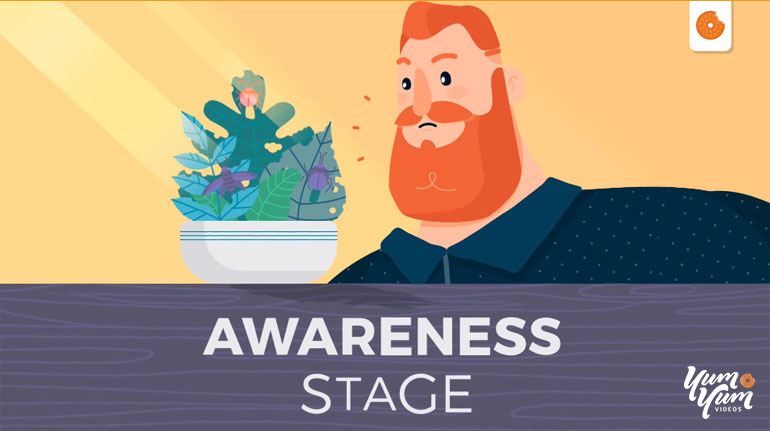 They've come to you looking for answers, they're trying to solve a problem or meet a need. Right now, there's no guarantee that they'll end up buying from you. But if your prospects find your video content useful and interesting, they will be looking to advance with your sales funnel.
Your job is to provide this useful video content and keep them engaged, to help them go through to the next stage.
There are some types of video that will work better than others.
If your goal is to engage your future customers, then a commercial ad is your way to go. These are videos that share your brand spirit and values with your leads. They use an engaging story and they're great to create a good first impression.
Let me show you an example.
Tortilla Land | Explainer Video by Yum Yum Videos
People love to learn new things, especially now that they're at the beginning of their buyer's journey and they're looking for information that will solve their problems.
Educational videos are helpful and easily shareable, and it's so easy to make them fun, too. For example, you could make an animated video, like this one:
What is the best explainer video style for your business?
Consideration
In the second stage of the buyer's journey, the consideration stage, your prospects are now aware of their problems. During the awareness stage you've used video to make them realize that they're in need of a solution; now, in the consideration stage, your job is to show them why your products are the best solution.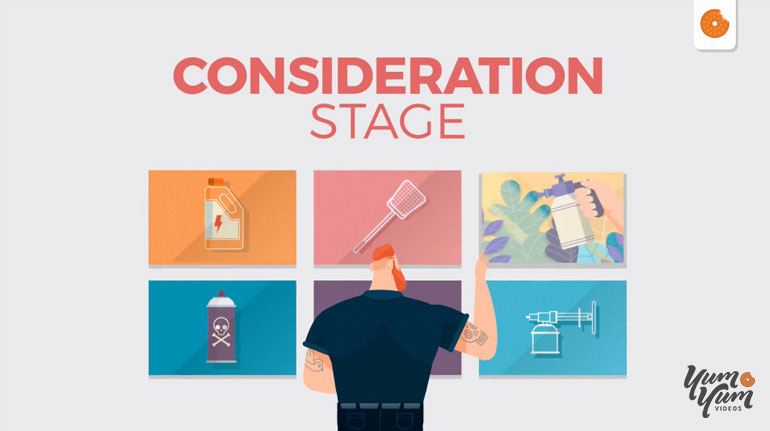 This stage is, mainly, a point of extended engagement. Right now, it's the moment to nurture your leads and build trust.
What is an explainer video? It's a video that introduces your prospects to your brand and your product and lets them know why they need you, in just a few seconds.
They don't just explain ideas – they make them interesting and easy to understand. Animated explainer videos are great to simplify a complex concept, because they'll bring focus to what's important and make it light and fun to watch.
There are various types of explainer videos, like:
Whiteboard Animation Videos
A whiteboard animated video tells a story using drawings on a whiteboard. It has three basic elements: the white background, a continuous black drawing and a hand.
A great-quality whiteboard video can be really entertaining. Let me show you an example!
Spigit | Explainer Video by Yum Yum Videos
Motion Graphics Videos
Motion Graphics are a great synthesis tool to explain any complex product or service. It's a more sophisticated and elegant style of explainer video, but at the same time, it uses colorful graphics in an educational way.
Bulls Bikes US | Explainer Video by Yum Yum Videos
Cartoon Marketing Videos
With the use of humor and good quality animation, cartoon marketing videos are great for explaining your business idea to your customers.
They're not only very engaging, but they also make your audience identify with your animated characters very quickly.
Gigtown Music | Explainer Video by Yum Yum Videos
Product Videos
Product videos are a great way to tell your prospects how great your products are and show them in action. It can be a live action video, but also a nice animation can be really interesting; or, if your product is a digital one, you can use a screencast video. Watch this example:
Walmart | Explainer Video by Yum Yum Videos
How-to Videos
How-To videos are great to answer your customer's questions, in a fun, entertaining way. Use them as a chance to educate your audience, and be a helpful resource for them.
Let me show you an example!
Explainer Video Production Process | Yum Yum Videos
Decision
Oh, the moment of truth! The decision stage is the moment in which your prospects will be, finally, making the actual purchase decision. They're ready to buy, but this brings up one big question: will they buy from your brand?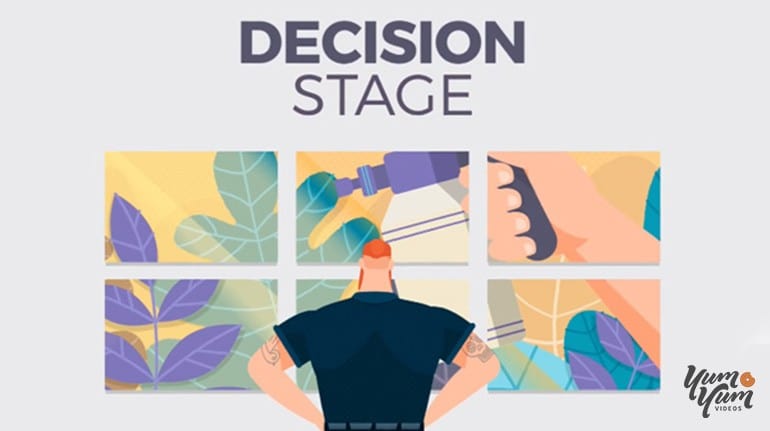 In most cases, what your prospects are lacking at this stage is just a final push in the right direction (your product's direction!). You can do this by delivering the right kind of video content.
About Us videos give you the chance to build trust with your prospects, showing them who you are, who your brand really is and what it stands for.
HubSpot: About Us with Dharmesh Shah
Testimonials and Case Studies
Testimonial videos and case studies help your prospects connect with your brand's advocates, increasing their confidence about the product that you're offering them.
Sometimes, prospects need some form of validation from others before making the decision to buy a product, and with testimonials, you're giving them exactly that.
Phelps Agency - Testimonial Video
Remember, these videos have to be authentic: use real customers, with real and valuable stories to share. If you want some examples, visit our Testimonials page!
After the Buyer's Journey: Delight Stage
Let's call the Delight stage a "non-official" part of the journey, but still an important one. What happens after you land a sale?
Well, if your customers had a positive experience with their purchase, they might not need so much convincing for coming back; but you still need to provide enough value so they want to return.
Video updates for your customers are an interesting tool to achieve this. If your buyers are engaged, they're probably following your brand's social media accounts, so use this in your favor. Whenever you have a new product or service, announce it with video!
Related article: How to Build Brand Loyalty Using Video Content
Let's recap
All this means that you can't be thinking about video content like a "one-size-fits-all" kind of thing.
Video content must be tailored especially for your customer's needs, and these needs are not the same in every stage of the buyer's journey.
So, if you really want to be successful with your video content, you must learn which types of video to use in every one of the three stages (awareness, consideration and decision). And after your customer passed all of the stages, you can still use video content to ensure customer retention.
Remember! If you want your videos to work at their best, they need to be of high quality, and also fun and entertaining.
If you'd like to know more about how to boost your marketing campaign using video, take a look at our free infographic, you'll find it very useful! Also, if you'd like some help creating the best video for your buyer's journey, let's chat!