A marketing sales funnel, as you probably know, is the path that your customers follow when they're thinking about making a purchase. This is a journey, that features different types of interactions that your customers will have with your brand.
These interactions exist in different moments of the funnel! And, if you want to have a successful video sales funnel, you need to know how to reach your customers at the correct moment.
This means, knowing which type of videos you should be using, and when and who they're going to be directed to!
It's time to ask the real questions. Who are your customers? You need to know what they want and what they need. Remember, these are the people who will end up buying your products!
The way to do this is by creating ideal models of your customers, which are your buyer personas. They will help you understand your prospect's pain points!
By understanding that, you'll be able to create marketing videos that meet your prospect's needs, which is the key for producing a video sales funnel that works.
Because, you know, video is an amazing tool! 90% of users say that videos are influential in the decision process, so you must use them wisely. Not every type of video will work at the same moment. This is why you must use different types of marketing videos for each stage of the funnel.
The right marketing videos at the right stage
So, a video sales funnel breaks down into three stages, which are called awareness, consideration, and decision. The goal here is to create full-funnel video content that will meet your prospect's expectations!
This means that your prospects are coming to you facing different problems. Depending on the stage they're in, their issues might change slightly, and their needs will definitely change: your prospects are in need of different types of interactions with your brand.
You must identify this, and create marketing videos that satisfy their needs. If you recall, this looks a lot like the base of inbound marketing!
Inbound marketing is all about meeting your prospect's needs at the right moment. Making video content the center of your sales funnel will boost your inbound marketing strategy.
Why? Because you will be attracting organic traffic. Your prospects will come to you, rather than you going out there to get them (which would be outbound marketing), and this is because you'll be attracting them by offering the content they need.
So, you want to influence your prospects the right way during the buying process.
There are different types of videos (as I told you before) and each one will work best in a specific part of the funnel. Let's see which types of videos will help you create the best video sales funnel!
Your video sales funnel: Three stages
#1. Top of the funnel: Awareness Stage
This is the start of your video sales funnel, the moment in which you'll be helping your future customers so they can identify their challenges.
The best approach you can have here is to create a top-of-the-funnel video that's focused on being educational, and not so much oriented to sales yet.
Why? Because your prospects are just becoming aware of the problems they're facing, and they're at the beginning of doing research about it. Your goal is to deliver what they need, and that is content that's helpful to them.
There are some questions to ask yourself, so you can create marketing videos that work for this stage.
First, how do buyers describe their challenges? How do they look for information about it? If they were to do nothing about this, would they be facing consequences? Which ones?
After you have the answers to these questions, you'll be on the right track to delivering the right type of video content.
Like these ones:
This is your way to go: Focus on giving useful information to your prospects.
They want to get information to make their lives a little bit easier, give them the answers they need, and actually offer real valuable content to them.
Look at this example of an educational video:
As you can see, educational videos can be very interesting, and fun! This is an animated marketing video, which turns an educational topic into something fun to watch.
Even though branded videos are not exactly educational, they are fantastic to attract visibility to your brand and product. They work great as top-of-the-funnel videos because attracting visibility is another goal in your awareness stage. As its name says, this is the moment to raise awareness.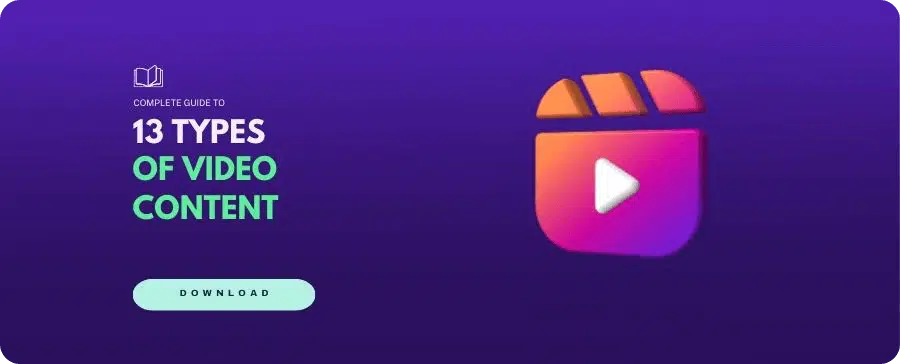 #2. Middle of the funnel: Consideration stage
This one is the middle stage in the funnel, which is the moment when your prospects are actually committed to solving their problems. (The problems they identified during the first stage!)
During the consideration stage, you should create marketing videos that aim to convert your visitors into leads, and inform them about your product and why it's the best option for them.
Your prospects are now considering different options and looking for those solutions that will help them the most.
Of course, you want your prospects to choose your product over the competition. But this has to be an informed and well-thought-out decision.
So, before producing a middle-of-the-funnel video, ask yourself:
What types of solutions do your buyers investigate? How do they measure the pros and cons of these solutions? How do they decide the solution that is best for them?
Answer these questions, so your prospects can see that you understand their struggles and that you're offering the best solution for them.
Product videos are the ones that show your product in action. You can use live-action videos, or also a cartoon animated marketing video (to make it more engaging!).
Explainer videos are great for showing difficult concepts in a simple way. There are many types of explainer videos, like whiteboard animation, cartoon, motion, etc., so you can choose the one that fits your brand best.
Let me show you an example for this, a whiteboard animation video:
#3. Bottom of the funnel: Decision Stage
The third and final part of the funnel is the decision stage, because, as its name says, your prospects will be making a purchase decision.
This is the last step before you close that sale, so your bottom-of-the-funnel video content must be chosen wisely; you can't let them turn back now!
These are the questions you should ask yourself:
How are your prospects evaluating their options? What are the special features in your product that place it over any other one? Or what can they find in your product that might become a problem? Is there someone else that needs to be involved in the buying decision?
These questions have a clear goal: You need to know the doubts your prospects still have, so you can learn how to address them.
The most important thing is trust. You need to create marketing videos that generate brand trust. You can do this by delivering the right videos.
With testimonials, you'll be showing real people, just like your prospects, who had the same struggles and found a real solution in your brand.
Testimonial videos are a great way to give your prospects the final incentive to become customers, by showing them the real stories of your clients and building their trust.
Look at this example for a great testimonial video, from one of our clients here at Yum Yum Videos:
Let's review.
A successful full-funnel video strategy requires some work. Your goal is to fully understand every part of it, so you need to ask yourself the right questions.
But what you really need to know is, exactly, who are your future customers? What do they need from you in every stage? Let's go through this quickly.
At the top of the funnel, during the awareness stage, you must focus on being helpful to them. Create marketing videos that are valuable for them, help them during their investigation.
During the middle of the funnel, the consideration stage, introduce your product as the best option there is, but also give your prospects the right tools so they'll be able to make an informed decision.
And at the bottom of the funnel, the decision stage, you must build brand trust! To achieve this, use video content that shows the real people of your brand, your real customers and employees.
And this is how you create marketing videos to have a successful video sales funnel for your brand!