However, as Facebook videos continue to grow as a powerful advertising asset, your campaigns will be facing a lot of competition as well.
So, if you want to stand a chance and make a lasting impression on your audience, you need to understand the ins-and-outs of Facebook video advertisements and make the most out of them!
These ads are pretty simple in terms of structure, which is purposely done to make them look and feel more organic. They basically include a brief description and, just like regular posts, people can like, comment or share them. Plus, they usually feature a short copy below the video and a call-to-action button to link users to an external page.
The platform offers advertisers multiple placements where they can display their video ads – such as the News Feed, Right Column, Marketplace, and more. However, Facebook encourages advertisers to use the Automatic Placements setting to make the most out of their efforts.
What makes Facebook video ads so incredibly effective, though, is the platform's robust targeting options. It doesn't matter how specific or niche your target audience is; with its Audience Manager tool, you can connect with them.
In a nutshell, it's a very intuitive panel that provides every piece of information you need to help you choose the right audience for your video ad. Offering three primary types of audiences that you can target:
So, by using both the Audience Manager tool and the platform's Automated Placements, you can make sure you are targeting the right people at the right place – optimizing your video campaign's reach, engagement, and overall results.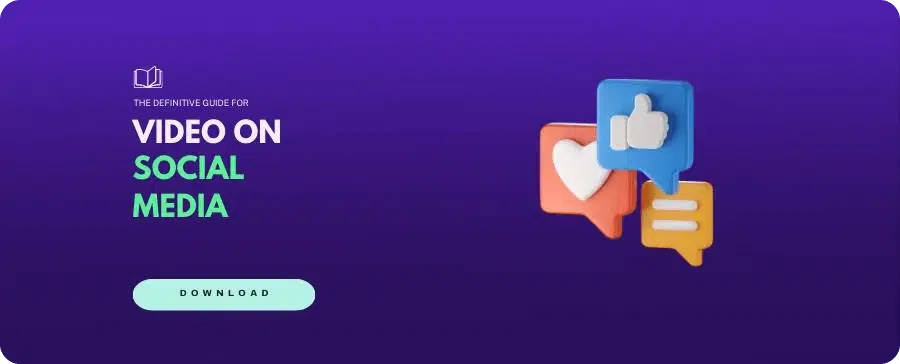 Facebook Video Ads Specs
Before we get into the nitty-gritty of making video ads for Facebook, let's go through the updated ads specs and general video guidelines on the platform. Sticking to them will help you ensure they perform well and provide a better user experience.
What's the Ideal Facebook Video Ad Length?
To find the perfect Facebook video ad length, it's essential first to consider some aspects regarding the users' behavior on the platform.
For starters, video ads – especially those placed in News Feeds and Right Column – are just one piece of content among many, many other video posts, images, ads, memes, status updates, and more. So, the bar for standing out is particularly high!
Moreover, mobile is changing the way people consume not only video ads but content in general. Meaning that when Facebook users access the platform via mobile (98%), most of them scroll quickly and quite superficially, only stopping when something intrigues them.
This is why, according to the app creators, you should focus on developing branded video ads that are 15 seconds or less and get quickly to the point, as videos of that length and structure have higher completion rates.
On a similar note, you also need to make sure to include enticing and relevant images, especially within the first three seconds of your video. That way, it'll be easier to impact your audience and convince them to keep on watching your ad!
How to Make Facebook Ad Videos – Tips & Tricks
Now that we know the fundamentals of Facebook video ads, it's time to dig deeper and learn how to get the most out of them with these great best practices and tips!
User vertical or square videos
This is strictly related to how most people use and hold their phones – that is, vertically and with one hand. Hence, instead of rotating their devices, they usually consume videos that way. Research shows that less than 30% of mobile users are willing to turn their phones sideways to watch an ad.
So, yes – When developing your Facebook video ads, you should stick to either vertical or square formats to cater to the screen orientation that the majority of users prefer and provide a better experience.
Also, vertical or square videos cover the most screen area, and more screen space means that your visuals and text will be bigger. Something that will help you create a deeper, more immersive, and meaningful connection with the audience. As simple as that.
As a result, videos in both these formats get more views, better engagement, and higher completion rates on Facebook. So, you should consider using a 2:3 or 4:5 aspect ratio from the get-go to make sure your videos render perfectly for mobile users.
Design for mute play
Like in most popular social media platforms, Facebook videos (ads included) autoplay but with the sound off. That's because the majority of people on mobile devices browse on these apps while being in public places or with other people.
It goes without saying, then, that marketers and advertisers need to optimize their Facebook video ads for silent viewing.
But, what does that mean?
Well, since you can't rely on sound, you'll need to add captions or prominent subtitles if your piece features a narrator or includes dialogues. That way, you'll make your content more accessible, give the audience context to understand the narrative, and make sure to get your video's message across.
Also, your visuals should be striking enough to immediately capture your audience's attention and persuade them to watch your video ad, even with sound off. So, use branded images, text, graphics, and relevant visual cues to engage them more effectively.
Place your CTA in the middle of your video ad
When you ask viewers to take a specific action with your Facebook ad, it's proved that pitching the CTA in the middle of the piece has the highest conversion rates – that is, compared to pre-roll CTAs and post-roll CTAs.
It makes sense, though – Placing your CTA at the beginning of the ad is not recommended because you should use those first (very valuable) seconds to capture viewer interest. And if you add your call to action at the end of your Facebook video ad, fewer viewers will see it.
So, while most advertisers usually place their CTAs at the end of their video ads, you should consider putting yours in the middle of your piece. Doing so will help you target viewers when they're most engaged and create better opportunities for converting them.
Focus on value, not a sales pitch
These days, people expect more warmth and less "business" from brands they like and engage with. Especially on social media, a digital place that, more often than not, they go to get distracted or be entertained.
With that said, when developing your video ads, instead of making a hard sales pitch or being too "salesy", you should focus on offering something valuable, interesting, or relevant to your target audience.
For example, a good strategy that can get you going is to create ads that tackle a problem or address a specific need your prospects might be dealing with. Giving you the perfect opportunity to introduce your product or service and show how it can easily help them with that.
All in all, it's paramount to research your audience and choose a topic or angle that resonates with them. So, whether it's telling a story that entertains, educates, or inspires them, be relatable, human, and provide meaningful content with your ads. That way, you'll create a deeper, more memorable connection with them!
Choose your goal wisely
Before you start outlining the specifics of your video ad campaign, you'll have to sit down and consider what you want to achieve with it. Are you trying to increase your online reach? Do you want to increase traffic to your website or are you interested in boosting your conversions?
Defining your ultimate goal will help you measure results and, above all, create an effective, better-targeted video ad strategy – not just for Facebook campaigns, but for all your advertising efforts in general.
The good news is that – to no one's surprise – Facebook has an Ads Manager panel that provides all the information you need to set up and optimize your campaigns for all three stages of the Buyer's Journey – that is, Awareness, Consideration, and Decision. And each stage or category has a pre-set of many different goals.
For example, if your goal is to increase people's awareness of your business or brand, you'll have to choose from the panel the "Brand Awareness" goal. If, on the other hand, you want to collect leads for your business, you'll have to go with the "Lead Generation" goal.
Once you define what you want to achieve and set your video ad's specific goal, make sure to also choose from the panel a CTA button that makes sense with that, such as Learn More, Shop Now, Subscribe. That way, viewers will understand what they need to do after they finish watching your Facebook video ad.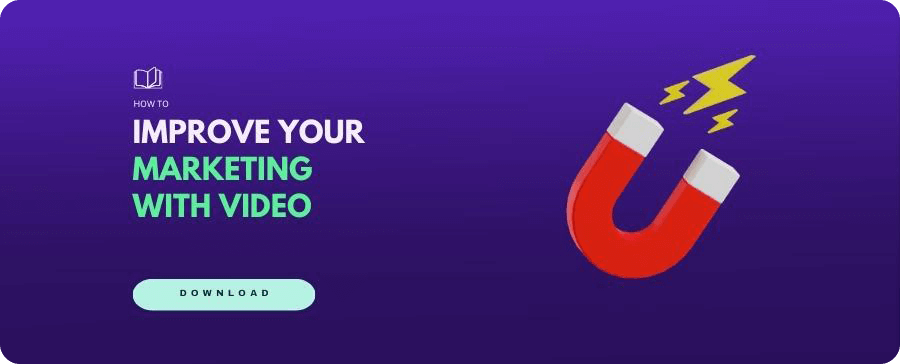 Awesome Facebook Video Ads Examples You Can Learn From!
Facebook is a complete platform that gives marketers and advertisers a lot of tools to help them develop the type of video ad they need. But if you're seeking inspiration to create your next campaign, we've compiled these cool and original Facebook video ads examples. Check them out!
HelloFresh SE
HelloFresh SE is a German-based company that delivers meal-kits with organic and local products. To promote its service on Facebook, the brand decided to develop this simple yet very engaging video ad.
With the screen split into two halves, one part of the ad uses stop motion to display a HelloFresh box and its colorful products. The other half shows – with high-quality close-ups – the brand's' main value proposition – that is, a delicious meal made with their ingredients.
It's straightforward, clear, and very gripping!
Forget the hassle of planning what to cook today! We'll deliver a delicious meal kit with farm fresh ingredients and our easy-to-follow recipes straight to your door.
Publicado por HelloFresh en Lunes, 9 de abril de 2018
Digital Marketer
In all honesty, it's hard to ignore a video ad that starts by saying, "Check This Out!" in giant, bold letters. Thanks to that, the viewer's attention is immediately pulled within the first three seconds of this Digital Marketer video ad.
Without wasting a moment, right after that first statement, the piece goes quickly to the point and conveys its main brand message: a free trial of one of the company's tools to their customers. All while keeping the visuals very clear, dynamic, and impactful.
Use the "10-Point Blog Post" Audit to take your blog posts from "Meh" to Magnificent – FAST (and learn what the PERFECT blog post looks like)
Publicado por DigitalMarketer en Jueves, 17 de octubre de 2019
GoPro
Even though it's not what's recommended, this fun GoPro video ad it's worth the extra seconds.
The tech company developed this video ad to promote their GoPro Hero 7, focusing on one of the new camera's main features: the hyper-smooth video stabilization setting that captures high-quality images without blurring them.
True to its style, GoPro compiled very cool and vibrant footage of different people practicing extreme sports or actions, such as snowboarding, riding a horse and motorcycles, or running at the top of a mountain.
Also, check how both the video ad caption ("Shaken, not blurred") and the tagline included in the video ("Shaky video is dead") are closely tied up to convey the same brand message and emphasize the product's key differentiator.
Shaken, not blurred. #GoProHERO7 with #HyperSmooth video stabilization.
Publicado por GoPro en Miércoles, 26 de diciembre de 2018
Headspace
Headspace is a meditation app that was primarily designed to help people live a healthier, more well-rested life. And to encourage prospects to download it, they decided to develop this short animated video ad for Facebook.
In only 11 seconds, this ad combines simple storytelling with gorgeous animation and graphics to tackle a common issue for most people these days – feeling off or awkward. Revealing towards the end, which is the perfect solution for that: Headspace.
It's highly empathetic, relatable, and has a clear call-to-action.
Get access to meditations on Focus when you subscribe to Headspace.
Publicado por Headspace en Viernes, 7 de septiembre de 2018
Dropbox
Sometimes, advertising a software or an IT solution can be quite challenging, especially when it comes to conveying its value proposition. However, if you're creative enough, a short video can help you effectively achieve that.
Take this elegant and trendy video developed by Dropbox – To get their core message across (Dropbox's tools keep teams in sync to help them work collaboratively), they first feature people helping each other to keep their airboat "flowing", and then some images of the platform's panel.
Also, take notice of how they're purposely using Dropbox's color palette (pink, blue, and white) throughout the entire video to give the ad a consistent and on-brand aesthetic.
Take your team to new heights. Dropbox syncs more than files, we sync teams so everything and everyone can stay on the same page. Dropbox, #KeepTeamsFlowing
Wrapping Things Up!
For years now, Facebook has been improving its tools and resources to help brands across all industries and with all types of audiences to create optimized, high-performing video advertising campaigns.
As a result, the social media platform has become one of advertisers' preferred medium to capitalize on their efforts and meet their goals – improving their brand's online reach, boosting awareness, driving traffic, or increasing conversions.
However, as more and more businesses turn to Facebook to run their video campaigns, it gets more challenging to stand out and impact audiences. So, it's imperative to learn how to make the most out of your branded videos on the platform, or else, your endeavors will be in vain.
Hopefully, this complete guide on Facebook video ads was clear enough and gave you a good point of reference to help you get started with your next campaign. We promise that if you follow the tips provided in this article, your ads will be much more effective.
Good luck!