These pieces usually show a hand drawing characters or the text as a narrator tells the story and conveys your business' message. This style is so unique and so entertaining to watch that it keeps viewers engaged long enough for you to get your point across and deliver all the information you need.
Benefits of Doodle Videos
While this style is not suited for everyone, incorporating a whiteboard animation video into your video content marketing strategy can certainly offer many advantages, some of which include:
Breaking down complex messages 
Doodle videos excel at condensing information that needs to be delivered quickly and effectively. Moreover, animated drawings are a great tool for organizing and communicating your message while improving retention and keeping your viewers' attention.
Educating and informing your audience
Since these videos are so good at delivering information, it's no surprise they're also great for educational purposes. If you think about it, is there anything more educational than scribbling over a whiteboard with a black marker? So, whether you need to explain how your product or service works or provide industry-relevant information tied to them, whiteboard videos are your best ally.
Showing your personality and improving branding
From writing the script to building the storyboard and animating your characters, all the stages in the production process offer plenty of opportunities to inject a bit of your personality and branding. A touch of color here and there, the tone and the choice of words, the characters' design, and even the choice of your video's font and voice-over artist can be used to reflect you and your brand.
Connecting with your audience
Storytelling plays a significant role in empathizing with your viewers, which makes doodle videos the perfect resource to humanize your brand and connect with your audience. The key lies in provoking an emotional response through your characters and your message to make the video relatable and personable.
Best Doodle Video Examples
Now, without further ado, here are some of the best doodle video examples for business!
1. Customer Green
(Created by Yum Yum Videos)
Let's start off this list with this piece we made for our friends at Customer Green, a self-improvement software for business. I know it might sound a bit pretentious to call ourselves one of the 'best,' but rest assured there's a good reason for that! 😊
This is one of my favorite whiteboard video examples because the animations, together with the engaging script, perfectly illustrate what this software is all about and how it can help potential customers.
Intangible products and services can be challenging to explain, but this video style allowed us to give a simple but effective overview of how Customer Green works. Thus, we were able to guide the viewer through the main aspects and features of this software, so they can better understand how it works.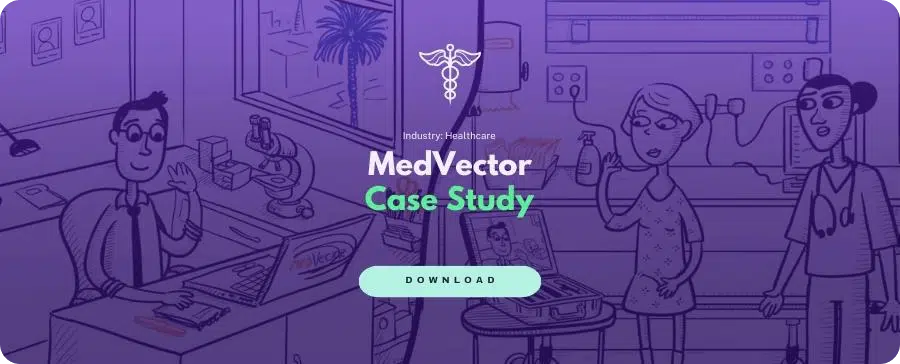 2. Biodiversity Explained
I've mentioned before that doodle videos are great for educational purposes, and this piece is a great example of that. WWF International has harnessed the power of these videos to explain what biodiversity is in a way anyone can easily understand. In my opinion, the best part is how the beautiful doodles keep your eyes glued to the screen. Talk about engaging, huh?
3. Where Do Good Ideas Come From
Whiteboard videos are a versatile medium that allows you to show your creativity. Just like this doodle video example that takes us on a journey to find out where good ideas come from. But that's not everything it does… 
If you've watched it until the end, you might've noticed that the actual goal of this piece is to promote a book. Yes, a book. I really like how this video manages to present the basic premise of the 'product' without sounding self-promoting at all. This goes to show that doodle videos can be beneficial to businesses in all kinds of industries!
4. Content 2020 Approach
Another characteristic of doodle videos is that they're incredibly flexible, as shown by this example. Coca-Cola has produced an impressive 15-minute long video to explain the company's new marketing strategy. Quite a bit longer than your traditional explainer video, don't you think? That's why whiteboard animations can be of great help to businesses that want to share the extensive history of their company or its current state.
5. Stress, Neanderthals and Us 
The length your doodle video should have is not set in stone. Just take a look at this very short piece by the National History Museum! In just a minute and a half, they present a relatable story that serves as a teaser for an exhibition. So, as you can see, businesses can leverage this video style not only to promote a product or a service but to raise awareness about a public event and encourage people to attend as well.
6. Beat Generals FL Studio Tutorials
At first glance, this doodle video might not seem too different from the other pieces we've watched so far, but pay attention to the music. See how it sets the tone of and evolves with the story? Your choice of music when producing this video style is crucial because it should fully integrate with the other elements in order not to be intrusive.
7. Reinvent Your Print Production Operations
Let's be honest for a second here. Understanding how tech solutions work can usually be quite challenging. On top of that, listening to a never-ending technical explanation becomes incredibly dull. Here's precisely where doodle videos come in handy. Thanks to the engaging animated drawings and the catchy music, together with some relatable storytelling, make it so you can easily understand HP's offer in an entertaining way.
8. The 1-2-3 of Early COVID Testing
Delivering sensitive information can be tricky because you have to nail the right tone and keep your viewer's attention while ensuring your message gets across effectively. Well, this doodle video example does an excellent job at that! This video style is well-suited for quickly delivering important information and going straight to the point so as not to lose your audience's precious attention.
9. Demystifying ocean acidification
A great idea for businesses that want to tackle a complex topic is to break it down into an animated video series in which each piece covers a different aspect of said topic. The California Academy of Sciences wanted to share information about biodiversity, a rather extensive topic, so they decided to do it using a series of 10+ doodle videos. What a creative way of giving a unique lesson to their viewers!
10. Raising Her Voice
Here we have an excellent example of the conciseness of doodle videos and how they can help you raise awareness about any kind of topic or issue. In this piece, Oxfam takes us through the history of women's rights and the problems they're still facing nowadays. Moreover, they show us what they're doing to help and encourage those watching to support them.  Oh, and the best part? All of this is achieved in only 87 seconds! 
How Yum Yum Videos Can Help You
At Yum Yum Videos, we let our passion for all things video drive our work. Our drive and deep love for what we do are reflected in every piece we produce. If you're curious about it, you can check our portfolio and see what I'm talking about 😄. 
So, if these doodle video examples have inspired you, and you want to step up your business' marketing game, we are here to make your vision a reality 😉. Get in touch, and let's talk about your ideas! We're always eager to tackle new projects.
Regardless of your niche or the complexity of your topic, we can make a wonderful whiteboard animation video to effectively convey your message and help you connect with your audience.
Wrapping Up
Whether you need to promote a product or service, convey a complex message, or teach your audience something new, doodle videos can be an excellent complement to any marketing campaign. I strongly believe that their minimalist look combined with an engaging and relatable story can do wonders for your business. 
I hope that these examples have served you as inspiration and encouraged you to make your own video. You can rest assured you won't be disappointed by the results!