There's no doubt that video is a fundamental piece of most businesses' marketing strategies. And, when it comes to choosing the best video hosting platform, it's pretty obvious that YouTube should be near the top of your list. 
But, how familiar are you with reading the meaning behind YouTube analytics? 
To get the most out of a YouTube-powered strategy, you need to understand which metrics matter most for your goals, or which ones reveal actionable information to make better, more profitable decisions.
Pro-tip: there's more to it than video view counts! 
And that's what this guide is all about. Teaching readers how to read YouTube analytics and how to use them to improve your video strategy. Enjoy.
Define Your Goals & Target Audience
However, before we get into the meat of things, it's important to note that defining your goals should always be step zero in any marketing strategy, videos or no videos. You need to set specific objectives and direct them to a defined audience.
Get a clear picture of what you want to use your video for. Doing so can serve as a roadmap to guide you safely to your destination, marketing-wise. Moreover, defining your goals will help you decide the types of videos that fit your purposes better, outline what it's all for, and measure your marketing strategy's success as well. 
Ask yourself: Are you using video to drive traffic to your website? Do you want to generate new leads? Is your ultimate goal to create brand awareness or are you looking to increase your conversions? What is your target audience?
Having answers to those questions will give you a head start on getting the most out of your strategy.
Aligning Metrics With Purpose
Once you've defined your goals and your target audience, you have to figure out which metrics to focus on. Each of these stats gives you a wide variety of useful information about your video's performance. So, it's fundamental to get acquainted with each to truly understand what they are measuring and what that means for you. 
For example, focusing on engagement helps you measure the quality of your video, but video count measures its reach. In the case of demographics, it will give you valuable information about who's watching your content, and where they are located. 
Data that, when used wisely, can help you figure out and resolve issues that might hinder the full potential of your video strategy.
YouTube Analytics Panel
Once you've entered your YouTube Analytics panel, default settings will show you reports from the last 28 days, but you can customize it according to what you are trying to analyze.
As is shown in the image, the panel features five main sections:
Overview:

It offers you a summary of how your channel and videos are performing. It has key metric cards of overall performance with watch time, views, and subscribers numbers.

Reach:

This section gives you reports to understand your videos' traffic, like impressions, click-through rates, traffic source information, and more. 

Engagement:

Provides you with insights about watch time, average view duration, your top videos, and so on. 

Audience:

Here you'll find your audience's characteristics: gender, age, demographics, etcetera.

 
Revenue:

This section shows your earnings.
You can also click on "SEE MORE" below the chart and it'll show you all those sections together (and more!) for each video on its own, or a general overview.
Ok, now that we've got the basics out of the way, it's time to go over the most useful and valuable metrics YouTube provides to improve your videos' performance and make better video content strategies!
YouTube's Most Awesome Metrics
Views
First, you need to know that YouTube understands that a video can qualify as "viewed" when it's watched for 30 seconds or longer.
This is probably one of the most common metrics because it helps you see if your video is reaching your audience or not. Having a high number of organic views means your videos are ranking in search pages, and that's awesome! But being popular and having a solid view count is just the tip of the iceberg. Let's see why.
Watch Time
How long are people actually watching your videos for? That's what watch time metrics tell you. It adds up the total minutes' users have spent watching your videos. This is a key metric since YouTube prioritizes channels with higher watch times. Why? Because YouTube's algorithm figures that the longer the watch time for a video is, the more compelling it is. 
Finally, if you divide Watch Time by Total Views, you get a major metric: Average View Duration.
[Watch Time / Total Views = Average View Duration]
Average View Duration
This shows you the estimated average minutes watched. That is, if people are watching your video to the end or if they are bouncing from them quickly. This metric helps you determine the perfect length of your videos. AVD can be measured by video or by the total of your channel as a whole. 
Besides that, this metric also tells you about your video's engagement. If your average view duration increases, the total watch time will increase too, improving your videos' ranking on Suggested and Recommended video lists.
Impressions
When a thumbnail video is shown to someone on YouTube, you get an impression. For YouTube to count an impression, the thumbnail has to be shown for more than one second and at least 50% of it has to be on the screen. 
Impressions only count when your video thumbnail appears in YouTube's search results, not on external pages. So, where are impressions accounted for? We've listed them for you:
Search results

YouTube Home 

YouTube feeds (subscriptions, history, watch later)

"Up Next" recommendations

Videos in playlists
Impressions Click-Through Rate
CTR measures how often viewers watched your video after seeing its thumbnail, that is, the percentage of impressions that turned into views. 
What a high CTR is telling you, is if your video's thumbnail is super enticing, but it also means that you picked the right title. Altogether, you have a very appealing piece. 
According to YouTube, the trend is that the CTR is higher when you just uploaded your video, and then it starts to decrease because the video spreads outside your audience.  
Take a look at the following YouTube's insights about CTR: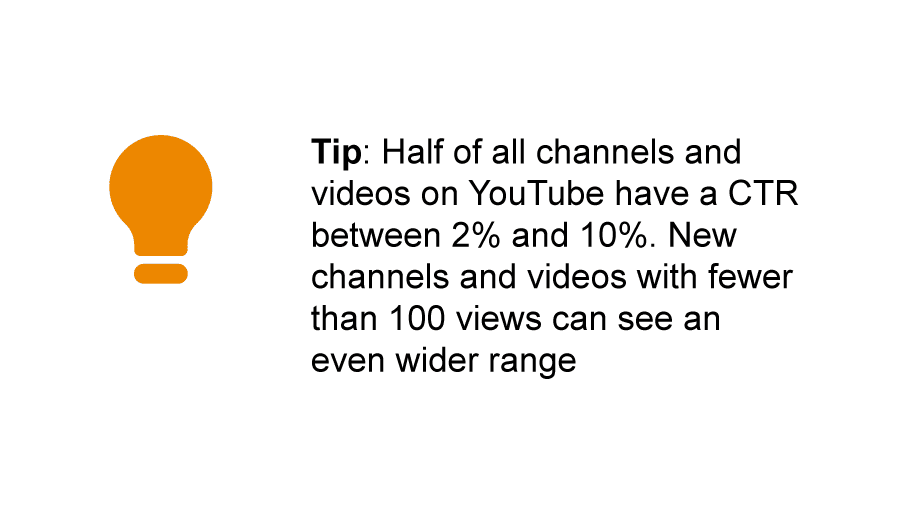 Traffic Sources
This report indicates how viewers find your content: if it was a regular YouTube search, a suggested video, or an external referral, like social media or websites where you embedded your content. 
With the list of your traffic sources, there's also additional information like watch time, views, and impressions. This information can help you optimize your video strategy. Let's take a quick look!
YouTube Search
This metric tells you which search terms were used by viewers on YouTube, which can be very useful since it provides you valuable keywords to mine for future videos!
Suggested Videos
These are the views you are gaining from suggestions appearing alongside or after other videos. 
External
This offers you a list of every website, search engine, and social media where your videos were embedded.
Playlists
It shows you the traffic from playlists were your video is included, whether it's another user's or one of your own channel.
Channel Pages
This is a list of the channel pages you are getting views from, like your channel page, other YouTube channel pages, or topic channel pages.
Geography 
To know more about your audience, YouTube gives you a list of countries where your audience lives based on IP address. Alongside this chart, it also displays views, average view duration, and watch time of each country. 
Using this information, plus other demographic metrics, like viewer age, gender, and device type, you can have a better understanding of who your audience is. In case you are trying to reach other types of audiences, you can also use this data to adjust your video content, and redirect your strategy.
Viewer Age & Viewer Gender
This gives you more insights about who's actually viewing your videos. Having a deeper understanding of your audience is always super useful to develop appropriate content and make more informed, targeted decisions. In the end, you'll see that appealing to demographics is key for winning more subscribers. And subscribers like your content and want to be updated, they are not just passing through! Oh, and speaking of subscribers…
Subscribers
This metric shows how many people you gained (or lost!) and subscribed to your channel, in a certain period of time. You can also filter it by video to see what type of video content is working better and resonating with your audience. Because one thing's for sure: You really should be aiming at creating content that keeps people coming back.
According to YouTube, subscribers watch twice as much video as non-subscribers do. So, an extra tip is to do some research and take a look at what your subscribers like and usually watch. This way, you can plan ahead and create more engaging content to turn them into hard fans!
Device Type
The device report shows you what your audience prefers when it comes to devices, and it's broken down by computer (laptop and desktop), mobile phone, TV, tablet or game console. 
Depending on your audience's preferences, you may want to optimize your content for a specific device. Because all other things being equal, mobile users will gravitate more toward the "on-the-go" type of videos than your desktop or TV audience, for example.
Likes & Shares
To know how people are actually responding to your content, you should always check out these numbers. 
A high number of likes (balanced with not that many dislikes) tells YouTube's algorithm that your video is resonating with your audience, which will improve your video's YouTube SEO, and rank higher in search results. So make sure to also check the Likes Vs. Dislikes metric. 
But, if you really want to understand how your engagement is doing, you should pay real close attention to your Shares report. These numbers show you which videos are so great that viewers couldn't help but pass them along!
Cards
YouTube developed cards as an "evolution of annotations." They are used to inform your viewers about your other videos, playlists, websites, and more! 
The report on cards shows the cards that viewers clicked the most. So, you can use this data to learn a lot about what your audience likes, what they prefer, and what type of video is making them take action!  
Wrapping Up
Congratulations! You've finished your first lesson on YouTube Analytics. It wasn't that hard, right? 
Now you know which metrics matter the most for making your channel grow, each one delivering valuable information about your audience's behavior. In the end, each report can help you not only to develop more targeted content, but also to plan your video marketing strategy better. 
YouTube is one of the most important outreach platforms right now, and they make sure to provide you every resource to make the best out of your channel. So, take what you've learned, and start improving your video marketing strategy with awesome, optimized content!