Trust is everything, we all know that. But that's particularly true in the online world, where a bad reputation can greatly hinder your business. Luckily, that's what customer testimonial videos are for!
Let's face it, prospects want to know their money will be well spent, but whatever assurances you give them will never be as compelling as the ones they get from their peers. So, I've compiled 10 of the best testimonial video examples online and dissected the lessons you can learn from them. Hopefully, you can discover just how to show your audience you're the real deal!
1. Phelps Agency – Yum Yum Videos' Testimonial Example
2. EZ Texting – HubSpot's Testimonial Ad
3. Employee Testimonials – Vertex Pharmaceuticals' Testimonial Video
4. Dropbox for Business – Dropbox's Testimonial Ad
5. Sandwich Video – Slack's Testimonial Advertising Example
6. Happy Hound – Google Adwords' Testimonial Video
7. Tommy Nicholas – CodeCademy's Testimonial Example
8. Global Marketing – Direct Agents' Video Testimonial
9. Various Customers – Listrak's Testimonial Ad
10. Varnika Chauhan – UPES' Testimonial Video
1. Phelps Agency – Yum Yum Videos' Testimonial Example
Phelps Agency is one of our clients – they're based in Los Angeles, so we went there to meet with them and talk about their experience working with Yum Yum Videos!
One of the first things we had in mind was that we needed to provide some geographical context for our viewers. We used our time in LA to shoot some takes of the city, so we could include them as inserts in this testimonial example!
We also know that company testimonials need to be visually powerful, so we filmed from interesting perspectives so the photography of the video would be 'on point.'
The context of the interview was also important. In order to guide our conversation with our customers, we asked some questions and let them speak freely about their experience with our team – and even though we didn't include ourselves asking these questions, we did include screens with text and our branded colors, in order to provide a certain order for the video.
Actually, if you look carefully at this testimonial advertising example, our brand colors are everywhere! That's the level of attention to detail you need to have in order to make a customer testimonial video that actually converts.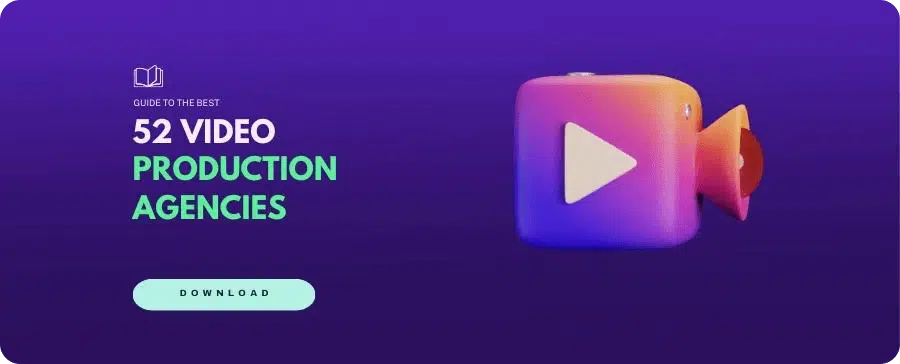 2. EZ Texting – HubSpot's Testimonial Video
Hubspot decided to show one of their customers' opinions in the form of a video – an incredibly smart decision because their main product is a CRM and online sales platform. And they've done a great job!
They decided to mix the customer's testimonial with images of their work. Moreover, they also added screen recordings of some of the things they did on Hubspot's platforms that made this partnership into something that was 'game-changing.'
All of these images provide context for the viewer, and they also give this testimonial example a nice rhythm – it could get boring to just look at a person speaking for two or three minutes straight!
3. Employee Testimonials – Vertex Pharmaceuticals' Testimonial Ad
This is a very interesting customer testimonial example! Because, instead of making your regular testimonial ad targeting clients, Vertex Pharmaceuticals decided to target potential employees. Now this is, in my opinion, one powerful business testimonial video!
Just pay attention to how they share bits of the company's culture here and there, with real specific examples of Vertex's values in action. What's more, it's all told from the employees' perspective, which makes it more authentic and believable than if the company itself went around singing its own praises.
4. Dropbox for Business – Dropbox's Testimonial Video
With this video, Dropbox tried an interesting approach when they went for testimonial advertising: instead of covering the benefits of their service from a single client's perspective, they decided to gather a number of stories from several satisfied customers.
As a result, this testimonial example showcases a very straightforward message: Dropbox delivers such a great service that it can benefit all kinds of people from any number of industries.
5. Sandwich Video – Slack's Testimonial Advertising Example
Are you in for a fun customer testimonial example? This team created a video for Slack, telling the story of how they used to communicate through many different kinds of channels (email, chats, Whatsapp), and how they found a new way of organizing their teams by using Slack (which is a great communication tool for teams).
And they did it in such a fun way that you'll almost forget that it's a scripted testimonial example.
This particular style of testimonial advertising is scripted and planned very carefully – but it's also so well created that the scenes don't look stiff or fake (which could happen if you're not careful! Scripted customer testimonial videos usually have that problem).
6. Happy Hound – Google Adwords' Testimonial Ad
This testimonial advertising example shows the charming story of a lady that runs a doggy day-care: she tells us that when she started with her business, she didn't have enough customers, so she started to use Google Adwords. Soon, 90% of her customers were coming through that tool!
It's a fairly old video (2009), but it's still a great customer testimonial video example because it has a story that would really connect with any user of the platform (and even non-users or prospects!).
This fun and bright testimonial video end on a sweet note: "I'm confident Google Adwords will keep helping my business grow. Life is awesome!"
7. Tommy Nicholas – CodeCademy's Testimonial Example
One of the most powerful things about business testimonial videos is how they can use identification and emotion to give shape to the perception of the audience. It's the power of storytelling – pure and simple!
And CodeCademy does this extremely well. They could speak about how many people they've taught, or the format of their classes… instead, they choose to tell the story of how coding empowers people. How their classes can change a person's life.
This testimonial advertising example appeals to their viewers' hearts because they focus on benefits instead of features.
8. Global Marketing – Direct Agents' Video Testimonial
This video testimonial is only one minute long, but there are a few aspects that are worth remarking on because they make it quite effective regardless of its length.
For starters, I liked how the company used text to highlight certain key phrases and bring attention to them. But more than that, did you notice that 30 seconds into this testimonial video there's a person walking by in the background? This small aspect brings more authenticity to the piece and makes it feel less scripted.
9. Various Customers – Listrak's Testimonial Ad
So far, we've gone over several video testimonials featuring different people from the same company talking about their experiences. But have you ever thought about doing the opposite?
This is a clever example in which only one person, each from several different companies, is featured in combination with key employees from Listrak. The result is an effective testimonial ad that perfectly highlights the company's strengths and backs them up with real examples.
10. Varnika Chauhan – UPES' Testimonial Video
This is a clear example of how educational institutions can benefit from creating a video testimonial as well. By featuring a former student reminiscing about her successful educational journey and explaining how the college helped her earn a spot at an e-commerce firm, UPES can encourage potential students to enroll.
Moreover, the testimonial video itself is quite simple, combining live footage of the student and pictures from different stages of her journey. This goes to show that you can make a good piece even with a limited budget.
10 Tips to Create Great Customer Testimonial Ads
If you have made it this far, I guess you are thinking about diving into testimonial advertising. That said, your testimonial ads won't create themselves! So we brought some tips into the table for you to create the perfect company testimonial.
1. Make your video as natural as possible
One of the first things you should be thinking about is to give your professional customer testimonial video a feeling of authenticity, make it natural, reliable, and believable. Focus on capturing the natural responses of your interviewee.
2. Don't script it
For it to be authentic, it needs to have authentic answers. Don't write a script, let your interviewee use their own words. (Let them show their love for you in their own way!)
Look at this customer testimonial example. We made a high-quality animated explainer video for McKesson, and they happily joined us to shoot this one:
3. Put your Customer Testimonial Video into context
Whether you're shooting your video in a store, your restaurant, or an office, make sure to show some context in your testimonial ad. Show your viewers around, it will add richness to the story you're telling them.
4. Prepare your questions in advance, but listen to the responses you get
It's important to be prepared. Go to your interview with your questions written down, but remember to relax a bit and let it become a conversation.
Listen to what your interviewee is saying so you can ask follow-up questions, and don't be afraid to let the conversation go a little bit off track, sometimes that's where you will find the greatest content.
5. Give your interviewee some time to prepare
It's good if you give your interviewee the questions you'll be asking them in advance, so they have time to prepare. But it's even better to give them just a general idea of the topics you'll be covering in the interview: this is so they don't get tempted to practice the answers too much, as it will make the conversation robotic and unnatural.
6. Do the scouting of the place you'll be filming in
Take a walk around the place to look for the best spot in terms of lighting and frames. Make the frames clean, interesting but not distracting, and also choose a spot that feels familiar to your interviewees, so they'll feel comfortable.
7. Layout a general structure for your video
It can be a storyboard or just a general layout of the structure you will follow in your professional customer testimonial video. By doing this, you will be able to film some insert takes to use as an example of what's being said during the interview.
8. Let your customers speak freely
Give them some time to speak about their experience with your company and your product. Let the interview be a conversation – as they feel free to express their love (hopefully!) you'll get more material to choose from, later during the editing phase of the process.
9. Include some pain points of your clients
What were the issues your customer was struggling with when they found your product? What was their problem, and how did your brand and your product help them solve it?
Identify and include some pain points of your clients in your customer testimonial ads, as they will probably be the same pain points of your general personas. This way, your customers will identify with their story: "Hey, I've got the same problem! They can help me as well!"
10. Go ahead and edit! Do it wisely.
During the editing process, you'll be glad to have some extra footage to choose from. When video editing, choose the best takes of your interview to create a video with good rhythm and of a correct length for web usage but always stay faithful and honest to what was said in the interview. Include the insert takes you planned during the layout to make a dynamic and interesting company testimonial.
If you follow these tips you'll have great testimonial ads, ready to upload to your webpage for the delight of your future customers. Maybe you feel a bit scared to ask for feedback, but don't be! Your customers are already happy with your product, so ask them to participate, it'll be easier than you think!
"Always remember that testimonial advertising is not just about your brand, it's about the impact that your product or service made on your customers. Focus on that influence and your video will connect with your leads on an emotional and rational level."
Why You Should Go for a Professional Video Company
Going for a professional video marketing company can be a game-changer for your testimonial advertising efforts. Viewers will take your testimonial ad's quality as a mirror of your products or services' quality. So, even if testimonial video productions aren't usually as big as those of other types of videos (like product videos, for example), you should still pay them enough attention.
Hiring a top-notch video production service can ensure your company testimonials genuinely resonate with your audience. Not to mention the video company would do all the heavy lifting and take care of the necessary details to make your company testimonials great.
We know choosing the right video company for your testimonial ads can be a daunting task, so here's our list of the 10 best video production services out there.
Why Should You Leave Your Testimonial Video Production in Our Hands
At Yum Yum Videos, we take pride in the way we handle our customers' projects – and for a bunch of good reasons! Nobody likes a bragger, but suffice it to say that with more than a decade of experience working with brands of all shapes, sizes, and industries, we've become quite adept at making both animated and live-action marketing videos that help their brands and products shine.

So, if you are looking for a skilled video production company to make an awesome testimonial for your brand, you need only ask! But hey, don't just take our word for it; see what our friends at Collaboration Squared thought about working with us:
"Now That I've Got My Customer Testimonial Video, What Do I Do With It?"
Great question! Promote it: Upload the company testimonial to your webpage so your leads can find it easily, but also put it on social media. It's probably already there – your interviewees will be proud of their performance, so they'll be the first ones to share it.
Also, use testimonial advertising as an internal motivator within your team, and as a feedback mechanism.
Let's Wrap it Up!
A customer's opinion holds a lot of power. At the end of the day, it doesn't matter if you claim that your own product is the absolute best – everyone would say that about their own products. What your customers need to hear is the opinion of their peers. Customers trust their peers more than anyone else.
But the most important thing is to make your company testimonial engaging and credible, and always respect the spirit of what your interviewee has said. Just like the testimonial advertising examples you've seen today!
So, are you ready to make your own testimonial ads? It's time to translate your sales into more sales!