When you combine video and email, you get a powerhouse duo. 
On the one hand, there's video. As you probably know by now, it is the most effective type of content out there. Just by looking at the stats over the past few years, you can see that its growth has been exponential. Audiences and marketers alike love video. It's engaging, fun, and great for increasing conversions. 
On the other hand, you have email, an essential channel of communication that keeps going strong, especially in business. Email keeps you connected with your audience, helps you promote your brand, and boosts your business' reach. 
That's why, when you combine video and email, the results tend to be outstanding. If you do it right, at least!
Throughout this piece, we'll show you everything you need to know about effectively embedding video in your emails, the advantages of doing so, and even learn how to track who viewed them by using Wistia! Let's go! 
Why Use Video In Your Email Campaigns?
So, yes, it might be obvious that combining email and video gets you a powerful, effective marketing tool. However, not everyone seems to be aware of it!
That got us thinking… Why? Maybe with all the buzz around other digital promotion channels, like social media, PPC, and the like, most people thought that email marketing was ancient digital history. However, email remains the most popular channel to interact with audiences in a business environment! 
Detractors also point to the huge amounts of emails the average person receives each day as one of the strategy's big flaws, and we agree! Yet this is precisely why you need amazing content that excites your audience into actually open and interact with your marketing emails!
Using video in your email campaigns can help you stand out and get your prospect's attention. It also helps with your email conversions, increases your open rates, and boosts your click-through rates by 200-300%. Yeah, it's THAT big of a difference! 
Another awesome thing about including video in your emails is that you can track who watches them, which can give valuable insights into which recipients are engaging with your content and help you measure the results down to the individual viewer. 
We'll come back to this in a minute, but let's get started on the "How" side of things first. 
Start Off By Setting Goals
It all begins with a simple question: What do you want to achieve with your email?
This may sound basic, but setting a goal is a crucial aspect to email marketing success and it's the very first thing you should do. Having a clear goal from the get-go will guide your campaign, and make it easier to measure its success. 
Essentially, there are just about two paths: 
To make your audience go visit your site to consume content there.

To have them consume the content within the email.
It's important to be on the "what-do-you-want-your-subscriber-to-do" frame of mind. Taking this into account will help you define your campaign's main CTA (call-to-action) – Another key aspect for success.
So, remember: Whether it is to interact with a video embedded within the email itself, or to get them to a website, always have a clear goal from the start.
Making Your Audience Grow
Using video and email together, you increase the chances of delivering entertaining, helpful, and engaging content big time! And you can combine them to not only connect with your existing audience but also to expand your reach and have it grow! 
Take this as an example: 
You put together an email that has a super awesome animated explainer video linking to your website, then send it to your loyal core audience. A huge percentage of your readers will open it (because they already love your content!) but if the content attached is worth it, they might also share it with friends, coworkers, or even clients. 
Through those shares, you'll get your content in front of the willing eyes of new prospects. If they like what they see, they can subscribe to your emails, learn more about you, and, hopefully, become new clients. Extending your reach and growing your audience!
Email & Video Best Practices From Yours Truly! 
The goal here is to help increase your email open and click-through rates to ultimately build a bigger audience using video. For that, we have some Do's and Don'ts for you: 
Include the word "video" in the subject line of your email. By doing so, your recipient immediately knows there's juicy content inside. 

Always choose an inviting and attractive thumbnail for your video. It's the first impression that matters most! 

Don't include too many CTAs. Keep it simple and clear. 

Manage video file sizes for better user experience. Long, heavy videos usually don't make a good match with email. 

If you want to generate traffic to your site, send your audience to your landing page when they click the video thumbnail on your email. It will give them context and complementary elements to reinforce the on-brand feel. 

If you want your video to play as soon as your subscriber clicks on the play button, add a

?play

to the video URL.
Embedding Vs Attaching Video —What's the Best Way to Go? 
Now that you know how much more engaging and dynamic your email can be when you include video, it's time to learn how to do it. 
There are two ways to include video in your email: You can either have your video play directly in the email or have your subscribers be redirected to your landing page and watch it there.  
The first alternative is great for engaging your viewers… as long as people can see the content. 
Videos directly embedded on an email's body require HTML5 compatibility to be displayed. The thing is that HTML5 is only supported by a few email providers. If not supported, subscribers just see a "fallback image", which is a still picture that looks like the video and links to another page. Or, in the worst-case scenario, a broken image error. 
So, before jumping into any decisions, take into account which email provider most of your audience is using, and analyze if it's worth the tradeoff or not.
For the second alternative, we've come up with this easy-peasy step by step guide to embed video in your email campaigns using Wistia. 
Attaching Video in Your Email With Wistia —Step by Step
Wistia's a platform for video hosting, developed to help companies create, manage, and share videos. Unlike other social platforms, like Youtube, Wistia is what they call a platform for "on-site" videos because it's designed to drive traffic to your website. 
And because it's business-oriented, it has analytics dashboards that show useful video performance insights, including the ability to track who clicked through and viewed a video from your email campaign!  
Step 1 —Choose Your Video 
By embedding what Wistia calls an "Email Campaign Link" in your email, you can identify who clicked and viewed your video. How? The emails you send will have a thumbnail image with a play button that links to the video on your site. Every time one of your subscribers clicks that link, Wistia will add a tag and collect the data.
Choose the video you want to embed in the email from your Wistia account and make sure it is also embedded in a landing page or website part of your website first. Then go to the Video Actions menu on the right and select the Embed & Share option. It will show you a pop-up window with a couple of tabs with different settings. You'll be using the Email Campaign Link tab.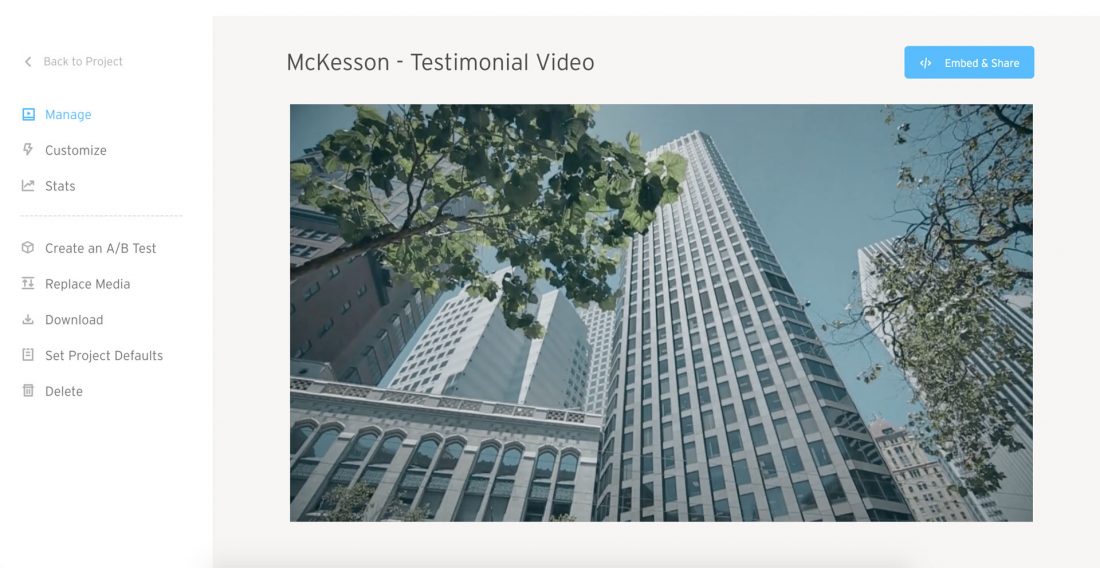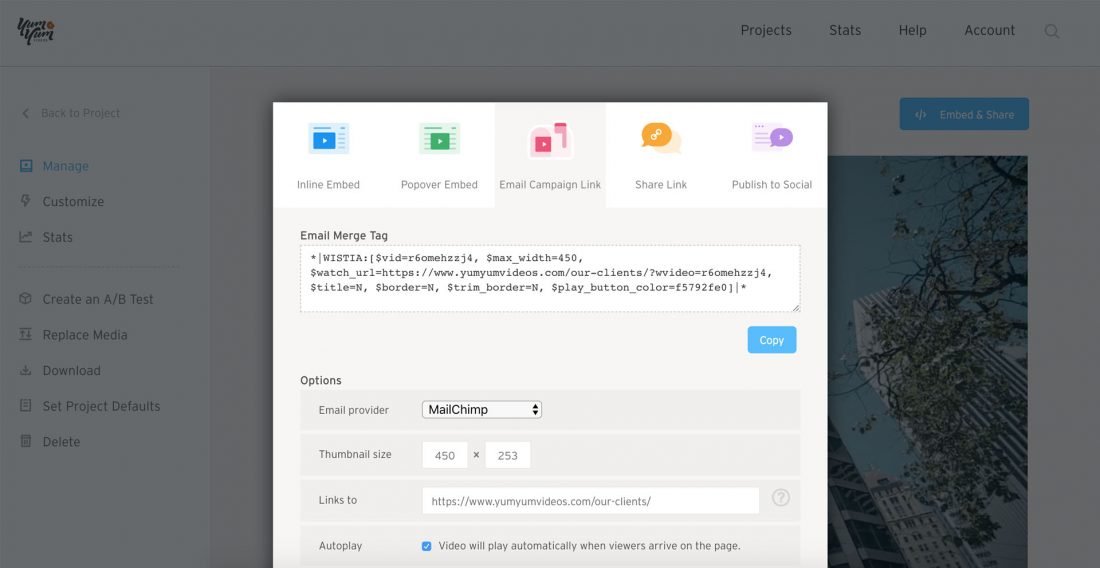 Step 2 —Select Your Email Marketing Provider & Customize
Wistia works with several email marketing providers, like MailChimp, Drip, and Campaign Monitor. So first, select the one you are working with.
Once you've done that, you can customize different settings of your campaign like thumbnail size and the link you are redirecting your email recipients to. 
Step 3 —Add The Email Campaign Link To Your Email
When you finish customizing and setting up, copy the "Email Merge Tag", and paste it into the HTML editor of your email campaign provider.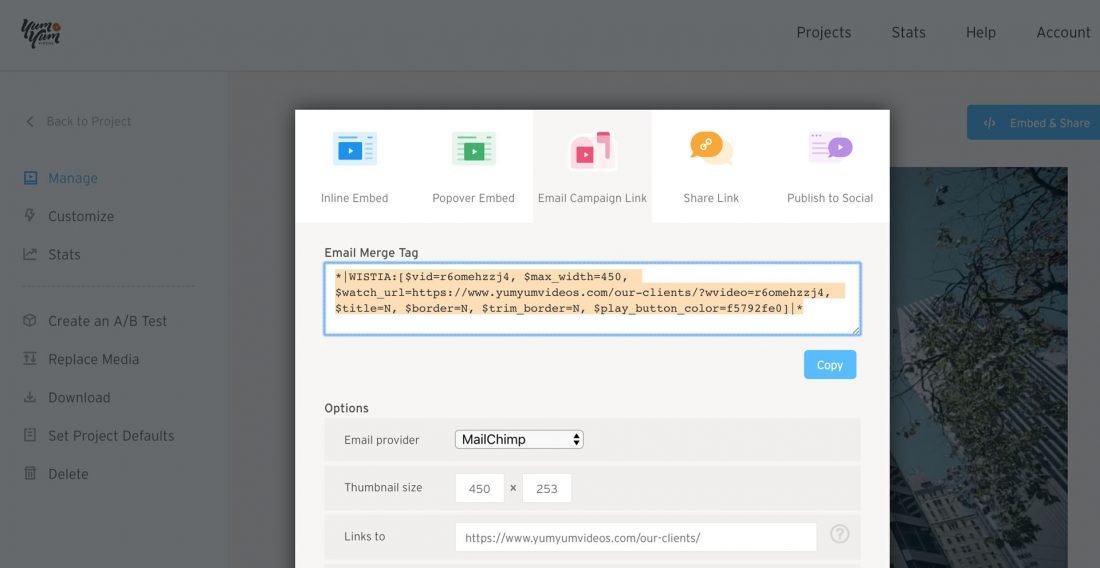 That's it! Once you send an email with the embedded video, every person of your list that clicks and views it will be registered. You can check and analyze how the campaign's doing, second by second, by paying attention to this data. Data you can also use to make better decisions in the future about what type of videos your subscribers engage with the most.
Bonus Step —Test!
Yes, test like crazy. 
You want to ensure that your subscribers get an awesome email, with the least possible amount of errors. Imagine opening an email that your favorite shop sent to you, with an embedded video, and it doesn't work! Not good. 
Test and preview the email on different devices to catch mistakes before you send it, and you'll have a stronger video email campaign for it!
Awesome Examples!
Now that you know what to do and why it's important, we'll go over some examples of brands doing video email marketing right to get you inspired. Grab a pen and write this down!
Blueleadz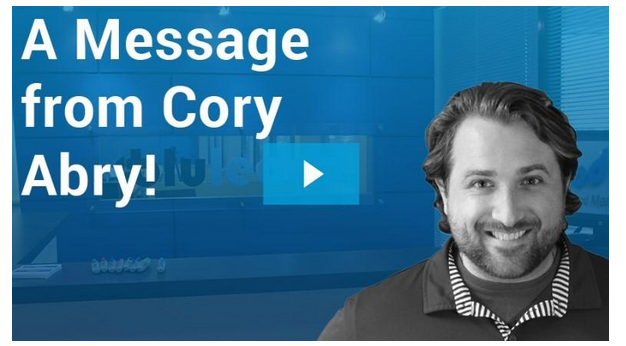 The inbound marketing agency Blueleadz decided to go full-video with this one. The email barely has text, but the text it does have is clear and straightforward. It also includes a friendly, inviting human face! What's nice about this example is that the video is embedded to play it within the email to reinforce the message's "personalized touch."
Patagonia
This Patagonia email is a great example of including a static image or thumbnail instead of embedding the whole piece. When the recipients click on the image or the purple button, they are brought to the landing page containing the full video. Notice that the thumbnail is a clean, enticing, high-quality image that conveys the tone of the piece and draws users to click through. 
Adidas

Adidas used this awesome email to introduce a new product, the Alphabounce shoes for runners. While it's focused on showing the product and its benefits, they also included an embedded video of an athlete wearing them. Adding this "human touch" not only helped them to make it relatable and aspirational but also to connect better with the audience.  
Monica Vinader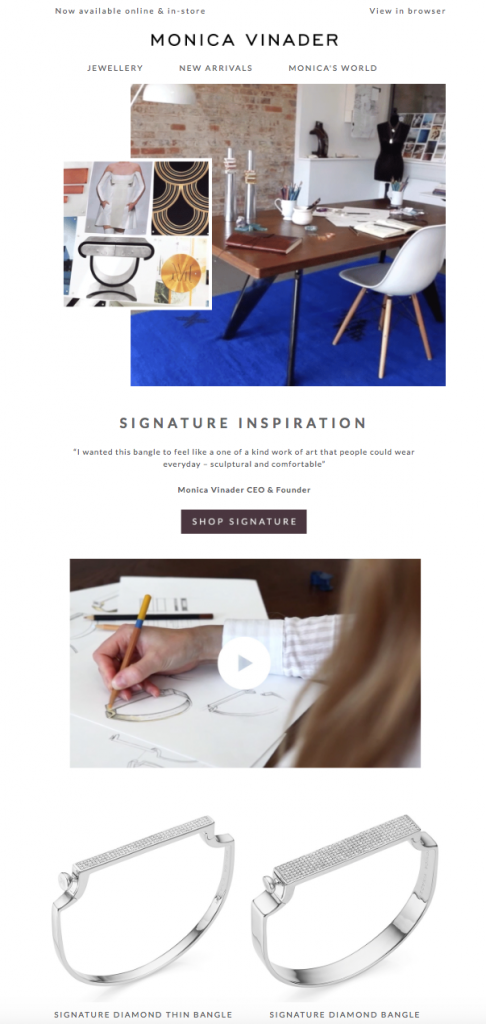 This email from Monica Vinader, the jewelry brand for women, doesn't include a "Watch the Video" CTA like the previous examples. Because the email is intended for the subscribers to know more about the bangle they are selling, they included a quote from the founder explaining more about it, and then added the video as a complementary element to the piece. 
GIFS & Cinemagraphs —The Simpler Alternative 
Both GIFs and cinemagraphs are a great alternative to add motion to your emails without worrying about compatibility. 
GIFs are fun, engaging, and short animations that can spice up your email campaign and serve as an introduction to your video piece. Because their file type falls under the image category, GIFs can be easily added into your email template. And the best part is that you can even make your own personal GIF, using an online GIFs creator! 
For example, Wistia sends you this Welcome Email when you first sign up. Not only is it a funny text with rhymes, but look at how much more attractive it is by including a simple GIF of different objects moving!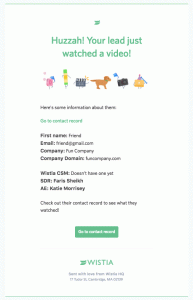 Cinemagraphs, or "alive photographs", are a blend between photographs and videos. While most of the image remains frozen, like a regular still photo, a part of the image moves with subtle animation. It gives the person looking at the photo the feeling that it is actually moving. They are beautiful and can glam up any email campaign! 
Take a look at this Mr. Porter email with an awesome cinemagraph that creates the illusion that the fire is actually burning! Clever and cozy!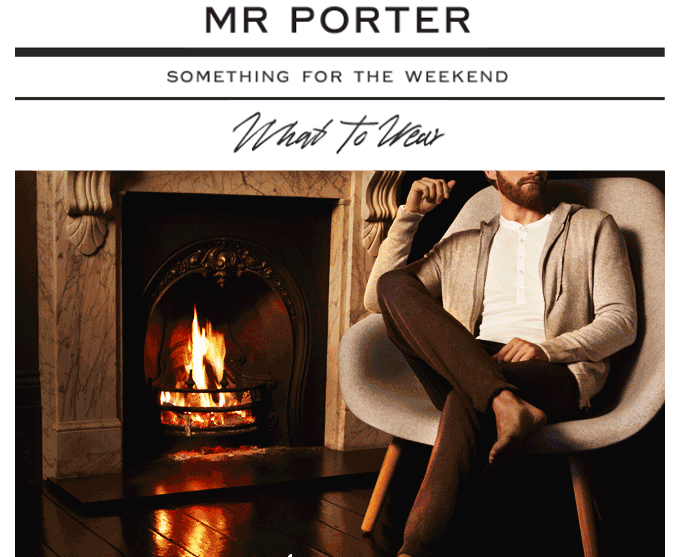 Summing Up
It may feel like a little extra work, but believe us: marrying video and email is worth the effort! 
Whether you go with HTML5, a thumbnail link, a GIF, or a static image simulating a player, including video on your email is a fun and engaging way to connect with your audience and make your email content more appealing by adding that "wow" factor to the experience. Not to mention improve your metrics and get some intel on how your audience interacts with your content. 
But to do so, you have to study your audience and goals to structure your strategy in the best possible way. Things like what email provider they use the most, mobile or web for browsing preferences, and even how many hours they spend checking their inboxes are valuable tidbits you should consider as you put your email strategy together.