If you want to have a successful video marketing strategy, you need to know how to use your brand's video content in a smart way.
By this I mean, knowing your marketing sales funnel (which is the path that your customers go through when planning to make a purchase) like the back of your hand . This path is mapped out by different types of interactions between your customers and your brand.
And planning a successful marketing strategy means knowing these interactions your prospects are craving, when they happen (in which stage of the video sales funnel), and delivering the correct video at the right time!
So, which types of videos should you use? When should you use them? Let's look  at that in detail.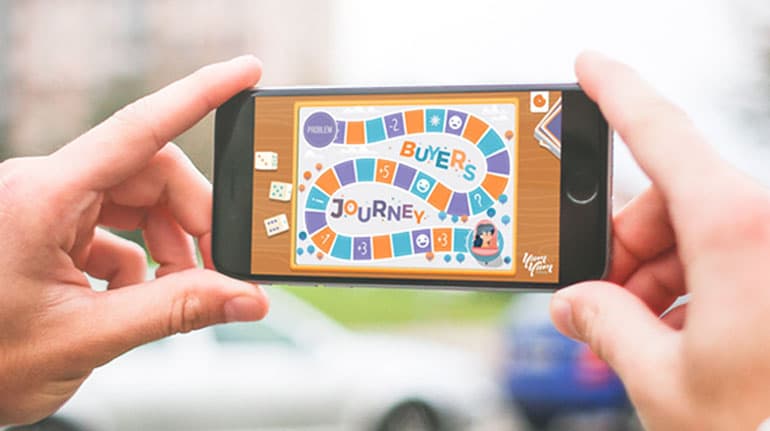 It all starts by knowing your prospects
Hm, so do you know your prospects?
Yes, I'm talking about all those people who are thinking about buying your products and that might become loyal customers of your brand! Are you aware of what they want?
What do they need?
You've got to know the answers to these questions! This will help you understand what type of video content you can deliver to catch your prospects' attention and be useful to them.
Remember your buyer personas? Yes, ideal customer models that will help you trace your prospect's pain points. This will prove to be really useful! Because you'll be able to refine your video strategy to meet your prospects' needs.
So, meeting pain points with the correct video content. That's the goal! A successful video marketing strategy is based on this.
And, (like you needed a reminder), 90% of users say that videos are influential in the decision process. So don't even hesitate. Video content is here to stay. But not every type of video will work for every stage! Let's look at this with more detail…
The right types for your video marketing strategy
Let's break down the sales funnel. A video sales funnel will break down into three stages, which are called awareness, consideration and decision. Your goal is to create the type of video content that will meet your prospects expectations.
Do you know what this means?
It means that your prospects will come to you, having questions and problems that will differ depending on the stage they're in. So, just like you can't answer all the questions in the world with the same answer; you also cannot do it with the same video.
It all links back to your inbound marketing strategy.
Remember your Inbound Marketing Strategy?
Creating video that works for your inbound marketing strategy, means to create content that will meet your prospects needs. The idea is that, with the right kind of  video content, you'll be attracting customers in an organic way.
With this, you'll be able to influence them in the right way, during their buying process. Video content is great for this, but you need to know which types of video to use in every specific part of the funnel.
So let's review the three stages of the funnel, and the best video content for each one!
Your sales funnel: the three stages
#1. Top of the funnel: Awareness Stage
The beginning of the path, the top of the funnel! That's the awareness stage. This is the moment in which your future customers will be identifying their challenges and the opportunities they want to pursue.
To understand this stage, ask yourself these questions:
How do buyers describe the challenges they're facing?

How do they educate themselves about it?

If they decide to do nothing about it, what are the consequences they'll face?
Your focus right now should be to make your videos educational, and not so much oriented to sales right now. This is because your prospects are just becoming aware of their problems and they're doing research about them. They're looking to educate themselves and that's what you should deliver.
So, educational videos are your way to go: You want to focus on giving information that can make your prospects lives easier. Give them the answers they're looking for, and deliver information that's actually useful and offers real value.
Look at this educational video as an example!
Another one of your goals in this stage is to attract visibility to your brand, and your product. So, in this stage, branded videos also work great! They do just that, because your first stage of the funnel is the awareness stage, and you want to raise awareness!
#2. Middle of the funnel: Consideration stage
During the middle of the funnel (which is the consideration stage), your prospects have already identified their challenges. Now, they're committed to solving them, so this is the moment in which you should be aiming to convert visitors into leads.
Your prospects are now considering different options and looking for the type of solution that will be best for them. You want them to choose you, of course! But you don't want them to choose blindly: you want them to do their research and choose you with an informed decision.
To fully understand this stage, ask yourself these questions.
What categories of solutions do buyers investigate?

How do they weigh the pros and cons of these solutions?

How do your buyers decide the solution that is best for them?
Knowing the answers to these questions will help you understand their struggles, and this way, you'll be able to aim your video content to let your prospects see that you're offering them the best solution!
Product videos work great for this stage, because they show your product in action, so your prospects can actually see how your product works (and if it works as advertised) before they buy. It can be a live action video, or an animated marketing video… There are a lot of possibilities.
Explainer videos also have a lot of possibilities, because there are a lot of different types of explainer videos, and you can choose the one that fits your brand best. These are great for showing difficult concepts in a simple way, using colorful animation and nice storytelling techniques.
Look at this example, so you can see an explainer video in action!
#3. Bottom of the funnel: Decision Stage
The decision stage is the final part of your funnel, the bottom. The end of the path. This is the one in which your prospects will be making the actual purchase decision. You want them to choose you in this final step, so your content must be on point.
Let's ask some questions, to understand what your prospects are thinking:
How are they evaluating their options?

What are the features in your product that your prospects will like above anything else?

Or, on the contrary, which features might become a problem to them?

Is there someone else who needs to be involved in the buying decision?
By answering these questions, you will be able to understand the last doubts your prospects may have. This way, you'll learn how to address these doubts effectively.
There is one last element that you should never underestimate: Trust! If your prospects trust your brand and your product, it will make all the difference in the world. If they trust you, they'll be easily convinced that your product is the best option for them.
How can you build brand trust with video content? One way is by using video testimonials. Testimonial videos are a fantastic way to give your prospects the final incentive to become customers, because they show past clients of your brand speaking about their successful experiences with your brand. You're showing real people, telling real stories.
Your prospects will then feel identified with: These past customers were facing the same struggles as them, and they found a solution in your brand. Instant trust!
Look at this example for a great testimonial video, from one of our clients:
Also, there's another type of content that's very powerful: About Us videos.
This kind of video boosts brand trust because it shows a different side of your brand, a human and warm side.  
Reviewing…
You need to fully understand your prospects and what they need in every one of the stages of the sales funnel.
At the beginning of the funnel, your focus must be on being helpful to your prospects. Give them the information they're looking for, the answers to their questions!
In the middle of the funnel, you should start introducing your product as the best option for them, giving them the right tools to understand why. By doing this, your prospects will be making an informed decision.
And, at the end, build brand trust! Create video content that shows the real customer success stories and the warmer side of your brand.
And this is how you can create a great video marketing strategy. But there's still a lot to learn! Go take a look at our free video marketing resources, that we made just for you. Enjoy!