How to Make Animated Videos
How to Make Animated Videos
While most video production companies will follow a similar production process, this is how we, at Yum Yum Videos, typically tackle our clients' projects.
1. Research
The first stage involves learning everything about your brand and your product or service. To do this, we have our clients fill in a creative brief with specific information about their brand's values, goals, identity, target audience, and so on. 
Then, we like to hold an online meeting to discuss the brief's answers and gain an even better understanding of your brand. This way, we can effectively map out the entire project and ensure that the final piece will accurately represent you and meet your objectives.
2. Scriptwriting
The second stage is a critical one because it will build the foundation for the entire animated video. It's where we make sure your message will shine through and engage your audience, regardless of the complexity of the topic at hand.
We start by defining the message you want your piece to convey, and then develop a cohesive script around it. While it might be tempting to include as much information as possible, we like to keep the script simple and easy to understand.
3. Storyboard
In simple words, the storyboard is the visual version of the script that will help us illustrate the key scenes of your future video. We often include dialogues, script segments, and camera directions under each frame to use as a reference later on.
The storyboard has a two-fold function, as it helps our clients picture what the final product will look like and prevents any avoids delays later down the line.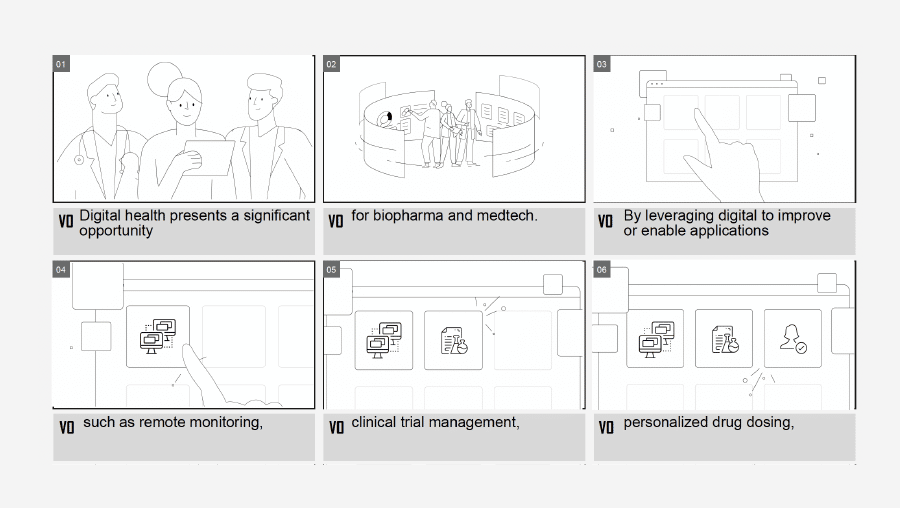 4. Art Direction
In this stage of making an animated video, we focus on the piece's visual style. This includes the art design of every single element you'll see on-screen, from the characters, product, and color palette to the typography and video's keyframes.
Thanks to the art direction, both our clients and team members can better visualize the video's aesthetic and ensure that the style frames perfectly match your brand's identity.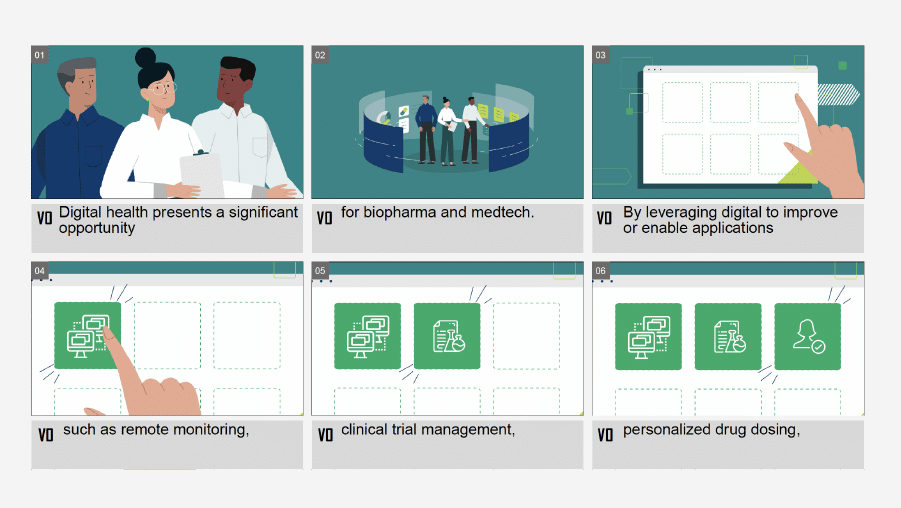 5. Voiceover Selection
This is the phase in which we bring the script to life. You'll have to choose the voiceover talent that will narrate your story. We'll send you some samples from our pool of professional voiceover artists so you can select your favorite one. 
Since the voiceover talent you choose will set the tone for the video, it's critical to pick the actor that delivers the script in a style that best represents your brand's attitude.
6. Illustration and Animation
This is by far my favorite stage of the animated video production process because it's where all the illustrations come alive. Here, our skilled animation artists give movement to the characters and objects using sophisticated software and the latest technology to make every action and transition flow smoothly. Since this is the most complex phase of the process, it can take some time to complete.
7. Sound Design
In the final step of the process, we carefully edit and synchronize the voiceover recording and any sound effects and music with their visual counterpart. The music and audio quality can make or break your video, which is why we pay close attention to even the smallest details to ensure perfect results.
Bonus Stage: Feedback and Revision
In most cases, the animated video production process ends with sound design. But we're committed to satisfying our clients to the fullest, and we like to take the time to make sure everything is to your liking 😉. 
So, we've added an extra step in which we send you a deliverable, so you can let us know if there's anything you'd like to change or adjust. 
And there you have it! A fully-tailored animated piece of the highest quality. Sounds easy, right? Well, the truth is that it requires hard work, which is why the animation production workflow can take between seven and nine weeks to complete. However, I can promise you that the results are well worth it!
If you'd like to watch a quick summary of the entire process, here's a fun video we made about it!
A Bit More About Yum Yum Videos
While it's true that our animation production process might not differ much from other video marketing companies in the market, there are many aspects that definitely set us apart.
For starters, we're fully committed to meeting our clients' goals and exceeding their expectations. How do we do this? Well, we believe that the key is to truly listen to what they need, so we take the time to fully understand their mission and objectives.
Another aspect that sets our workflow apart is our close attention to detail. Honestly, it's something we can't help because we're hardcore perfectionists 😂 You'll see that we follow all the animation steps to the letter with a detail-oriented mindset. I firmly believe that this is the main reason we're able to deliver top-notch results.
So, if you're looking for a company that offers a flexible animation process to deliver a fully customized video of the highest animation quality, don't hesitate to reach out! We'd love to hear more about your project and see how we can help 😉.
Wrapping Up
Making an awesome explainer video requires time, care, and skills. So, if you want to create your own animated video, it's important to familiarize yourself with the complex stages of the production process. 
While it might be challenging to discover where to start, you can take our own pipeline as a guide to help you plan your project and stay on track. You should now be fully prepared to tackle the animation steps ahead of you!