In this piece, I've compiled 20 of our team's best practices when it comes to making content for this popular video platform. Let me show you that creating a YouTube video doesn't have to be extremely complicated!
Audience research is the best place to start as you learn how to make a YouTube video. Knowing exactly who you'll be addressing in your videos and narrowing down your audience will allow you to tailor your content to them and increase its effectiveness. 
To help make your focus as specific as possible, you need to find out your audience's wants and needs. These are some of the most basic questions you need to ask yourself and your audience and get you started:
What does your ideal audience look like? This is not really related to their physical aspect but rather their demographics, interests, and so on.

What are their problems? How can you help them? 

Is there anything they need to know about said problems and how to solve them?

How will your video benefit them? What will they learn from it?
Once you have the answers to these questions, you can discover the main topics they'd be interested in and plan videos that will be relevant to them.
2. Carry out keyword research
Something as simple as adding well-researched terms to your video's title and meta description can make a huge impact on its performance.
There are many online keyword tools, both free and paid, that allow you to perform sophisticated keyword research, but you can also start by making some simple assumptions about your audience's behavior and what they might search for.
For example, a company that sells drills probably knows that their audience might look for "how to drill through metal" or "how to change a drill bit."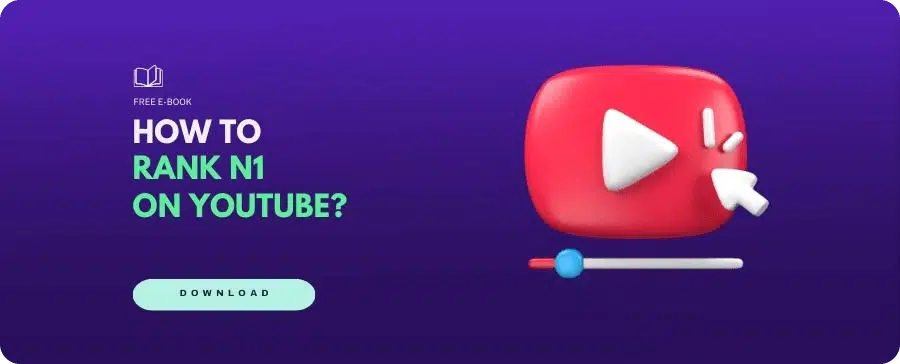 3. Look for inspiration
I know that finding highly-relevant topics for your specific audience is no walk in the park. But you might already have a few keywords at the ready before you even start producing your videos. So, one of my best YouTube tips for beginners is to take advantage of keyword research to get inspired.
Search for these terms on YouTube and analyze the results; you'll know you're on the right track if you see content from your competitors. You could even take a look at the comments in said videos and see if the users had any remaining questions or if they requested for other topics to be covered.
The idea is not to do the same thing your competitors are doing, but rather to take their content as a starting point to make better, more valuable pieces.
4. See what the competition is doing
Speaking of getting inspiration from your competitors, do you know exactly how to do it? If not, you should start by making a list of said competitors and checking their Youtube channels closely. Which videos have the most views and comments? Those pieces are the ones their audiences, which are very likely to be the same as yours, find the most engaging.
Pay attention to any content gaps as well. Maybe your competitor doesn't have any testimonials, which can be incredibly useful in converting undecided prospects. You can fill those gaps with your own content and make your YouTube channel more valuable than your competitors'.
5. Write a script and create a storyboard
The script and the storyboard are the meat and bones of your video. I've come across many people who believe they're something beginners can skip when creating YouTube videos, but that couldn't be further from the truth.
An effective script is typically short and sweet, with simple sentences that are easy to understand. You'll typically want to include any dialogue the actors and characters should follow or the voiceover that narrates the story in your video.
Once that's ready, you should create a storyboard. If you haven't heard this term before, a storyboard is basically a visual overview of your video detailing how the different shots come together to convey your message. It can also include any visual directions your crew might need during production.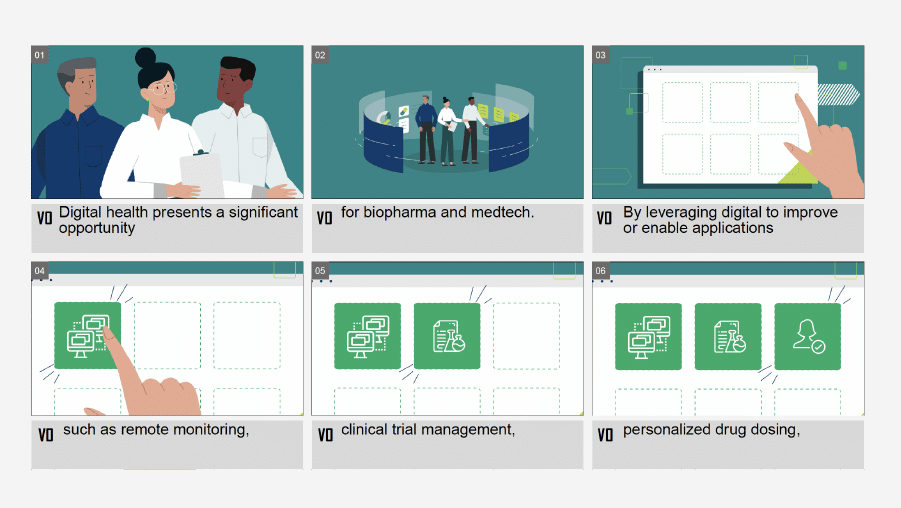 Tips to Make a YouTube video
One of the most crucial steps in learning how to make a YouTube video is differentiating between the different video types out there and what they can help you achieve. So, here are some tips to help you discover which types of videos you should focus on.
6. Define Your Marketing Goals
Videos should pursue one clear goal in order for them to be effective. So, before you get started, you should define what you want each video to accomplish. This is easier than it sounds; just think about what would make your videos a success. Are you trying to engage a particular audience? Or maybe you need to educate your prospects about a specific topic?
There are different types of videos for different purposes, so deciding early on what you're trying to achieve will help you narrow down your options.
7. Set Your Budget
Making a YouTube video can get really expensive if you don't know what you're doing. So, it's always a good idea to determine what your budget is and how you're going to use your resources.
For example, live-action videos often require hiring actors, finding a good location, using the right props, and so on. If you'd rather go for an animated style, you have to consider that 3D animation tends to be quite costly compared to 2D styles. 
Therefore, setting your budget will further narrow down the types of videos you can choose.
8. Research Different Video Types
Lastly, do your due research and learn how the different styles are best used. Some videos, such as animated explainers, are best to attract and convert. Others, like educational and how-to videos, provide valuable content to your audience and help position you as a knowledgeable authority in your niche. 
All three types of videos are highly popular on YouTube because they help users figure out how to do new things, so you can't go wrong with them.
Tips to Make the Most out of Production
Most beginners believe that creating YouTube videos is expensive because of all the equipment they need to buy to make a good video, but that's not entirely the case. Here are some excellent tips to keep it budget-friendly.
9. Take advantage of any equipment you already have
Discovering how to make a YouTube video is already challenging enough on its own to add worrying about equipment to it. That's why it can be a good idea to make do with equipment that you already have.
For example, most smartphones nowadays have high-quality cameras that you can easily use to shoot videos. The key lies in keeping the phone stable and ensuring good-quality audio, which you can easily do with the help of an inexpensive tripod and microphone. Sometimes you can also use your computer's webcam if you're shooting a webinar or a testimonial, for example. 
If you're looking for higher quality or need to make more sophisticated types of videos but don't want to purchase the equipment, you can rent it from a video hardware rental company or partner up with a video production agency. Ultimately, what you go for will depend on your budget and your project's timeline.
10. Find the perfect camera location
Once you have your equipment, you need to find a good location to shoot your video. How easy this part is will depend on where you'll be shooting. For instance, if you're filming in a place such as your home or your office, I suggest setting up your camera in different places to find the best spot for your shoot. How will you know what that is? Well, you'll have to consider the lighting and the elements in the background, but I'll give you more details on that later.
Now, if you're shooting off-site, you'll need more time to find the perfect location, as there will be many other things to consider. Some of those include access to electricity for your equipment, how much natural light the space gets, how crowded it is, and so on.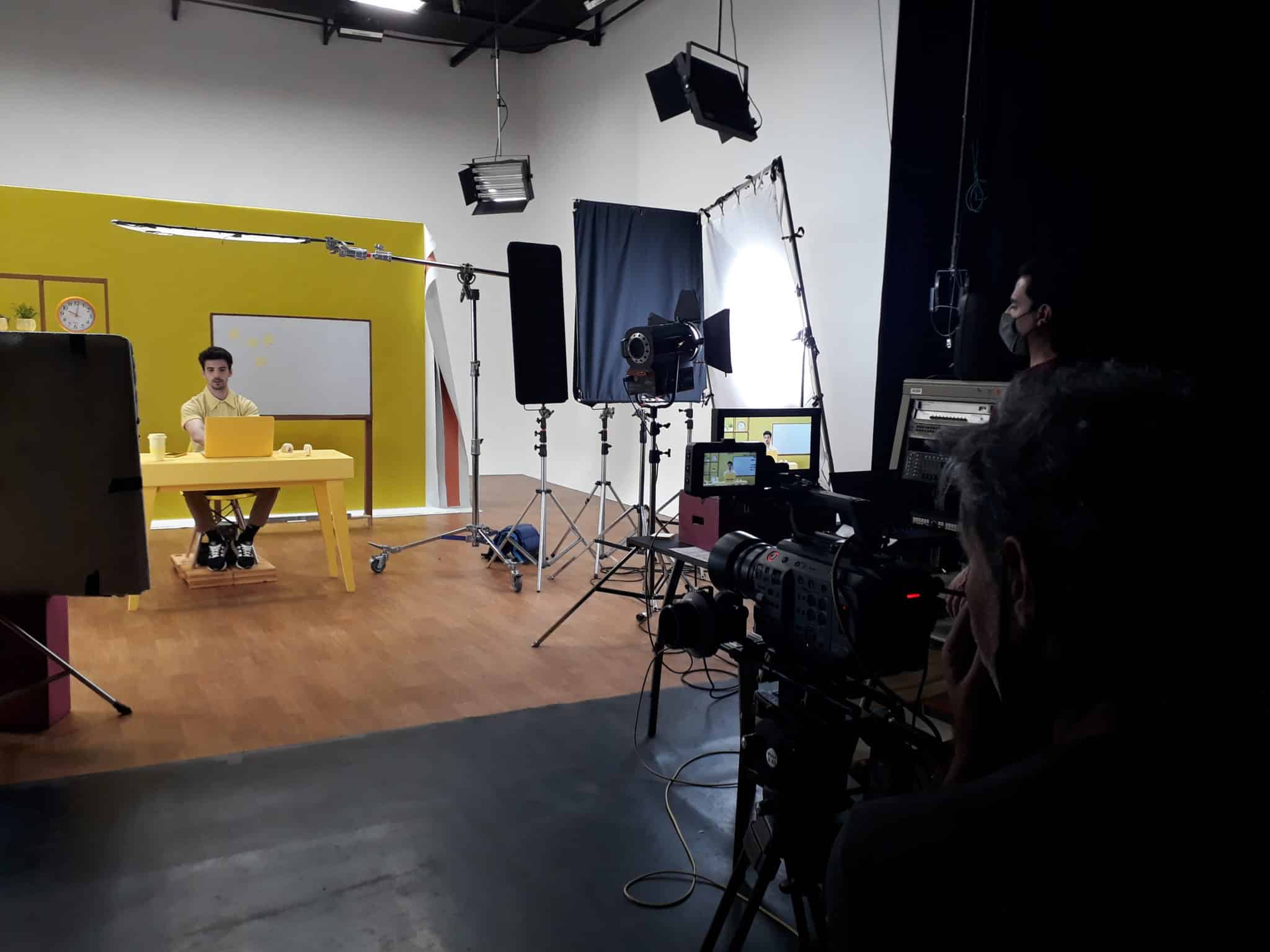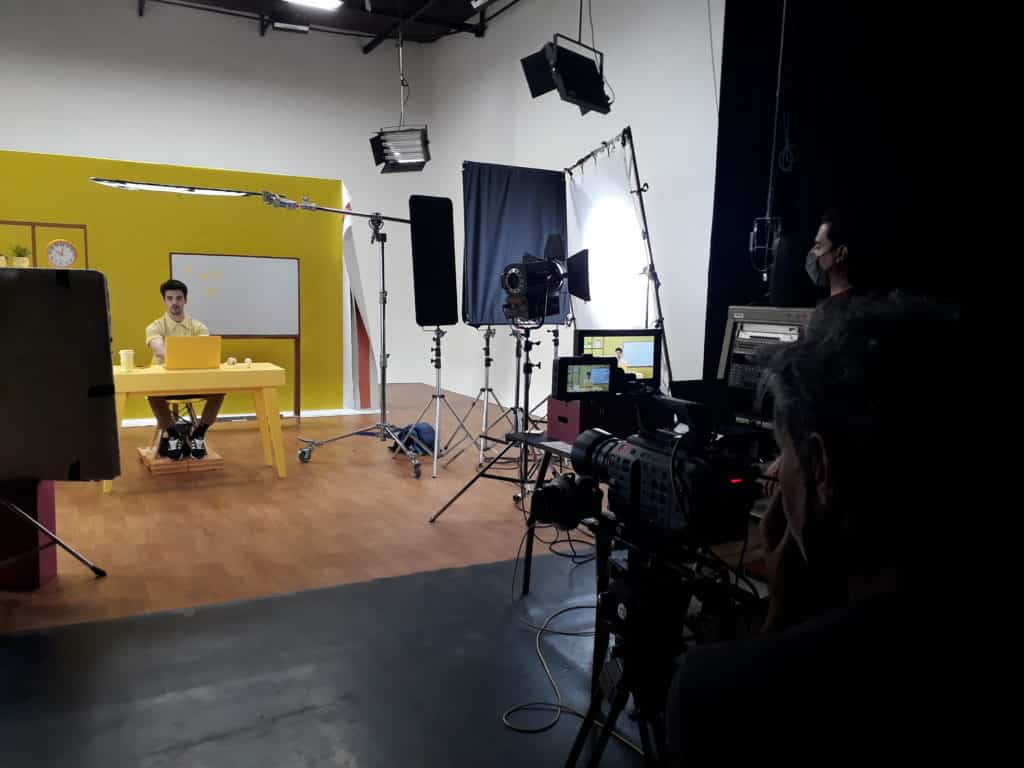 11. Test your audio and lighting
Audio and lighting are two elements that will make or break your video, and ensuring their high quality will make a big difference in how your piece is perceived by the audience. So, if you're making a YouTube video with your phone's camera or webcam, you should definitely run an audio and lighting test to avoid running into any unexpected surprises once you start shooting.
Go to your chosen location and start recording. Your audio should sound clear, without any background noise interfering, and your video shouldn't have any distracting or unflattering shadows in the frame.
You might need to experiment a little by moving your actors closer to the camera or shooting at different times of the day to nail the audio and lighting.
Tips to Nail Post-Production
You'll find dozens of online resources detailing how to carry out the video production process to success, so I've decided to focus on the best tips to enhance the most important elements of your video and help you stand out.
12. Learn about editing software
It's true that editing your video is usually the most overwhelming and time-consuming part of creating YouTube videos when you're a beginner, but it can also be the most fun!
You don't necessarily need to use the most advanced and sophisticated video editing software to refine your content, as plenty of free or affordable platforms are available online. When you're just getting started, you can make do with simple and user-friendly programs like Windows Movie Maker or Apple iMovie. Both allow you to tackle the basic tasks of video editing, such as splicing footage, trimming, adding text overlays and effects, tweaking audio levels, and more.
13. Come up with an attention-grabbing hook
It's been found that the first 2.7 seconds of your video are key in grabbing your audience's attention. So, when making a YouTube video, you need to come up with a good intro to keep them from clicking away. That's why you need to make it clear from the very first second what value your viewers are going to get.
For that same reason, you should avoid starting off your video with your company's logo or a long animated sequence and give your audience a quick preview of the content instead. Whether it's learning something new or merely being entertained, it's important that they see exactly what value they'll get from the video.
14. End with a compelling video outro
If you've nailed your intro, chances are your viewers have stayed long enough to watch the rest of your video. So, you should use the outro to encourage them to take your desired action rather than leave them wondering what to do next.
Here, you should make sure that all the elements of your video come to a graceful end, together and at the same time. If you don't know how to make a YouTube video outro that's compelling, then I suggest you focus on including include a call to action that leads viewers to visit your website or subscribe to your channel, for example.
15. Don't forget about background music
The background music is an element that's often disregarded, both by creators and viewers, but it's actually crucial to bringing the whole piece together. If you're doing an interview or a tutorial, both of which feature long talking segments, adding some background music will be of great help to keep people engaged and even to avoid any awkward silences. 
You can either record your own music tracks or opt for stock music files instead, but whatever you choose, I strongly suggest you pick music that complements your video without distracting from the content.
Tips to Ensure Your Video's Success
Now that you know exactly how to make a YouTube video, it's time to share my best distribution and optimization tips to set you on the right path.
16. Optimize your piece's main data
Search engine optimization is vital if you want your video to rank higher on the SERPs and be found by your audience. Luckily, you've probably already done your keyword research, so half the job is already done.
Next, you'll want to come up with a catchy title that's representative of the video's content, and that includes your primary keyword at the very beginning — but only if it makes sense! This is not something you want to force.
Likewise, your video description should also have the primary keyword at the start. This element plays a huge role in getting you more views, so it's crucial to follow some guidelines. Keep the length between 200 and 350 words and put all the crucial information before the "see more" button breaks up your description.
17. Make a custom YouTube video thumbnail
Your video's thumbnail is one of the first elements people see when they come across your content, and it's ultimately what might help them decide whether or not to click on your video.
Since you need to appeal to people rather than to an algorithm, you need to make your thumbnail interesting enough to catch their attention. However, you should be careful to avoid it looking like clickbait!
Some of my best YouTube tips for beginners include using bright colors that will stand out on the search results page, and incorporating text that reinforces the video's title.
18. Promote your video
Even though you'll be uploading your video to YouTube, it can be a good idea to promote it on other similar sites to ensure more people can find it. Even if you're a small business or a startup, you probably already have an account on Facebook, Instagram, and other social channels. Something as simple as sharing the link to your video on social media can have a huge impact on the number of views your content gets.
You could also consider posting your video on your website (landing pages and product pages are the perfect places for them), or even sending it via email to support any existing email marketing strategies.
19. Track your analytics 
Making a YouTube video doesn't end after uploading it because you'll also have to keep track of how well it's performing. YouTube has some handy analytics you can check to get information about your reach, engagement levels, audience reports, and even revenue metrics if you're in the YouTube Partner Program.
The data in these reports will inform and refine your content strategy moving forward. For example, you'll discover which of your videos are the most engaging, where most of your visitors are coming from (organic searches, your website, etc.), how effective your thumbnails are and SO much more! 
Don't worry, it's not as challenging as it might look at first, you just have to learn how to read YouTube analytics, and you'll be a pro in no time.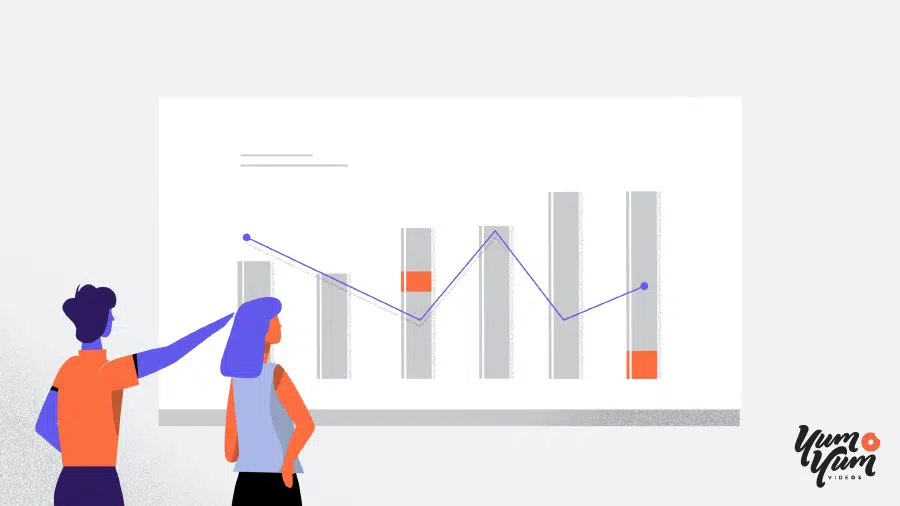 20. Don't be afraid of making mistakes!
It can be tempting to start growing your channel as quickly as possible after posting your first video, but the mere thought of what that entails might also be paralyzing. However, you shouldn't strive for perfection when you're just starting out. 
Fear of making mistakes can kill your creativity and even lead to not releasing your content at all! So, if you find yourself stuck on getting everything to be just perfect, consider this:
Will your audience clearly understand the purpose of the video as is? Will it achieve your goal? Can the time that editing would take be spent better on another project?
If the answer to those questions is "yes," then allow yourself to move on.
Wrapping Up
Wow, that was certainly a long read! But wasn't it worth it? Now, you should be perfectly equipped to take the dive into making a great YouTube video for your business' channel.
I've shared with you some of our best tips for beginners, so you can easily know where to start and how to continue the video production process until the moment you upload your video to YouTube. I've even made sure to include some handy information on what to do after you've shared your content with the world.
You already know how to make a YouTube video, so all you have to do now is take the first step. Trust me, you won't regret it 😉.