When it comes to ranking videos on YouTube, there aren't magic formulas or secret recipes you can follow to get to the top. Since we don't know exactly how YouTube ranks videos, although there are some guidelines, we can't be 100% sure what needs to be done. However, experience has taught marketers some things you can do today to improve your YouTube video SEO.
By using the following suggestions, you'll improve your YouTube rankings and dramatically increase your videos visibility. In other words, you'll get your message to more people, a goal I'm sure you've been trying to accomplish for a long time now. At least that's what we were looking for several years ago, when we created the following video:
What is the best explainer video style for your business?
After using the suggestions you're about to read, that same video got to the top of YouTube rankings for various relevant keywords in our industry, and got us tons of leads – all in 3 months since we uploaded it! Want to know what we did? Read on!
Start with a defined strategy
As with everything in the marketing world, ranking on YouTube needs a solid strategy as a foundation. You need to determine what you want from your videos and devise a plan to get there. From the goals you are aiming for to the concrete actions you'll do to achieve them, the first step towards  great YouTube video SEO is to sit down and plan accordingly.
What should be the first thing you think of? Your video's objective. You might say that you want more people to watch it and that's fine but for your strategy to be really effective, you'll have to go deeper than that. Which keywords are you trying to rank for? Why choose those keywords instead of others? How do the YouTube rankings relate to your overall marketing strategy and to your company's mission?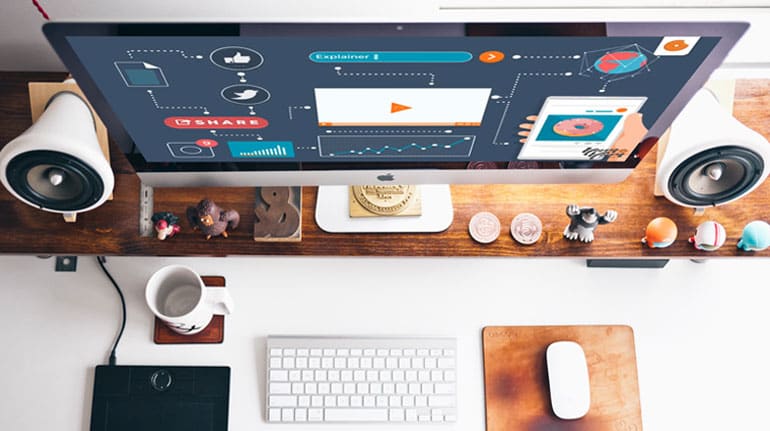 Write down everything you can think of. Then refine that first draft until you get to a short list of specific goals. That list will serve you as a reminder of where you want to go throughout all the SEO adjustments.
Once you have those goals, you'll have to define the concrete actions you'll take to get there. There are countless things you can do here, but if you can take a suggestion, here's the list of actions we took with the successful video you saw above:
First, we made sure the video we were about to rank on YouTube was of the highest quality. Then, we made all the necessary SEO adjustments on a more technical level. Then, once the video was uploaded and optimized for the search engines, we started a distribution plan to amplify the reach. The results were pretty impressive, so let's break down those steps.
Be Sure You Have a High Quality Video
Like we said, only people working on YouTube algorithms know precisely what's going on backstage and how ranking on YouTube actually works. Yet, if practice has shown us something, that definitely has to be that it is far easier to boost a videos ranking if the video has a high quality format.
Quality is what keeps people watching, what makes them engage with the content, what makes them check other videos you've made. Among the insane amount of videos that are watched on YouTube every day (a striking 4 billion videos per day!), only those that are entertaining, innovative or educative enough are noticed. The rest die in the sea of generic, amateur, low-quality videos that populate the platform.
High quality is more than just getting people hooked – it's about getting people to watch! The view count of each and every video platform is an essential factor for rankings, so your YouTube video SEO strategy should aim to increase this as much as possible. And, again, the only way you can be sure people watch your videos and invite more people to watch them is for your video to have the highest quality possible.
Now, you might be wondering what "high quality" really means. To be fair, it's a broad concept that encompasses a lot of minor and major aspects. However, we can boil them down to a handful. High quality videos look fantastic regardless if they are animated or real live action. They feature believable characters with which the audience can relate to. They tell a story that grabs the attention from the get-go and they do so by combining great sound, professional voice work and appropriate music.
Videos with high quality production are more likely to rank higher, simply because people are looking for videos that look different, fresh and unique. Given the sheer amount of videos that are available online, OK videos don't impress anyone anymore. You'll have to go beyond that if you truly want to rank your videos on YouTube.
Go through the SEO basics
Now that you have a great video, it's time to adjust it according to the recommended YouTube Video SEO practices. These include a lot of things you may already know from the SEO used on websites. The only thing that changes is that here they all apply to a video. There are several aspects you should adjust, including:
Keywords in the title, description and tags

: though people can accidentally bump into your video, most of your audience will come from YouTube searches. Thus, it's only natural to use keywords that are relevant to the video and to your business. Once you've defined a set of keywords you want to work on, it's time to use them in your video's title, description and tags. By doing so, you're making it easier for people to find you and for YouTube to start to "understand" what you're talking about.

Call to action

: when people are watching your video, they are at the point of maximum engagement with your brand. You should take advantage of that! With the inclusion of the proper call to action, you can leverage that exposure to convince your audience to act. Sharing the video, subscribing to your channel, going to your website, following you on Instagram – all of those are valid CTAs you can use on annotations and buttons within the video. All of them can work to increase your view count and, in turn, help your rankings.

Thumbnail

: c'mon, the thumbnail can't be important for

YouTube video SEO

, right? Well, not in and of itself but picking the right one can entice people to watch your video. If more people watch your video, YouTube will start seeing it as valuable content and boost its ranking. What do you need to do with the thumbnail for that to happen? Pick one that makes people go "hey, what's that?" Sparking their curiosity with a carefully chosen image is a detail that goes a long way. Be sure to use a thumbnail that's representative of the video but that's also intriguing so people can't resist.
Use all the distribution channels available
You've created a great video and adjusted the basic SEO parameters to make sure people find you. Don't believe your job is done after that, though. To maximize the results you get out of your video, you'll need to distribute it through all the channels you can get your hands on.
You're obviously starting with YouTube and you'll surely share your video in Facebook. That's not enough. You need to go beyond that and make sure the video appears in as many places as possible. There are several instances to consider here.
The first thing you can do is invest in a YouTube Ad Campaign. Putting some money into the video platform will help you maximize your exposure in those critical first days after uploading it. Provided you define your target audience properly, that money will get your video in front of the eyes of the people you want to reach. If your video is good enough, you should count with a snowball effect that will have people liking and sharing it with more people. Thus, after that initial investment, you can trust your video will get more exposure based on its quality alone.
Don't know how to make a YouTube video promotion? Read our blog article before starting a campaign!
You can also boost your video's visibility (and view count) by using it in blog posts both on your site and on respected sites within your industry. Linking it in your articles whenever you can doesn't hurt you one bit and can bring new people to watch it whenever someone stumbles upon your content.
Getting your videos featured on respected sites, on the other hand, can be extremely beneficial for your YouTube video SEO. The video platform uses the number of times your video was embedded in reputable sites to judge its value. The more times it's included in third-party sites, the more your YouTube rankings will be boosted.
Now, I know getting featured in a respected site can be a hard thing to pull off. However, you can strike a collaboration in which you offer something in return (valuable content, free promotion). Just be sure to look out for sites with enough domain authority (a measure you can check with the MOZ Toolbar which specifies how respected a specific site actually is).
The key here is obvious. To get more views, you have to share your video multiple times. People might miss it if you only post it on YouTube or if you only share it once in a blog post. A video is a piece of incredibly valuable content, so don't be ashamed to show it and use it whenever you can.
Some final words
What you just read here is what we at Yum Yum believe is the right way to tackle YouTube video SEO. We've only covered the basics here but they should be enough for your videos to start ranking on YouTube. We know it can be hard to get started so be sure to pay attention to all the details involved or, better yet, get the help of a professional video company.
There are two more things you have to know. First, don't just settle with what you just read here. Video SEO practices (as with everything in SEO, actually) aren't written in stone. They are constantly evolving according to the changes introduced by the search engines and by how the people search in "the real life." So, though the basics might have remained stable for the last few years, things are constantly changing – so you should be changing with them.
Finally, it's important to remember that video marketing isn't an isolated effort but a part of a bigger marketing strategy. Video has become extremely important in the last decade or so but that doesn't mean you can't work other actions in other channels that complement what you do in YouTube. Remember, ranking on YouTube is just one part of something much, much bigger.