Whether it's to learn how to cook a mean vegan dessert, or the ins and outs of tricky software, more and more people rely on various types of educational videos to learn things online. Especially these days that the world is facing a global pandemic and people have to educate themselves or solve their problems from home.
We've created this animated educational video for their famous board game Catan. We've also written a case study about it! So by the end of this piece, you'll know exactly how we've made it!
What's great about using animation in education, is that you can cover any topic with a fresh, engaging, and original approach – Turning what's hard, sensitive, or boring into something easy, fun, and understandable!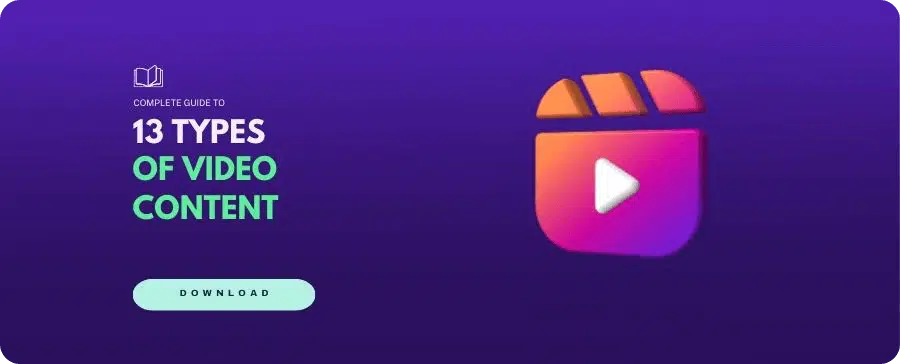 The Many Benefits of Animated Educationals
For starters, animated educational videos are the perfect combination of entertainment and information – which explains why businesses always care to include them in their strategies. However, that's far from being the only reason why companies often benefit from education animations:
When Should You Use Them
Before making a purchase, people go through a process called "buyer's journey," which has three stages:
Depending on the stage your prospects are in, you will need to send them different messages and share specific information about your product or company to move them further in the funnel.
In this case,  education video animation is perfect for the Awareness Stage; when potential customers have just started to realize they have a problem or need to understand something better. They don't fully understand it yet, let alone how they should solve it, and that's where education animations come in.
"As a business, you need to deliver useful content to help them move into the consideration stage, and using animation in education videos helps you establish your brand as a qualified, experienced, and trustworthy resource."
One they'll undoubtedly appreciate, and continue to engage with in the future.
[Case Study]

Animated Educational Video for Catan:
Catan GmbH approached us wanting to create an animated educational video for their famous board game: Catan.
We needed to introduce the game to new audiences, and do so in a compelling and entertaining way! At the same time, the client was looking for a highly informative video that gave viewers a sense of how to play the game.
We knew it was a fairly involved project but were also really excited about working on it!
We came up with the idea of having the main characters be able to get "inside" the game. They would be able to experience it from a first-person perspective and directly interact with other characters and the environment.
The "Catanimals" – the game's mascots – would give them a tour and explain everything they needed to know about the world of Catan.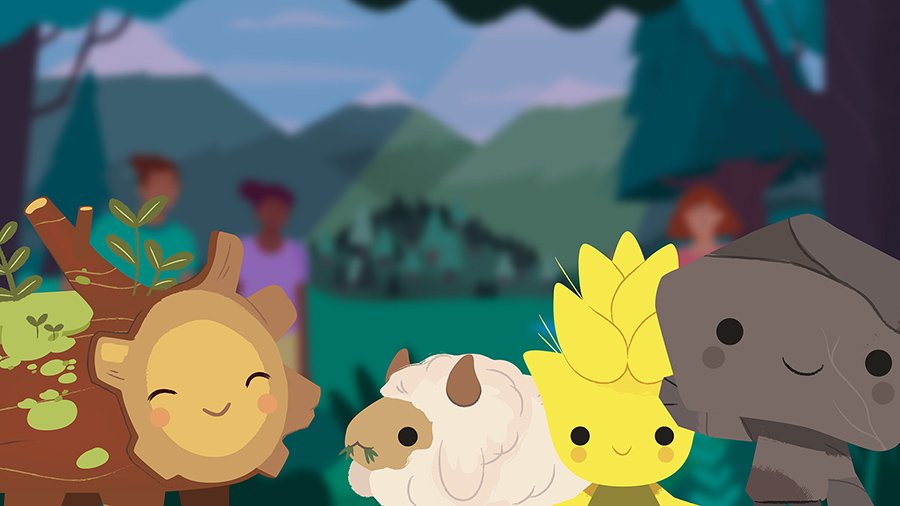 Design
For the overall style, we needed to put together a vibrant, vivid look. As well as some textures and colors that appealed to young audiences. So we worked on a semi-flat design (also known as flat design 2.0) for all the illustrations used in the education animation.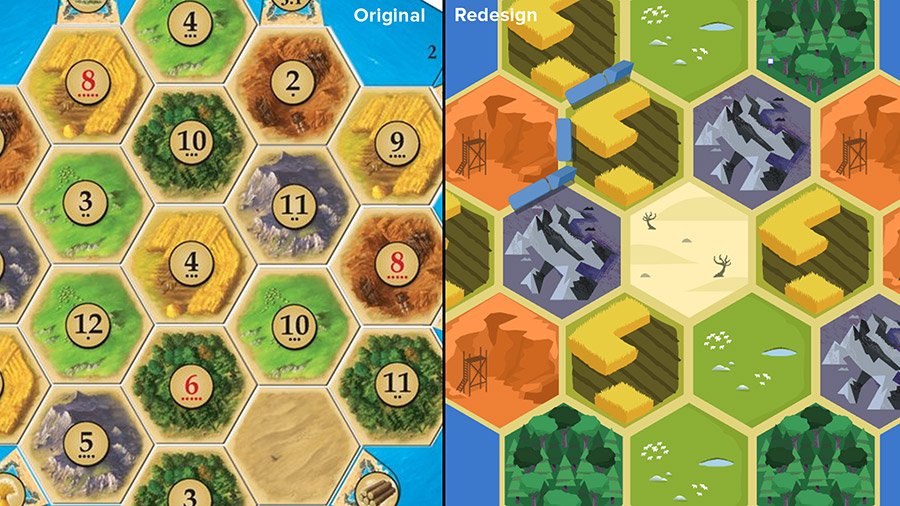 Semi-flat designs add 'visual interest' by incorporating some realistic touches to the flat design – like shadows, for example. This way, we were able to remain faithful to the original design, but bring to the table a full make-over for the game.
Going from there, we started working on a full redesign of every in-game asset. Every card, marker, and board piece was remade to fit the style we were aiming for, and this was the result.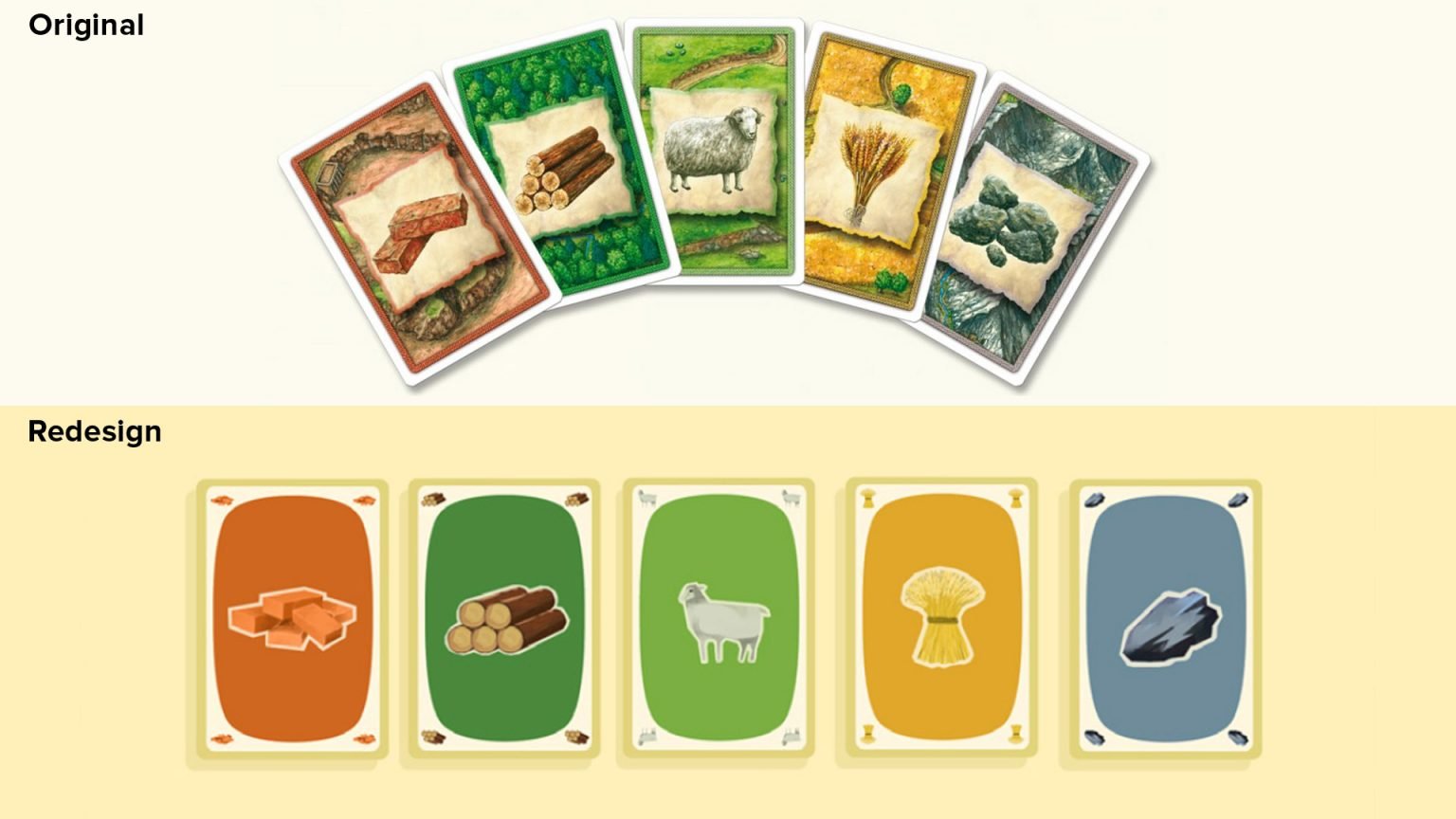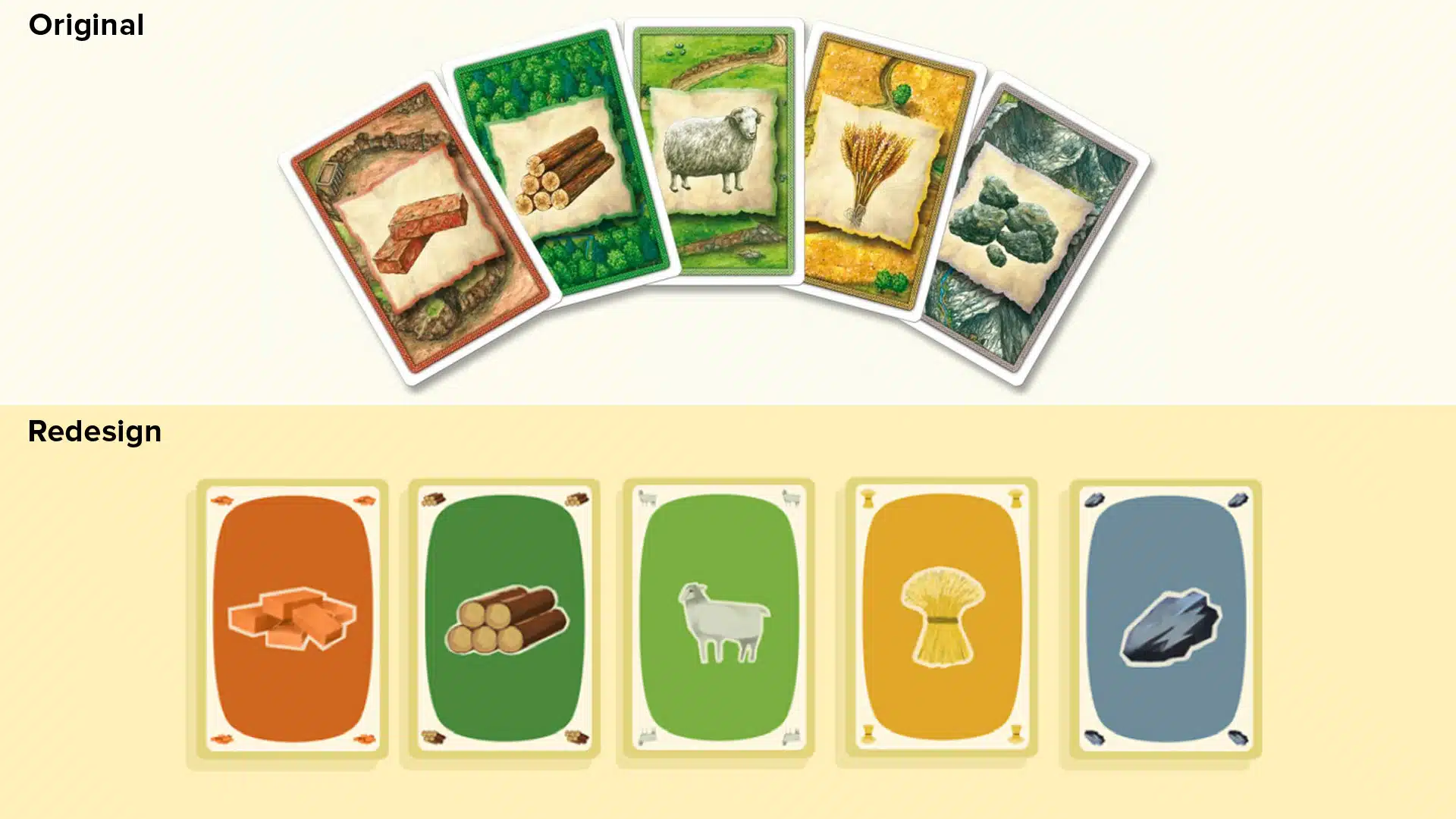 Color Scheme
As for color, we needed an equally vibrant palette that was also reminiscent of the game. That meant using a wide array of colors to portray different environments and assets, but we also had to limit it to achieve a more stylized and modern look.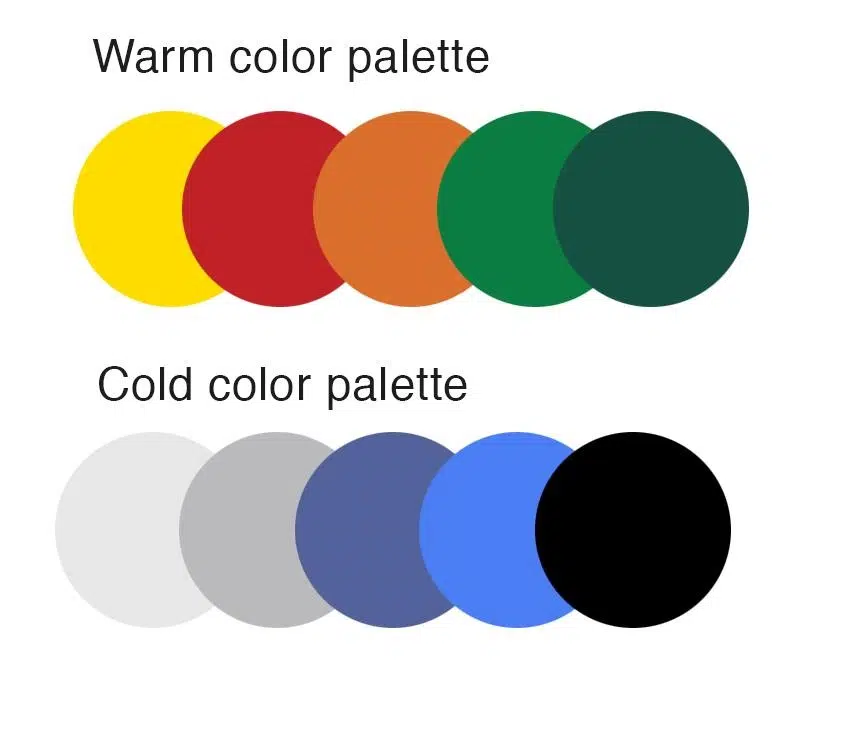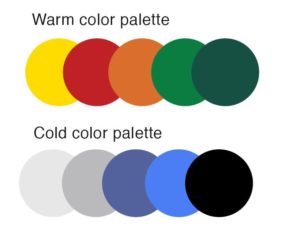 We ended up creating a warm color palette, as well as a cool color palette, whose colors would define the overall style for the entire piece.
Using hues of green, yellow, red to depict fields, pastures, hills, sunsets…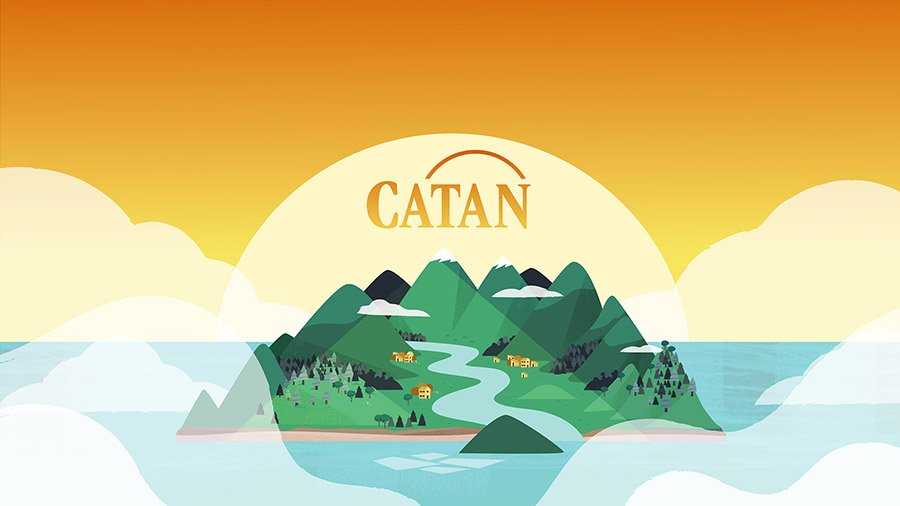 And hues of blue and grey to depict mountains, deserts, and sea environments.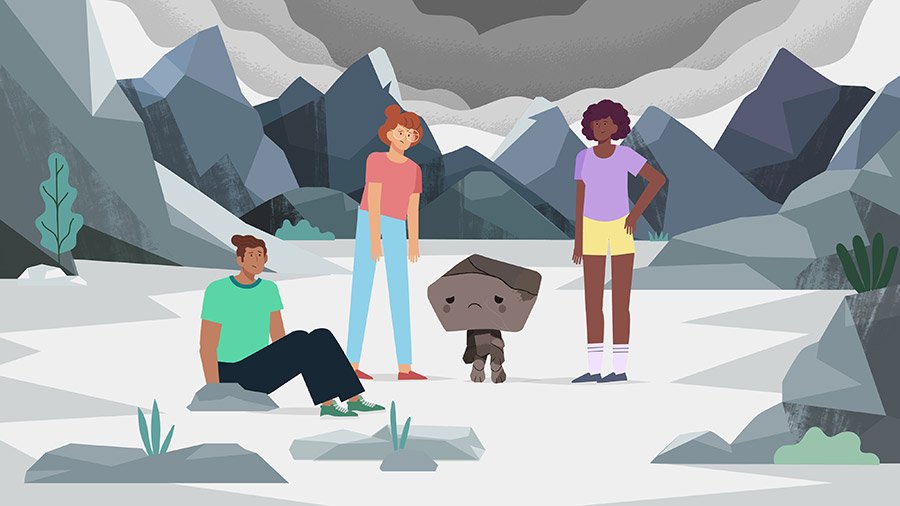 We also created a separate palette to represent the different characters and make them stand out from the environments.
Textures
While we were shooting for a more modern design, it was equally as important to maintain a bit of the classic Catan style. To accomplish this, we added textures to a number of assets and environments. These textures gave the piece that painterly look – so unique to Catan's illustrations – and added more depth to each scene.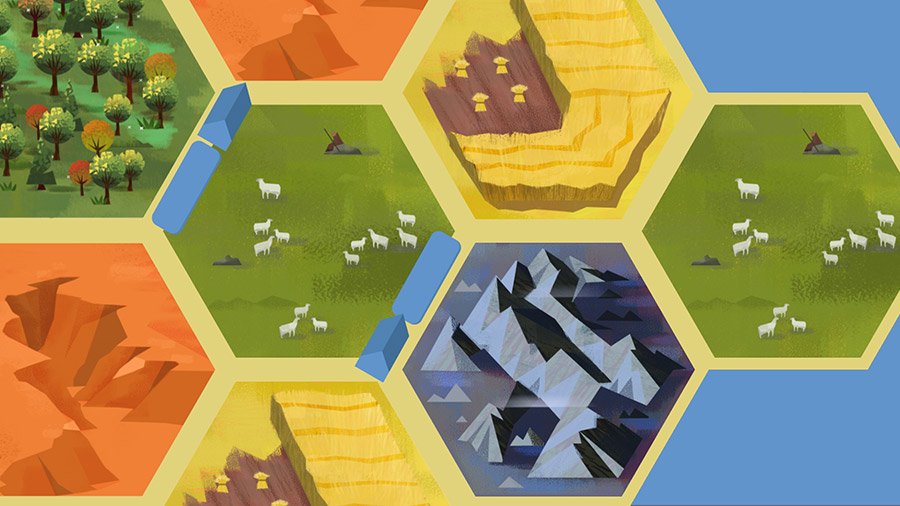 "For example, the textures added to the green pastures, treetops, and the way we worked the shadows on the Grand Canyon."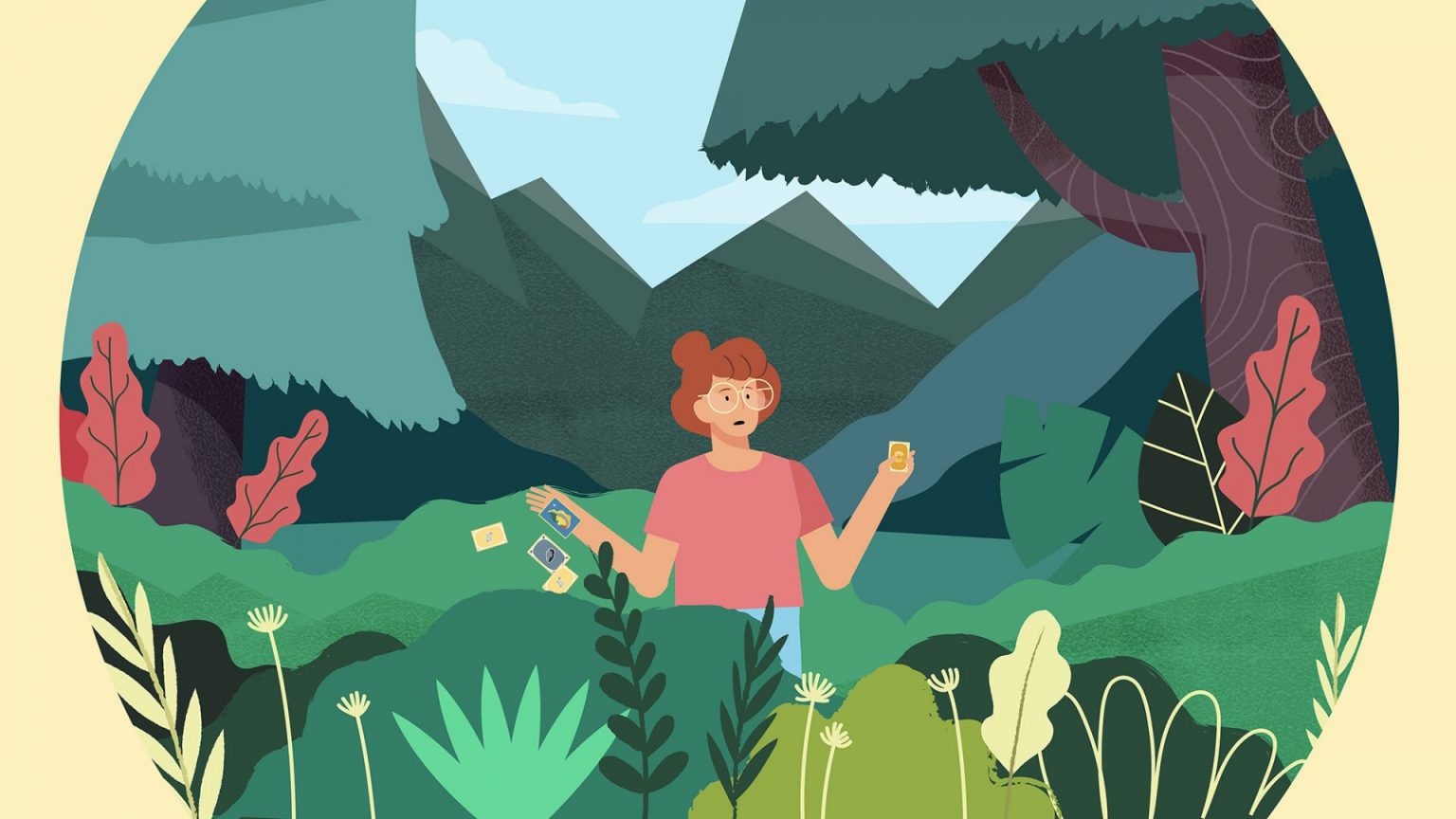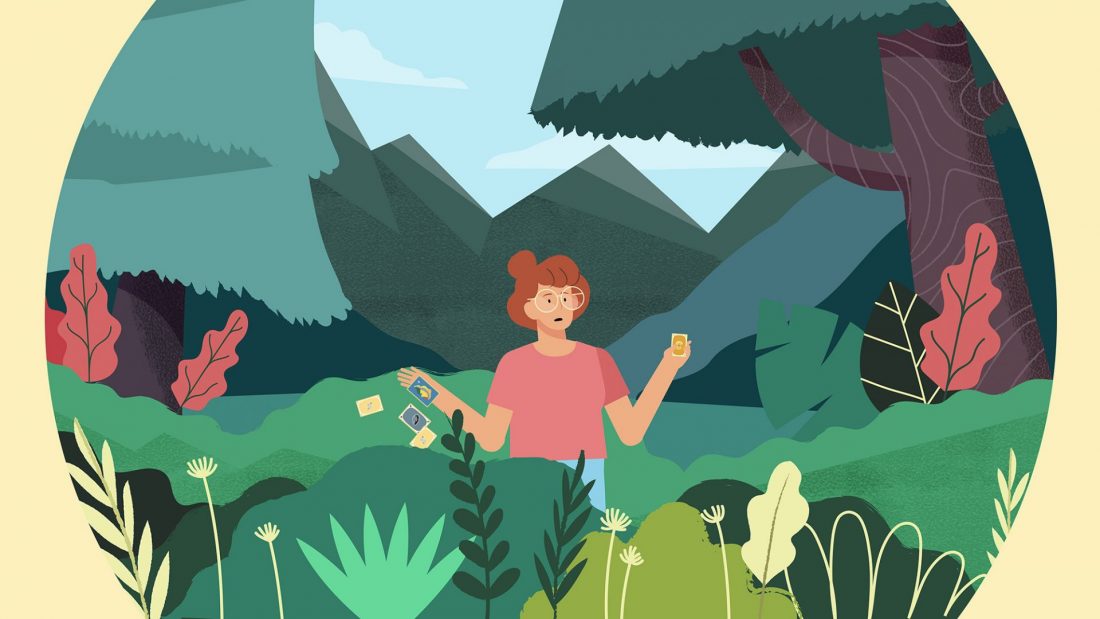 Characters
The client requested young adults as the main characters of the animated educational video. We created three characters that reflected their audience.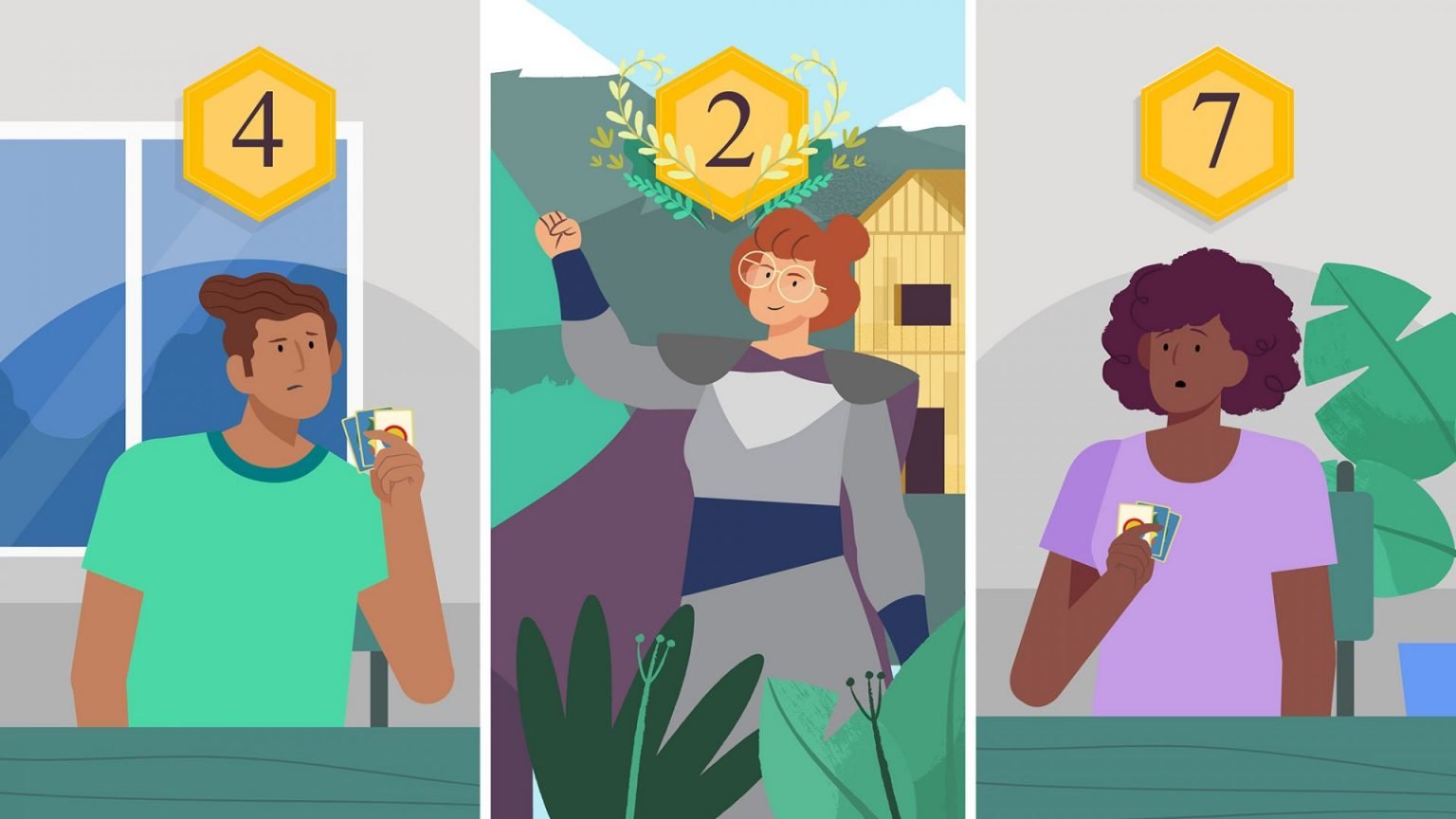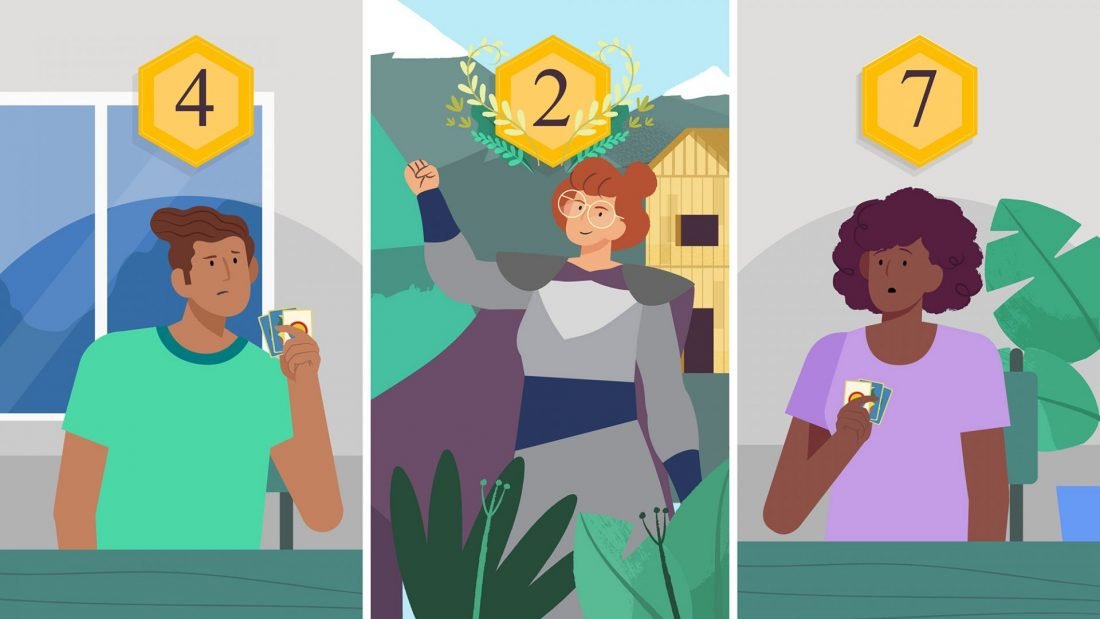 The characters' style had to feel approachable and youthful, while the characters themselves had to portray a range of emotions as they interacted with the game and the Catanimals.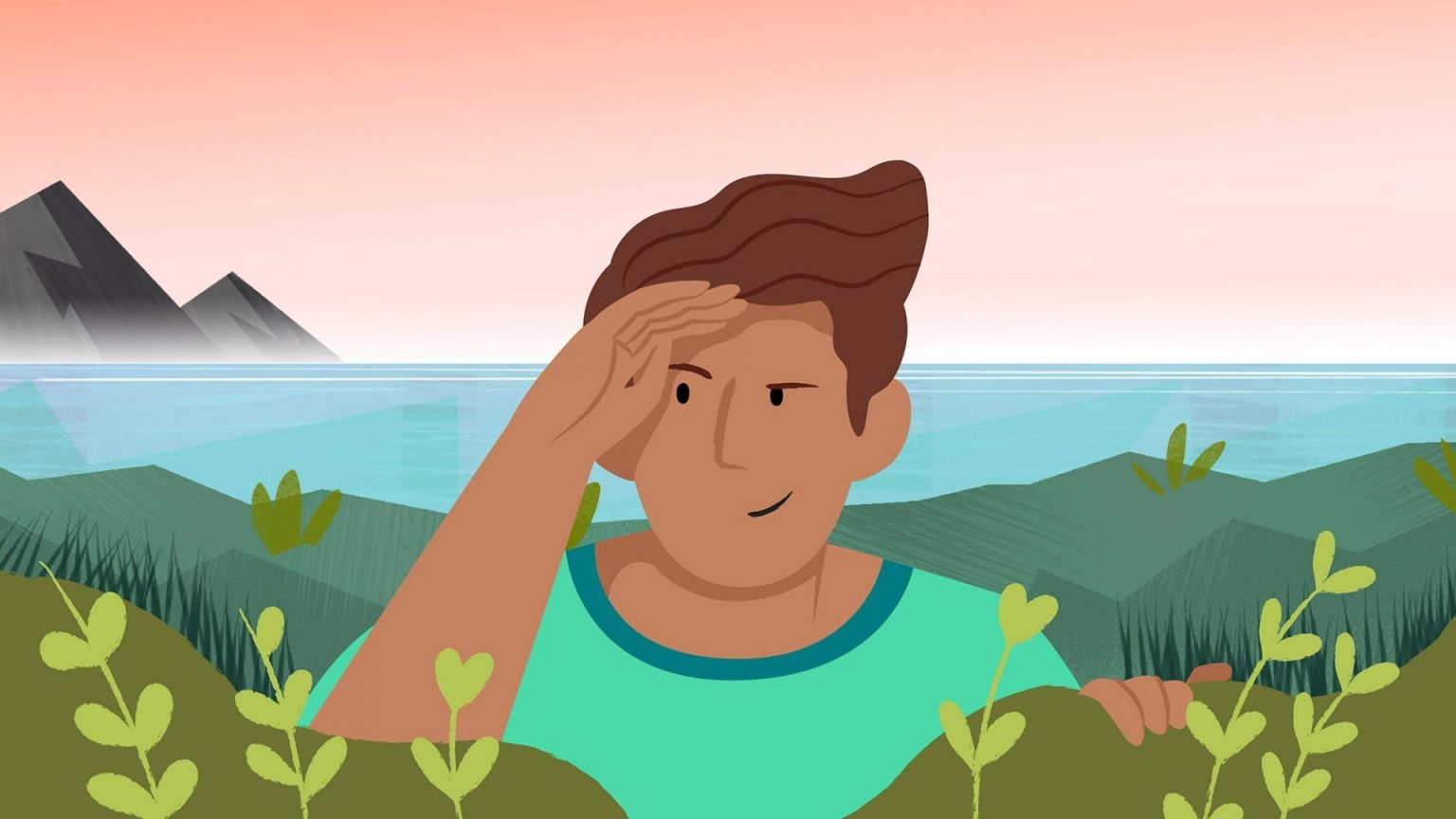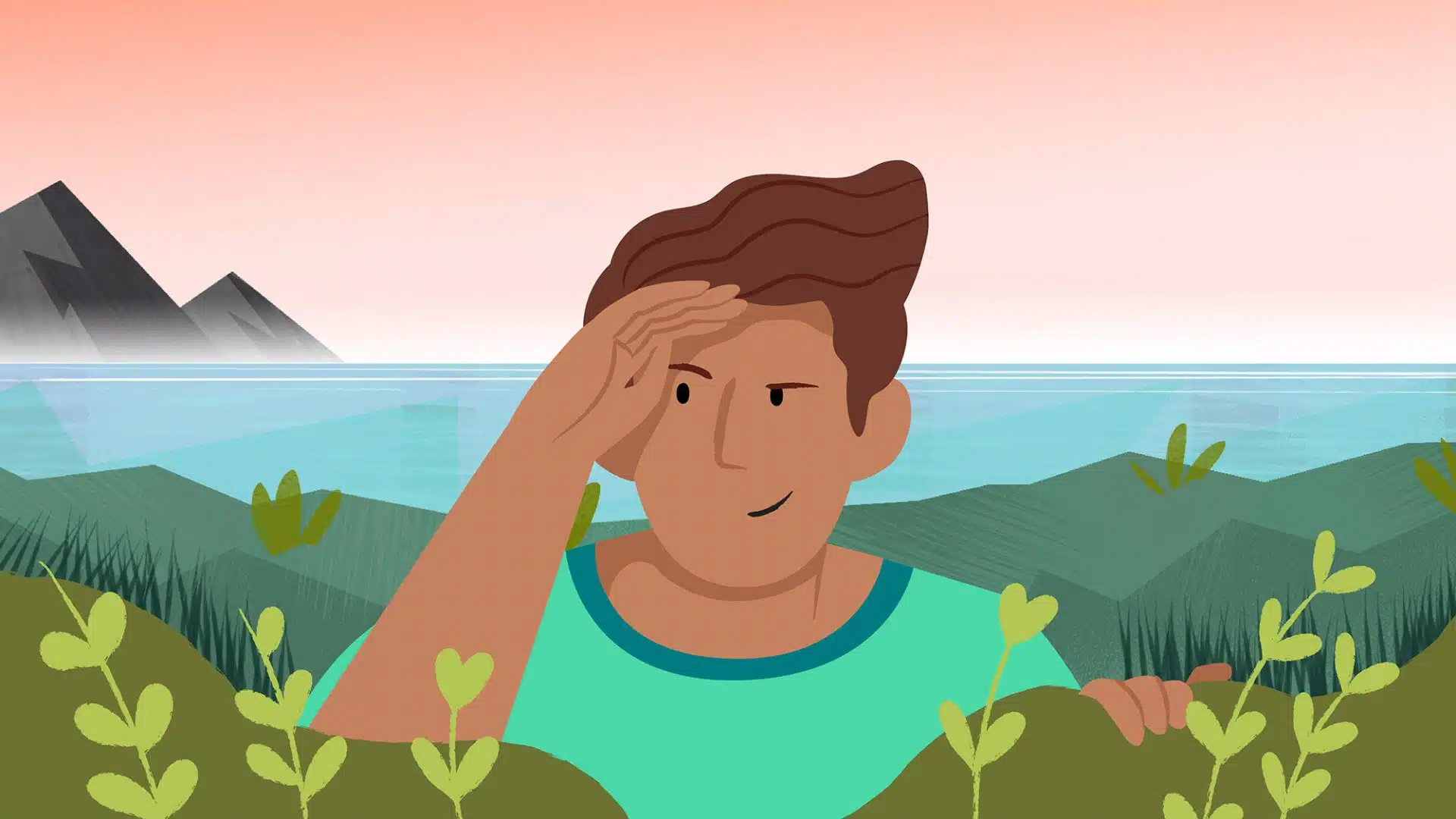 Animation
The video needed to be playful, fairly exaggerated, and full of expression – which added to the funny and easy-going feel of the education animation.
We also decided to approach it in a way that gave the feeling of traditional animation instead of computer-generated. To achieve this, we lowered the frame rate from 29,97 fps to 12 fps, resulting in a crisper look that synergized with the illustrations.
We also went with expressive, cartoony motions since the main goal was to teach the audience the rules while showing how fun playing the game could be!
Result
The result was a very lively education animation! Full of vibrant colors, environments, and compelling animations that connect the different scenes seamlessly. One that introduces the game to the audience in a very engaging and informative way, without sacrificing pacing. Just like every good animated educational video should!
Examples of Educational Videos
Since video is a super versatile format, education animation is not the only way to instruct your audience with the medium. So, let's take a look at some great examples of different types of educational videos!
1. What's Inbound Marketing? – Yum Yum Videos
In less than three minutes, this beautiful animated educational video illustrates the ins-and-outs of a tricky concept – inbound marketing. As you can see, it's entirely focused on providing viewers useful and clear information, delivered in an engaging and easy-to-understand manner. There's nothing salesly or promotional in it – just a desire to help viewers learn about the topic!
Of special note: the empathetic narrator who gives a trustworthy and reliable tone to the script. Making it a whole lot easier to get involved from the get-go!
2. How to Run Your First Facebook Live – Hootsuite
Here's a video developed by Hootsuite – the social media management platform – to explain how to run a Facebook live video. It provides a super simple, step-by-step tutorial while offering a lot of useful tips to help viewers enhance the experience. It's short, very dynamic, and compelling!
3. What's the Best Explainer Video Style – Yum Yum Videos
In video marketing, storytelling is a powerful tool, especially when it's combined with gorgeous animations and high-quality design. Something is proved in this example.
This animated educational video offers a quick master class on how businesses can choose the best explainer video style for their landing pages. But the best part is how it instantly grabs the viewer's attention by building a relatable and engaging narrative. All paired up with fun and dynamic visuals!
4. Content Explorer Keywords – Ahrefs
A bit of a longer example, this educational video from Ahrefs shows that sometimes, you just need a warm and laid-back person speaking to the camera to engage an audience. The content is delivered in a super clear, informative, and approachable way. Guiding viewers on a mission to learn effective keyword search and guest blogging sites using Content Explorer.
Best Practices
These are some of the best practices you can use to get better results when leveraging animation in education. However, they can also be helpful for other types of educational videos
Choose a topic relevant to your audience
As an established company, you must be specialized in certain topics or subjects. So, to educate your audience, you should stick to that – what you know best.
Nevertheless, to develop an effective education animation, you can't forget who's going to watch it. Are you talking to marketers? Women of a particular age group? Millennials that use a specific social platform? You need to focus on finding a topic that's relevant to them and addresses their needs.
The bottom line is you can't help someone you don't know anything about. So, to provide targeted content that resonates deeply with your audience, make sure you first understand their interests, habits, needs, and any other major trait.
Find the right length
Depending on the complexity of the topic you're covering, your videos' length is going to vary a bit.
For example, step-by-step videos are rather popular on social media, teaching audiences how to perform simple tasks, such as preparing a meal or repairing something. Videos like these tend to be super short! But there are some topics that will require more time. All in all, you'll want to keep them around the 2-minute mark whenever possible, and have 6 minutes as a hard ceiling. After that, engagement rates drop dramatically.
Audiences' attention spans are getting shorter by the day, so try only to include what's essential to the piece, removing anything that isn't adding value to your audience. Be concise, specific, and try to keep them as short as possible.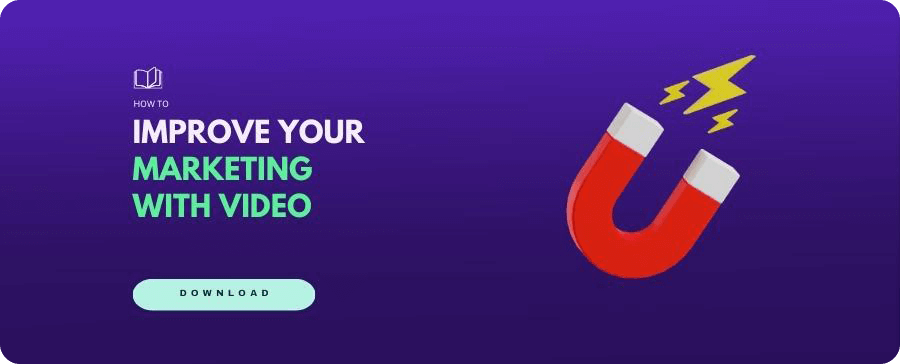 Keep your information clear 
Education animations are strictly functional and informative, so you need to craft a simple, easy-to-follow, and engaging script. To achieve that, keep instructions and definitions short and to the point. Following a logical order and flowing smoothly from one to the next.
Also, try to avoid getting overly technical or detailed whenever possible. Break down the information and focus on finding your relevant points, those that are essential to understand the subject you want to explain.
Lastly, write your script in a conversational tone, using terms and jargon that are familiar with your target audience. Doubly so if you are tackling complex ideas or technical know-how. The last thing you want is to confuse or bore people!
"Pro Tip: To make sure your script gets your message across clearly and flows smoothly, read it out loud! It will help you identify parts where you can make it more conversational, shorten sentences, or check if something important is missing."
Focus on being helpful 
We've briefly touched upon this, but it's worth reinforcing the idea: education animations are designed to provide useful answers, not closing a deal.
Yes, you should keep your video's topic related to your product, service, or industry, but resist the urge to make it just about you. Instead, focus on tackling problems or addressing issues that are going to resonate with your target audience. Use this opportunity to share your knowledge, position your brand as an expert, and provide the information they'll find useful and relevant.
Check your video's metrics
Is your animated educational video reaching your intended audience? Is it being watched all the way until the end, or do viewers drop off before it finishes? How many people clicked on your video after seeing its thumbnail? How are viewers finding your content?
These are all very important questions that you will want to ask yourself. Why? Because they provide vital information on your video's overall performance! Knowing the answers will help you understand what things should be improved, changed, or be kept the same!
There are many hosting platforms – like Youtube or Wistia – with panels that display metrics and insights about watch time, average view duration, play rate, audience demographics, etc. So take advantage of them!
Why Should You Choose Yum Yum as Your Video Company?
Going for a top-notch video company can make a huge difference in your educational video. The right company can create a piece fully customized for you and your audience, ensuring your message reaches viewers in a fun and understandable way.
That's exactly what we do at Yum Yum! We always strive to meet our clients' needs and expectations, and that's just to start! See what else we bring to the table: 
On top of that, we have worked with companies from over 20 countries across the globe. Some of them were big-name firms, like Wal-Mart, Fox, Red Bull, DocuSign, and McKesson, to name a few. 
Now, we can go on and on about how great our video company is, but we believe our work speaks for itself. So here's our latest reel!
So, if you are thinking about implementing animation in education videos for your audience (wise choice), don't hesitate to drop us a line!
Bonus: Quick Tips
Ok, we've covered the major elements and essential steps you need to be aware of when using animation in education content. However, these quick tips may come in handy as well:
The Takeaway
Educating an audience is no joke! It requires a lot of tasks, analysis, and planning ahead. From coming up with an original and relevant topic to writing a script that truly reflects all your knowledge, and then making it mobile-friendly. It can be frustrating even to the most experienced!
However, it's worth the effort – When you use animation in educational content and create an informative video, you'll be perceived as a trustworthy brand, an authorized voice in your industry. Becoming their go-to reference to get qualified answers and top-notch content.
So, in case you were wondering whether or not you should include this type of content in your next marketing strategy, the answer is Yes!