It's no secret that video content is the best way of sharing your brand's message, especially considering that a minute of video is worth 1.8 million words! However, to ensure results you can brag about, you should consider partnering with a good brand video production company.
While a quick search on Google will yield dozens of results, browsing through them and finding the right provider for your needs can be time-consuming and exhausting. That's why I decided to make your life easier by listing some of the most prominent names in the branded video production industry.
Now, let's get started! 😃
Reasons Why You Need Brand Video Content
Choosing to embark on this new journey is not an easy decision to make, which is why I'd like to share with you some of the advantages of branded video production. This way, you can start leveraging this content confidently!
Now, here's why you should consider branded content video production:
Helps companies stand out from the crowd and

win prospects' attention and loyalty

, and convert them into customers.

Adds value and

contributes to the buying experience

without disrupting it.

Builds more

authentic connections with audiences

by using storytelling to inform, entertain, or communicate a brand's message. 

Increases social shares

and

reaches a wider audience

by encouraging viewers to share a brand's content with their friends and colleagues.
Top 10 Brand Video Production Companies
Now that you know why branded video production can help you achieve a wide variety of goals, here's a list of some of the most renowned providers that can produce the best brand videos for you:
1. Yum Yum Videos
—

Brand Video Production

Founded: 2010

Team Size: 10 – 20 employees.

Clients: McKesson Corporation, Walmart, American Express, Vodafone, Red Bull.

Pricing: $8,000+

Who we are:  A highly-skilled team of experienced marketers, creative artists, and driven professionals passionate about all things video. Our goal is to provide effective branded video content that makes an impact, helps you stand out, and brings you closer to your audience.

Over the years, we've produced hundreds of videos that combine compelling animations with emotional and relatable storytelling to bring our clients' messages to life with unique pieces that are fully tailored to their specific needs.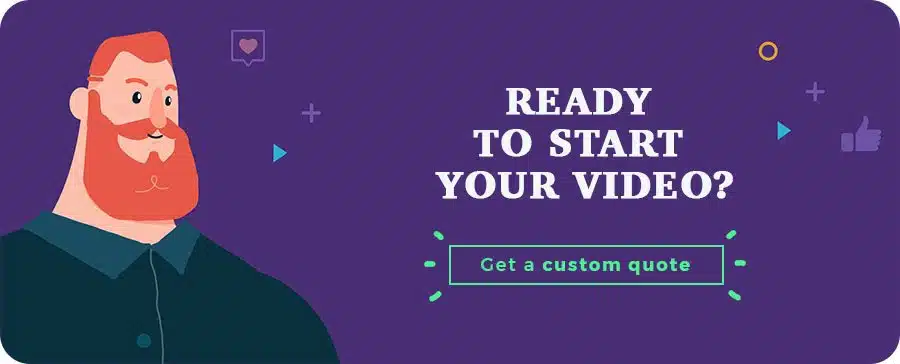 2. School of Thought
Founded: 2009
Team Size: 10 – 49 employees.
Clients: Blend, Montage Health, Milliman, Intrepid Travel.
Pricing: $25,000+
Who they are: An agency that's been growing and adding services for over a decade now, offering not only brand video production but also media planning and buying, stunts and activations, and more. School of Thought's pieces show a lot of critical thinking and creativity, and also reflect the company's efficiency. 
3. BluBlu Studios
Founded: 2014
Team Size: 50 – 249 employees.
Clients: North Shore, Sensei, Durex, Singapore Airlines.
Pricing: $10,000+
Who they are: One of the best brand video production companies out there, BluBlu Studios helps a wide variety of businesses stand out from the crowd with unique content that's not only visually attractive but also tells a compelling story. They have developed a distinct design that helps them convey complex ideas effectively.
4. Casual Films
Founded: 2006
Team Size: 50 – 249 employees.
Clients: Autodesk, GoDaddy, Marriott, PwC.
Pricing: $10,000+
Who they are:  A company that offers full brand video production services. They make compelling short films for global businesses and are expert corporate communicators. Boasting ample experience in the industry and a brilliant team, Casual Films can undoubtedly make an effective and memorable piece.
5. Chamber Media
Founded: 2013
Team Size: 50 – 249 employees.
Clients: Tuft & Needle, Mr. Cool, Fabletics, Invisasox.
Pricing: $12,000+
Who they are: A brand video agency that creates tailored brand content for social advertising. Their seasoned team offers different options depending on their clients' needs, providing high-quality videos that convert regardless of whether they're just testing the waters or diving deep into scaling their business.
6. Sparkhouse
Founded: 2009
Team Size: 2 – 9 employees.
Clients: Toys for Bob, Nekter Juice Bar, Undefeated, XFX.
Pricing: $15,000+
Who they are:  A company that offers branded video production for startups, making pieces that are both fun to watch and effective in hitting their clients' goals. Always striving to outdo themselves with every new video, they boast a fantastic portfolio of diverse pieces that promote, explain, and inspire viewers.
7. 5:00 Films & Media
Founded: 2004
Team Size: 10 – 49 employees.
Clients: AdvaMed, Rebuilding Together, Sears Foundation, FHI360.
Pricing: $20,000+
Who they are: A team of creative and multi-talented professionals with a knack for brand video production for charitable nonprofits and mission-driven organizations. Their goal is to create content that inspires audiences to action by leveraging visual storytelling to connect the company's story and purpose with their audience.
8. REMEDY
Founded: 2007
Team Size: 10 – 49 employees.
Clients: Chattahoochee Technical College, SharkBite, Reliance Worldwide Corporation.
Pricing: $25,000+
Who they are:  An award-winning branded video production service provider with an extensive track record creating outstanding content for brands and ad agencies. Over the years, they've developed a creative process focused on their clients and their teams, working with them in parallel to get the best results. Like us, they know that compelling storytelling is the key to unlocking a brand's full potential.
9. Tale Production
Founded: 2015
Team Size: 2 – 9 employees.
Clients: Jake Wood PT, Batfast, William Hercock, Charnwood Brewery.
Pricing: $8,000+
Who they are: A branded video production agency specializing in helping higher education marketers drive awareness and increase revenue and relevance. They work closely with their clients to effectively communicate and market everything that makes them unique. How do they do it? By taking the audience on a journey to discover their story with meaningful content.
10. Slow Clap Productions
Founded: 2014
Team Size: 2 – 9 employees.
Clients: Stampli, Capital One, Accenture, Insightly.
Pricing: $10,000+
Who they are: A team of branded video production experts passionate about working with brands and companies looking to take creative risks to achieve fantastic videos. They deliver authentic, entertaining, and meaningful content that helps companies of all kinds make an emotional connection with their target audience.
A Bit More about Yum Yum Videos 
Here, at Yum Yum Videos, we let our passion power our work, and every piece we work on reflects our commitment and dedication to helping you achieve all of your marketing goals. The result? Brand video production that effectively conveys your message and brings you closer to your audience through the power of compelling storytelling.
We truly love what we do, so if you want to be a part of this wonderful experience and get an awesome brand video for your company, drop us a line! We're always eager to hear your ideas 😉.
And if you're curious about our production process, here's a fantastic video we made about it!
We've been working with brands worldwide for over a decade now, so you can rest assured that our team of expert video makers and marketers can tackle your project regardless of the complexity of your topic or the industry you're in. So, let's work together to create branded video content that makes an impact on your audience and brings your message to life! 😊
Wrapping Up
Brand video production can be a huge asset to your business, if done right. But the truth is that coordinating all the video production stages and handling the resources is no walk in the park. 
If you want to save yourself that headache, you should certainly partner up with one of the companies I've mentioned in this piece. Each one of them is more than capable of giving you a hand and handling your project!