Hey marketer! Do you want to close more deals? Video content can become your key ally in this sense. Video is not only a great tool for educating your audience and creating awareness about your product, but also for standing out from your competition, gaining a special place in their minds… till they finally say "yes" to your proposal. Go over this article and discover what's the special thing about video for closing deals and which types work best to encourage your prospects to finally buy your product.
Applying An Inbound Marketing Strategy
Those times when marketers struggled to get prospects and customers attention is gone. Today you can work on an inbound marketing strategy and get amazing (and faster) results. Not sure what we mean about "inbound marketing"? Watch this video to get in the mood:
Basically, inbound marketing is about creating tailored and valuable content that meets your audience's specific needs, no matter the stage of the buyer's journey in which they're in. Let's give a quick review to each of these stages so you can understand the difference between them.
Awareness Stage:

at this stage, your prospects know that they have a problem but don't know anything about the possible solutions. They still need to put it into context and understand it from within. And you have to be there to make a great first impression and quickly get their attention.

Consideration Stage:

the prospects are evaluating the different alternatives (products or services) they find in the market. You need to show them how great

your

product is for solving

their

specific needs.

Decision Stage:

the prospects are ready to make their final choice. Now they know which solution they need and are evaluating the different products/services. On your side, it's time to close deals ! This is where we'll focus in today's blog post.
Want To Close More Deals? Experience The Amazing Benefits Video Content Offers
To nurture your visitors and leads in each of these stages you can resort to a bunch of different content marketing formats. But, to be honest, none of them can compare to video content. Video is, undoubtedly, the most engaging, persuasive, attractive and memorable format you can use in your inbound marketing strategy.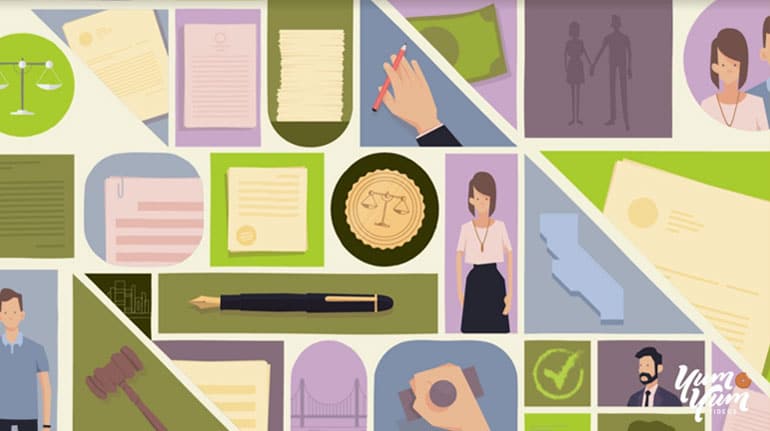 Let me sum up some of the amazing benefits video has to help you close more deals:
People love videos
Videos are fun, cool, enticing and entertaining. People just love watching them! It's the perfect format to quickly get their attention, but also to drive them in the direction you want and encourage them to take action. This is the key word: taking action on their side means closing deals on yours! Not by chance, marketers are using this format more and more to enhance their marketing campaigns (76.5% of marketers and SMB owners that have used video marketing said that it has a direct impact on their business). On the customer's side, numbers are also really interesting: 74% of users who watched an explainer video to learn more about a product/service ended up buying it, and 77% of consumers said they were convinced to buy a product or service by watching a video.
Video is scalable
You don't need to hire a sales rep to make phone calls to your leads (of course you can do it, but keep in mind that video can be a huge complement in that sense!). The great thing about video is that it's scalable: you can upload it to your website, landing page, social media channels or any other platform and it will work 24 x 7 without rest. It's a great way to summarize your key messages and deliver them over and over again.
Video has a huge power of synthesis
This stat will take your breath away: a one-minute video is worth 1.8 million words. Stunning, right? Video has an incredible synthesis power due to the combination of graphic visuals, animations, the voice-over and other resources. In video marketing, both visual and auditory senses are involved and that's why it's so engaging and entertaining. Not by chance, 4X as many consumers would prefer to watch a video about a product than to read about it.

Video generates strong emotions in the viewers
Video is highly persuasive and this goes hand in hand with the fact that the movements on screen, voices and body language convey different emotions in the viewer. There are many reasons why emotions play a key part in video marketing, such as the role of mirror neurons, the effect of the oxytocin and some others. Go over this article to learn more about the scientific explanation behind this.
7 Effective Video Types For Closing Deals
So, how can you use video to encourage leads to choose you? Consider developing some (or many) of these…
#1. Explainer videos
Although explainer videos are commonly used for the consideration stage of the buyer's journey, they also work well for the decision stage, by letting your prospects know what you do and what you have to offer. These short, highly engaging videos aim at communicating your business idea (what problem you solve, how you do it and why you're better than your competition)  in less than 90 seconds. They use a mix of attractive and catchy images, animations, music and sound effects, plus a compelling voice-over to quickly grab your audience's attention and let them know, in a very straightforward way, why they should go with you. Check out this clear example we developed for Gigtown:
By including a compelling Call To Action at the end, plus the emotional and persuasive power this type of video has per se, you can encourage your prospects to strike a deal with you.
#2. Testimonials
Customer testimonial videos are a great choice to use to build trust towards your brand. Keep in mind that 88% of consumers trust online reviews as much as a personal recommendation, so this type of video has a very strong power to persuade your prospects. A testimonial video can be a powerful tool to turn your leads into clients.
Here you can see  an example of what a customer testimonial video should be like:
#3. Case studies
In the same line of customer testimonials and other third-parties endorsements, case study videos spread the voice about how great your product is in solving a specific problem. But it's not you bragging about it, it's someone else with who your prospect will definitely feel identificated with. Customers trust their peers a lot and if you develop a compelling case study video, showing what the context/problem was, the solution and the results, you can increase conversions and sales.
#4. Product videos
If you're trying to sell a product or service, your potential customers need to see them in action. A product video or a tutorial video are the perfect choice  in this sense. By using different animation techniques (such as live action, screencasts, etc.) you can make a clear and thorough demo of the main features and functionalities of your product/service. This will be vital to persuade your prospects to take the next step.
#5. FAQ videos
Videos that summarize a list of frequently asked questions help you to provide your prospects with useful information they're looking for. Before picking out your product/service they might come up with lots of doubts around it. Producing a video that solves this need can help you "gain points" and, in a subtle way, encourage them to choose you as their vendor.
#6. Company videos
Company videos or about us videos are a great tool to bring your brand to life. They help you set up an emotional bond with your prospects, and this is very important if you want them to choose you. By showing your audience who you are and what your company represents (by sharing your culture, values, beliefs, through executives or employees testimonials), and appealing to different emotions (nostalgia, humor, empathy, etc.), you can get great results.  
#7. Behind the scenes videos
When trying to connect with your audience on a different level, behind-the-scenes videos are another good choice. In the same line of company videos (but a little more "handcrafted"), this type lets you show the true essence behind your brand/product. This will help you set up a strong emotional bond with your audience, which is critical before they make their final choice.
At Yum Yum we have developed different marketing videos for companies of every size and industry. No matter if you need an explainer video, a testimonial video, a product video or anything else, just drop us a line and we´ll guide you on which is the best choice for your business. Besides creating a stunning marketing video to help you raise sales, we can produce any other type of video you may need for each stage of the sales funnel. Check out this video to learn more about how we work:
Conclusion
Video is one of the best formats you can resort to to persuade your prospects about how great your product is and, what's more important, encourage them to pick you out as their vendor. In today's article we've reviewed the awesome benefits video has to quickly grab your audience's attention, set an emotional bond. make them come back for more, and -ultimately- buy your product. Moreover, you've got some valuable information about the most effective types of video content that work best to close more deals. Now, it's your time to develop your next marketing video that skyrockets your sales!