When the time comes for you to use a professional explainer video production company, they will deliver your explainer video by working through the different stages of the process. Each stage is vital to the final outcome but one aspect is extremely important – the voice over. This is what will engage with your audience and it will also deliver your message in a way that you need it to be delivered. Their professionalism will help turn your video into a success.
Many overlook the importance of a professional voice over for your explainer video but we understand just how crucial it is to the overall outcome of your marketing campaign.
A good voice over actor will come with a reputation that sets them apart from the rest because they will have worked with many different clients in a lot of different areas. This would have provided them with the experience to work effectively and efficiently. You may decide that your video requires a male voice or you could decide that you want to use a female voice over actor. Whatever you choose, you have to ensure that you make the right choice because you need your professional voice over to work in alignment with your video. What you need, is a professional who has experience of covering this kind of work but also the ability to offer their insight into what may work. Their input along with your guidance will help to make your video as effective as possible and that will work with your project. They will have creative skills and an experience of delivering work to a standard that has enabled them to be highly thought of. That is why you need to a professional voice over, so you can create the best explainer video. For instance, listen to this particular voice over with funny accent:
Spigit (2) | Explainer Video by Yum Yum Videos
What else can you benefit from?
Of course, you will have an idea in mind with regards to what you want from your voice over actor. When they are given directions, they will have the experience and ability to provide you with what you need. They will have experience of working on a number of different projects that have required them to work in a versatile way.
The way in which your voice over is delivered will depend on the audience, the product or the service that you are offering. This will mean that you may have an idea in mind as to how you want your voice actor to work. Of course, you will want the message put across with conviction and authenticity and that is what your voice actor will be able to do. Their talent and professionalism will make it possible for them to add the emotion and feeling that you desire.
Experience counts for a lot in any occupation and your voice over actor is no different. If they are new to the game then this will not mean they are bad, it just means that you are going into it with no prior feedback. For those voice over actors who have experience, you know that they can draw from that and add everything that they have learnt through the years into your video. If they have experience of working on a number of marketing explainer videos then it will mean that they could be suitable for your project.
Simplicity, efficiency and professionalism
Creating an explainer video is a complex and thorough task and any aspect of the process that can be simplified is a bonus. Most professional voice actors have their own studio and this means that they can send you samples and the actual work quickly. This, along with the fact that they have a knowledge that allows them to work efficiently will help to keep your project on track and that makes it easier for you to plan.
On any kind of project, there is a need for everyone to work together in an open and honest way. There are many voice over actors who work part time and are not easily contactable. This can prove troublesome for your project, particularly if you have a deadline you need to stick to. If they are full-time professionals, you can be sure that they will be there to deal with any queries you have as quickly as possible. They appreciate your concerns, needs and issues and do all they can to deal with it promptly because they are keen to deliver on your project. Even though they are working alone, a good voice over actor will become a part of your team and that makes it even more important to choose one that you can trust, like this female voice over artist does for Picniic:
Picniic | Explainer Video by Yum Yum Videos
They mean business
As mentioned, a professional voice over actor will have their own studio set up because this is crucial to their success and ability to meet specific deadlines without relying on others. This means that they can record samples and the voice over for your explainer video using equipment that is of a very high quality. They will then have the ability to send you recordings and make changes as you see fit. Any good voice over actor will have their own studio and this helps to show their professionalism.
When the time comes to dealing with a voice over actor, you may have ideas in mind. However, as time goes on, your animated explainer video may have evolved slightly. This means that you may have to ask your voice over actor to do something different. Their ability to meet your every need will help you to create a video that works in every possible way. You need your video to be perfect and their willingness and eagerness to help you at every step of the way will only prove how good they are at their job.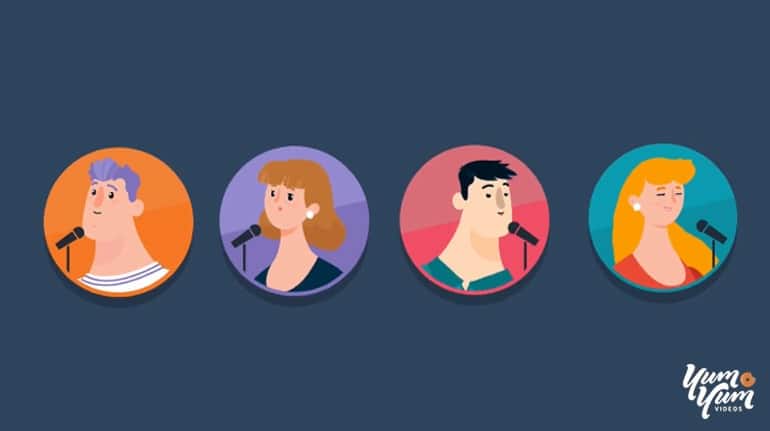 If you have plans to create several videos then you will need to find a voice over actor that you can trust and rely on. This means that the right voice actor will want to work with you to build a relationship that will work well into the future. You want to have someone who you know will work for you project and will meet your every need. The role they play in your project is pivotal to bringing all of the other stages of the process together.
As you will want your audience to feel that they can relate to your brand you will need a level of familiarity. As a voice over actor will be able to put their own professional voice on one or more of your videos, people will instantly recognise that the video and voice is associated with your brand. This builds an awareness that cannot be replicated in other ways. From a marketing perspective, this is a great way of putting your brand out there and making it stick in the minds of your audience and potential clients.
So, you do need a professional voice over
Professional voice over actors are not there to make your video sound good. Well, that is a slight lie because they are, but they offer so much more. Your animated explainer video will put across a message on its own but it may not be clear to many. A voice over actor will give it complete credibility and a level of professionalism that will make your audience feel like you want to help them find a solution to the problems they have.
The experience they possess and knowledge they have built up over the years will help to drive your explainer video forward and it will engage with people in a way that works. You will need to build a solid relationship with your voice over actor. Of course, they will also need to learn about your requirements and how they will deliver it but it is also a case of you having an understanding of how they will meet your needs.
This is why it is vital that you take the time to find a voice actor that ticks every box. There is no benefit from choosing the first voice actor that comes along because there are websites out there such as voices.com that make the whole process of finding an actor easier than it ever has been. Having the ability to see a wide range of voice actors in one place will give you the confidence to go ahead and make the right decision because you can compare, discuss and decide when you feel like you have found the right voice actor for your job. Remember, that it is your video and you want it to deliver a message that proves just how good your brand is. If your voice over actor understands this then you can be sure that they will deliver a voice over that will simply leave your audience wanting more. That is exactly what good voice over actors do and that is why their services will be in high demand.
This relationship will underpin the success of your video and that is exactly why a professional voice over is an absolute must!