What happens if you need to promote your business in a way that's useful and engaging for your audience? You use Promo Videos, of course!
These videos are short, engaging pieces that explain a product or service in a simple way. Because of their use of storytelling and high quality, they are very engaging and powerful.
We've made a lot of animated promo videos, so you may think we're a little biased in our love for them. But the fact is that these videos are one of the most used marketing tools right now since they're really effective.
So, are you thinking of adding these videos to your marketing toolbelt? Then read on! Not only we'll show you how to make a promotional video for your business, we'll tell you how to create the best promo video ever!
● To Explain Things Faster
Online, people's attention spans are getting shorter by the minute. Let's face it – people live busy lives! And what they need is the kind of content that gives them the largest amount of information in the shortest amount of time.
This kind of video does exactly that. They capture your audience's attention… which is what you need and what you'll be losing if you rely solely on text or complicated explanations.
Promo videos tell your audience exactly what they need to know about your product or service, and they leave them wanting to know more. After they take a look at your video, they'll be hooked – and that's a purchase in progress.
● Your Viewers Will Take Action 
These videos are specifically designed for your audience to be engaged and watch it all the way through – so they'll respond positively to a strategically placed call to action. With this, you can make them subscribe to your newsletter, fill out a form, download specific material, visit your online shop…
● You Get to Use It Everywhere
Because of the nature of its content – a narrative that's simple and engaging, and information that's easy to understand – this is a kind of video that will bring high results no matter which platform you use it on.
Marketers call this kind of video "multi-platform" because you could use it on your social media accounts, your YouTube platform and your website with the same kind of positive results from your audience.
This is great, because it means that you get to reach different audiences, no matter where they are! Usually, your followers on social media are not the same people that could find you on a search on YouTube, for example.
One tip, though! If you're going multi-platform, make sure you don't forget YouTube. It's not only specialized in video, but it's the second largest search engine online. Never underestimate the power of having a video that ranks high on YouTube.
● People Prefer Video to Text
In websites where both video and text are available on the same page, 72% of people prefer to watch video to learn about a product or service. In general, visitors read about 20% of a text online, so they get the rest of their information from other sources – infographics, gifs, images… but especially video.
People want information in the simplest and quickest way possible – why would they spend fifteen minutes reading an article when they can get the same amount of information in a video that's just 90-seconds long?
Video content is the present and the future of marketing, and promo videos are necessary if the goal is to attract more conversions and sales. 
Just take a look at how this app promo video explains Travello's features in a dynamic and descriptive way.
● They Build Brand Awareness
If your animated sales video is done right, then it'll feature branded details like your brand's colors, customized characters, and such. This way, your audience will know who's behind the video: because it will be customized to fit perfectly in with the rest of your brand's communications.
Besides this, promotional marketing videos can easily be adapted to mobile logic and will boost your online visibility and rank you higher in search engines (when your audience spends enough time watching your videos on your website, search engines like Google will know that your content is useful and popular, so they'll rank you higher!).
2. How to Create the Best Promotional Video Ever!
Ok, you've learned how to make a promotional video for your business. But if you really want to get all the advantages that come with a promo video, then you'll need to do it right. So, if you've decided to include one of these videos in your marketing strategy, you've come to the right place! These are some tips to create the best promo video ever:
● Know Who Your Target Audience Is… and What They Need
Before you think about anything else, you need to define the most important thing: Who's your target audience, and what do they need? By knowing the troubles and struggles of your target audience, you'll be able to create content that meets their every need.  
The best way to do this is to design Buyer Personas, which are idealistic representations of your audience in the shape of different characters. 
The idea is to give these Buyer Personas characteristics, names, and personalities that refer to different categories of your audience; and direct your message towards them. Your audience will feel like you're speaking directly to them, so they'll be instantly engaged with your content and your brand – and they'll remember you.
● Divide Your Script into "What", "How" and "Why"
Every famous movie has a story that follows the classic script structure of three stages: a beginning, a middle and an end. When you make a promotional video for your business, you need to go a step further!
Divide your story into these three stages, but spice it up by adding specific purposes for each one. For the beginning, you should explain the "What": What is the problem for your audience that will be solved by the use of your product or service?
Then, the middle of the narrative should answer the "How": How can your product help your audience, how will it solve their problems?
And finally, the "Why": Why should they choose you, instead of the competition?
Take a look at this app promo video, and see how these three steps help a lot in communicating the brand's message!
● Make It Short and Sweet
Remember what we said before about people's short attention spans? Your audience is busy, and they need answers. ASAP.
Well, that's exactly the reason why your audience won't stay and watch a 12-minute-long video. Ain't nobody got time for that!
When video length increases, your audience's attention decreases. This means less engagement and no conversions or sales whatsoever.
And if you think you need to have a long video, because the information you need to communicate is way too complex or has too many important details, think twice. There's nothing that can't be explained in two minutes or less!
The important thing is to decide what's essential for your viewers to know in this stage of the purchase process, and to write it down in a script. Keep this in mind: a script of 160 words will make a video that's about 60 seconds long.
Our recommendation? Promo videos should be anywhere from 60 seconds to 90 seconds long. More than that, it's too much! That is the golden rule of video content.
Take a look at this short yet descriptive app promo video!
● Make It Really Yours – Customize Your Video
Would you pay attention to a promo video that doesn't communicate the brand that they're trying to sell for? Yeah, we didn't think so either.
Branded content is important. Including your brand's logo and its official colors, for example, is essential in order to give credibility to your product – there's a serious brand backing it up!
But it doesn't end there. You need to customize your video at every level. That includes knowing who your audience is and creating content that is targeted specifically towards them. Know what their doubts and questions are, and answer them in your video, as this will make them feel like you were speaking to them directly.
Create characters that behave and look like your buyer personas, and make sure that your video is narrated by voice actors that are native to your target audience's location! Every single detail is important.
Just take a look at this app promo video we created for Digiflare, and see how we used their brand's details to create a video that communicated the essence of the company:
● Use High Quality in Every Detail
In a world with so many kinds of content, and 400 hours of video being uploaded every second, what kind of video do you think your audience will stop and watch?
A generic one that's not interesting and not very good? Or the high-quality one, strategically placed, that engages them and keeps them wanting to know more about the product?
Professionalism is important. Promo videos are the ones that will introduce your product to your audience, so why would you want your product to be associated with poor-quality content? 
● Remember Your Video SEO!
You can have a video with a great script, fantastic animation made of very high quality… but you won't see any results if people can't find it! So remember, use some of your budget for creating a strategy that ranks your video high on YouTube searches.
Make sure to go where your audience is! If you'd like to know more about Video SEO for YouTube, check out this link: 17 Tips for Video Marketing and Youtube Video SEO.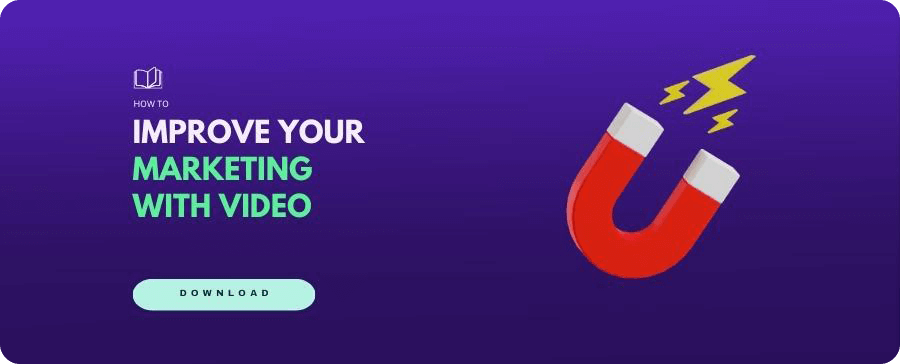 3. How Much Does It Cost to Create a Promo Video?
There's not a one-size-fits-all answer to this question. After all, the price will depend on a number of factors: the length of your video, the quality you want it to have, the complexity of the project, how fast you need it, and so on.
It goes without saying that a non-professional promotional video production will definitely be cheaper than one made by a team of experts. But, as with anything else in life, you'll get what you pay for. Don't be surprised if you end up with a poor-quality generic video that feels outdated a couple of years from now! 
Instead, a professional-level video will be more pricey, but you would have a piece of content that you'd feel proud to show your clients. After all, your video will represent your business on the web and social media, so you want a piece that does justice to your product or service's quality, take a look at some of the best corporate video examples for you to get inspired!
Now, let's talk numbers:
If you search the web, you'll find that a custom 90-second promo video can cost anything between $2000 to more than $30000.
Yes, it sounds steep. And yet, it's the natural price of a complex creative process that involves several professionals and usually takes from 6 to 8 weeks. 
That said, an expensive production process doesn't always translate into the best promo video ever, nor does an economical cost necessarily mean a subpar quality. So you want to find a promotional video company whose quality is worth the penny. 
We can't speak for other video production companies, but here, at Yum Yum Videos, we guarantee the best price-quality ratio. Our animated videos cost from $7000 to $15000, although that price can vary depending on the deadline and the animation technique. 
If you are envisioning a great promotional video and would like to know exactly how much it would cost, why speculate? We would be more than happy to send you a quote.
4. How to Choose the Right Promotional Video Company
No two people are ever the same, and the same rule applies to businesses. Every brand is unique and, when using video to promote yourself, you should showcase exactly that!
That's why choosing the right promotional video company is such a key element of your marketing strategy's planning stages. The company you partner with needs know how to make a promotional video that reflects the essence of your brand and addresses your marketing goals without compromising it.
To help your selection process along, we've listed five fundamental aspects to take into account:
Quality and Expertise:

The very first thing to do is research the company's previous works. Doing so can give you a good idea about the promotional video company's skill, experience, and expertise.

Feedback:

Reviews and general feedback are important aspects to examine for any business. See what shared experiences and testimonials you can find to get a sense about what it will be to work with them.

Pricing:

As we stated before, getting a reasonable price point, while having a quality end-result, is crucial. Higher price points usually come with more in-depth services that translate into better outcomes. You can always choose to go with cheaper alternatives, like templates, but the counterpart is that you have to be willing to sacrifice the quality take of it.

Communication:

As far as the promotional video production process itself goes, constant and fluid communication is vital. Nobody knows your brand better than you. That's why you need to choose a vendor that listens to your requirements, doubts, and ideas, every step of the way.

Customization:

We've already mentioned the importance of having a custom promo video. So, when it comes to choosing a great promotional video company, high-quality, tailored content is non-negotiable. Make sure the agency you choose has a qualified and professional team, capable of delivering fully customized, world-class videos.
5. 5 Best Promotional Video Production Companies in the Market
Now that we've covered the key aspects to take into account when choosing a good provider, it's time to take a look at the top promotional video production companies in the market right now.
Yum Yum Videos
Switch Video
Demo Duck
Sandwich Video
Thinkmojo
Note that this list includes different types of agencies specialized in a variety of industries, and that produce different styles of videos. The idea is to make sure that whatever it is you need, you'll find at least a couple of awesome choices here.
#1 Yum Yum Videos
It's kinda difficult to sing your own praises without sounding biased, but we genuinely believe we are one of the best promotional video companies you'll find!
You might have noticed our motto is "We make videos that taste different," and here's what we mean by that:
Our ultimate goal is to create an amazing,

fully customized video for you.

Full of beautiful and engaging animations that represent your brand and make it stand out!

Our videos' quality is supreme,

one of the best ones on the market.

Our

promotional

video production process

is second to none, which helps us deliver outstanding results on a consistent basis.

We offer the

best price-quality guarantee.

We also provide our clients with an

integrated video marketing strategy

to help them grow their business.
For years now, we've accumulated experience working with hundreds of companies across the world – From unknown startups to several Fortune 500 companies like Wal-Mart, Docusign, Fox, Red Bull, and McKesson, to name a few.
However, we're more than happy to let our work do the talking for us! Check out this cool video we created for our friends at Rhombus Network:
Also, see how our previous clients feel about our work!
#2 Switch Video
Switch Video produces animated, whiteboard, and motion graphic explainer videos, and they have experience working with both start-ups and big-multinational firms, from small nonprofits to big tech companies. Always under the same three promises: Reasonable timelines, keeping up with the clients all the way through, and fulfilling every aspect of the job. Their goal? That their videos connect emotionally with the viewers with an easy-to-understand message!
#3 Demo Duck
At Demo Duck they believe that they can bring to life companies with animated video content. They create all types of promotional marketing videos, like explainers, educational, and ads. Their work relies on transparency and curiosity. But what really makes them stand out is their great quality scripts and animations.
#4 Thinkmojo
Thinkmojo creates VX, that is, visual experiences for brands. They like to keep things interesting and fresh; that's why they choose to partner with companies that like to shake things up. How? Whether the videos are animated or live-action, they focus on creating them with beautiful and engaging visuals.
#5 Sandwich Video
Sandwich Video is a company that truly knows how to make a promotional video. It started in 2009 and has become one of the most refreshing companies of live-action videos. They work with all types of businesses, especially creating app promo videos, and what makes them stand out is their dynamic and funny style.
So, there it is folks! The list of the top promotional video companies out there in terms of quality, expertise, and services. Each one is able to bring value to your marketing table.
We can't really speak for the others on the list, but at least on our end, we'd like to add that here at Yum Yum Videos, the secret to our amazing videos is paying particular attention to our client's needs and requirements. Then combining that with the right amount of creativity and flair to create videos that not only look beautiful and fun but are also compelling.
If you want amazing video content for your brand, the individual details that go into the larger promotional video production process have to be on par with those expectations. And we've mastered the process of doing just that!
We listen to your feedback and make sure to reflect on the ongoing product, keeping product and goals at the forefront at all stages. Letting dedication, passion, and the particular love for what we do guide us during each step of the process.
It is that passion that we hope comes through on every project we worked on, The results? Fantastic and customized pieces of content that represent our customers' brands' uniqueness! Every. Single. Time.
Want to know more about what we do, and how we can help your brand? Don't waste time and get in touch! We'll go over your project and take it from there.
Let's Wrap It Up!
When used correctly, promo videos are extremely powerful – which other marketing tool will explain to your audience what your product or service does in such a fun and engaging way?
If you need to take just one thing out of this article it's this: Make it memorable. Find yourself a professional video production team that will sum up your brand's spirit and communicate it in a great video that catches your audience's attention!
High-quality videos will boost your sales. So, now you know how to make a promotional video for your business, are you ready to create the best promo video ever?