Are you ready to use video content for your buyer's journey? Wait, wait a moment!
Video content is amazing for your marketing strategy, but if you don't use it correctly, it's going to fail.  Nobody wants that! If you want to stop your marketing efforts from going to waste, then you must be smart and use your content in a smart way.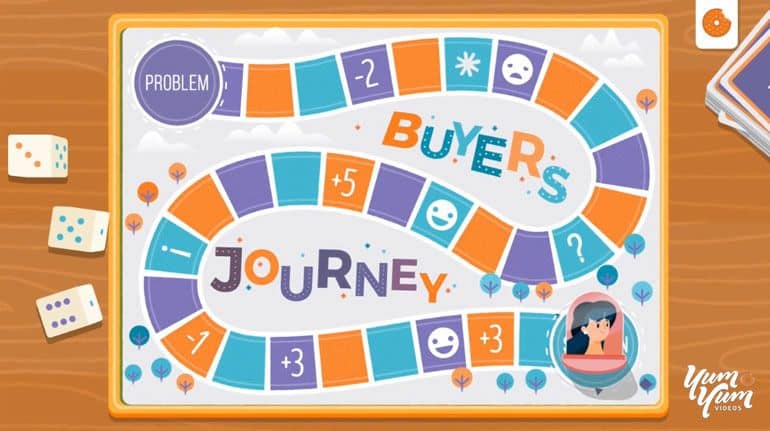 This means, knowing your buyers, the real consumers of your content. The center of the videos you create must be about  your buyers and what they need. There is a simple way to achieve this. You must know every step in your buyer's journey, and identify the different needs that your buyers have in each moment.
So, yes. Just using one video is going to fail. But using different videos to cover every need of your buyers will boost your marketing campaign!
First things first. Let's talk about the buyer's journey.
What's the Buyer's Journey?
It's every step that your buyers take, when they're deciding whether or not to make a purchase.
The buyer's journey is an active process of research, and it goes like this:
First, your customers realize that they have a problem, in need of a solution.

They actively start searching for different solutions

And finally, they decide on one solution and acquire it.
During each one of these three moments (called "stages", but we'll get to that in a moment), your prospects are going to face different challenges.
This means that they'll have different needs, and our job as marketers is to identify these needs and meet them with the right kind of video content.
Why choose video content?
Even though you have to use it in the right way for it to work, nobody can deny how powerful video content is.
Statistics speak for themselves! Having video in your landing page will increase conversion rates by 80%. 64% of users are more likely to buy a product online after watching a video. And mobile video consumption rises 100%, every year!
So yes, video is a powerful tool. And, if you use it wisely, it will fit perfectly in your inbound marketing strategy.
What is Inbound Marketing?
This is because when you know the right type of video to use, and when to use it, you're giving your audience exactly what they're looking for. This means, you're going to be attracting traffic organically: exactly what your  inbound marketing is for!
So, all hands on deck! Which type of video is best for each moment of the journey?
Three Stages of the Journey
Awareness
The awareness stage is the first one of your buyer's journey.
During this stage, your prospects are starting to realize that they have a problem that needs to be solved, and they're researching it.
Your customers have found you, probably by using a search engine, or social media, or even because of a friend's recommendation. Right now, your job is to be useful to them (this means, providing the answers they might be looking for), but also you have to give the best first impression!
In the beginning of the buyer's journey, your job is to create a great first impression. You can do this with a commercial ad.
How? Well, a commercial ad uses a great script and the power of storytelling to engage your customers, showing them the true spirit and values of your brand.
Let's take a look:
Tortilla Land | Explainer Video by Yum Yum Videos
Educational videos are fun, interesting and easily shareable. They're also very engaging.
Right now your prospects are looking for answers, they need to be aware that they have a problem. With educational videos you're helping them put a name to that problem.
When you do this, you could hint at possible solutions, too.
This is why educational videos are so engaging for your prospects: you're providing the exact information they need.
Consideration
The second stage of the buyer's journey! During the consideration stage, your prospects are now fully aware of the problem they have. They are now considering different solutions to address this problem.
How can you use video to show your prospects that your products are the best solution for them?
Explainer videos work great for the consideration stage: they're mostly used to explain complex concepts in a simple way.
What they'll do is, basically, introduce your brand and product to your customers and, in just a few seconds, let them know why they need you.
Explainer videos are really entertaining. They're also useful and easy to understand.
There are many types of explainer videos, and you can choose the one that will fit best with your brand and products. For example, whiteboard animated videos, cartoon animation videos, motion graphics videos…
Let me show you an example!
Spigit | Explainer Video by Yum Yum Videos
Product videos are great for showing your product in action. This will show your audience how useful your products can be for them.
They can be live action videos, of course. But you can also spice it up a bit and make it into an animated product video; or, if you're offering a digital product, you can also use a screencast video.
Walmart | Explainer Video by Yum Yum Videos
Use how-to videos to answer your customer's questions, in an entertaining way. Take this as a chance to educate your audience, and be helpful to them.
Decision
The decision stage is the moment of truth: your prospects are about to make the purchase decision! But they need some final encouragement, just a little push in the right direction, to end any doubts they might be having.
How can you help your prospects choose the best product for them? (Yours, of course) By showing them the right kind of video.
About Us videos are a great way to build customer trust. With them, you'll be showing them what your brand stands for, and who's really behind the products and services they like.
Testimonials and Case Studies
Customer testimonials and case studies are the videos that show real opinions about your brand, from past customers.
By showing your brand's supporters with a testimonial video, you'll be increasing your prospect's confidence in your product.
But, for this to succeed, you need to keep them authentic. It's important to show real people, telling real stories about your brand, and how useful it was for them.
If your videos aren't authentic, your audience will notice, and it will have the opposite effect: it can decrease their confidence in your brand. So, be sure to forget the script, and create an organic space for your customers to share their true stories.
Collaboration Squared - Testimonial Video
Bonus: The Delight Stage
The delight stage is one that's constantly forgotten about, but it's such an important part of the journey! It refers to the moment when your customers have already bought your product or service, and now your goal is to ensure brand loyalty from them.
But how can you achieve this?
Well, usually the trick here is to go the extra mile, and show them the right kind of video to keep them hooked.
Thank you videos are exactly what I mean by "going the extra mile". Why? Because after they've made the purchase, your customers aren't going to be expecting much more, probably.
This is why it will come as a nice surprise to receive a "thank you" video. When they least expect it, be thankful and thoughtful.
Upsell videos are the ones that offer complementary products or services to your customers. This is, products that make sense to them, that align with the product that they've already bought.
The goal here is to generate additional sales, and show them the solutions that these new products can give them.
If your clients like your brand, they probably follow you on social media, or might  subscribe to your email list. It's time to take advantage of that! When you have a new product, service or feature, announce it through video updates for your clients to see.
Long story short…
Video is a great tool, but just using one video in your marketing strategy is not going to work. The secret is to have different videos, and to know where and when to place them.
You can do this by knowing your buyer's journey like the back of your hand. Why? Because this way you'll know exactly what your customers need, and when they need it. And your job as a marketer is to deliver the right content to satisfy these needs.
Remember: your content must be useful, interesting and entertaining. If you deliver the kind of information that your prospects need, they'll be coming to your product in an organic way. Exactly what your inbound marketing strategy is rooting for!
And after you've closed the sale, don't forget about your customers. There's always the possibility of an additional sale, and brand loyalty!
So, be useful, and be thoughtful. Here you have the recipe for success.