Finding the perfect video production company for your new project might sound like an easy task in theory, yet it can be anything but in practice! With so many new providers jumping into the game to test the waters, finding the most experienced and skilled ones can be really difficult – even after a few Google searches.
So, to kickstart your search and make things a bit easier, we've put together a list of some of the most talented, top-tier video production services on the market alongside examples of their work. Hopefully giving you a shortlist of talent to check out in more detail by the time you are done reading 😃
20 Best Video Production Companies to Check Out in 2022
Since we don't know exactly what you need right now (not yet, at least 😉), we made sure to include a wide variety of professional video production services that work with many different styles.
1. Le Cube
Perfectionists to the core – an attribute we can certainly relate to! – Le Cube's another video production company you'll want to keep an eye out for in 2022. They work with many forms of animation as well as live-action pieces and are starting to develop innovative pieces in the 360 and VR realms.
2. Yum Yum Videos
Shocking plot twist, we know! 😏But all jokes aside, we work hard to ensure a list like this wouldn't be complete without us on it. Here's why:
Each of our videos is 100% original and tailored to the companies we work with.
Our content's quality is second to none in terms of asset development and industry standards.
We provide an outstanding price-quality guarantee not many companies even come close to.
We employ a streamlined and optimized video production process to deliver results in record time.
It is features like that that have led us to work with world-famous companies like Walmart, American Express, McKesson, Vodafone, Red bull, and many others like them. Producing unique, creative, and most importantly effective marketing videos like this:
But don't just take our word for it! Take a look at our portfolio or check out how some of our clients felt about working with Yum Yum Videos.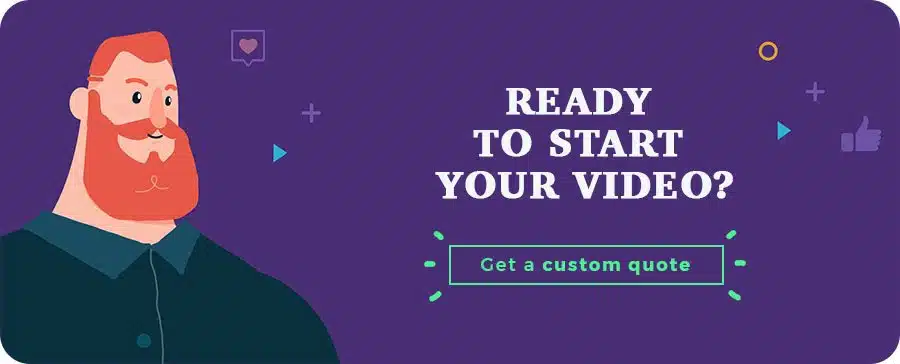 3. Giant Ant
With more than a decade in the video marketing arena, the folk at Giant Ant is as creative and talented as they are experienced. Their content tends to be insightful and often does really well in capturing viewers' attention without letting go. Their professional video production services cover a wide array of animation styles, but they have proven to be skilled at each and every one of them!
4. Demo Duck
Wielding curiosity as a fine-tuned instrument, the talented people at Demo Duck continue to consistently deliver amazing marketing videos. Sharing or penchant for animation but with several really great live-action pieces under their belt, here's a video production company you shouldn't ignore.
5. Thinkmojo
A staple in the industry for a long time, video marketing is in the company's DNA, and they have the body of work to show it. Their portfolio is as striking as their client list, and just a quick look will tell you why it's included on a list of some of the best video production companies.
6. Epipheo
Like us, the team at Epipheo believes that video content can change minds and change lives – after all, their tagline is 'epiphanies through videos'". This video production studio works with both animated and live-action content, and the quality of their work speaks for itself: great visuals and memorable stories!
7. Clim Studio
Masters of the 3D-animation form, Clim studio is famous for making visually striking animations you'll have a hard time taking your eyes away from. Not so much a traditional "media production company" and more of a "collaborative freelance network," their work is outstanding, memorable, and charming – all positive checkmarks in our book!
8. Oddfellows
Similar to Clim, Oddfellows presents itself less as a video production service and more as a "content agency," but regardless of what you call them, you can't deny the quality of their work. Their content is built around emotions and is fueled by heaps of creativity and unique visions. It won't take more than a quick look at their work to understand why they belong here.
9. Dinos & Teacups
You can take a quick look at Dinos & Teacups' portfolio and instantly know why we feature them on the list – a feat that's only made more impressive by the fact that this video production studio is comprised of one person! Their animation quality is flawless, and they wield the medium to tell the most charming and memorable messages.
10. Antimatter
A fantastic, Italy-based video production company, Antimatter's portfolio is filled with impressive work and recognized brands. The bulk of their work is comprised of animated pieces of 90 seconds or less and chock-full of unique visuals and great scripts. Certainly a video production agency worth checking out.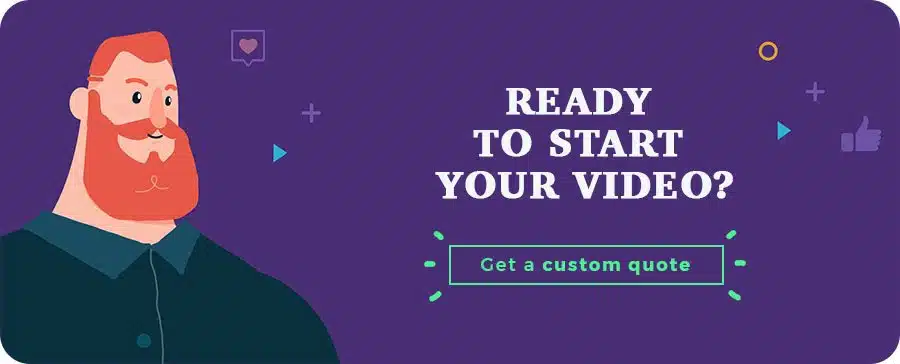 11. Nice Shit Studio
You can probably already tell by their cheeky name that this is as creative and unconventional video production company as they come! From their headquarters in Barcelona, the company has been putting out amazing videos for a while now, all of which showcase their team's attention to detail and outright talent.
12. Illo Studio
Favoring colorful visuals and tight scripts, this video production company understands the power and utility of creativity and individuality. Their body of work is striking and perfectly encapsulates the company's expertise and range when it comes to developing video marketing pieces.
13. Estudio Pum
With headquarters in both Spain and Brazil, Estudio Pum's portfolio perfectly encapsulates the originality that comes with a diverse team. While not exclusively a video production service – as they do also work with graphic design – their video production game is impeccable and more than worth a look.
14. Black Madre
Here's a video production company with such a strong sense of aesthetics that you can even experience it from their website's layout and design – even before browsing their fantastic catalog. Working from their HQ in Sao Paulo, Black Madre's content is awesome, and the high-level visuals of their videos more than earn them their spot on the list
15. VeracityColab
Another video production service that understands the power of amazing stories! The folk at VeracityColab have been in the video marketing game for a while now, providing their services for many mid-sized businesses worldwide. Their high-quality videos are chock-full of fantastic visuals, great animations, and solid scripts, all the ingredients for great content.
16. Breadnbeyond
If we had to summarize this video production company into a single word, it would probably be "customizable," as Breadnbeyond provides a lot of flexibility in terms of services, styles of videos, and even payment structure. With a lot of experience and many amazing videos under their belt, the list wouldn't be the same without them.
17. Sandwich Video
Don't let their app-development origins fool you; this company found its calling when it got into video production services! Their commercials are a delight to watch ­whether you need the products or not, and that alone should tell you how good they are at what they do!
18. Kasra Design
With over a decade of experience and unbridled creativity, Kasra's another video production company that more than earns its spot on the list! Their portfolio is as creative as it is extensive and speaks to the passion and vision of the company's talented team.
19. Very True Story
If you like distinctive aesthetics and have a preference for the medium of animation, as we do, then here's a media production company you won't want to miss out on. This Oakland-based company has made an impressive catalog that leverages minimalism as a narrative tool that adds to their tight script and remarkable visuals.
20. Faze
With multiple awards on their walls, Faze's professional video production services are a great wait to finish up our list! The company is proficient in both animation and live-action composition, and its work speaks to the talent, originality, and vision its team wields. Definitely a video production agency you'll want to keep on your radar.
And there you have it, folks! A full list with some of the top video production companies you can find right now, and each one wielding the experience, talent, and creativity your message needs to come to life.
As for us here at Yum Yum, we can tell you that we are passionate about crafting meaningful and effective videos that revolve around our client's needs – something we work hard to accomplish in every single video we make!
As such, we tailor every piece we work on to fit our client's unique style and image while keeping a close eye on every detail, resulting in an engaging and memorable piece designed to deliver results. A feat that's only possible thanks to our commitment to making our clients our creative partners and using their feedback to guide the project all the way through.
That said, you don't need to read about our process. After all, we made a cute video about it!
So, if you are looking for a talented team to take on your project and deliver an unforgettable and compelling piece of video marketing, just get in touch!
Wrapping Up
Finding the proper video production studio to handle your creative project can be more challenging than it seems at the outset, but we hope that after reading this piece, you have a much better starting point to start considering different providers that can bring your video to life!
Time to start watching videos, comparing portfolios, and reaching out for quotes to find those skilled partners that can help bring your video's vision to life 😄
We wish you all the success in the world!