When you need to share information with your employees simply and effectively, there's no better way to do so than to create training videos for them.
Videos are the perfect tool to convey information in an engaging way, and people actually opt for videos to learn new skills! Let's face it: no one wants to read a wall of plain text (on top of their daily duties!) when watching a 5-minute video could teach them the same topic.
You've probably seen a lot of training videos in your daily life, even if they weren't business related, like tutorials or how-to videos. In a business context, training videos are used to teach employees new skills, demonstrate how a product works, onboard new hires, and any other similar situation where you need to convey information efficiently.
The goal of these videos is to make the viewer acquire new knowledge or a new skill by the end of it, in an engaging and effective way. So, the average training video is short and covers only one particular issue or topic.
On top of being much more appealing than plain text, they can be watched asynchronously and revisited as many times as necessary.
What Are the Benefits of Creating Training Videos?
Besides the purely educational aspect, training videos can offer many benefits to boost your company's communication efforts. Let me quickly go over some of them:
They can be watched on demand.

Remember how nervous you were when first started out at a new job, having to remember dozens of details at once? Save your new employees the headache, and create training videos that cover the essentials of their work.
They make even the driest topics interesting.

Think, for example, of compliance training. It

has

to be done, and it's no fun for either the presenter or the listener, but you can make it better with a video featuring animated characters.
They reduce training costs.

If you own a large business with multiple locations, organizing a training session can get very expensive very fast because of travel, accommodation, and other related fees. But there's no need for that with training videos.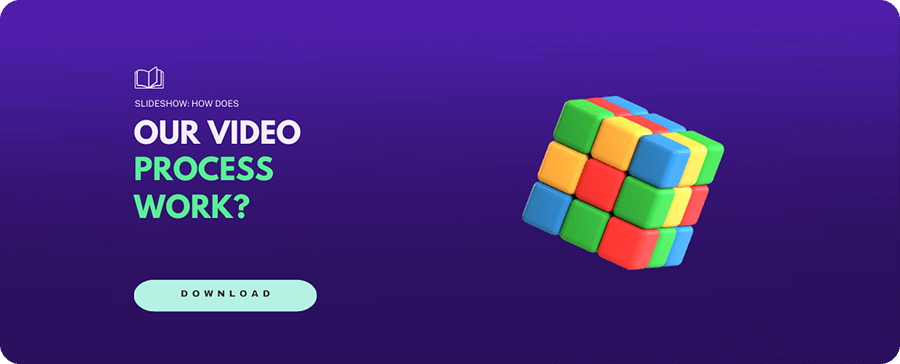 How to Create Training Videos Step by Step
Whether you decide to hire a video production company or you make the video yourself, there are a few steps you need to follow to ensure you get the best possible results. Let's break them down:
Step 1: Choose a Specific Topic and Goal
The first thing you need to do is determine the topic, and what goal you want to accomplish with your video. Are you welcoming new hires? Walking your team through how to use a new piece of software? Showing your employees a training presentation? Narrowing down your goals will help you choose the best type of video to achieve them.
Remember that the most effective training videos are around 5 minutes long at most, so if you need to convey a lot of information, it's better to break it down into bite-sized pieces.
Step 2: Choose the Right Format
Depending on your video's topic, there are different formats you can pick to ensure you're conveying information in the most effective way possible. There are three main options for you to choose from:
Screencasts

, where you record your computer screen, are ideal for showing employees how company software works or going over a PowerPoint presentation.
If you need to teach new employees how to use your company software, for example, this style of training video is ideal for showing them the ropes. It's much easier to explain how to use certain tools on a computer when you can show your viewers directly!
Step 3: Create a Script and a Storyboard
Scripts and storyboards are crucial to stay on track and create an efficient training video (or any video, really!).
When writing your script, you can either do a bullet list of the main points you want to cover or make it fully detailed with every sentence already thought out and ready to be read aloud. I suggest you be as specific as possible to save time down the road and avoid the need for improvisation.
On the other hand, a good storyboard doesn't need to be very elaborate —a few simple sketches are enough. Its main purpose is to help you and your team visualize how the video should flow visually and give you an idea of the overall look it will have.
Step 4: Record Your Video
It's showtime! Now you can finally start recording your piece. Here's when you actually create training videos for your company.
Whether you're doing a screen recording of your computer or using your smartphone's camera to record, it's crucial that you invest in a good microphone. Poor audio quality is not only very annoying for viewers, but it can also defeat the entire purpose of your video by making it hard to follow what's being said. Luckily, all of this can be avoided with a cheap mic.
If you're recording on your phone, you also need to make sure you have proper lighting. I don't recommend relying solely on the ceiling lamp, so I suggest that you look for a cheap ring light or choose a room with plenty of daylight.
Step 5: Edit Your Video
Once you're done recording, it's time to edit your video to make sure it looks its best. There are many video editing software out there, both free and subscription-based, so do some research to find the one you think will work best for your needs. You can even opt for a mobile editor app if your computer is having trouble handling video software.
Here's when you remove any unwanted frames, add an intro and an outro, a customized thumbnail, annotations, text overlays, and any visual elements that might help get your point across better.
After you finish editing, it can be a good idea to show the video to someone else for review. This way, you can catch any details you might have missed before putting it out for the world to see.
Step 6: Share Your Video!
To finally share your training video with your employees, you can either save it in a cloud platform and grant access to it or pick a video editing software that allows you to host your video there and share a link with others.
Another option (and a budget-friendly one!) is to upload your video to YouTube and mark it as not listed on the Visibility settings. This way, it won't show up on searches, and no one outside your company will watch it unless they have the link to it. But, if that doesn't feel safe enough for you, there are many video hosting sites out there besides YouTube that can do the job.
Wrapping Up
Well, we've come to the end of this piece! I hope you've learned a thing or two about creating awesome training videos for your company 😄.
They can be immensely helpful for your business. I promise that even if you feel overwhelmed at first with the planning and production stages, the end result will be worth the effort. 
I think now you're ready to start drafting your first training video. All there's left to do is decide if you want it done by a professional, or if you want to take the bull by the horns and make it yourself! Either way, I'm sure it will be a great one 😉.