There is an almost never-ending list of things which are important to the overall success of a business… sales, profits, customer engagement, customer satisfaction, and so on. But there is perhaps one aspect that's most important of all: Customer loyalty. After all, without loyalty, what do you have?
Without loyalty, you're left with a pool of fickle followers who are only too happy to jump from one business to the next depending on who's looking 'hot' at the time. The problem with that? It costs more to acquire a new customer than it does to keep an old one. Not to mention, existing customers spend more than new ones. So how can you ensure that your customers are loyal to your business?

The Customer Comes First
 One of the most important lessons marketers can learn from their sales counterparts is that understanding the product is key to conversions. However, we're all getting too caught up in this idea that the product is the most important aspect of business success. Sure, it's vital that you have a good grip on what your company actually does, but when it comes to loyalty, the customer must come first.
That's not to say that you should forget about the product, though. It's more about approaching your product in a different way and looking at it as a solution to a customer's problem, not simply as a profitable item. Understanding your customers, understanding what their unique problems are, and understanding how your product solves the problem are the foundations of customer loyalty.
Demonstrating an in depth understanding of customers can be achieved through content, with content marketing providing a platform on which you can expand upon your products and services and delve deeper into your industry and your experience and highlight your overall value to your customers. But simply creating content isn't enough… you need to be sure you're ready to create content that works.
Content That Works
So what sort of content works to increase customer loyalty? To answer that question, we must first look at exactly what sort of content our customers want to see. It's possible that customer preferences could be vastly different to the types of content you're already producing as part of your content strategy.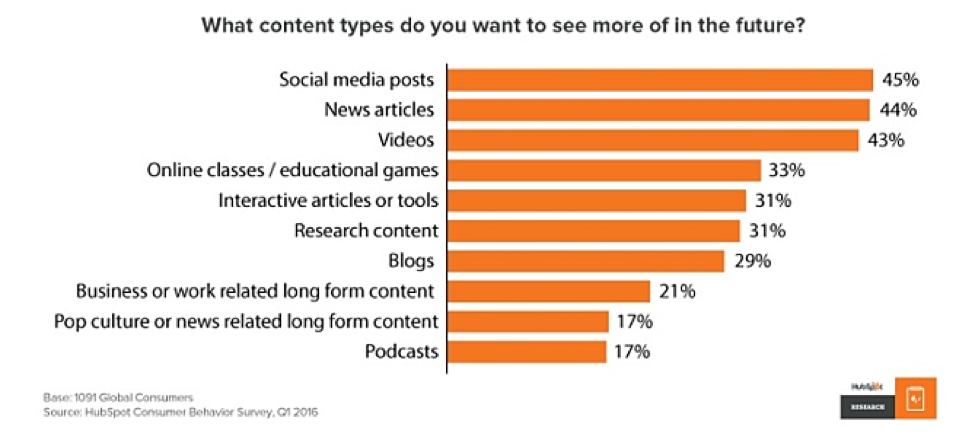 Research by HubSpot shows that some of the most common types of content that we tend to focus on, such as blog posts and long form content, have fallen out of favor slightly with the average customer. Instead, today's customers want to see social media posts, news articles, and even video content.
Video is the format that really sparks an interest here. Why? Because experts are stating that video will soon begin to dominate the digital space. In fact, Cisco's Visual Networking Index estimates that more than three quarters of all internet traffic will come from videos by the year 2022; a 10% increase from the 2017 figure. But how exactly can video marketing be used specifically to increase customer loyalty?
Here are some considerations to ensure that your video marketing strategy has a direct and positive impact upon customer loyalty, helping you to retain your valuable, existing customer base:
Video Type
There are many different types of videos that you could reasonably include within your video marketing strategy. In order to choose the right type of video, it's essential to conduct thorough customer analysis to fully understand what problems your customers are having, how they want these problems to be solved, and how your specific products or services could help to solve or ease these problems.
Screencast videos, cartoons, whiteboard videos, and motion graphics are four of the most popular types of video that are used by businesses. But which would be the most effective for increasing customer loyalty? Let's take a quick look at some of the features of these videos and how they could be valuable…
Screencast: These videos are largely educational and could be used to demonstrate unique product features. They're great for boosting conversions, but not so much for boosting loyalty.
Whiteboard: These videos are mostly instructional and could be used to demonstrate product usage. Again, they're mainly used to facilitate the buying process, rather than for loyalty.
Motion Graphics: These videos are excellent for boosting audience engagement with the brand. Motion graphics can be useful for turning marketing qualified leads into sales qualified leads.
Cartoon: These videos tell a story and are perhaps the best option for increasing customer loyalty. They take the viewer on a journey, helping them to understand more about the brand.
For increasing customer loyalty, cartoon-style videos, or storytelling videos, are the most valuable formats. The idea of storytelling especially is becoming increasingly important in brand marketing.
Message
It's not just about the type of video you choose… it's about the message that your viewers take away with them, too. If you're specifically looking to increase customer loyalty through your video marketing, then taking a problem-solution approach to writing a video marketing script can be hugely beneficial.
Why a problem-solution approach? Why not a promotional approach? Or any other type of approach? The answer is simple: Customers are more likely to retain a message in video form than they are if that same message was presented through textual content. The brain is better at absorbing visual information.
Make your message one that's going to directly help you to increase customer loyalty. Imagine what your viewer thinks about your video 3 days down the line after watching it. What sort of message is going to be more useful in terms of customer loyalty? Do you want your customer remembering that your pizza has cheese on the top? Or would you rather they remember that your pizza can cure hunger and leave their belly feeling happy? Exactly. Don't focus on what you do… focus on how you can help the customer.
Content
So, we've looked at types of video, and we've looked at what the customer should be taking away with them after watching, but we still haven't considered the type of content that should be included. For this, we need to conduct some research into what customer loyalty really is. What drives loyalty?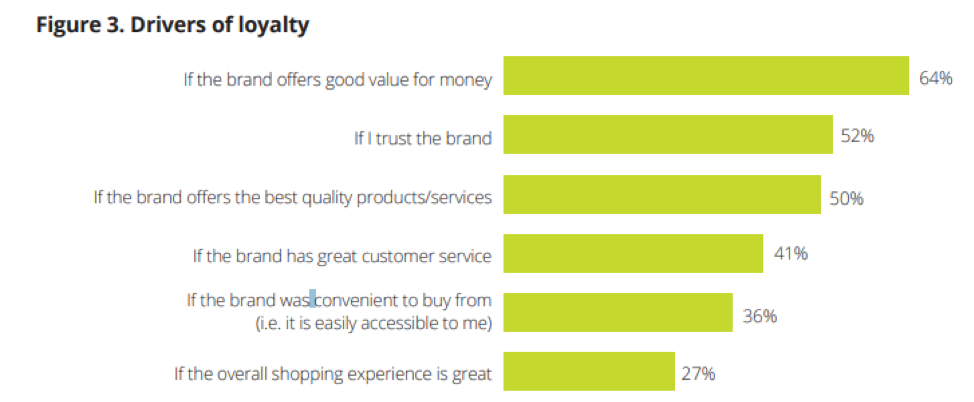 Source: Deloitte Customer Loyalty Survey
According to the Deloitte Customer Loyalty Survey, trust is the second most important driver of customer loyalty, being beaten to the top spot only by price. This shows that to increase customer loyalty through video marketing, videos should instill trust in customers, leaving them with no doubt that the business can solve their problems. Content should be open, honest, and offer viewers complete peace of mind.
To determine the sort of content that will instill trust, it's important for businesses to conduct their own customer research, looking at what their customers are searching for, what problems they have, and what questions they are asking. This can be done through keyword analysis, and through direct content with customers. Customer surveys and feedback boxes are highly underrated in the world of marketing!
Understanding Customer Evolution
Customer behavior, and customer expectation is changing. While businesses may have traditionally taken a more passive role in customer loyalty, the rapidly increasing number of new businesses is driving the level of competition through the roof. Today's customers have more choice than ever before in who they deal with, resulting in a more fickle and unstable customer base. Now is the time for brands to take a more active role to strengthen their customer pool and encourage customers to keep coming back.
To do this, businesses must adapt to this evolving customer behavior and ensure they are consistently giving customers not only what they want, but what they expect. Incorporating new techniques to enhance engagement, interest, and satisfaction with an end goal of boosting customer loyalty is key to this. If you haven't yet incorporated video marketing into your mix, then what are you waiting for?
Author Bio: Deana is an internet marketing specialist at Point Visible, a digital agency providing custom blogger outreach services. In her free time, she enjoys listening to music and singing karaoke. Also, her day just can't start without a hot cup of coffee.