Nowadays, we spend a lot of our time looking at screens, which give audiences a voracious appetite for compelling content.
Yet, even though the audiences are there, it can be tough for a brand to stand out among the sheer number of products and services competing for people's attention. It is a problem that many marketers and business owners deal with on a regular basis.
Fortunately for you, the numbers keep suggesting that a high-quality brand video is definitely a great place to start.
As you may already know, video content is an essential piece of a successful online marketing strategy.
We, humans, are visual beings. We connect faster with video content. It takes less work from our brains to process information presented in that format. And that's of particular importance for brands! Among many other qualities, these videos help build strong and devoted relationships with audiences.
But what makes a high-quality brand video? And more importantly, how can your business benefit from them? Well, that's what we are going to talk about today!
What Is a Brand Video?
Put simply, it's a type of video content designed to generate brand awareness. You can think of them as a perfect medium to establish and grow your company's brand identity and notoriety.
Branded content makes audiences recognize and remember your business and products while associating them with positive feelings (if done right, at least!) And since it is not intended for hard-selling, it keeps the spotlight on your brand's values rather than your product's benefits.
Finally, by invoking positive emotions and not focusing on logical reasons, these entertaining videos try to establish a conversation around you and your brand.
Why Are Brand Videos Important for Your Business?
Brand awareness is an essential part of building trust and credibility in the perception of your business. And brand trust is one of the main purchase decision factors.
Instead of telling why or what makes you the best, you'll show your audience the authentic nature of your business: your core values. This way, you will organically improve your brand's standing on your viewers' minds and foster loyalty.
Branded content also delivers on two, hugely beneficial, digital marketing aspects: sharability and broad audience appeal. By attracting a wider audience – and having them share your content – these videos often lead more people to find your content online. Increasing traffic and, ultimately, your site's value.
In the end, it all adds up to help your marketing efforts and generate new leads.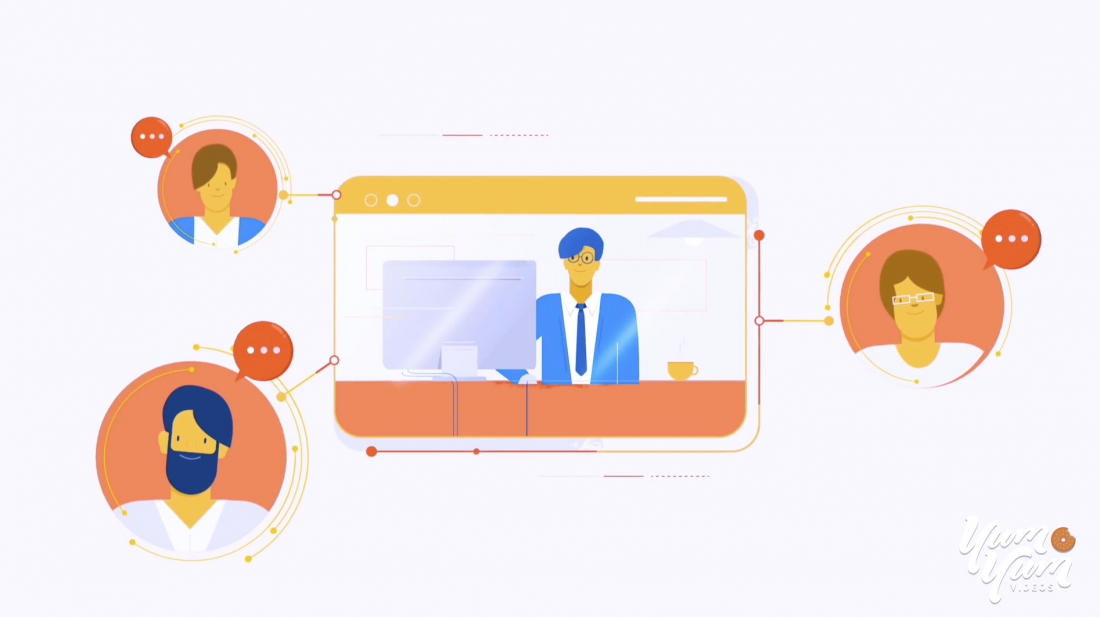 How Do You Create Video Brand Buzz?
These types of videos tell a story that will help humanize your business and make it look trustworthy.
As we said, branded content uses emotions as the ultimate resource to connect with the audience. But for that to happen, you need to tell your story in the right way. Make it resonate with them.
The key element is to create video content that excites your audience and attracts them to know more about you. By generating brand awareness, you'll be lingering for a long time on your audience's minds, which is essential for them to come back.
Crafting Effective Brand Videos
When you are in the making of any video, there are some basic things to keep in mind, like having top-notch visual delivery and being creative. But for brand videos, there are three aspects that stand out and have to be taken into account:
Storytelling: As we just learned, it's essential for branded content to connect with the audience. Because consumers don't just trust brands, they trust the people behind them. That's why showing the human side of your business is a key factor to inspire that necessary trust in your audience. So, you should aim at building a meaningful and authentic relationship with them. The instrument to achieve that in an intimate and profound level? Using storytelling.
Take advantage of it and tell a well-rounded story, driven through powerful emotions to represent you and your brand values. With storytelling, you can add personality to your business, which leads to generating a positive outlook in your audience's mind.
Brand Voice: Because it's aimed to generate brand awareness, it's also important to focus on generating an "on-brand" feel.
Your audience needs to recognize you (or at least, you should strive for that!) and those positive emotions you represent. So don't forget to use every available resource to reinforce your identity and be consistent with the core principles you portray. For example, For example, colors can influence attitudes to specific moods and even purchase decisions. Color patterns can impact your audience and ensure a positive impression on your prospects.  That's why a very effective way of emphasizing your company's identity is to use your typical visual language elements, such as your brand logo and colors.
Voiceover is another critical aspect that falls in this category as well, and a major one at that! Choosing an appropriate voice over talent will help reinforce your message and foster trust and familiarity!
Provide Value: Another important thing to keep in mind is that your video should provide value to your prospects. You need it to be engaging enough to spark interest in your audience, but once you have it, you need to deliver and build upon that interest.
How It All Plays Together
Want some examples of all these elements well-executed and playing off each other? Let's take a look at the following videos and briefly go over how they work.
These examples take three different approaches that make them super effective.
"Perspective" – Apple
This brand doesn't need an introduction or to explain what's their business is all about. Nevertheless, they keep on reinforcing the one value that distinguishes them: innovation. With this vid, Apple speaks directly to its audience, compelling them with a strong message about creativity, vanguard-thinking, and, above all, daring to be different. And it all comes together under an aesthetic that represents the company: Super simple yet sophisticated visuals, with a black and white palette which are their logo colors.
"Why Does Starbucks Blend Coffee?" – Starbucks
As one of the largest food chains in the world, Starbucks chooses to convey a specific sentiment with this video: uniqueness. Their special coffee blends are their most valuable asset and what made the company stand out among regular coffee shops. And they tell the story behind their blends (lead by their coffee master's curiosity) with an animated video, which helps to grow empathy with the audience, as it's much more visually appealing!
"Dream Crazy" –  Nike
Last year, the "Just Do It" famous brand launched this video and it was instantly a worldwide sensation. With it, they demonstrated how to deliver an inspirational and touching message that resonated with everyone. Even with those who are not into sports! Once again, the power of its message (to dream big, no matter the odds) it's the script and the story they are telling. The brand conveys the values they represent with this video and makes the viewer instantly connect with them through a very emotional speech.
When Should You Use a Brand Video?
Given the nature of these videos – meant to build brand awareness, –  they are a great tool to use in the middle of the sales funnel, also known as the consideration stage.
At this point, your audience knows you and people are conscious of your business. So, this type of video content is great for building stronger and trustworthy relationships and reinforcing their loyalty to your brand.
Remember: Trust is instrumental in doing business online!
Considering all this, you should always try to implement brand videos in social media engagement strategies and also consider using them in your PR campaigns.
A Few Parting Considerations
With brand content, it's essential to get the right balance between communicating your brand identity, making it shine, and serving your audience's needs. Not all videos are created equally, and these videos greatly benefit, not only of being highly targeted but authentic and entertaining too!
So, as parting advice (for now!), here is a list with a few tips to add, that might come in handy as you set out to create your own brand videos:
They shouldn't be overly self-promotional: It's your brand that you are promoting, and we know you want to tell everybody that your product is the best. But don't make it too obvious because no one likes braggers!
They shouldn't be too long: Even though it might vary depending on different factors – the message, where you are using your video, your target audience – attention tends to decrease with each passing second. The average and appropriate length for a brand video reside usually under the 60 seconds mark.
They should be done by professionals. People love videos, but not just any kind of video works in a marketing environment.
If you want to stand out, you need to make an impression, and the quality of your video is paramount. There are cheap and quick alternatives, but they often lead to wasted time, money, and not very promising results. So, you have to make sure that you find a serious and professional video company that can meet your expectations!
In Conclusion
Brand videos are essential not only to establish deep relationships with your customers but also to attract more prospects. Why? Because branding helps your business distinguish and influence your audience's demands towards your products.
We hope that you find this guide useful, and once again, our most important advice for you is to be unique!
Also, if you want to start planning your next video strategy and want an amazing team working by your side, don't hesitate to get in touch with us today!
We can help you come up with the right fit and make your brand message settle in!