Video has become an essential, incredibly popular marketing tool.
Why's that? Well, simply put, it helps brands become memorable; conveying their message in creative, simple, and shareable ways –  Something that's bound to have a huge impact on sales, conversions, consumer trust, and help nurture long-term relationships with customers.
So, it isn't really surprising to see video be so widely adopted in a marketing context.
However, even though the right video can add substantial value to a business, it's important to find the right video production company capable of making one that lives up to expectations!
We've picked our favorite 5 and compiled them in this list to help you start your search with the right foot! Each one standing out from the rest because of their innovative work and amazing results.
Let's go!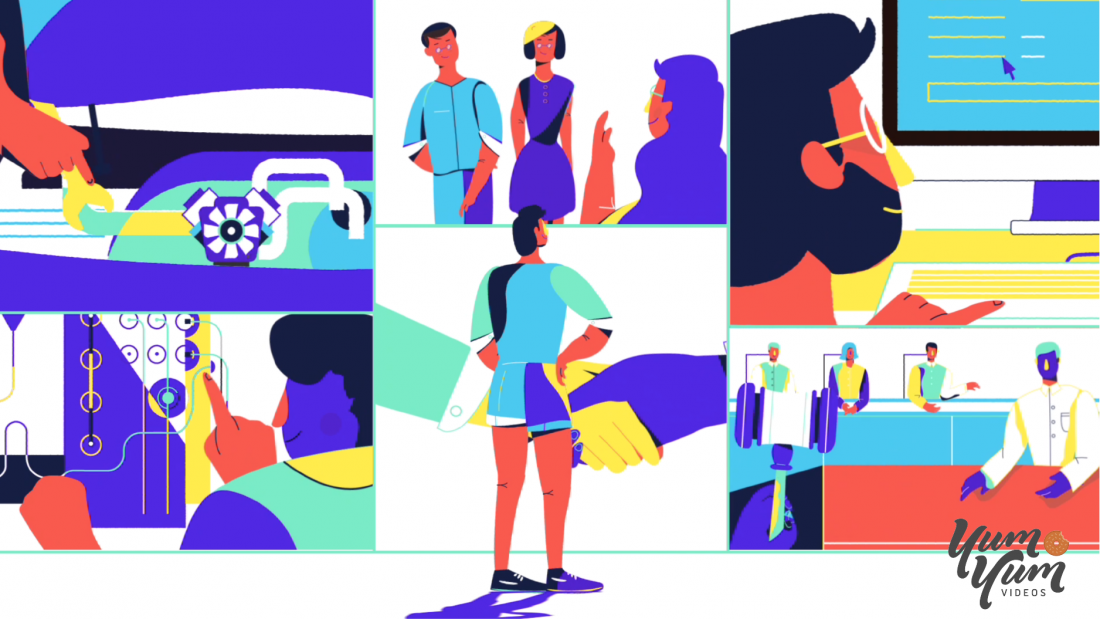 Picking The Right Fit For Your Brand
Due to increased demand by both audiences and brands, hundreds of video companies all around the world have sprung to try and satisfy it. Which is why trying to find the right one can feel like finding a needle in a haystack. It's entirely possible to miss out and not even know it!
However, creating relevant and effective video content that makes your audience go "wow" is not as easy as some might think. Truth be told, audiences are getting more and more demanding by the day, and your video's production process has to rise up to those expectations. So, you need a professional and accomplished team by your side. 
A great company should develop a piece that reflects your brand's core values, and make it in sync with your marketing strategy, audience, and business goals. Last thing you want is to invest your time and money on something that, ultimately, won't provide results! 
In that sense, there are a couple of things to mind when choosing a video agency for your brand. How can you tell which ones you should consider, and which ones to move on from? Well, here are five general factors that can help you separate the best video production companies from the rest:
Quality & Expertise

: A strong, good looking portfolio is always an excellent sign. Make sure to

check their previous work

to see the quality of their projects, and understand what they can bring to

your

table!

Communication

: Always take a peep at their production process because having fluid and clear communication is key to avoiding delays or misunderstandings. 

Customization

: No one likes generic, overused content. A great company should craft unique and fresh videos that capture each of their client's identities. 

Feedback

: Another deciding point that can help you separate the wheat from the chaff is the company's online reviews and comments. Other clients' testimonials can provide priceless insight! 

Price

: You can go with cheaper options that often use templates, but you'll have to sacrifice quality and customization. However, paying more doesn't immediately guarantee you'll get quality. Look for companies that can deliver the results you need at a budget that works for you.
Top 5 Video Production Companies
Now that you know where to put the spotlight on when looking for a video agency, let's review our 5 favorites! 
You know we have a deep love for animated explainer videos, but in this list, we've also included video production companies that branch into other styles too! We wanted to make sure that, whatever you are looking for, you can find great options here 🙂
Yum Yum Videos
Ok, yeah, that's us – but we aren't just trying to show off! We've come a long way and we genuinely believe we've earned a spot on this list! Here's why:
We've assembled a super skilled team of professionals from different key areas, like directors, scriptwriters, illustrators, animators, and much more! Working together to create awesome, beautiful, and fun animated explainer videos. 
Here's how!
Our videos are

fully customized

to our client's needs. 

Each one of our productions is developed with top-of-the-industry

quality

.

We have a remarkable, super detailed

video production process

.

We deliver an

excellent price-quality guarantee

. 

Our services also offer an

integrated video marketing strategy

to help our clients accomplish their goals.
Long story short, this recipe has led us to work for hundreds of companies from all over the world, including (name drop alert!) brands like Walmart, Fox, Red Bull, and McKesson.
Best part? Our work speaks for us! Take a look at this cool animated explainer video we made for Blume Beverages, a family company that produces natural superfood drinks 🙂 
And if you prefer the opinion of a fellow human, you can hear what some of our clients have to say about partnering with us!
Epipheo
Lead by the idea of creating videos that can bring clarity and "a-ha moments", this agency from Ohio was one of the very first to develop explainer videos. They do a lot of work for non-profits and educational niches, and offer a customized team to bring out a brand's uniqueness. 
Sandwich Video
Sandwich Video specializes in live-action, and is one of the top video production companies doing it. They are known for creating entertaining and fast-paced videos, with clever scripts, that always keeps the viewer engaged. What's also interesting about them is that they manage the whole video production process and take care of distribution! 
Demo Duck
The team at Demo Duck believes in the power of explainer videos, just as we do, and they develop them mainly for the media and education industries. They focus on writing powerful scripts which they feel is the key element of the production process. 
Thinkmojo
Thinkmojo is a marketing and video production company from San Francisco, and often called the "viewer experience" agency. They are known for developing high-quality explainer and product videos, but they also work with educational, ads, and other types of content. 
There's our list of top video production companies! What do you think? Did you find this list useful? We can assure you that each of those companies stands out for their experience and the quality of their work! 
In our particular case, at Yum Yum Videos we put extra-priority on understanding you and your brand, because our client's needs come first. Always. 
Our driving principle is to help you achieve your business goals, and to do so, we endeavor to understand what you are offering to your audience, your mission, and what sets your brand apart from others. 
Once we have those pieces in place, we set out to develop high-quality videos that convey your message in entertaining and disruptive ways by keeping an eye on the details and listening to your feedback.  Aligning your expectations with our work and creative ideas! 
Wondering what a video production process like that looks like? Don't worry, we made a cool video to explain it! It's what we do 😉
So, if you are looking to create a cool explainer video to make your brand's voice come alive, don't hesitate to contact us right away! We'll be more than willing to do so! 🙂 
Summing Up!
If you want to make your business stand out from the rest, video can help you with that. Big time! 
Every video production has a particular process, but one thing's for sure: it takes an experienced and talented team to do it properly. That's why taking time for choosing the right video company is something that shouldn't be taken lightly.  
Hopefully, you can use the video production companies on this list as a great starting point – or an excellent frame of reference – to find the right company to bring your awesome video to life!