Are you looking for the best way to upgrade your marketing efforts? Many will say that the secret is to use good content, but no – the secret is to use excellent video content.
The reign of text and images is over: now, Video content is king. Video is now the most effective kind of marketing content, and one of the most popular, too!
But why? Because it has the power to improve your marketing strategies and boost conversions and sales, but only if you learn to use it correctly!
Let's start from the beginning: The buyer's journey.

What's the Buyer's Journey?
The buyer's journey is the active process your customers go through before they make a purchase. It starts the second they realize they have a problem that needs to be solved, all the way to actually buying your product.
It's composed of different stages, and in every stage your audience's needs changes. Your job as a marketer is to provide the necessary information to meet your audience's needs.
Let's look at this in detail:
What is Inbound Marketing?
So, the three stages are called awareness, consideration and decision – and you can help your audience navigate through these stages by showing them the right type of video content.
But, why use video?
Video content makes everything better
You know that saying about one image being worth a thousand words? Well, one minute of video is worth 1.8 million words.
And we're not just saying that.
Video is one of the most engaging and effective types of content – it gets shared 1200% more than text and images combined, it's the most effective type of educational content, it's the key to appearing higher on search engines… We could go on forever!
But you get the point. Video content is essential in any smart marketing strategy.
The key is to know your tools. You have to be familiar with all the different types of videos out there, and know how to use them and when to use them.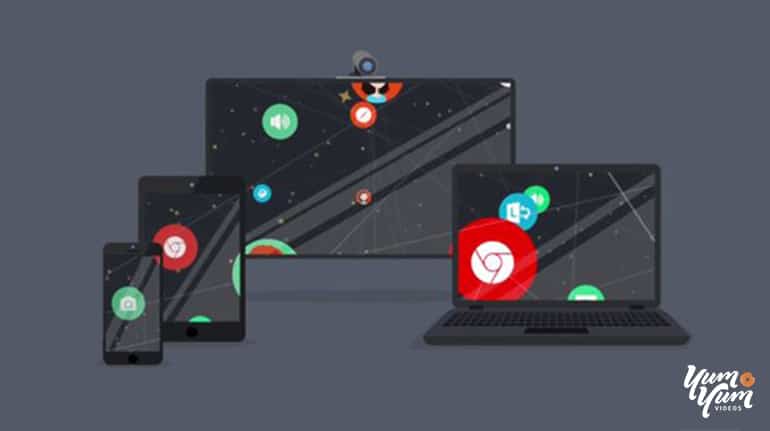 Because not every video will work correctly at any stage of the journey. It's important that you know when to use each kind of video to solve the specific needs of your audience in each stage.
Integrate your videos in every stage of the Buyer's Journey
The first thing to do is to know your buyer's journey from A to Z.
Once you know exactly what the needs of your buyer's are, you'll know which kinds of videos to provide for them.
With great quality video content, you'll be able to help your leads become customers in no time.

Stage #1: The Awareness Stage
The awareness stage is the first part of your buyer's journey, in which they're about to realize that they've got a problem that needs to be solved.
A problem that can be solved by using your brand/product, of course, but you're not going to tell them that (yet).
By now, the focus is only on helping them understand the problem they're in.
Provide useful and informative video content that keeps them engaged. This will be helpful for them because you'll be providing them with valuable content, and it'll be helpful for you because it will position your brand as a referent in the field.
Educational Videos
Educate your audience.
Your audience loves to learn new things, and if you're targeting your videos right, with educational videos you'll be teaching them really relevant things.
Provide them with the right kind of information: show them what they need to know about their problems. Videos are a great way to do this because they're a really good educational tool: They're engaging, shareable, and they provide a lot of information in a way that's fun to consume.
What is the best explainer video style for your business?
Commercial Ads
Commercial Ads are the best way to engage your future customers. With them, you get to share your brand's spirit and values with your audience, creating a great first impression.
They're powerful because of their use of storytelling and visuals, combined with the exact information you want your audience to know at this stage.
Tortilla Land | Explainer Video by Yum Yum Videos
Stage #2: The Consideration Stage
During the second stage of the buyer's journey, the consideration stage, your audience is now aware of their problems, and they're actively looking for solutions.
Of course, there's not just one kind of solution to any problem, and your job is now to guide your audience into choosing the best one (which coincidentally, is the one that your company is selling!).
So, why is the product you're offering the best solution to their problems?
Answer this question by using the right kind of video.
Product Videos
Product videos are perfect for the consideration stage – they show your product in action. So, if you're looking to convince your audience that your product is the best solution to their problems, you've got to show what your product can do.
It could be a live action video, in which your audience can watch a real person using your products. But it could also be a motion graphics video, in which you show detailed features of the product, or a screencast video (which works great on digital products or services).
How-To Videos
Another way to convince your audience that your product is the best way to solve their problems, is by showing them how to actually solve them.
What could be better for this than a how-to video? Use these videos to answer all of your audience's questions, by giving them useful resources and educating them.
Show them 'how-to' solve their problems.
Explainer Video Production Process | Yum Yum Videos
Explainer Videos
Many marketers swear on explainer videos as the best type of video content. This is because these videos deliver the highest amount of information in the shortest amount of time.
Basically, explainer videos introduce your audience to your brand and product, and they let them know why they need you, in just a few seconds.
They're the ultimate sales pitch! And they come in many styles too, so you can choose the one that fits best with your brand's style:
Whiteboard Animation Videos
Whiteboard videos tell a story using drawings on a whiteboard. They give a very educational and friendly feeling. Look at this example:
Fraudlogix | Explainer Video by Yum Yum Videos
Motion Graphics Videos
Motion Graphics videos use sharp graphics and professional animation to create an elegant style of explainer video.
Like this one!
Re-TRAC | Explainer Video by Yum Yum Videos
Cartoon Animated Videos
Cartoon videos use humor and great quality animated characters to tell a story that will engage any customer.
Dandelin | Explainer Video by Yum Yum Videos
Stage #3: The Decision Stage
The decision stage! Your prospects have arrived to the final moment of the journey, in which they'll be making the actual purchase decision.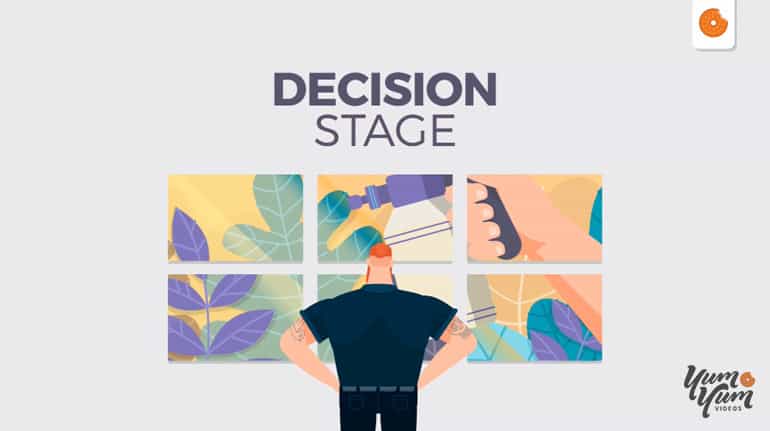 Are they ready to buy? Yes, but the question now is: will the buy from your brand?
Now it's your turn to be ready to show them why they should buy your product, and not the competition's.
It's time to show them why your company is the best. And you'll do it by building brand trust.
Company Stories
Company Story Videos are one smart way to build brand trust. With them, you'll be able to show your audience the real faces behind your products – your team, the ones that make the magic come true.
Tell the real story behind your brand, and show its core values.
Testimonials and Case Studies
When your prospects are on the verge of making the purchase, you need to influence their decision by giving them a gentle push in the right direction.
The right direction is obviously your brand, because it's the best, right? Well, you can say so, but your prospects will always look for the opinion of their peers.
This is why Testimonials are so important. People need to know the stories of success behind your brand, so show them! Share the stories of your customers, ask them to share how they solved their problems by using your products.
Spigit - Testimonial Video
Testimonial videos and case studies will give your audience the final push they need to make the purchase.
Bonus! The Delight Stage
Even though the journey ends with the purchase, your customer's story with your brand is not over yet. In fact, it might be just starting!
After they've made the purchase, it's time for the bonus stage: The Delight Stage. During the delight stage, the smartest thing your brand can do is to gain your customer's loyalty. You can do this by using (you guessed it) the right kind of video!
For example, you could use video updates to show new features of your service, or products that complement their previous purchase.
And now… Let's recap!
Video content is the best tool for improving your marketing strategy. But you must know how to use it, by using the right kind of video for each one of the stages in your buyer's journey.
But the real secret to making video content that actually works for your brand is this: your video content must have the highest quality, and it needs to be completely customized.
How can you offer real value to your customers if your video is not tailored to their needs? Every piece of video content you make needs to meet your audience's needs, and your company's needs too.
At Yum Yum Videos, we know that customization is the secret for success. And we're ready to help you create every video that you'll need for your marketing strategy.
So, are you ready? It's time to begin your journey!