Explainer videos are amazing, we know. But if your goal is to build a successful marketing campaign, it's a mistake to rely on just one video, or just one type of video.
Don't get me wrong! Using video is one of the best decisions you can make for your brand. It's one of the most effective and versatile tools, and animated explainer videos, specifically, will work wonders for some parts of your marketing strategy. But that's the thing! They work great only for some parts of it!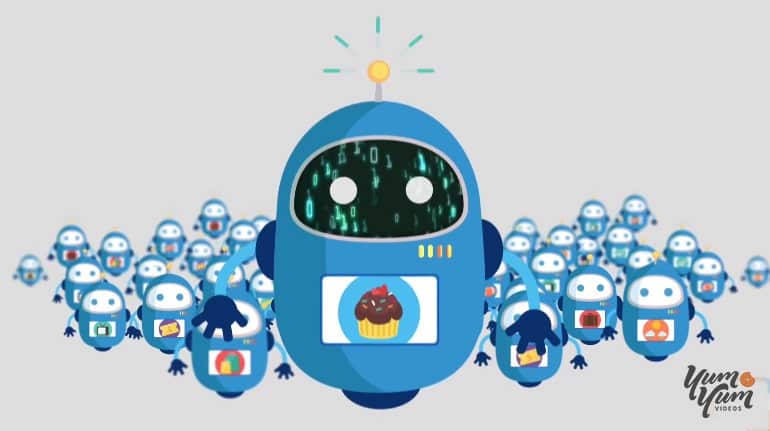 Explainer videos are great for the consideration stage of your buyer's journey (we'll get to that in a moment!). But there are other stages of the buyer's journey, and every stage asks for different types of video that will work especially for them.
You should always plan for different video content in your marketing strategy.
The ultimate goal for your sales video is to guide your prospects in the right direction: to be engaged with your brand and buy your product.
The best way to do this is through inbound marketing.
What is Inbound Marketing?
Inbound marketing is all about making your prospects come to you, instead of going out and fighting for their attention.
Let me show you this more clearly!
Right now, one of the best ways of using video is to make it the center of your inbound marketing campaign.
This means that you'll use video so that your ideal customers will be attracted to your brand and your product in an organic way. They will come to you voluntarily, and because of that, you'll have a free pass to engage with them!
The key is to learn how to use the right video at the right moment.
It really is all about timing! Certain types of video work best in certain moments, and you must learn to identify these moments, so you can use the most effective video type, every time.
There are three specific moments that you need to be aware of, and these three moments are the three stages of the buyer's journey: awareness, consideration, and decision. You need to know them like the back of your hand!
Let's Talk About Your Buyer's Journey
The buyer's journey is the active process that makes a visitor become a customer.
It's based on the principles of inbound marketing, because you're going to be adapting your content to your customer's needs.
A typical buyer's journey consists of three stages, in which they'll become aware of, evaluate and ultimately purchase a new product or service (yours, if you play your cards right!).
The three stages are:
Awareness: The buyer realizes they have a problem
Consideration: The buyer defines its problem and starts researching possible solutions
Decision: The buyer chooses a solution
You see? This is why, although video explainers are great, they won't work perfectly for every stage because your customer's needs vary.
There are certain types of video that work best for each of these three stages. Let's talk about that, shall we?
Awareness Stage
The awareness stage is the beginning of the journey: here your buyers will identify the problem that they have, or the challenge that they're facing. They will come to you (through search engines, social media, ads or even a friends recommendation!), and they are looking for answers.
It's your time to make the best first impression and catch their attention with the right kind of video.
An educational video is basically content that offers real value to your leads: it's information, that aims to make their everyday lives a little bit better!
As your prospects realize that they have a problem, they'll come to you looking for answers, and this is exactly what you'll be providing them with an educational video.
Let me show you one of our own:
Just to give you an example of how useful an educational video can be for your brand, this one is one of our most popular videos, with more than 150,000 views, and it's positioned in the top of YouTube and Google Video searches using our keyboard ("Explainer video").
So yes, not only are educational videos fun, they are helpful and easily shareable; they're also very powerful for your business!
Useful for your customers and powerful for your brand. It's a win-win situation!
These are the typical TV commercials that of course, could be used on the web too. At the beginning of the buyer's journey, what you want is to catch your prospect's attention.
And a commercial ad is a great way to do this. It's a little Outbound; it's an old fashioned way but still works a lot.
The problem with them is that when you stop putting money into them, they disappear, it is difficult for Commercial ads to be shared on social media or used in blog posts and so on. So they will not appear in Google if you don't keep paying for them. That is a big difference from educative videos.
But it is a really fast way to get results, you pay for the publicity and get results really quickly, with an educative video, you may need months to get results and be on top of the search engines.
Here's an example of an animated commercial we made for Tortilla Land:
Consideration Stage
During the consideration stage, your clients know that they have a problem, and they're considering solutions! They'll evaluate the different options they have, and this is your moment to let them know that the best option they can find is your product or service.
You'll let your prospects know how they can integrate your product into their lives, and how it will make their lives better.
See? I told you that explainer videos work great in the right moment, and this is it. An animated explainer video introduces your prospects to your business, explains to them what your brand is all about and lets them know why they need you.
Even better, it does all that in just a few seconds, and it's interesting, engaging, and powerful.
Let me show you an example! This is one of our animated marketing videos, by Yum Yum Videos for Beezer:
Keep in mind that there are a lot of different types of explainer videos: motion graphics videos, cartoon animation, whiteboard videos… Choose the one that will fit best with your brand!
Product videos are the ones that will show your prospects how great your products are. It's time to show your product in action: a video of your product being used by a real person (just like them!) will really encourage your leads to convert.
Watch this other example we made for Walmart:
Pro Tip: In the case of digital products or services, a great tool to use is a screencast video: digital recordings of a screen, paired with an audio narration are cost effective and powerful.
How-To videos are great to answer your leads' questions. Use them as a chance to educate your audience in a fun way: talk about your product and explain how can it solve their problems…
Let me show you an example!
Right now, your job is to show your prospects that your product will be helpful for them.
Decision Stage
This is the moment of truth! Your potential customers are now familiar with your brand, they know your product and they're willing to make a decision.
The goal during the decision stage is to give your prospects a little push in the right direction (which is, of course is buying your product or service!)
And you can do this, of course, with the right kind of video.
Here, authenticity is key. When they're making the decision of whether or not to buy a product, there's one thing your prospects want.
They want to feel that they know the brand they're considering to buy from, and by giving them an inside look at your brand and the people that work in it, you're giving them exactly that.
Look at this example, by HubSpot.
Fun fact: These videos are also called Company Story Videos.
As your potential customers keep researching their options, they will want to know the experiences from customers just like them. This is because buyers really trust their peers!
The most important thing about testimonial videos, is to keep them human: you want your customers to use their own words, to give real answers. This will create a real connection between your brand and your prospects.
Remember, authenticity is key. (Would you like an example? Visit our Testimonials page!)
So, let's wrap it up!
Having a video will boost your marketing strategy. And explainer videos are great for your brand! But having just one type of video will set your strategy back.
Some people may think that having just one type video is enough for a successful marketing strategy, but this is not right. You have to use different kinds of videos to guide your prospects in the direction you need: buying your product or service.
The goal is to consider the different stages of the buyer's journey. What you want is to use different types of video to cover all the stages effectively, because in each stage, the needs of your audience change.
If you do this, you'll have the best results for your inbound marketing strategy.
This is just a taste of the other types of video you can use after you have your explainer video made, but if you're looking to know what to do with your explainer video, now that you have one and know how to achieve the best results with it… take a look at our free e-book!