So, are you ready to create the greatest explainer video for your brand? Of course you are. After reading about all the benefits that come with them, (like enhancing awareness, boosting purchases and conversions and helping your website rank higher in the search results), you're so ready to have one of your own!
And of course, you've been investigating about explainer video companies, and you've found that there are lots of options! Some of them look very similar, some look cheap, others have an amazing quality — and all of them claim to be the best.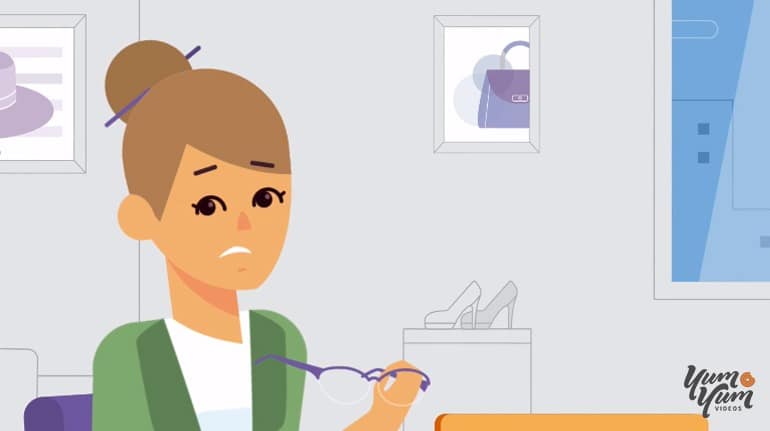 It's hard to choose, we know. Especially if you don't know what you should be looking for! So we've prepared some tips for you to identify which one is the right explainer video company for your brand.
Long story short: the right company is the one that'll make your brand shine!
Let's look at some things you must keep in mind when choosing a video production company.
●     Make sure that they're experts
Expertise! It's just something that you can't buy. You deserve to know that you'll be putting your company's image in good hands, so you need to know if you'll be working with experts… or with a newborn company that will treat you as their guinea pig.
Nobody wants to be a guinea pig. Especially if you're investing money in it.
So, work with experts only. But how can you make sure that they have enough experience to take care of all of your business' needs? You need to take look at their portfolio and their testimonials page.
If an explainer video production company has worked with some of the biggest names in many industries, then you can be sure that they know how to handle any account, simple or complex. They will understand the needs of your company and they'll accompany you through the entire production process, contributing with so much more than just simple technical knowledge.
A team made by experts will make the project easier for you, and you'll trust them in return. This level of expertise is just priceless.
●     They must keep the highest quality in all of their videos
Because explainer videos are made to 'wow' your audience, they need to be of the highest quality — nobody will feel amazed with a bland, average video that's just the same as everyone else's.
There's good news: it's quite easy to measure quality if you know what to look for, and where to look. When considering a company for your explainer videos, you should start by looking at how they present themselves in their own explainer video.
It's obvious, really — If a company doesn't know how to sell itself, it definitely won't know how to do it for your brand. If they do get your attention and leave you wanting to know more, then it's time to move on to that company's portfolio.
When looking at their portfolio, keep an eye on the quality of their rendering and animation, how sharp is the sound, and how clear is the message they want to communicate? Are the visuals eye-catching? Is the voice-over correct, and made by a native speaker? Is it a fun video?
If your answer is 'yes' to all of these questions, then that company could qualify. But before you do anything else, look at their testimonial page — listening or reading other people's opinions about their experience with the video production company can really be an eye-opener.
●     Their videos must be tailored to each brand
It can't be stressed enough: customization is key. Without content that's been made specially for your brand, all your marketing efforts will go to absolute waste.
Let's elaborate on that. Imagine that you pay for an explainer video that ends up being exactly the same as every other explainer video out there, that uses recycled elements like backgrounds, characters, voice-overs… That has a generic color palette that doesn't even come close to your brand's colors, and a plain message that doesn't really speak to your audience.
Do you really think that a generic video would help grow profits for your brand? Well, of course the answer is 'no'. A generic sales video won't be useful for any of your marketing goals, simply because it's not tailored to fit those goals.
And that's what many explainer video companies do, in order to offer very cheap prices. Not very smart! Because each brand has a specific visual identity that needs to be respected, and a specific target audience that needs to understand the message.
Your sales video must be easily recognizable by anyone– it needs to communicate the essence of your brand in every second. If it doesn't, it's not working, and it'll end up being a waste of money.
To understand this, go back to the company's portfolio: if every video looks the same or the message seems flat (because they use the same voice-over or a one-size-fits-all script), then close that tab, go away and never look back.
No, we're not being dramatic. It really is that important.
●     They have to be affordable
Yes, we know what you're thinking. "Customizable content? The highest quality company? That's probably higher than my available budget!". Well, don't worry — in fact, there are many companies out there that offer very affordable prices.
And certainly, lots of companies make decisions based solely on their budget and worry a lot about it. However, there are times when you should keep those worries aside and make a good investment. Creating an explainer video is one of those times.
Explainer videos are an investment — they'll give you a boost in traffic and awareness, more qualified leads, higher search rankings… but only if your video is good enough to reach those benefits.
But in order to receive all of these benefits, your video needs to have a certain quality. You probably understand now why it's so important to put your money in the right hands! A low budget will only get you so far, though: and skimming on the video production process will result in a cheap-looking video that your audience won't take seriously.
So, invest a little bit more on a professional team that will make sure you get a tailored video, made just for your brand. Not only that, but a great explainer video will last for years, never decreasing its effectivity. They've got a long shelf-life… which means that you'll be looking at great results for many years to come!
If you choose the best explainer video production company, an explainer video is a great (and safe!) investment.

●     A video production company must understand that your explainer video is part of something much bigger!
This 'something bigger' is what goes beyond the explainer video itself: your video marketing strategy.
Given the rising importance of video in people's lives, video marketing has become a very important part of any business' strategy. It's the perfect medium to nurture leads and close deals, and it can help you educate, inspire and entertain your customers and prospects.
Every separate piece of video content, works as a piece of a big puzzle: when every piece is in its place, it's when you can see the full picture — it's when the strategy really works. And every different kind of video you use has a specific spot in this strategy.
Let's go back to explainer videos. It would be wise to think about them in this strategic way, as a part of something bigger, because adding different types of videos amplifies the effect of your sales video.
All of this is very important, but how does it relate to choosing the best explainer video company? Well, even though you need to find a company that knows exactly how to create a high-quality explainer video, you also need to know if they look at these videos as a part of something bigger.
They need to be able to offer services to you that go beyond the explainer video itself. Consider that an explainer video works great for the consideration stage of the buyer's journey, but what about the other stages? You need testimonial videos, educational videos, commercial ads, and a lot of other pieces of the puzzle.
Having an explainer video production company that can offer you these kinds of videos as well is like having a golden ticket to success.
So, let's recap!
Basically, what you should be looking for when choosing the best video production company, is one that offers to make  very high-quality videos with affordable prices; with enough experience to know how to guide you during the developing stage of your explainer video but also to help you create other kinds of videos that will help you develop a solid video marketing strategy.
Are we talking about an unicorn here? No, the perfect video production company is not a mythological creature — in fact, here at Yum Yum Videos we're proud to offer all of this with a very competitive price.
We've worked with huge companies like Walmart, Red Bull, Fox and McKesson (just to name a few), so you can be sure that the experience is there! And we're video marketing experts, so we can help you develop a solid strategy tailored just for your brand.
So, are you ready to start receiving all the benefits that come with explainer videos? Our team of video marketing experts will be happy to help you accomplish all of your video-related goals. Let's talk!