Video content has to be a pillar in your marketing strategy. There's no way out. While it's one of the most engaging and cool formats you could resort to, it also helps you to pass out your business idea in a fast and compelling way.
Animated characters in particular can give "fresh air" to your video, making them even more persuasive, attractive and fun. In today's blog post you will learn about the amazing power cartoon marketing videos have and, by the end of the reading, you will have no doubts on whether you should pick this style out to boost your video marketing strategy. Let's start!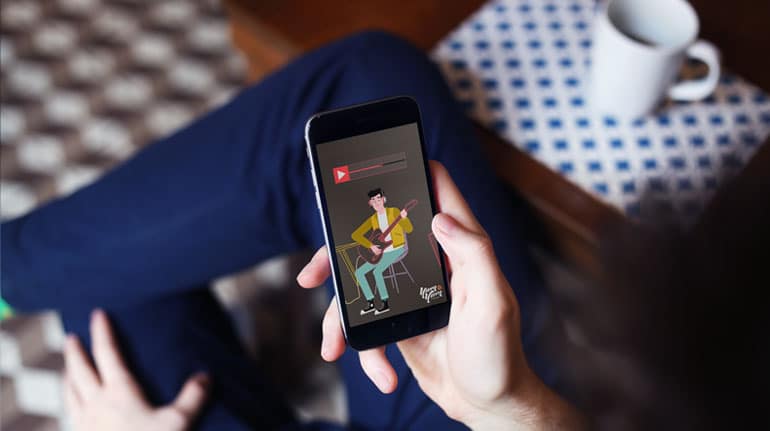 A Very Popular Style
If you've read about video marketing -and I'm sure you have!- you probably know that you have lots of different videos you can make use of: testimonial videos, how-tos, about us videos, process videos, explainer videos, and many others. Of course, your choice will be based on your marketing objectives and the stage of the sales funnel for which you need that specific video.
Animated marketing videos in particular can help you deliver your business ideas in a simple, fast and very straightforward way. And, among the many different explainer video styles, cartoon animation videos are one of the most popular styles: they add a good dose of humor to your brand and personality and at the same time, help you grab your audience's attention pretty fast. In this type of video, the storytelling technique will make a great difference: you will tell the story of the main character who is trying to solve a specific problem with the help of…your product! Undoubtedly, the characters will become the true essence of your story.  
Look at how cool these characters are!
4 Key Features Of Cartoon Marketing Videos
You could be asking yourself why this style has such  great popularity and is widely chosen by marketers. The answer is: because animated cartoons "humanize" your brand like no other type of video can do!
This type of explainer video has some unique advantages you won't find in other types of videos, and we have compiled them for you:
The Effectiveness Behind Animated Characters
As you've seen so far, cartoon animation is a fantastic style and the characters are the "big star" behind them. But what makes them SO special? How they can enhance the engagement and interest of viewers? Let me share with you some good arguments…
#1. Animated characters generate empathy
The viewer ends up experiencing the same feeling (joy, sorrow, excitement, or any other) that the character is experiencing on screen. By generating empathy you also generate a deep interest and some kind of curiosity to see "what's coming next". In other words, the viewer will be eager to know how the story evolves and how the main character finally solves their problem. This type of identification is great to help you achieve your marketing goals! Take a minute to review this article in which we explain the relationship between emotions and video marketing. It will certainly help!
#2: Animated characters spawns a strong connection
Remember that we said that it's vital that you craft the characters by having your target audience in mind. And there's a reason behind this: if you do it successfully, the viewers will instantly identify with the characters on screen and this will make your video even more attractive and memorable. Moreover, you will generate trust towards your brand, as people will see that you have a true interest in solving their specific problems.
#3. Animated characters make people have fun
Adding a dose of humor to your marketing video can be a great move to boost engagement. And you can achieve this by making use of animated characters! Just let your imagination flow and include any kind of resource: unreal scenarios, wacky metaphors, unbelievable circumstances, etc. This will give you the chance to explain any kind of concept you need, while you also entertain your audience and make them have fun. Don't be necessarily "realistic"! Get creative and leverage the power of this amazing style! Remember that the great thing about cartoon videos is that you don't find the limitations you have in a standard recorded video, for instance.
This ninja-marketer will certainly trigger some other cool ideas in your mind 😉
When To Use A Cartoon Marketing Video
I'm sure you've really enjoyed the cool animations we watched so far. And you're starting to love this style 🙂 But despite this, you could be asking yourself if this is the right choice for your specific case.
Just to make things easy, consider making a cartoon marketing video in any of these situations:
When you want to make a super short video (let's say under 60 seconds). Remember this style is perfect to deliver your business idea in a very fast and straightforward way.

When you want to give a more personal / human approach to your brand.

When you want to include a dose of humor. Of course you can include humor in other styles but this one is just the best one, as you will be less "exposed" than if you include a "fun touch" in other types of marketing videos and things don't go

that

well.
5 Tips To Create A Stunning Cartoon Marketing Video
So, if you're ready to create your brand new cartoon video, what things should you bear in mind to make it highly engaging and memorable? Keep these tips in mind!
Customization

: remember that customizing your video helps you generate empathy and identification from your audience, which is vital to boost engagement and memorability. Follow these recommendations to

customize your marketing video

!

High quality

: giving your video the best quality is a must. And this implies hiring a professional video production company that can help you and guide you throughout the whole production process. These tips on "

How to choose the right explainer video company

" might help a lot!

Length

: based on our experience, we recommend that your cartoon marketing video lasts between 60 and 90 seconds. Giving your video the right length is vital to keep your audience's attention and encourage them to watch it till the end, without losing interest (and views!).

Voice-over:

make sure you hire a

professional voice over talent

that has wide experience in the field and, mainly, that is native of the language your audience speaks. This will provide your video with a good dose of personality, credibility and professionalism.

Brand colors

: keep in mind that the

psychology of color

plays a key part in any marketing strategy. By applying the colors of your brand pallette in your video you will make it easier for your audience to understand and remember

who

is behind that product. See how Gigtown used the orange in their video here:
At Yum Yum we have developed thousands of cartoon marketing videos for different clients from different industries. Just check out our best 10 character explainer videos to get a better idea of how we work. And of course feel free to get in touch if you need help with your next marketing video!
Summary
So… is it a good idea to make a cartoon marketing video? I'm sure you already know the answer! 🙂
Now you know that this style is one of the most popular explainer videos styles out there and widely chosen by marketers, and this is not by chance! They offer you great versatility and flexibility, can be merged with other styles to boost your marketing results, are a perfect resource to make your audience laugh, and have many other benefits.  But, of course, to get the most out of them you have to "make things right" – this is, to follow some key guidelines that will help you make it highly engaging, attractive and memorable. And we have shared with you some valuable tips in this sense, right? 🙂
Finally, take a few minutes to surf our Video Marketing Resources section to keep on learning the best tips and tricks!