A typical sales cycle is not too difficult to plan out. But, if you want to have the best one, you need to have the best type of video content.
Why video content? Because, right now, it's one of the most engaging and powerful types of content for online marketing! We'll go through that in a minute, but first things first. Do you know exactly what your sales cycle looks like?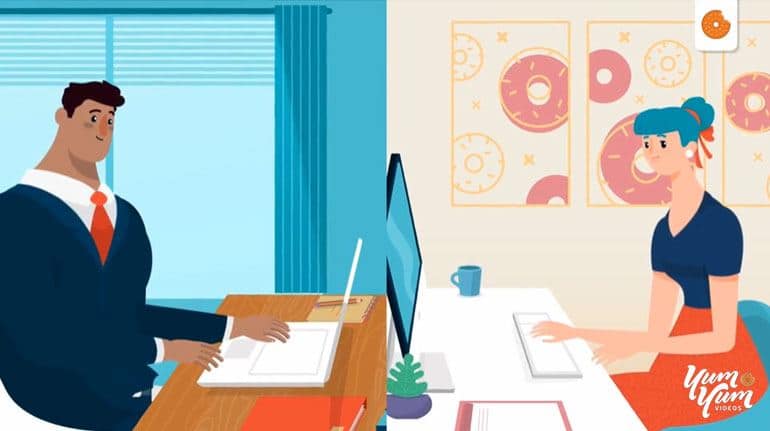 It can vary from brand to brand, but it usually has a clear structure that repeats itself. Let's go through the basics.
Building a Typical Sales Cycle
First of all, do you know what a typical sales cycle is?
It will vary a little from brand to brand, but basically it is a repeatable set of interactions and touchpoints that your brand has with your audience, in order to close a sale.
It's a plan and strategy. To know how this process looks for your brand, you must be aware of the needs your audience may have; but it's usually defined by three main stages: Awareness, Consideration and Decision.
In this stage your leads will be having their first contact with your brand.
It's the beginning of the cycle, and right now your prospects are looking for information: They've become aware of their problems, and they're doing some research about it.
That's when you come in!
In this middle stage, your lead is now actively searching for different solutions to their problems.
One of these solutions is, of course, your product/service. Your job is to let them know that your brand offers the best solution for them!
In this third and final stage, your leads (which are now 'sales qualified leads') will make the purchase decision.
Right now, it's your job to solve any last doubts your leads may be having, and also generate video content that will boost their trust in your brand.
By knowing what your prospects need in every one of these stages, and actually delivering useful information for them, you will also be improving your inbound marketing strategy!
What is Inbound Marketing?
Useful and interesting video content goes hand in hand with attracting visitors to your page, in an organic way. That's because you will be focusing on what your audience needs in every one of the three stages of the sales funnel.
If you give them the exact same information that they're looking for, you'll be using video content in a smart way, boosting your typical sales cycle.
But why specifically video content?
Let's talk about Video Content
And we have to talk about it, because video is one of the most powerful types of content right now. It is what's shaping the present and the future of online marketing! But don't just take my word for it, let's take a look at the facts:
YouTube claims

that video consumption rises

100% every year

.

90% of online users

claim that videos are influential in their decision process

And, during the first 10 seconds of video,

purchase intent boosts

from

44% to 72%.
So, as you can see, video content is a very powerful tool. It will definitely improve your sales process!
So, how do you make video content that is interesting and useful? The trick is to know which types of content to use, and when.
Use Video Content in your Sales Cycle
There are many different types of video content. To boost your sales process, you must know which ones are the best for every one of your marketing objectives.
It's easier to know this, if you categorize the types of videos into the different stages of the cycle. Read below, so I can show you how!
#1. Educate and Answer your Audience Questions: Awareness
During the awareness stage, you must keep in mind your customer's pain points.
This way, you'll be able to know exactly the kind of content they need in a certain moment, and deliver exactly that!
At the beginning of the cycle it's important to educate your audience. They're craving valuable information, so give it to them by using the right kind of video content
By doing this, you'll be answering their questions in advance. And having an educated audience means that you'll be saving lots of time for your sales team!
How To Videos are a great way to do this. This kind of video will educate your audience in a fun and engaging way.
It's all about being there to guide your prospects when they need you the most.
Be sure to address their pain points, and use this as a chance to show a peak of your product to your audience.
Your audience loves to learn new things. Especially when they're learning in an entertaining way!
Educational videos work exactly like that. With them, you'll be answering all your audience's doubts by giving them the right information: the information that they're looking for.
You see? Create helpful, relevant and interesting content, and you will also be attracting organic traffic right away.
#2. Improve your Sales Proposal: Consideration
In the middle stage of your process, it's your job to help your prospects consider all their options wisely.
They're looking at different solutions to address their problems. One of these solutions is your product or service! You want them to choose you, of course, but for this, the same old sales pitch won't be enough.
What is the best explainer video style for your business?
So, it's time to spice it up! Do this by using fresh, creative video content.
Product Videos help you show exactly how your product works. With this type of video, you'll be showing your product in action, being used by a real customer, just like your audience!
This will spark identification in your audience, encouraging them to convert.
Besides just being live-action videos, product videos can also be animated, or screencast video if your product or service is a digital one.
Explainer videos are incredibly engaging, fun and interesting to watch. Its job is to explain any complex concept in a fun and simple way.
How? Well, it uses elements like a great script, and professional animation to tell a story. They're also extremely versatile! This is because there are various styles of explainer videos.
Let me show you an example of a whiteboard explainer video:
CarePredict | Explainer Video by Yum Yum Videos
#3. Close Sales, Build Brand Trust: Decision
The highly anticipated decision stage! During this final stage of the cycle, your leads will be finally making the purchase decision.
But there's a reason why they're still here and haven't made the jump yet. They have doubts. The only way they will move past those doubts, is if they can trust you.
So, boost brand trust with the right type of videos!
Customer Testimonial Videos
Customer Testimonials are amazing to build trust in your brand and your product. This is because, of course, you know that your product is amazing, but your audience won't believe you as much as they'll believe their peers!
Yes. Customers trust their peers more than anyone else. So, let your happy customers do the talking. This will give your leads the validation they need to finally make the purchase.
Tri-Technical Systems - Testimonial Video
Solve any last questions your leads may have with a FAQ Video.
To do this, just gather all those frequently asked questions, and record some interviews with your team, answering those questions!
Show your prospects that you'll always be there to help them.
Company Story videos are amazing to build brand trust. They're also very good to create a strong brand image, because you'll be showing the real faces of the people on your teams; and the real stories behind your brand.
An important thing to remember: These videos must be authentic! If it looks too staged or robotic, your credibility will suffer.
So ditch the script, and act naturally.
Let's review!
So, in order to create a successful sales process, you must know which types of video to use, and when.
It all breaks down into three basic stages —awareness, consideration and decision.
For the awareness stage, your job is to educate your audience. Do it with educational videos and how-to videos! This way, you'll be answering all your lead's questions effectively (also helping your inbound marketing strategy!).
For the consideration stage, you'll want to spice up your sales proposal by using interesting content, like product videos and explainer videos. With these kinds of videos, you can show your product and the complexity of it, but in a simple and engaging way.
And, for the decision stage, you must spark brand trust! Building brand trust should be one of your top marketing objectives, because your clients won't buy what they can't trust. To overcome this, use testimonial videos, company story videos, and FAQs.
But the most important thing in any one of these stages, is that your video content has the best quality possible!
We understand that, and at Yum Yum Videos we've got a team of professionals to make the best online marketing videos for your typical sales cycle. If you'd like to know more, let's chat!