It's time for your brand to have the best video testimonials. Do you know why?
Well, just to put it in a few words, because your prospects need you to prove the value of your product or service. When your prospects are about to make a purchase decision, they're considering different options, and what you want, of course, is that they choose the option you're offering to them! But that's not all you need to know, let's elaborate a little.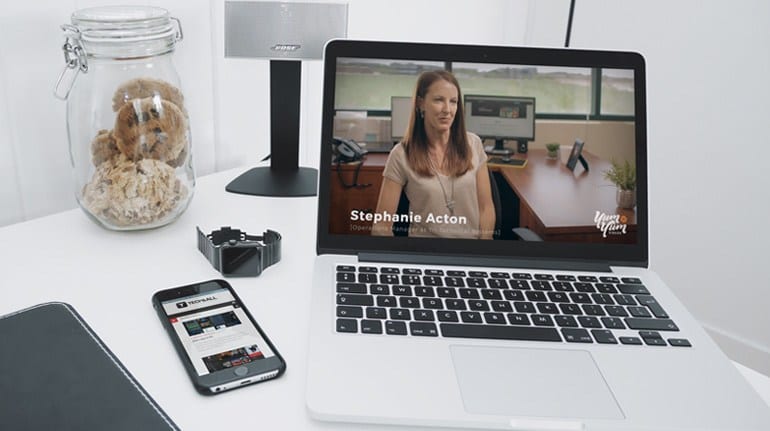 Customer testimonials are considered the most effective type of marketing content right now. 90% of prospects feel positively influenced by online reviews in their buying decision, and 88% of them trust online reviews just as much as they'd trust a recommendation from a friend.
If you pair this with the fact that 65% of your audience are visual learners, you'll have the recipe for success. Video testimonials feel human and real, and they actually create a connection between your potential buyers and your brand.
What they're watching is a real customer, just like them, telling a success story. This person was facing the same challenges as they are now, and they found a solution in your product. This is the kind of incentive you need, your prospects feeling like they could be the ones talking in front of the camera. Instant identification!
Video testimonials are a great tool. But how can you make the best ones? It starts by using them at the right time.
Video Testimonials + Decision Stage = Inbound Marketing Success!
Do you remember your buyer's journey? It's the three-staged road that your buyer's go through when they're planning to make a purchase. It starts when they realize they have a problem, they start to do some research about it (investigate possible solutions), all the way to finally making a purchase decision.
These are the three stages, and the one that concerns us the most right now is the last one: the decision stage.
Testimonial videos work great for the decision stage. Why? Because during this step, your prospects are almost ready to make the purchase decision, but they need a final incentive! With testimonials, you're giving them reasons to trust you, and also an important validation from their peers.
Using video testimonials in the right moment, means that you'll be building organic, effective content around your brand, boosting your inbound marketing efforts!
What is Inbound Marketing?
Now that you know how to use your testimonials in the right moment, let me give you some tips on how to make the best customer testimonial videos!
8 Tips to Make the Best Video Testimonials
#1. Aim for a natural response
It's extremely important that your video feels natural and authentic. This starts with using (of course!) real clients, and not planning out the dialogue too much, just draw a few guidelines and topics (more on this below) that you want your clients to address.
What I mean is that a staged opinion will look like a fake opinion. It won't feel real and your brand will lose credibility (which is exactly the opposite of what you're looking for). So, in order to get lasting results, you want your clients to share their real opinions and their real experiences.
This way, your viewers will feel connected with the situation by feeling that what they are watching is the real deal, and your video will be more enjoyable, credible and human.
#2. Remember the context in your video
When and where is this interview taking place? Where are your clients from? To generate a new layer of meaning and credibility to your video, you should show some scenes and use some resources that give some context.
You can do this by adding a couple of inserts of the geographical location, lower thirds, and so on. Take a look at this example:
Spigit - Testimonial Video
#3. Plan ahead: Lay out the structure
(Hey, if you want to have a deeper look at the video production process, we have a free slide for you! Take a look)
Just like any other marketing video, with video testimonials you have to lay out a structure first. This means planning a full storyboard, or maybe — if you feel like that's too much — just sketching out the general idea of the takes you'll need, and the order you'll be giving to them.
By planning out this structure, you'll have a great tool so you don't forget to film any important parts for the video,  you'll also keep your production costs in check as well asbe able to plan ahead and film some insert takes. These can be used as an example of what's being said in the interview.
McKesson - Testimonial Video
#4. Prepare your questions in advance, but don't get married to them!
It's important that you plan the questions for your interview in advance, mainly for one reason (although there are more): the time that you have with your clients is limited. They're investing their time to help you, so you must try to make the most of this moment and not waste their valuable time.
Preparing your questions beforehand means that you'll get all the information you need to create the best video testimonials.
But it's also important that you don't get too attached to those questions. Your interview should feel like a conversation, so you can ask some follow up questions, depending on what they answer. Everything can be useful and it will give a more natural feel to the clip!
#5. Don't send the questions to your interviewee, just the topics
Why just the topics, you may ask? Because, of course, you want your interviewee to be prepared for the questions you may ask them, but you don't want them to prepare too much! This could be bad for your video, because it will look rehearsed and staged. And, as we said before, that hurts your brand's credibility!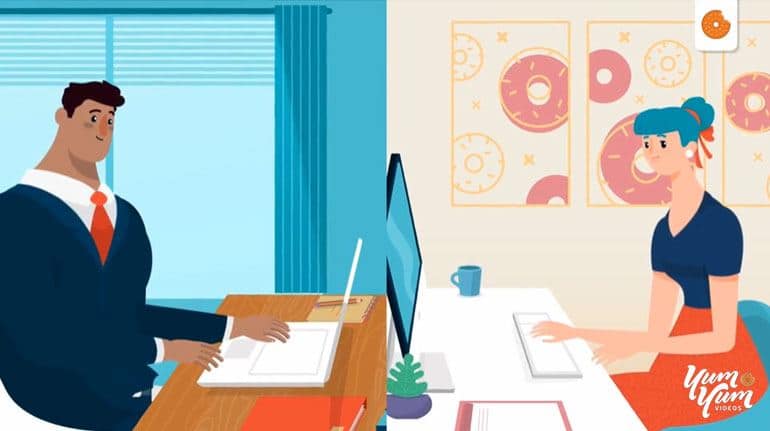 So don't be tempted to send the full question list to your clients. Send them the topics so they can prepare correctly, but not over prepare.
#6. Give them time to elaborate on their answers
Remember that you usually only have one chance to talk with your clients in front of a camera! It's better to have a lot of video footage to choose from and edit, so let your clients speak freely.
Listen to your interviewee, ask some follow up questions, and let the interview become a conversation.
#7. Remember your customer's pain points!
It's essential that you remember your customer's pain points. You want your viewers to feel identified with the people in your testimonials.
This starts by letting your prospects know that these clients were having the same struggles as they do now, and that they found a solution in your product.
Look at this testimonial. Can you tell how a prospect would feel connected with, too?
Phelps Agency - Testimonial Video
#8 Edit wisely!
Great! Now that you have a lot of video footage, it's time to edit it! First, remember the ideal video length for web usage, the best customer testimonial videos should be around two minutes in total.
Also, when you're editing, remember to stay true to what your interviewee has said.
And after your video is done…?
You have one of the best video testimonials, and now what? It's time to promote it!
Basic stuff: Compile all of your testimonial videos in a single page on your website, easy to find (and link it to your landing page). Also, share your videos. Send them to the people you've interviewed — they will be proud of having helped and they'll probably share them with their own networks. You can also send them to other clients that might be interested, too!
To boost its inbound marketing power, add a summary or extract of the video when you upload it to your page, include some of your main keywords. This will boost your SEO!
Let's review!
So, testimonial videos are amazing to prove your prospects the value of your product. Do you want them to know that your brand is the one that will help them solve their problems? Then, use a testimonial video to boost brand trust.
But for a video testimonial to work, it needs to be done the right way. This starts by knowing when to place it, during the decision stage of your buyer's journey, that is.
This will help you get organic traffic to your website, because you'll be giving your prospects exactly what they need, when they need it.
When creating the best customer testimonial videos, remember the tips I gave you before! This means, remember to plan everything ahead of time: create a storyboard, so you know which scenes you will need; write down the questions you want to ask and send these topics to your interviewee.
Also, when you're doing the interview, keep it natural, conversation-like. Let your clients speak freely and elaborate on their answers; and remember to ask follow up questions. It's better to have a lot of material, than to have too little!
But the main thing you must remember is that your video needs to have the best quality possible. This is done by hiring the best production team that will help you achieve all of your marketing goals! At Yum Yum Videos, we know how important it is to have a team of professionals you can count on.
So, if you're ready to have the best video testimonials for your brand, let's work together! We're always here to help you.