Surely you've already heard about the importance of investing in videos, especially if you've ever wondered how to increase your conversion rate. Embedded videos on landing pages show spectacular numbers: they can increase the conversion rate by 84%. In addition, 64% of users say that the videos are more likely to drive to purchases, and especially if it's an explanatory video – 90% of customers confirm this.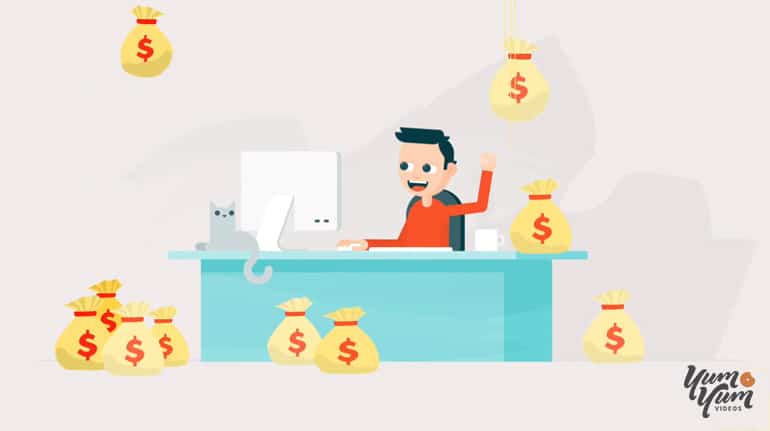 We are convinced that you can reach those numbers by simply investing in videos, no matter how incredible that may sound. It's true that it's not as simple as just making a video, you're going to have to go a little bit further.
The first thing we want you to understand is how this rise in conversion rates works. And for that, we will analyze the explanatory video and all its advantages.
It's an open secret: with explainer videos you'll get more leads
Most likely, you have built your business thinking about covering a specific need for your customers, whatever it may be. If a large audience of people are looking for the solution to some problem that you can solve, then they must be able to find your brand to make it work. Here you can find more details about explainer videos.
The aim of these videos is to explain to your audience how a specific product or service can solve a certain pain point, without laps. And your video should also be clear about why people should choose you instead of the other brands.
Let's review one by one the reasons that make explanatory videos so good for marketing.

1) Videos make people pay attention to you instantly
There are some elements that define the video and make people want to watch it. The colors, the people, the movement, the figures. If you can drive Internet users to watch your video, they will spend more time on your website and will know more about what you have to offer them.
2) Videos can make your Bounce Rate drop
Being able to keep the customer's attention is the most difficult goal nowadays. With so many forms of content circulating, it's difficult to achieve that. However, what happens with videos is that, if done correctly, they can really catch your audience's eyes and make them stay around your website longer. This can be understood as a decrease in the Bounce Rate.
3) Videos talk to people in their own words
Explanatory videos have exactly that function: they are used to explain businesses that are difficult to understand. That's why they should go straight to the point and transform your product into something simple.
Also, if you aim to the right target audience, people will be identified with someone similar to them who use the service you are offering. And that can definitely make an impact on your sales numbers.
4) Videos are likely to be shared
Videos are a very successful form of content on the internet: people love sharing them with their family and friends. And since friends are people that they trust, they will tend to trust the content they're sharing.  The problem is that creating a video that people want to share is not easy. That's why you must be original and strive for it: the reward will be enormous.

5) If people love videos, search engines love them even more
As we said above, people enjoy watching and sharing videos. And since search engines show the content that is most relevant to users, videos are the priority.
So videos that have the most views will be those that appear in the first results. And the sites that convert the most are those at the top of the rankings. That's why you should pay attention to the quality of your video: the better it is, the more people will share it, and your video and website will rank higher.
How to make a good explainer video for business
Before you run out to make your first explanatory video, we want to give you some lessons that will make your video even better:
– Pay close attention to the thumbnail you choose. It will be the first thing that people will see and that will define whether they reproduce it or not. This can change the playback rate by 34%.
– Do not forsake the colors of your brand. They must be the main characters of your video. Research confirms that they can increase the reproduction rate by 53%.
– The shorter the video, the better. People do not pay attention for more than a minute and a half. Our advice is that the videos should always last less than two minutes. This will bring an average reproduction rate of 70%.
– Organize your Calls to Action: This point is important because it will be the one that capitalizes the rest of the tips to increase your conversions. You should think carefully where you put your CTAs. Some brands believe it's better to put them in the middle. But it is all about trying out what's best for you.
– Try to make more than one video: We haven't gone crazy, making a video is going to give you good results. But those results will be even better if you expand it to a complete marketing strategy. Show your clients your interest and accompany them throughout the purchase process with different videos to help them in each stage of their decision journey.
To Wrap-up
In conclusion, you should start by making an explainer video for business which will give you great benefits and will lead you to the main objective: increase your conversion rate.
People rely a lot on videos when making a purchase because they have seen them throughout their whole lives, and it's easier for them to understand the benefits of your product if someone explains it rather than reading about it in some boring text.
So feel free to contact us any time, so you can start planning your next video strategy to put your brand on all your audience's screen.