It's 2017 and there are companies out there that still don't understand how much an explainer video can help them. With their proven boost to sales, visibility and search rankings, company videos have been established as an invaluable ally for marketers across many industries in the last few years.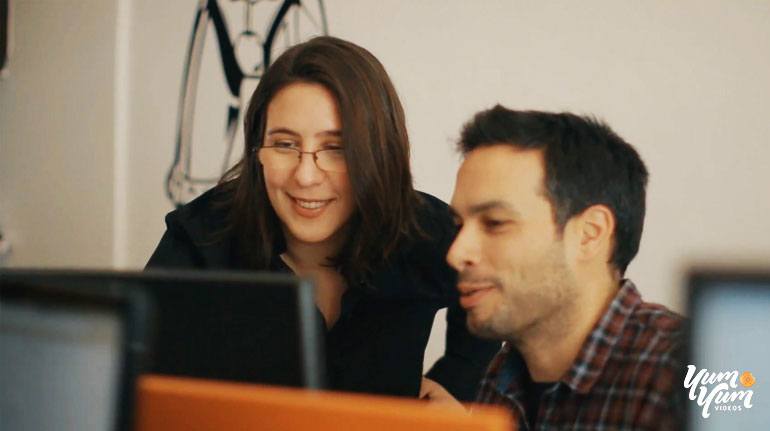 This surely won't come as news to you, Internet savvy as you are. But your boss, lost in a world of ROI, might have missed it. It's up to you to bring it to his attention and suggest to your company's main man that it's high time you guys develop an about us video of your own. It's a win-win situation for everyone involved. Your boss will see the explainer video benefits and you'll be rewarded as the one that knows what they are doing.
The first thing you'll need to do, then, is convince your boss you actually need these videos. That isn't as hard as it sounds – just give him these solid 3 motives and see if he can argue with them!
#1. Explainer videos have multiple (and measurable) benefits
When your boss puts money on something, he expects to see some short term results that can actually be measured. That's why animated explainer videos are so great. They start providing value from day 1 and, if you track them right, you can come up with all sorts of juicy data. In fact, these videos can become one of the pillars of your marketing efforts.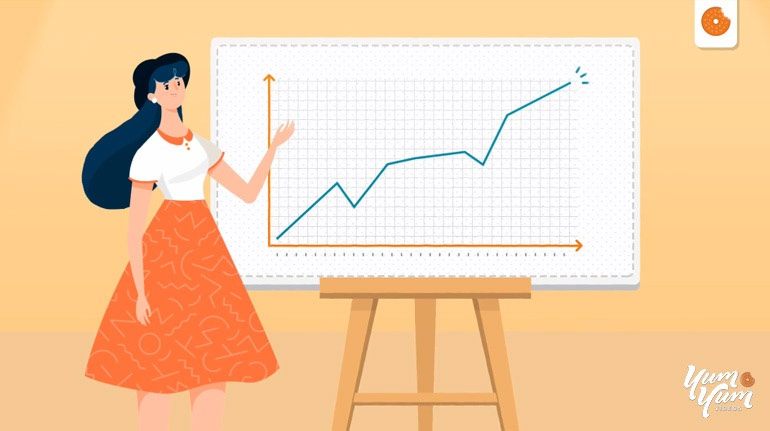 You won't have to run some tests to learn the benefits of explainer videos – we already have some average figures for you! For instance, did you know that just by embedding them on your site, your average visit time will see an increase of nearly 2 minutes? It seems logical. People that find videos on a site tend to stay on them longer to watch them.
That means that a company video opens a window opportunity you should use to send a direct and compelling message. A visitor can start becoming a customer right there. If you create a short and effective video, visitors will understand your unique value in an instant and will remember you whenever they need your products or services.
Data shows that all of that is translated into sales. Websites with these videos see a 20% increase in their conversion rates. That's possible because of how videos support the sales funnel. Visitors come to your site, get in touch with the brand through video, stay longer on the site, and learn more about your service. There's more to it than that (and you can learn all about it here) but basically that's the essential mechanism.
Your boss won't forget you said 'multiple benefits' – I know I didn't. There are other advantages you can get from these videos. Here's a quick recap:
People love videos (and hate reading). The Internet has changed the way we consume information. The time where text reigned king seems to have passed. Now it's all about the immediacy only visual media can provide. It's not just our perception about it – data shows that people prefer to watch a video than to read text on a 4:1 basis.
Videos are cheaper to market. If you have ever run an Adwords campaign, then you know some keywords can have a cost per click (CPC) of up to $20. I won't argue with how well they can perform, but when you learn that YouTube and Google Display ads can have a CPC of just $1 with results almost as effective, you start to wonder why you aren't promoting more videos.
Google wants you to make more videos. And it shows. Though nobody knows how the search engine algorithm truly works, it's clear that Google rewards sites with videos with higher rankings. That's because the search giant wants original and compelling content – and what's more compelling than a video?
#2. An explainer video can help you bond with customers
Brands all over the world are betting on animated marketing videos to tell their stories. For the last couple of years, that was the key – telling stories. And it still is! From commercials and educational videos to testimonials (and, yes, company videos), all are fantastic ways to bond with customers eager to escape from traditional ads.
Explainer videos in particular have lots of value at that. They can engage with your company's target audience on several levels. The most important one, of course, is that they can click with that immediate thirst we talked about before. Think how you, your boss and practically everyone on the planet look for new products and services. You read something here, watch a video there, check an ad, visit sites, read reviews. That's a lot of information to tackle so anything that can speed up things is greatly welcomed. Videos do precisely that.
Additionally, the visual medium has its own advantages. The old saying goes 'an image is worth a thousand words' and that holds more truth today than it ever has. While you can cram the about us page on your website with paragraph after paragraph, an explainer video of 60-90 seconds can do a better job at explaining what you do.
And there's customization, too. It's not just about the effectiveness of video when it comes down to explaining what you have to offer. There's also that personal touch all videos should have to be successful. Distinct characters, a funny story, memorable music, a unique tone. High quality is what makes the difference in all orders of the digital life – but it's insanely important in videos.
A video with a different style is a huge differentiator from your competitors. Thus, you can show your boss some examples of explainer videos that have used different techniques to stand out from the crowd. There's a lot to be seen – motion graphics, cartoon animations, 3D and Whiteboard videos, etc. It's a matter of finding what rings true to your company's spirit and sticking to it. That's the way you bridge the gap between you and your customers.
#3. Explainer videos are cheaper than expected
Let's say for the sake of discussion that your boss already checked out explainer videos before and didn't go for it because of budget constrictions. That's a fairly possible scenario, given that video development companies in the US are charging between 15,000 and 25,000 US$ per video (depending on delivery times, production techniques, level of customization and video length). However, this doesn't have to be the case for your company. There are other options that will bring the costs down to a more affordable level.
Before you ask, no, it has nothing to do with lowering the final video quality. There's no need to sacrifice quality in today's world, when companies all over the world can provide you with the same results as a US-based company but with a more competitive rate. Take Yum Yum Videos as an example (yeah, I'm using our company as an example because why not?).
We are an Argentina-based company that work with a mix of local and American talent to live up to the high standards of US production. This unique approach allows us to charge half of what other companies are charging (between 6,000 and 12,000 US$ per video!). Our process guarantees that you'll get what you want in the timeframe you define and with the customization level you need. Best of all – we're backed by the experience of working with giants like Walmart and Fox. Here's a quick view of our process:
[video_youtube url="https://www.youtube.com/watch?v=AhKVOw4tG4M"]
What I'm trying to say here is that you aren't bound to a local video company anymore. You can shop around online to find the one that can give you what you need for a more accommodating price. Throw out what you think you know about explainer videos, storm your boss' office and throw out what he thinks he knows, too. The video development industry has changed – and your company can benefit from it.
The bottom line
I promised you 3 solid motives to go for explainer videos and I believe I gave you more than that. Your boss might fall in love with the numbers these videos can provide (20% boost in sales, a 2 minutes average increase in website visits) but he should really go beyond that. You should make him understand that any modern marketing strategy needs videos of all types to find an audience that is craving audiovisual content.
Videos are evergreen content that can be used, reused and abused until the revenue they generate surpasses their cost by far. In this light, videos are investments that any company hungry for success should be considering to better their inbound marketing and their overall sales strategy. Don't let your boss' preconceptions stand in the way of a proven marketing tactic. Bet on videos now, and see how your business starts growing in the months to come!