Ok, so now you have established your video marketing strategy, in which diverse explainer videos have been produced for certain purposes. Those videos are starting to get some traction –and some results, indeed. And those videos are now inundating you with lots of video metrics –excessive information, to be honest!

It's not easy to understand what you're supposed to do with all this new information, just because at first you may not see the relation between the data you're getting with the objectives you set out to accomplish. Hence, you need to pay attention when selecting the metrics you need to consider afterward.
But no worries! We're more than glad to help you with this issue. Let us explain the most relevant video metrics that will allow you to evaluate your video campaign.

First, define success –then measure it!
Wait a second! Before you get into the whole arena of metrics, you need to do something. And that something is represented by the definition of certain elements that will enable you to do a proper evaluation of your video campaign.
Objectives: what is it that you're trying to accomplish? Sharpen your focus to one particular goal –well, you can have two at most. And make sure you define that objective very clearly.
Audience: determine the specific type of audience that the content of your video will be addressed to. The more detailed you are –in terms of qualities- the more powerful the impact you will have.
Metrics: choose a small group of metrics defined by their usefulness. This select group will deserve all your attention and focus -they will be the ones that will give you the most relevant information.
Once you have that set of elements very clear, roll up your sleeves and dive into the marvelous world of metrics!
#1. Measure "Views" and you'll measure the scope of your influence
This metric indicates the number of times your video has been watched, so it may be the most important metric –it tells you, in a very raw kind of way, the first impact your video has made on your audience.

Views represent the beginning of the whole process of evaluating your video campaign, so don't feel rushed to get into a quick analysis after looking at this metric. They're the shallowest indicator of your campaign, so be careful. When you take note of them, try to remain calm and just start to warm up for other metrics that shall give you deeper insights.

Keep in mind that what a platform considers a "view" may differ from another platform's criteria. On YouTube, for example, a view is only counted after 30 seconds of a video has been watched; on Facebook, that time is only 3 seconds. Remember this if you happen to put your video on diverse channels, so your numbers can be reliable.
#2. Measure "Engagement" -and you'll measure quality
Alright, so this is the marketers' favorite metric, and it's called "engagement". All good, but what does it represent? And why is it so popular? The explanation is pretty straight forward: it embodies the percentage of a view that a visitor has viewed, so it goes beyond the view count to indicate the quality of that view.

This information paves the way for several interpretations, all centered towards figuring out if the viewer actually managed to engage with the story you're telling in your video.

If you get a large percentage, then that implies that the content shown in your video is connecting with your viewers. This should indicate if your video is enabling your viewers to consume the message you're aiming to convey.

But don't feel bad if you get a low engagement. After all, each one of these metrics needs to be looked at for their context. There's a lot of distractions on the Internet: tons of data is being produced 24/7, so don't get a bad reading: viewers might not watch your video entirely, but they actually watched it for a few seconds -and that's a small victory, indeed! They may have already liked what they have seen, so maybe they will get back to it later!
#3. Measure Play Rate –and you'll measure relevance
Having your video embedded on your website instantly puts at your disposal a couple of video metrics that deserve your attention: page views and play count. "Play Rate" is the combination of these two metrics, and it represents the number of people who went to your website and who clicked play and began to watch your video.

Play Rate allows you to find out about the type of content that's getting more responses from your viewers. This metric is also helpful when it comes to gaining important data that will enable you to make changes in the structure of your website, in a way that makes people more motivated to play the video and ideally follow a certain call-to-action by clicking something you have pre-designed.


Play Rate is very telling for the ideal location of your video within your website, so it will give you a solid idea on whether your video is located in an appropriate place.

When taking a closer look at this metric, context is key. If you're not getting a positive result in this regard, you need to react with urgency, so feel free –and compelled- to try new places to put your video until you hit the jackpot!
#4. Measure "Shares" –and you'll measure social impact
Liking something that you like these days means pretty much that you will share it. If you watch something all alone, then that action is an individual one, but if you share it with someone else, then you convert it into a social experience. The amount of people who are sharing your content says a lot about its ability to connect.

Shareability is a quality that you need to craft for your video, since it will multiply your marketing efforts: it may reach more people than what was initially planned. Make your video shareable and you will make it more influential. Watch this video we made that went viral:
If on a particular social network, your video is shared more than on any other, then you can figure out what outlet is working better for your video. Keep in mind that each one of these insights allows you to get a deeper understanding on the performance of your campaign.

If your video is not performing the way you expected on a certain network, don't feel sad. Each outlet runs on its own dynamic, so if you're not seeing anything positive on a particular channel, that same video could be working better on another, so address your focus to that channel and make the most of it!

"Word-of-mouth" tends to be considered an abstract term, but it needs to be considered if you truly want to get a good idea on the ability of your video to be shared. Every single piece of information generated by the shares of your video needs to be looked upon. Register every comment, every reaction, every impression your video has on your viewers. This may be a subjective reading, but it is as useful as any other data that's coming from other metrics.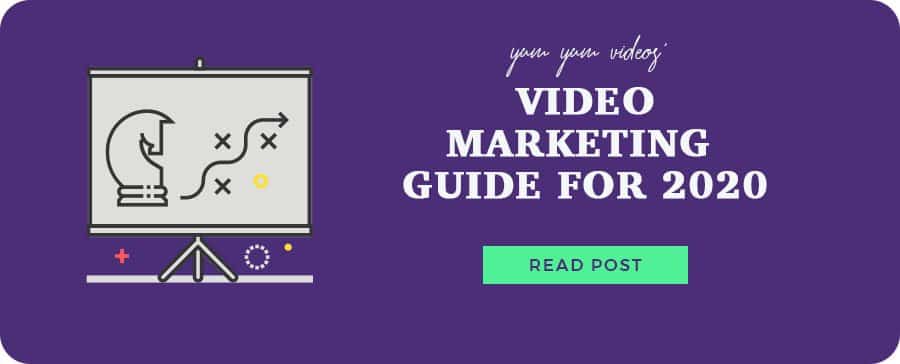 #5. Measure CTR –and you'll measure your clients' reactions
Click-Through-Rate indicates the percentage of viewers that click on any sort of call-to-action that you have conceived from your video. CTR is definitely one of the most relevant metrics when it comes to analyzing the ability of engagement of your video. Having a high CTR means that you were savvy enough to make your viewers watch your video until a CTA comes up –and to ultimately make them do what you asked them to!

Analyzing your video from the CTR perspective is crucial to evaluate the power of your video for generating sales and conversions, so make sure to take proper notes of that evaluation and take convenient actions! Watch Picniic's CTA at the end of the video:
Here's an example: if you discover that a good majority of people are watching your video entirely, but they don't make any decisions, then you must change the location of your CTA. Never forget that evaluating something motivates you to doing something, so make sure the information you collect is reliable enough so you can later make a reliable decision.
#6. Measure "Conversion Rate" –and you'll measure commercial success
Conversion Rate is arguably the most important metric of all –it measures the number of leads or clients your video was able to gain. It is essentially giving you the ultimate result, just because it's telling you the number of viewers who were converted into actual leads.

This metric may also be the most difficult to evaluate, since you need the aid of several analytics resources, like Google Analytics -just to name the most popular one. When you get the results of this evaluation, you need to be careful with what you now have in your hands, so make sure to get as clear and precise as you can get.

You could start by determining what a "conversion" means to you: is it a visitor that clicked on a thumbnail? Is it a visitor that decided made an actual download? Is it a visitor that wrote on a form? Make sure to have a solid concept of what a "conversion" represents for your marketing efforts, so you don't get confused with your own interpretation.
Everything needs to be clear before you put it on your sheet of results. Remember we're talking about the most important metric for commercial purposes, so this analysis will provide you with amazingly essential information on how well your video is performing, commercially speaking.
Let's put it all in one paragraph!
Define success first so you can determine it later . We always feel eager to find out if our efforts are turning into great results. The thing is that we need to determine how we're going to measure all the hard work we've made. Explainer videos generate a lot of data, so we need to be careful on how to handle it. We need to be extremely selective to look at what really matters. We need to have a good sketch on what success looks like so we can recognize it later. And that's the power of video metrics –they help you to make a killer video campaign! For more assistance contact us!